Apr 11, 2023
Taiwan
Hualien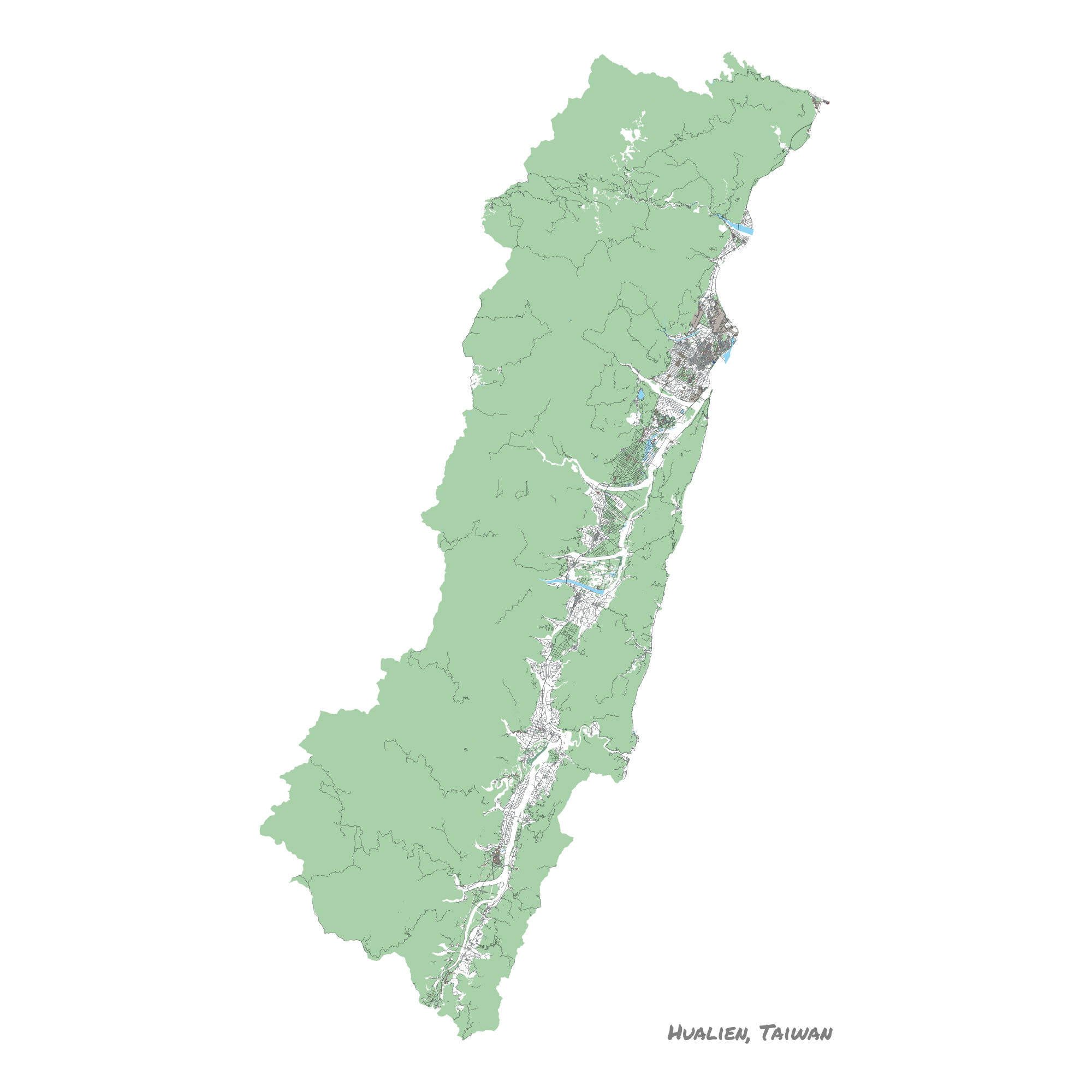 Hualien was supremely bustling with tourists ready to take in Taiwan's most celebrated geological feature. (Which is Taroko Gorge.) Let's get right to it.
Taroko Gorge
The central gorge trail acts as a long, leisurely stroll, often shaded, and mostly flat once you enter.
After passing a well-photographed red bridge, you'll occasionally see remnants of old infrastructure, deeply turquoise shallow water (remember, no swim­ming), and live monkeys. Along the way, you'll find clusters of food and drink stands set up where tour busses park and dump off loads of transient trekkers.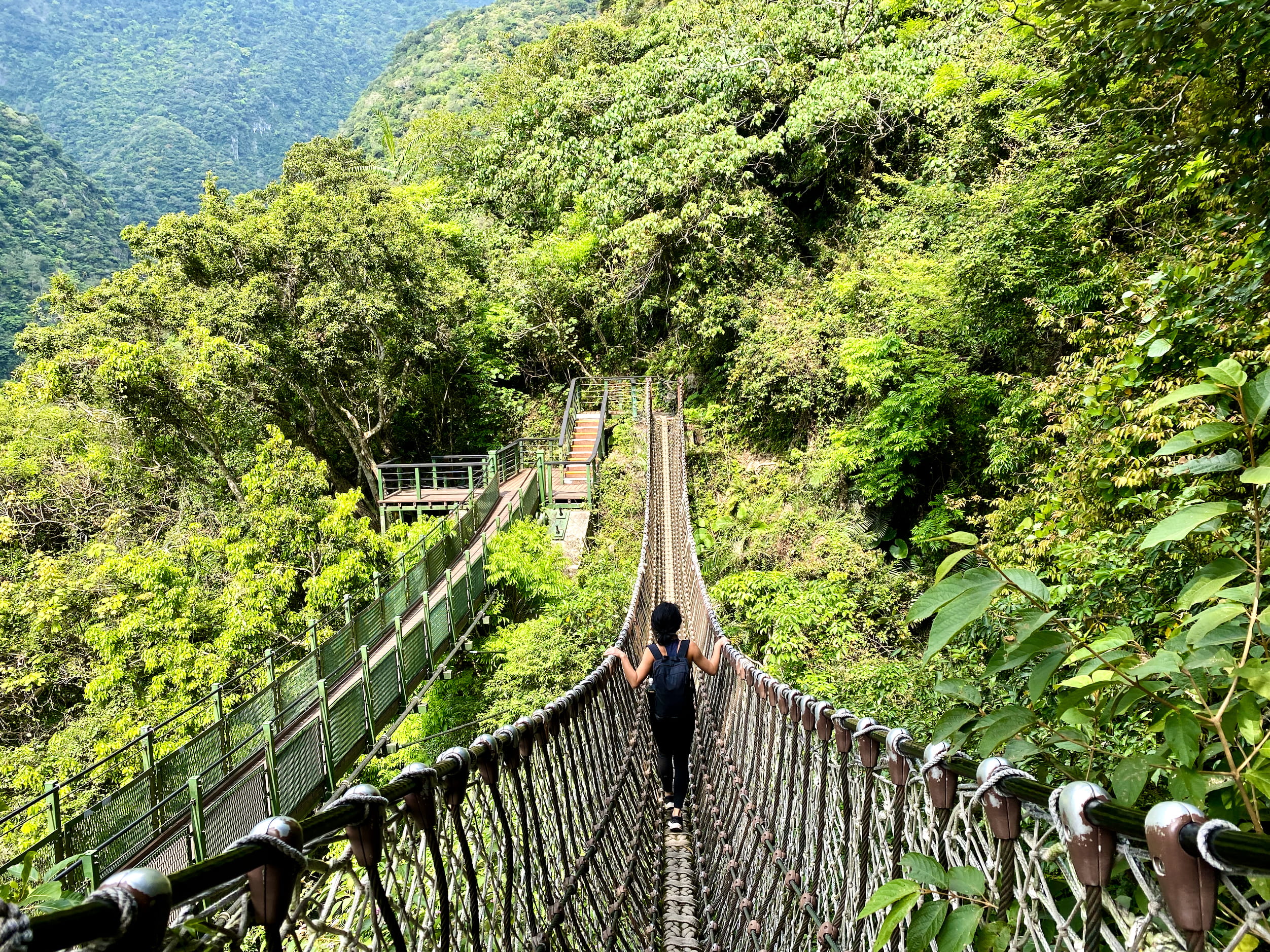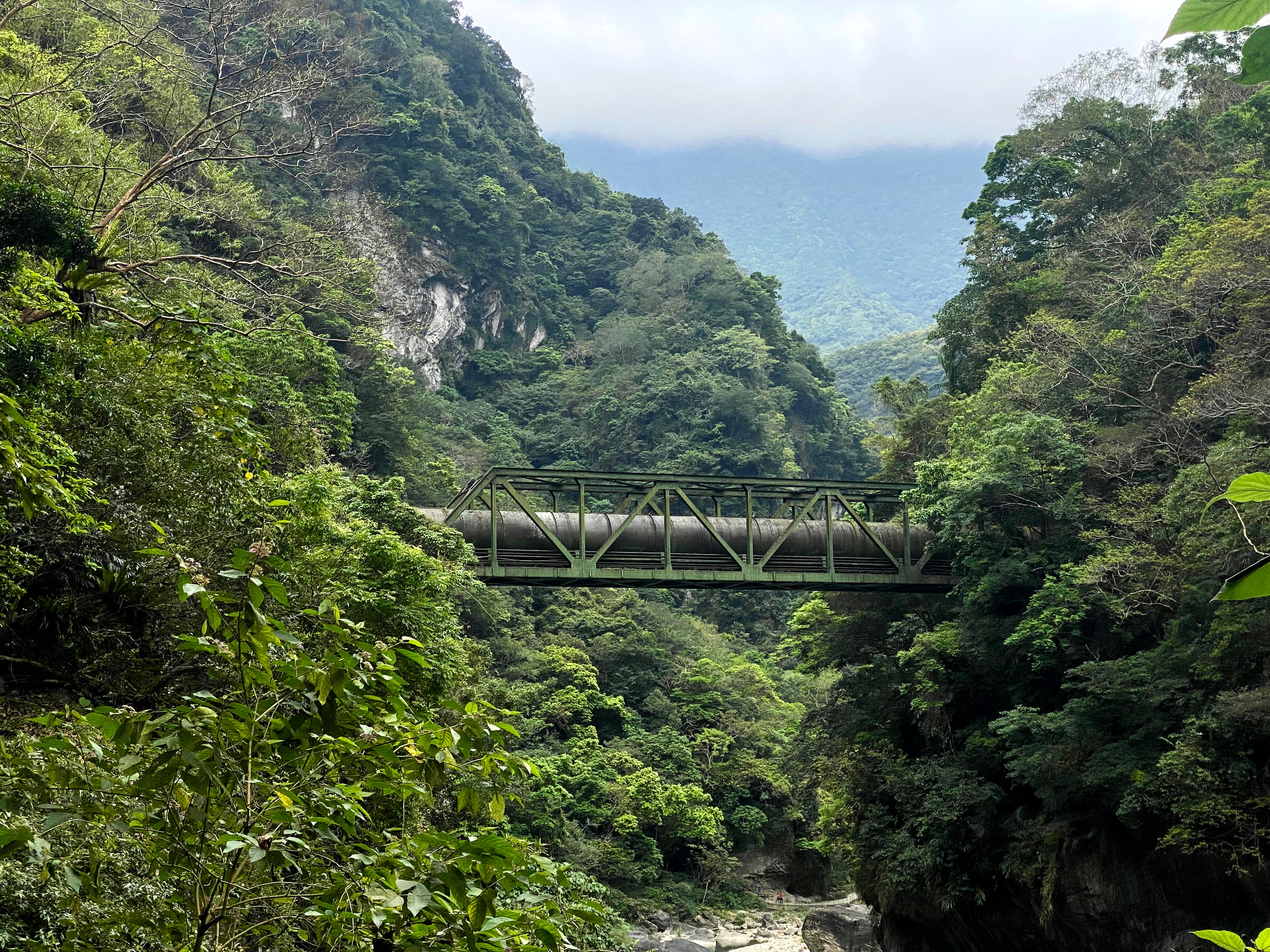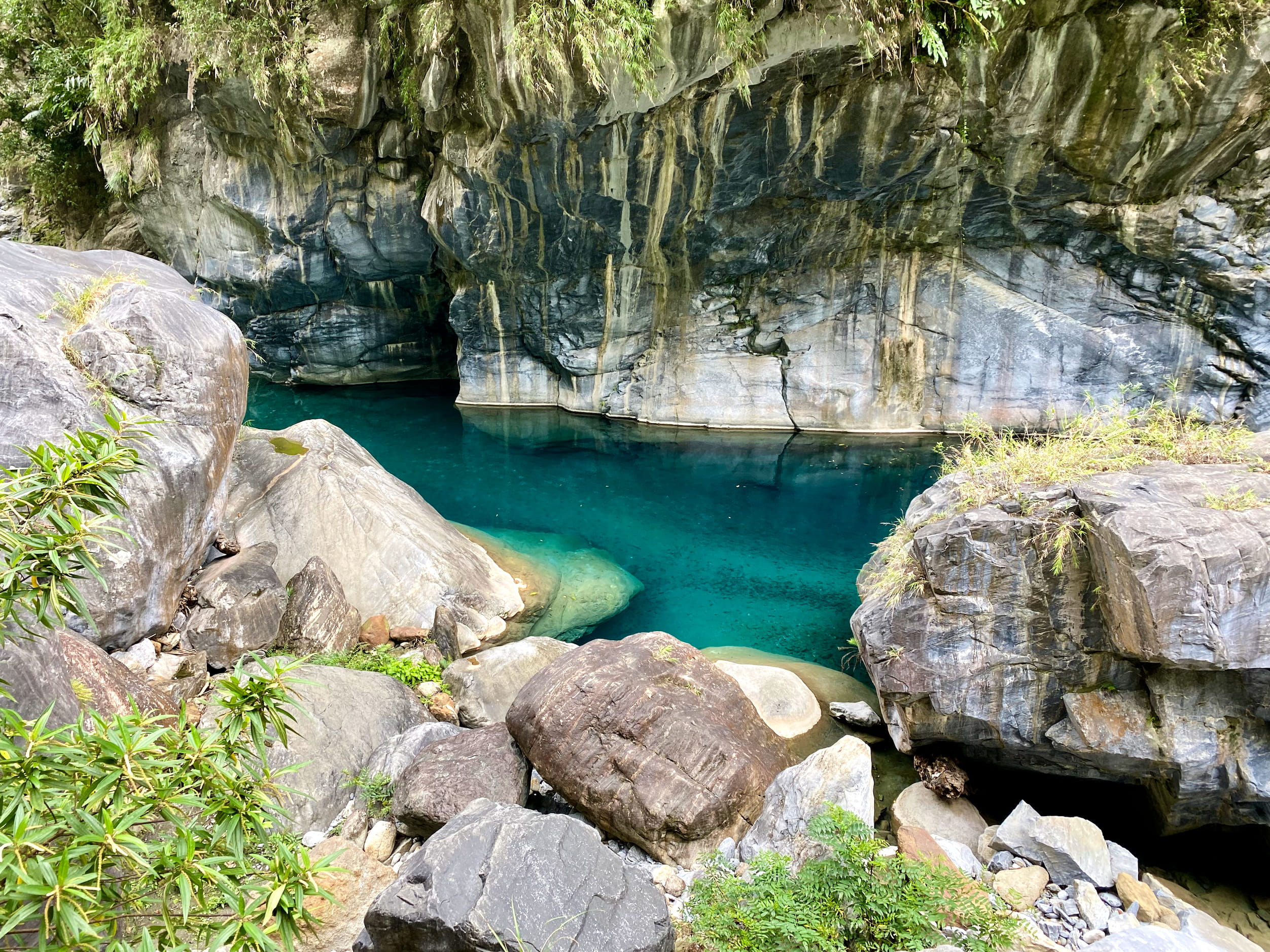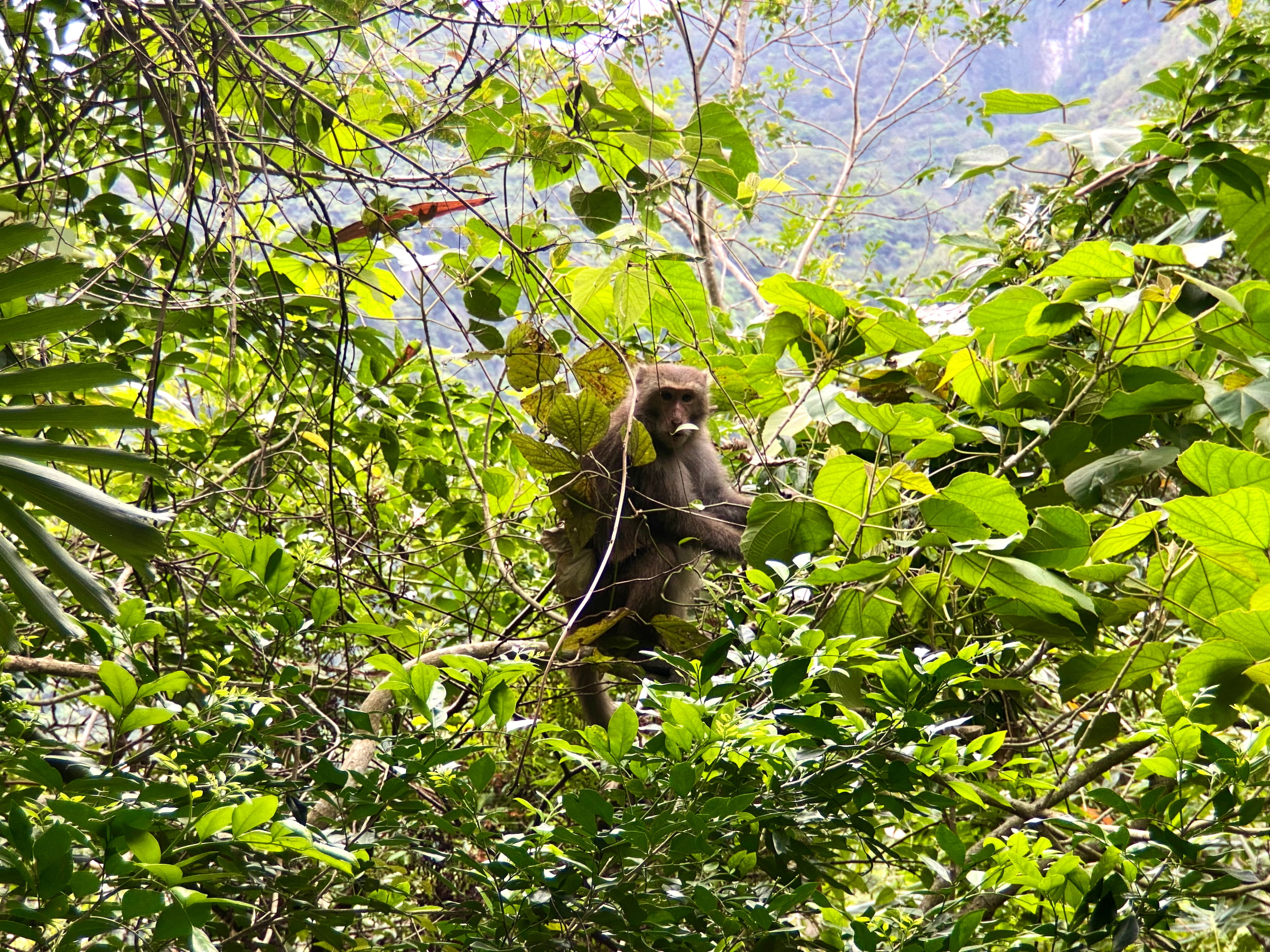 We made it back to our bus stop with plenty of time to spare, so we decided to do the other short little loop just around the visitor's center.
Upon reaching the trailhead sign, we saw the estimate at some ridiculous amount of time. (Can't remember, maybe like four or six hours or something.) No problem, we thought,01 we'd seen this before. The hiking times in Alishan were wildly sandbagged; a forty-five minute trek would be estimated at over two hours. We'll just take a quick loop around and head back.
Well, it turns out they weren't joking, because the whole thing was stairs. I don't mean like, there were a lot of stairs. I mean it was one hundred percent stairs. It was just a massive, multi-dozen part, metal stairway, twisting and turning all up a huge hill. But that wasn't even the best part.
The best part is that it was a prank hike. There was no view at the top. Zero. None. Completely overgrown.
I couldn't even be mad. How many times have you thought: wouldn't it be funny if you got to the top and there was just nothing? You just had to go all the way back down? OK, I never thought it either, but it's still a great idea.
The one thing we did get to see, maybe halfway down the hill, was a view of an enormous dried-up riverbed (more on that later), and what I believe is a cement factory.f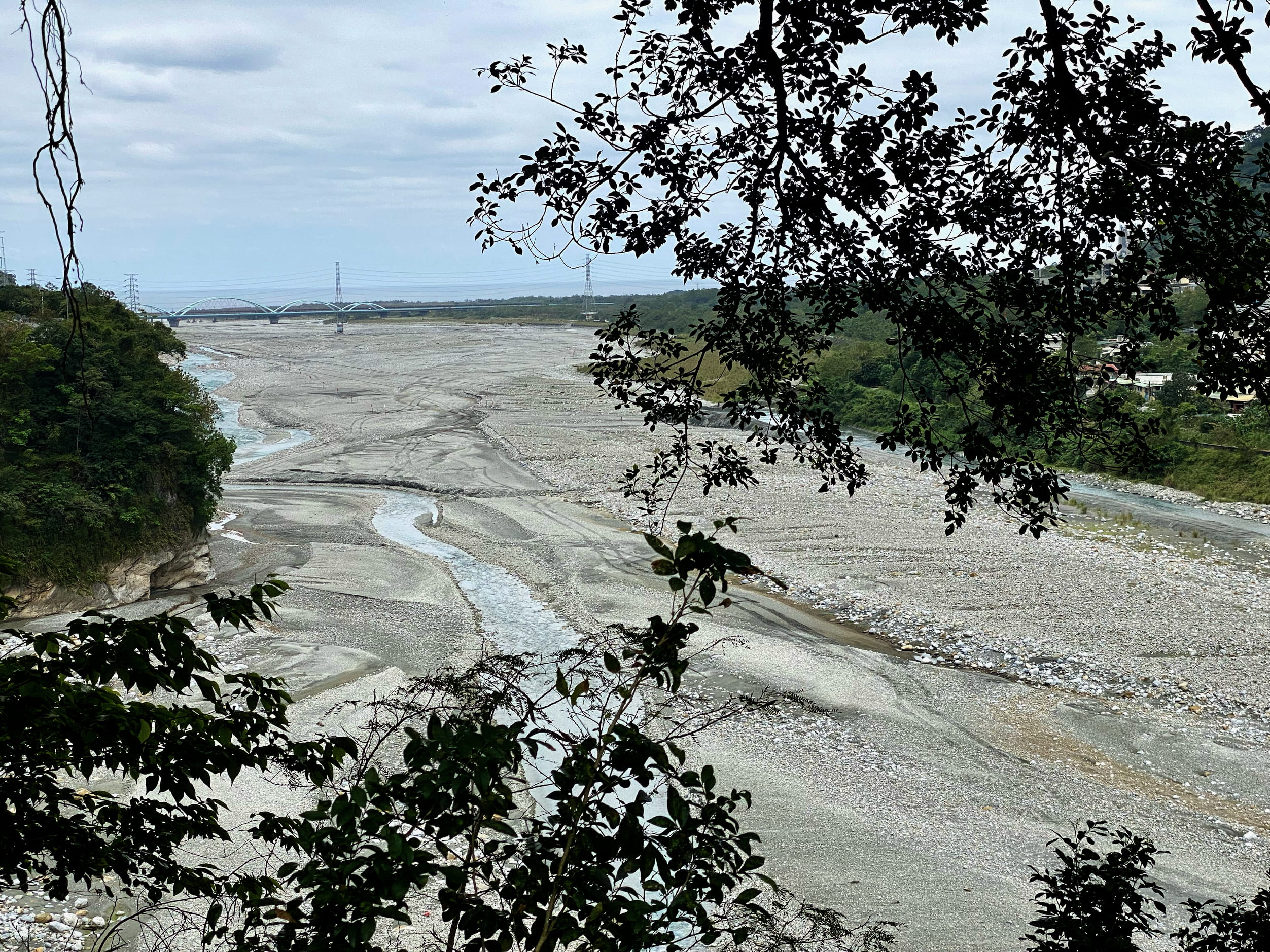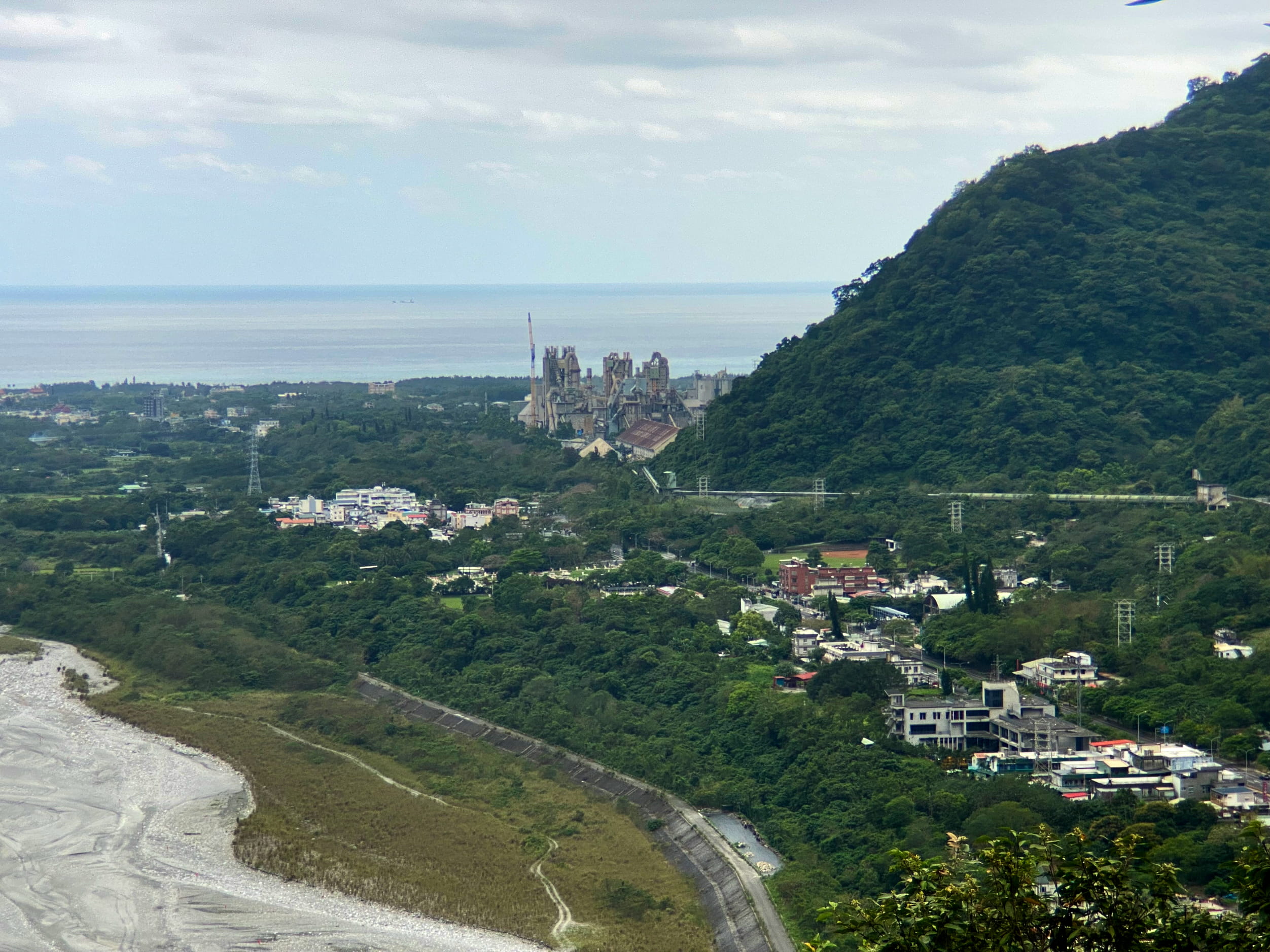 Our final stop was something called the Tunnel of Nine Turns.02 This is a pedestrian walkway that I guess is a bunch of landslide-prevention roofing carved into a cliff side. It's pretty nice. The gorge itself is more dramatic here than anywhere else we saw.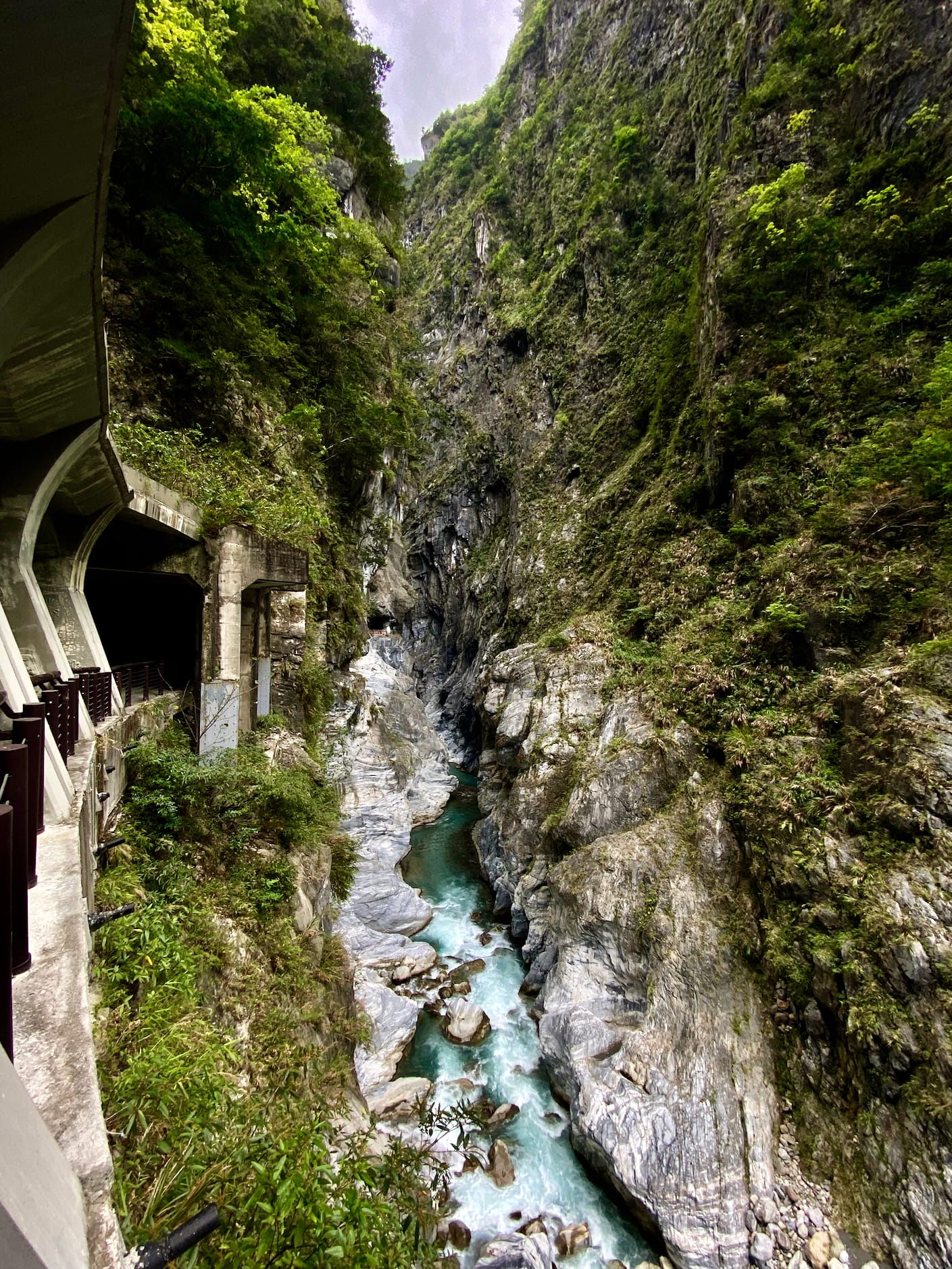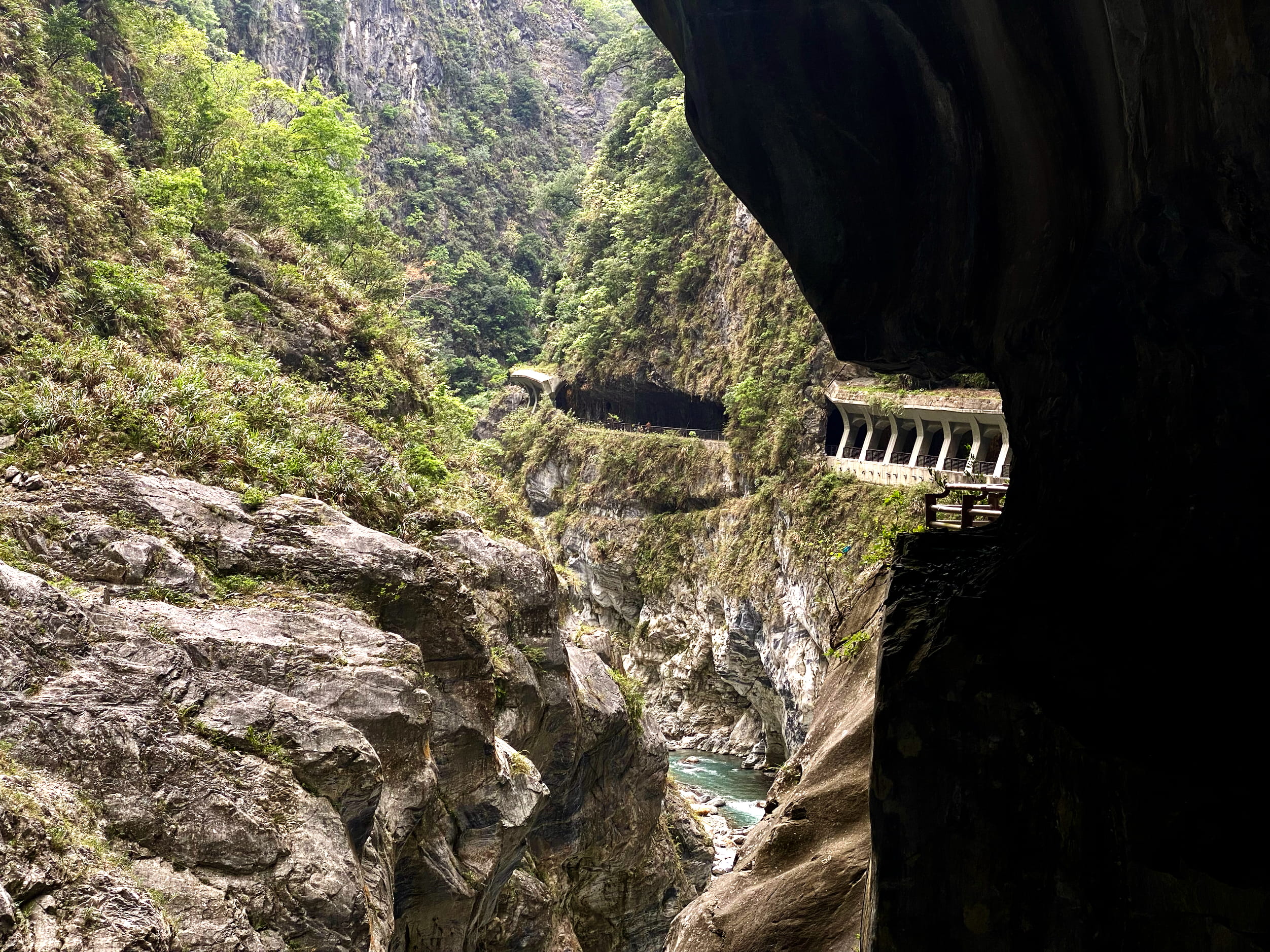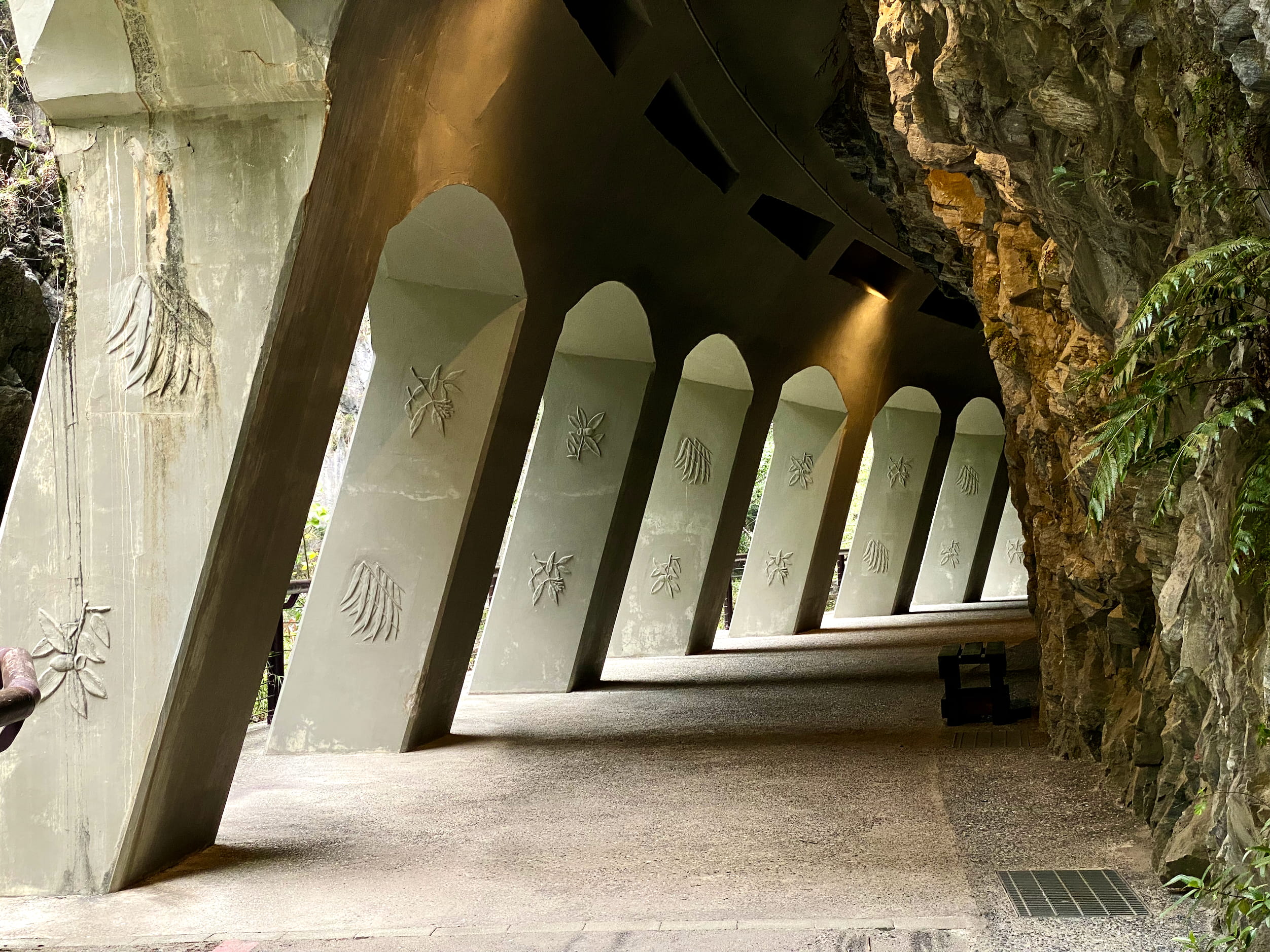 The bus ride back was completely nuts.
Double-decker bus. Comes once, I don't know, every hour? So, end of the day, you have approximately hundreds of tourists trying to get back into town. We're all packed into this bus. But the bus is completely ill-equipped for anyone to do anything but sit down, so most of us are standing. Then, as we fly (nearly literally) around sharp canyon turns, people inside the bus go flying (quite literally). Falling down on the floor, onto other people, into walls, into windows. The spot I ended up in didn't allow enough space for me to stand up, so I spent the ride with my neck hunched over, squatting slightly, bracing myself against the ceiling to avoid a horizontal fate. This lasted somewhere between sixty and ninety minutes.
We treated ourselves to one hell of a hot pot after this.03
Hualien City
Hualien has a rocky, heavily tetrapoded coastline and the general feel of both thriving and falling apart at the same time. We ate food, walked around, met a dedicated coffee enthusiast, and played darts next to a swarm of the local bowling club's matching polos.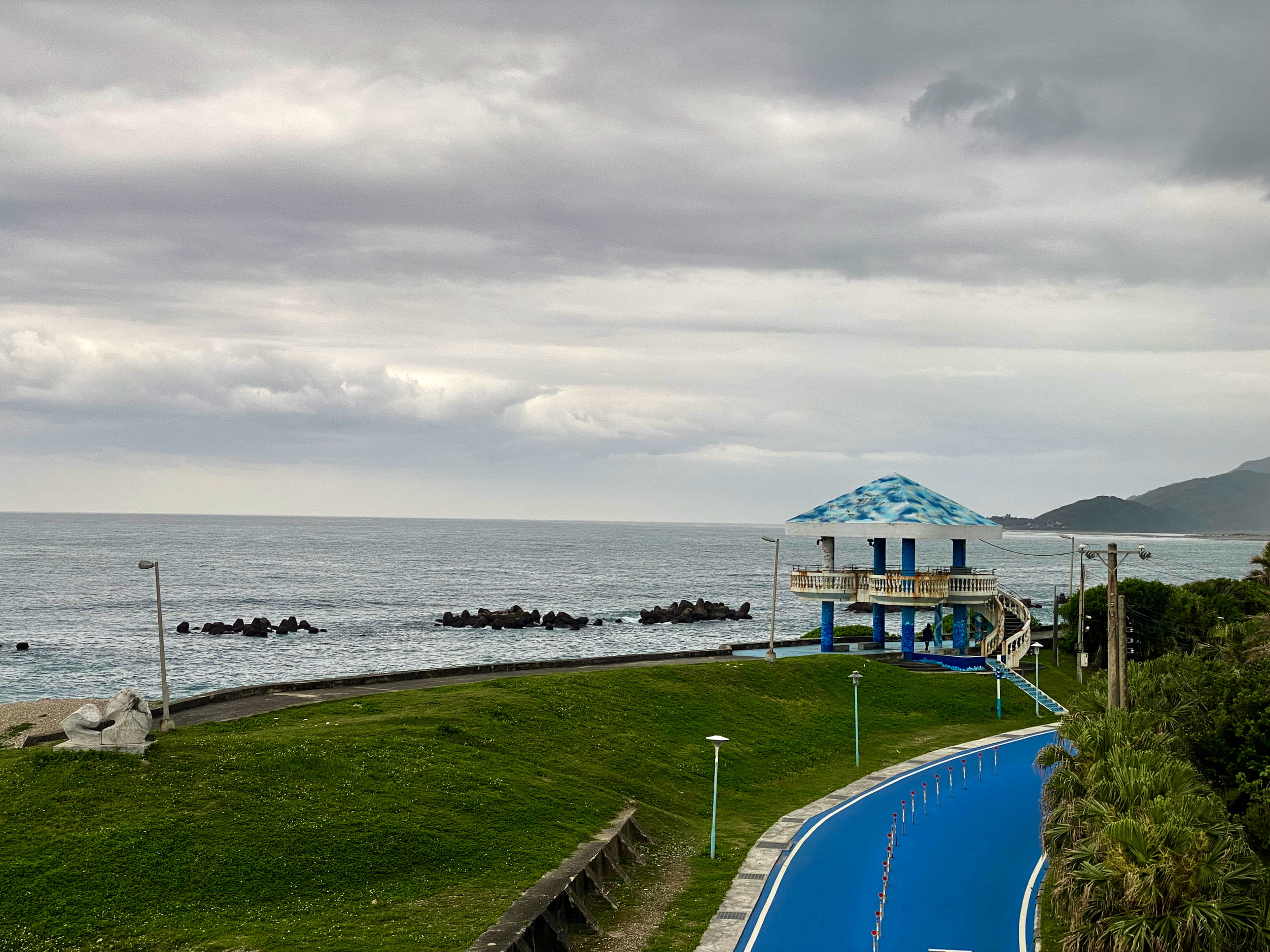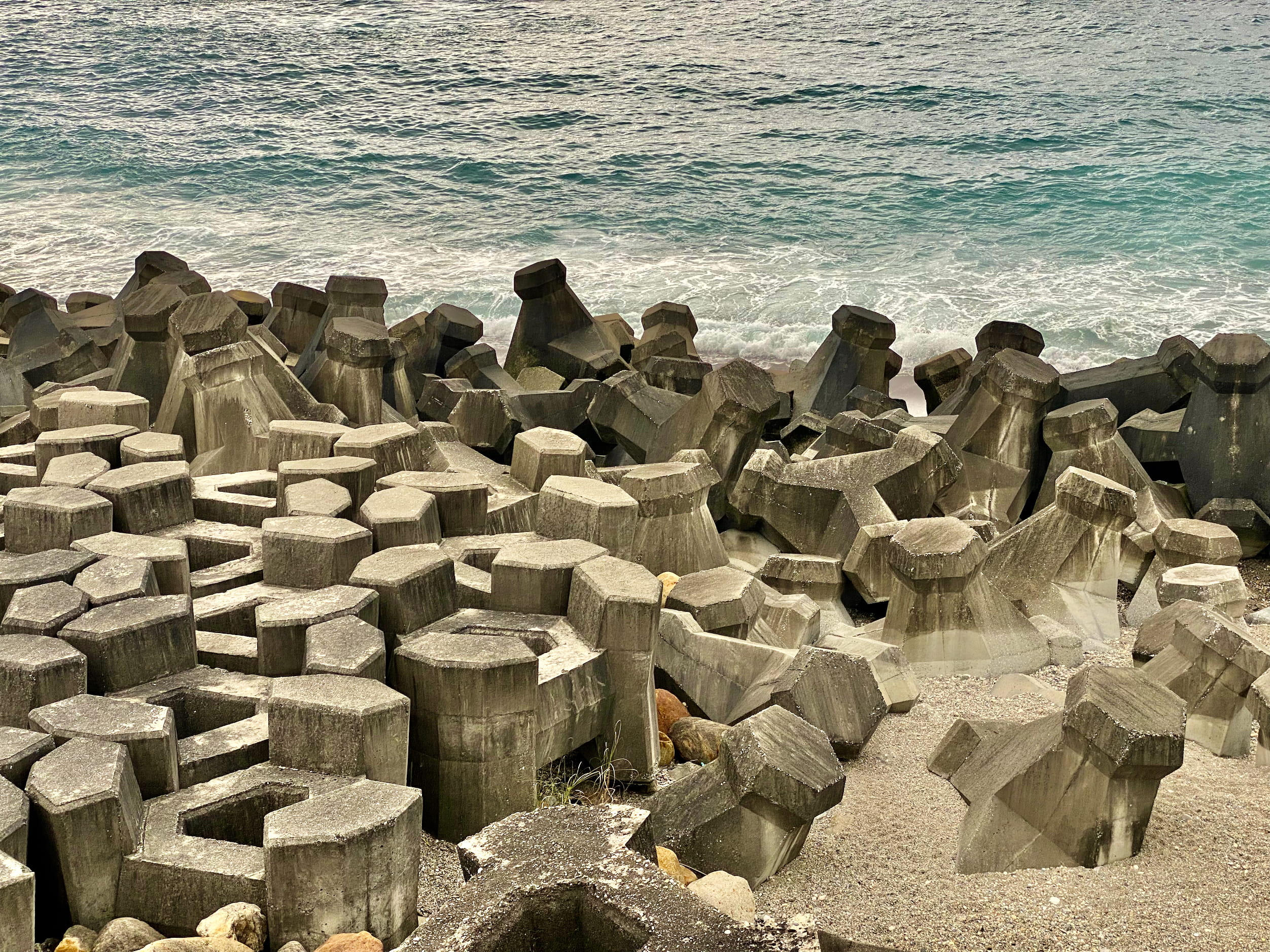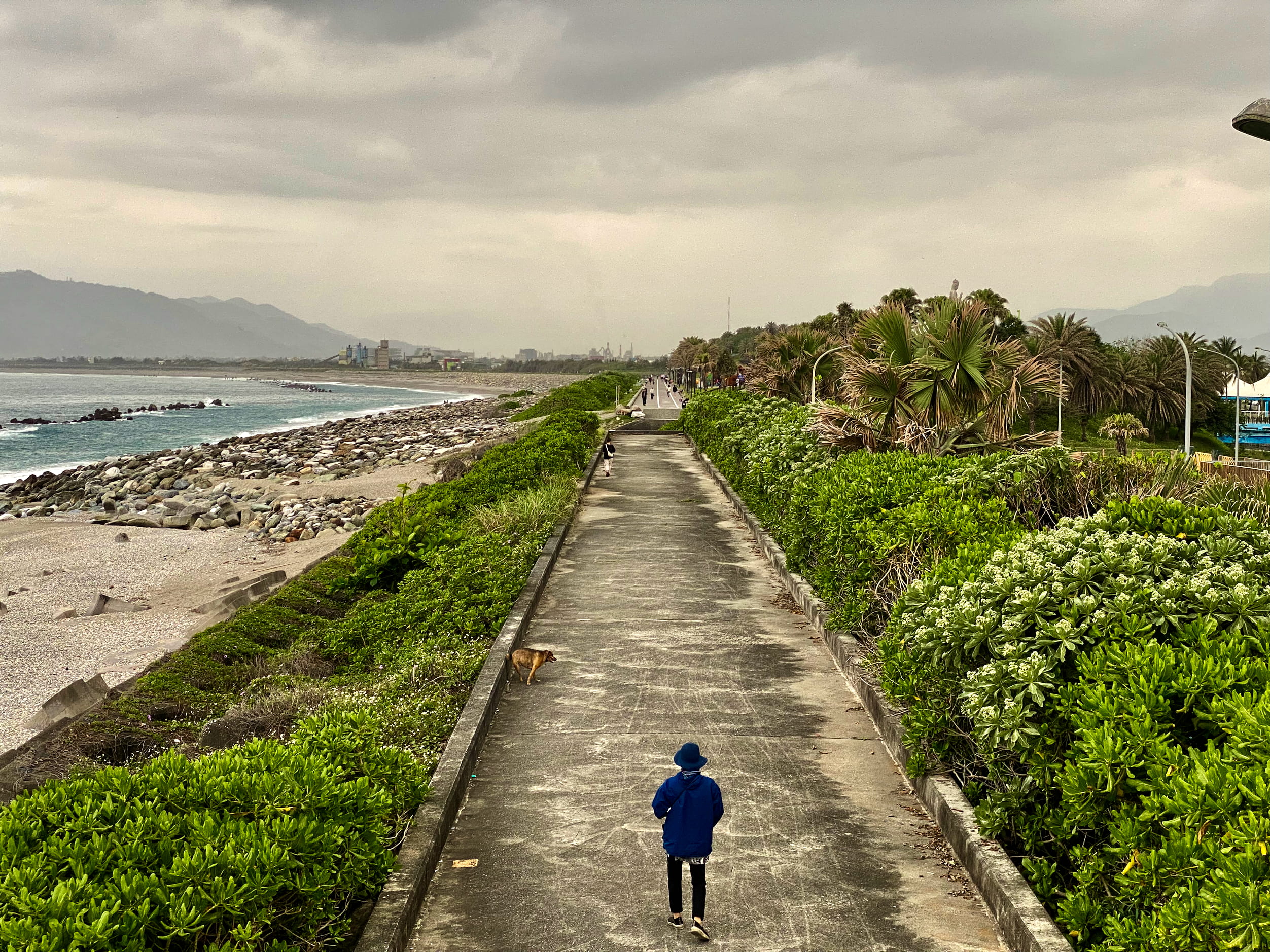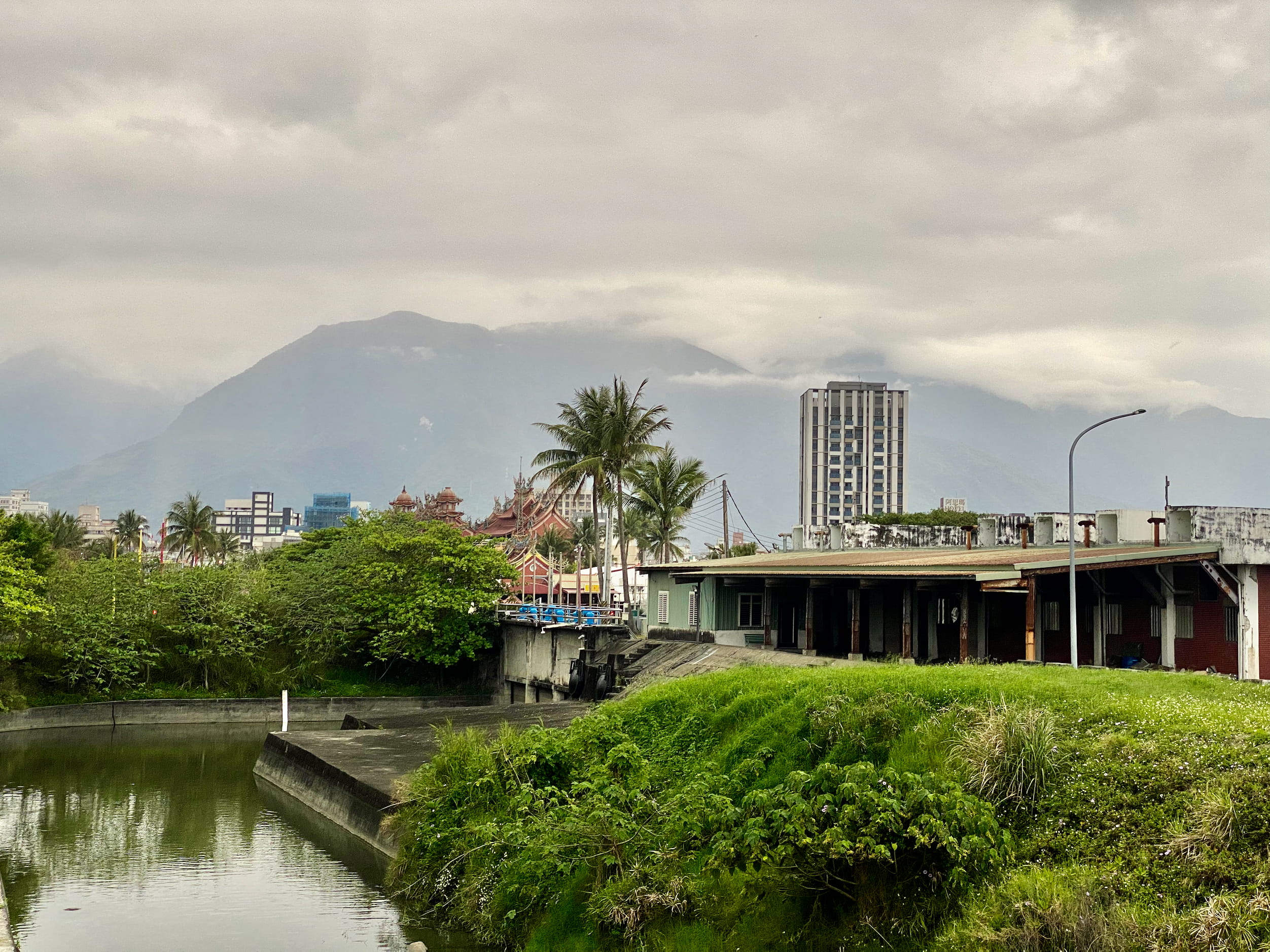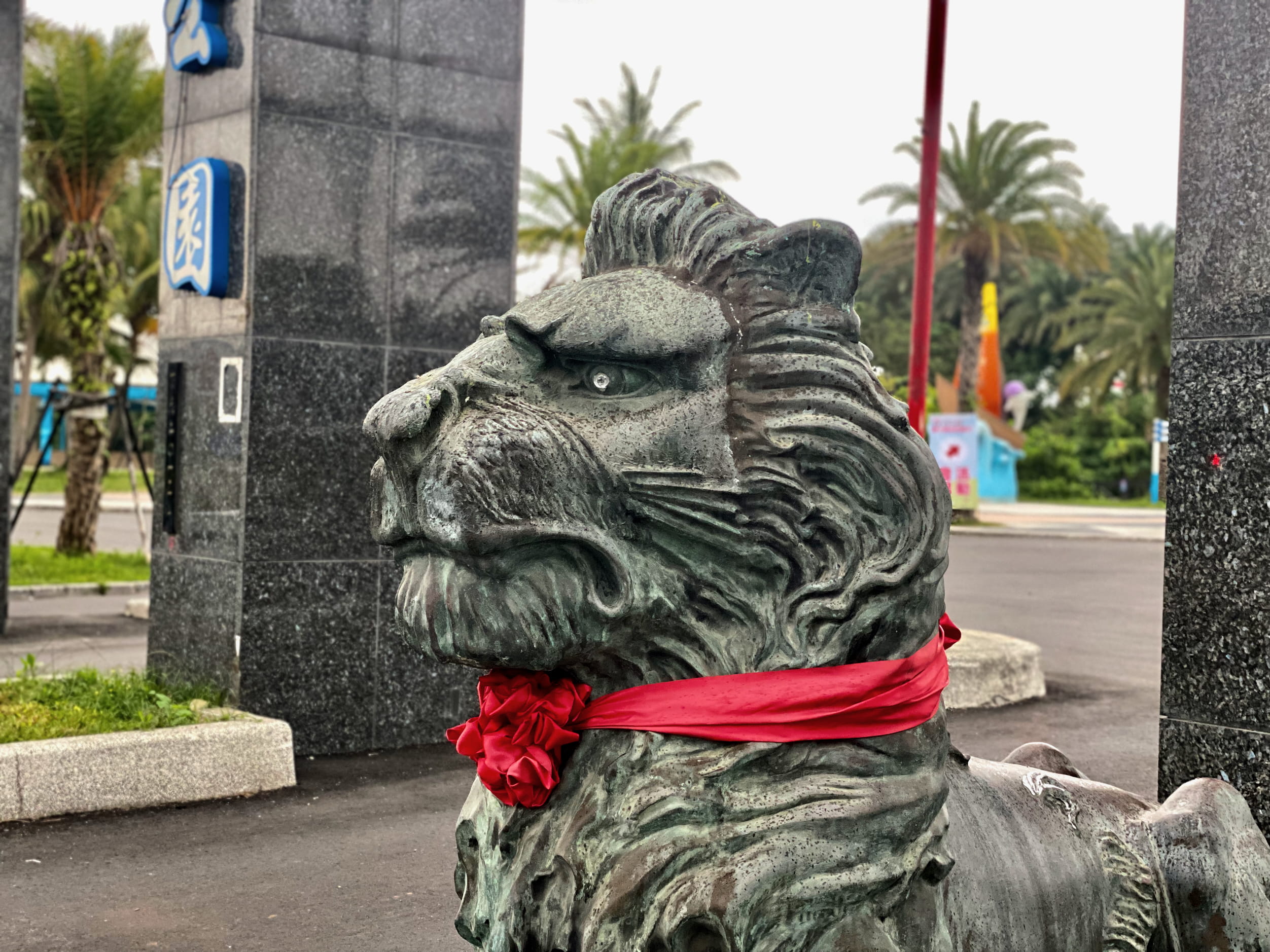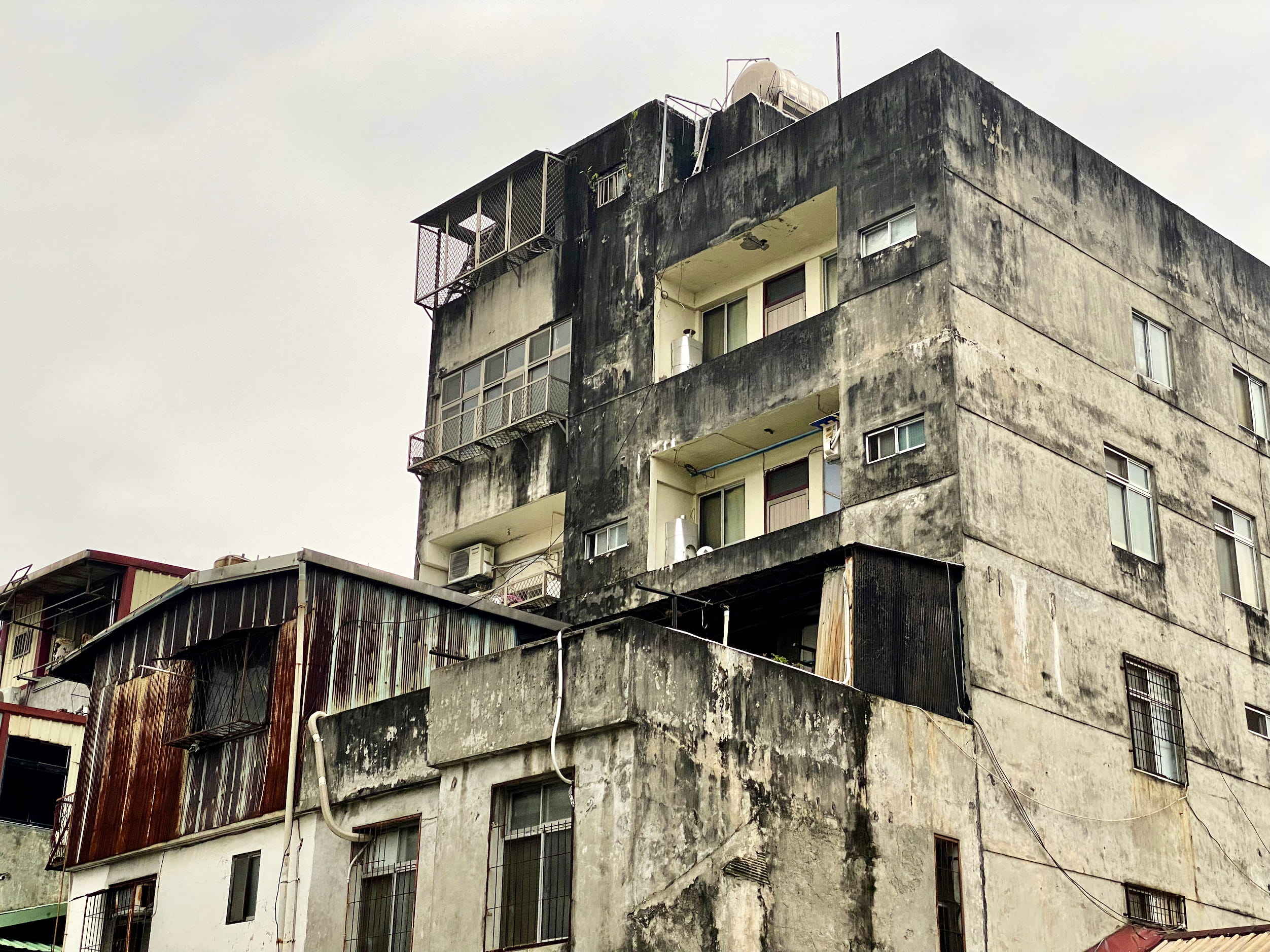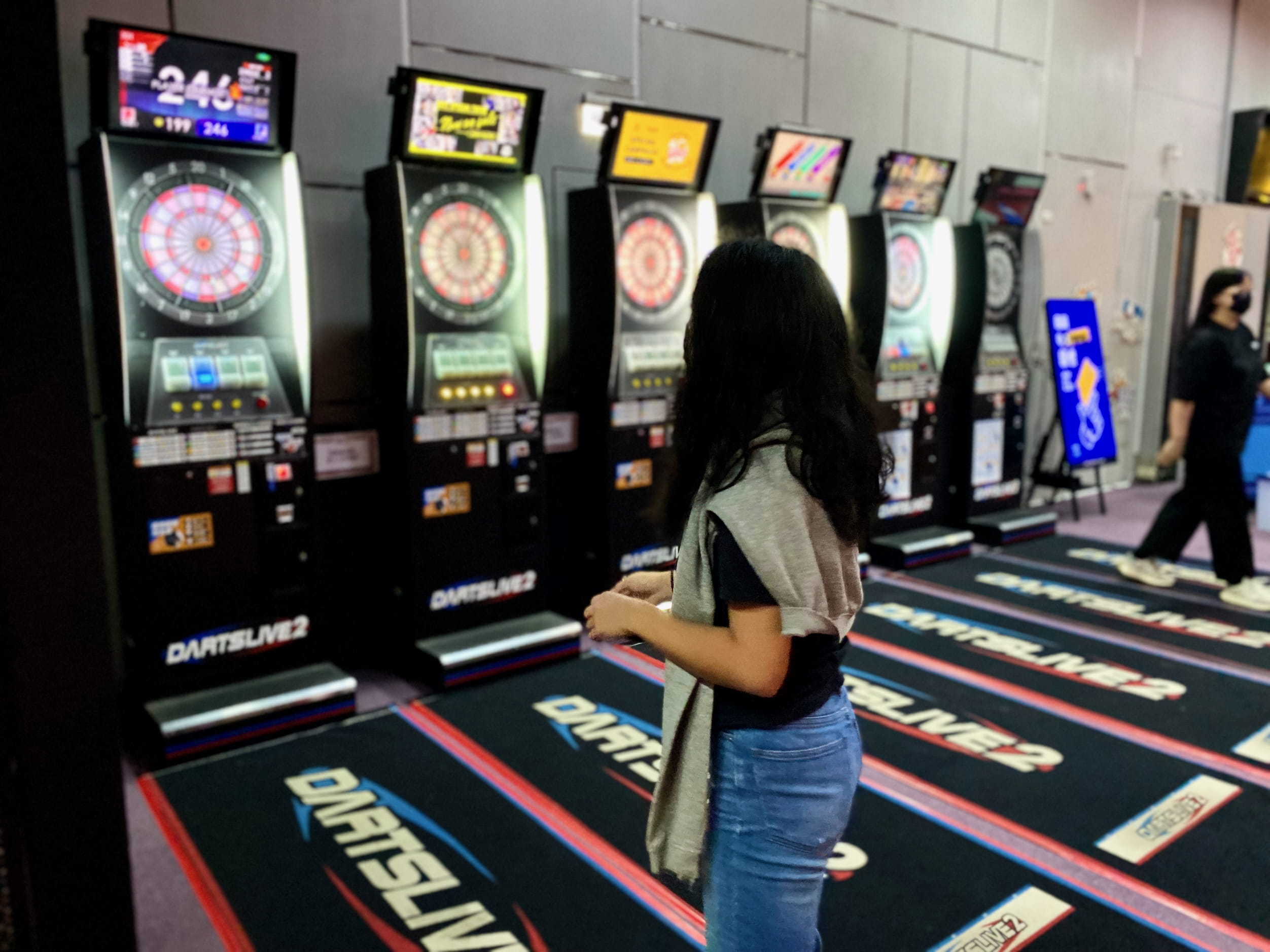 But of course I do have some little things to show you.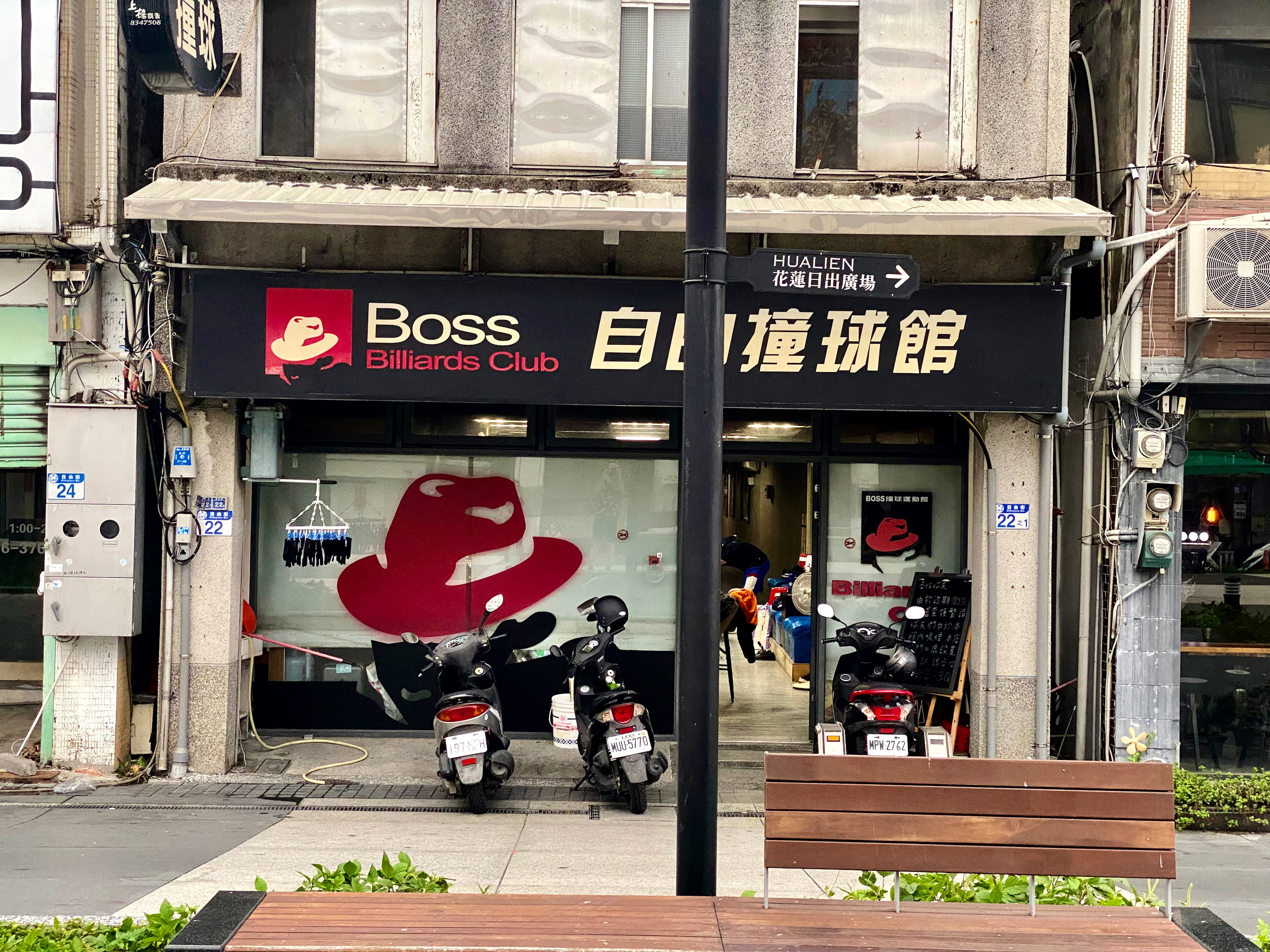 I immediately recognized the red hat. Do you? I wouldn't blame you if not, it's probably obscure even in the computer world. Check out the logo of Red Hat, Inc. (makers of, most famously, Red Hat Linux).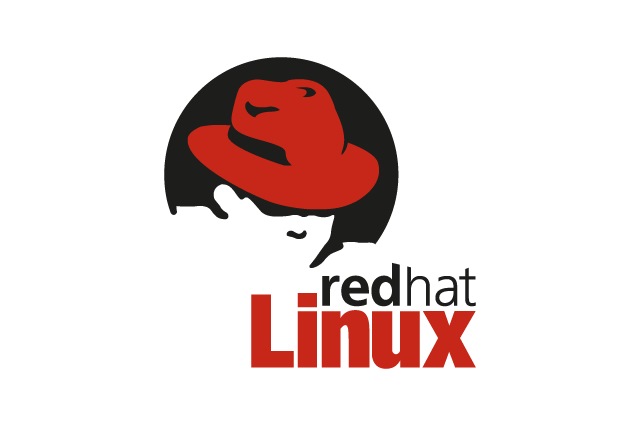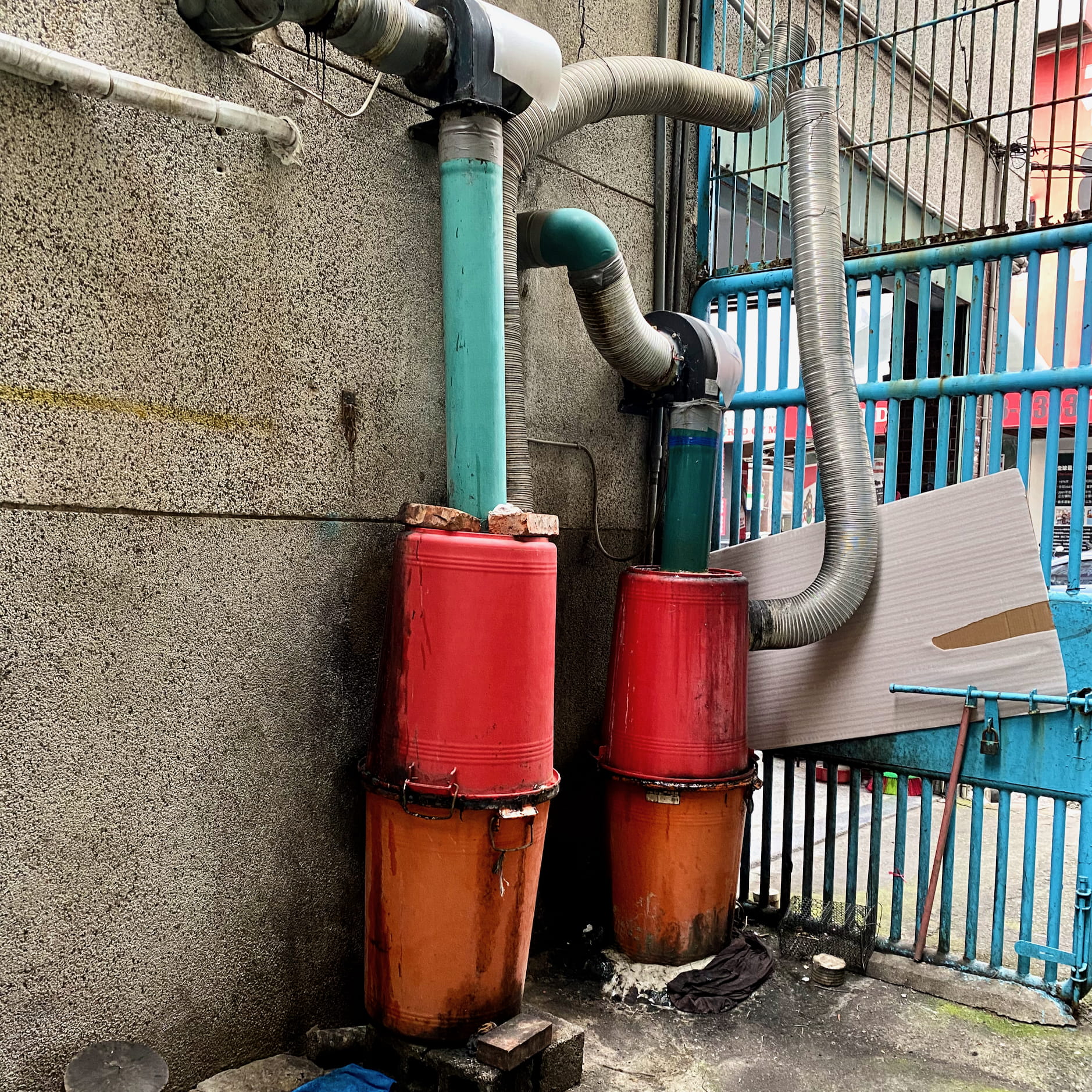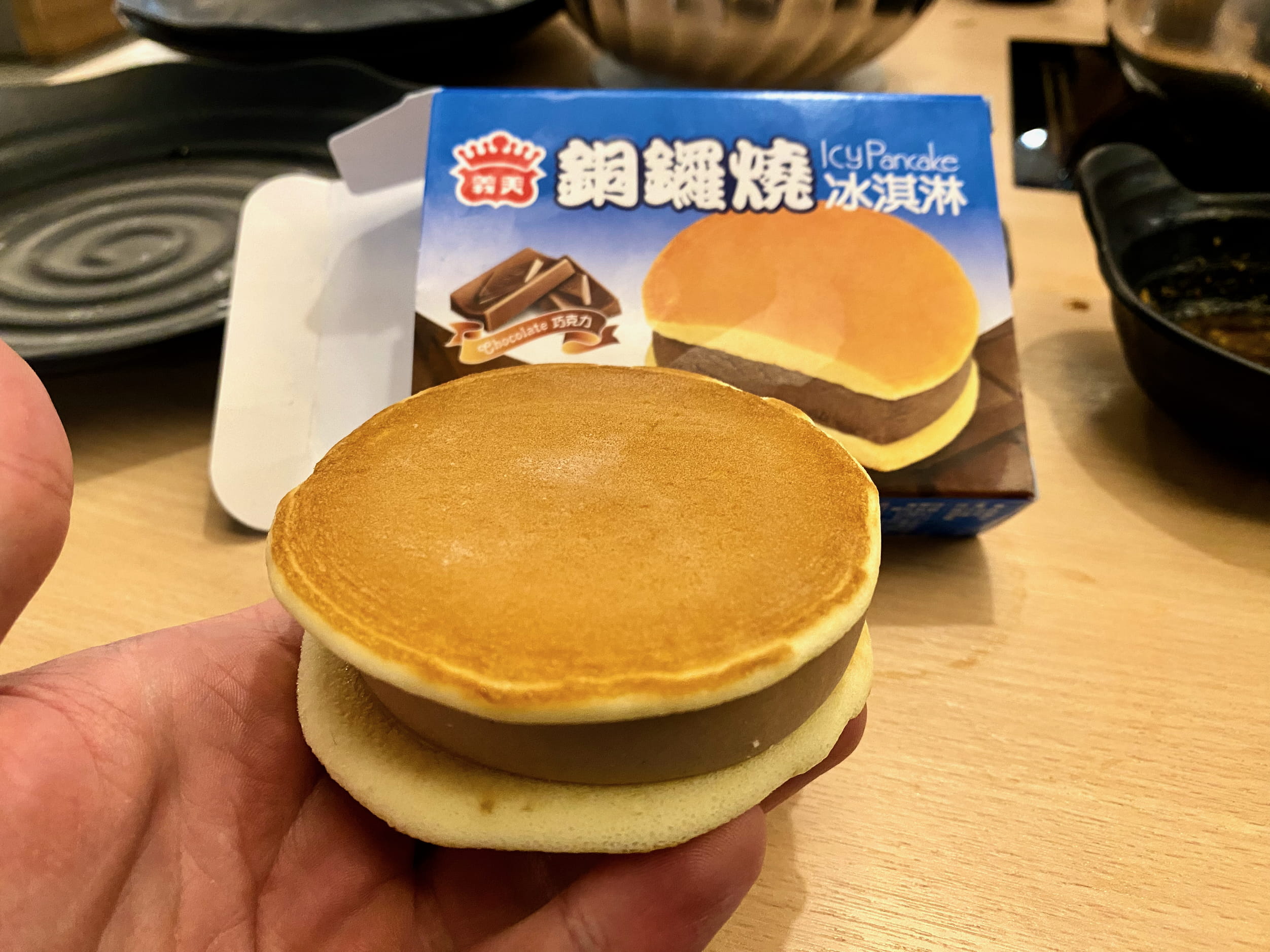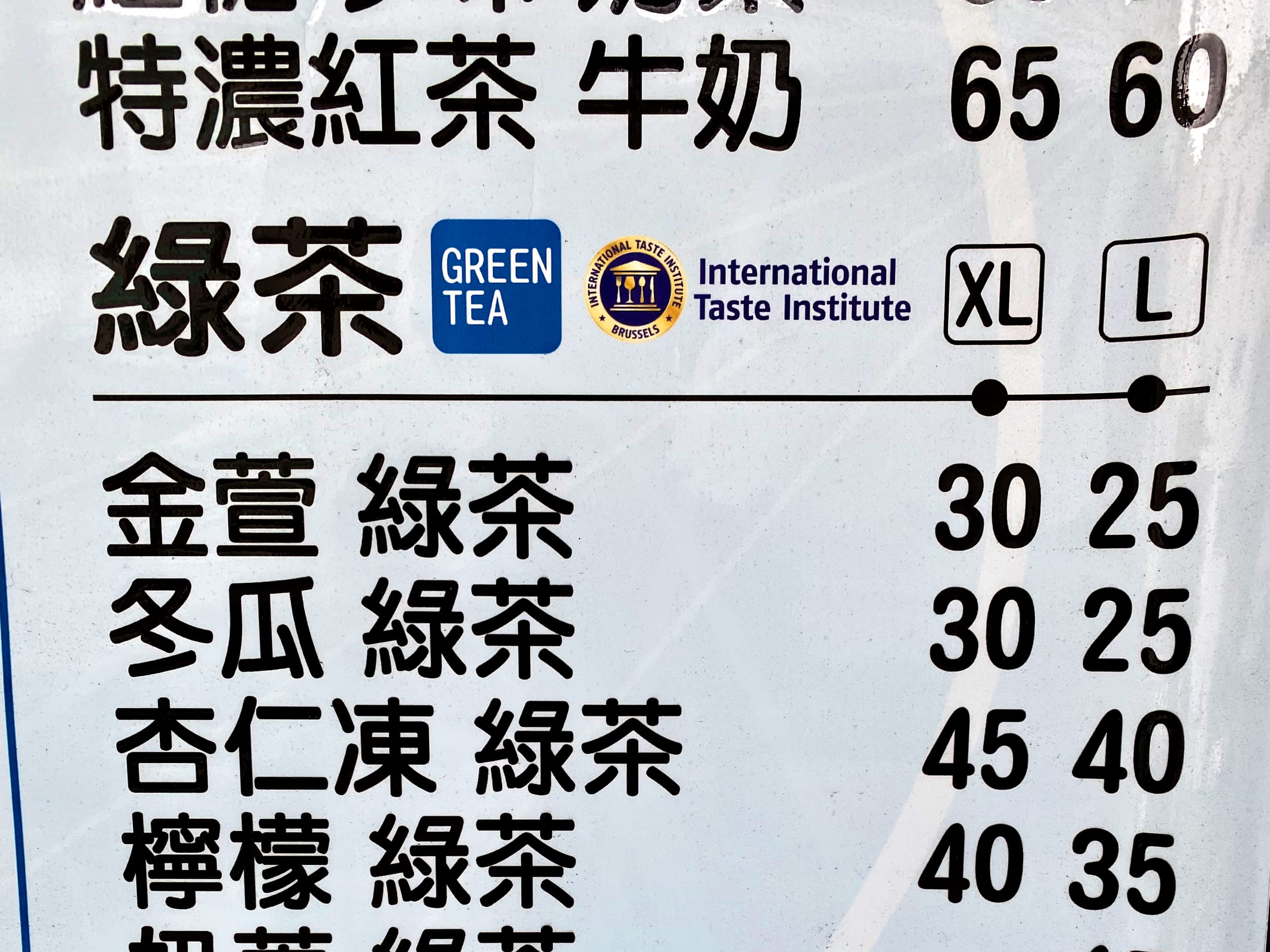 Completing the Loop
Accompanied by misty mountains, we took our final Taiwanese train out of Hualien and back to the capital.
One thing I kept noticing on train rides: dry riverbeds. They were massive and appeared over and over again. What was going on? I couldn't tell if this was a seasonal thing, a climate change thing, an infrastructure thing (e.g., were they all dammed?), or what. Some brief Googling revealed that Taiwan may enter a bad situation drought-wise re: climate change and the wet season, but nothing remotely brought up the riverbeds. Strange.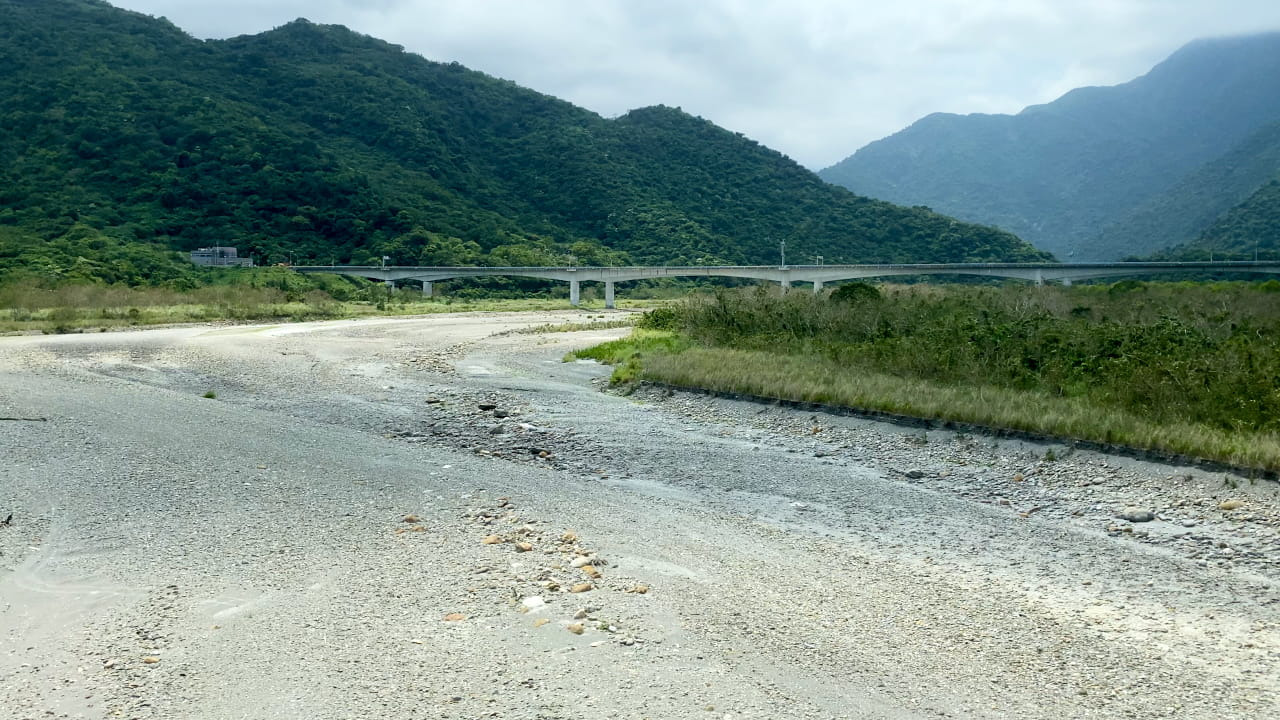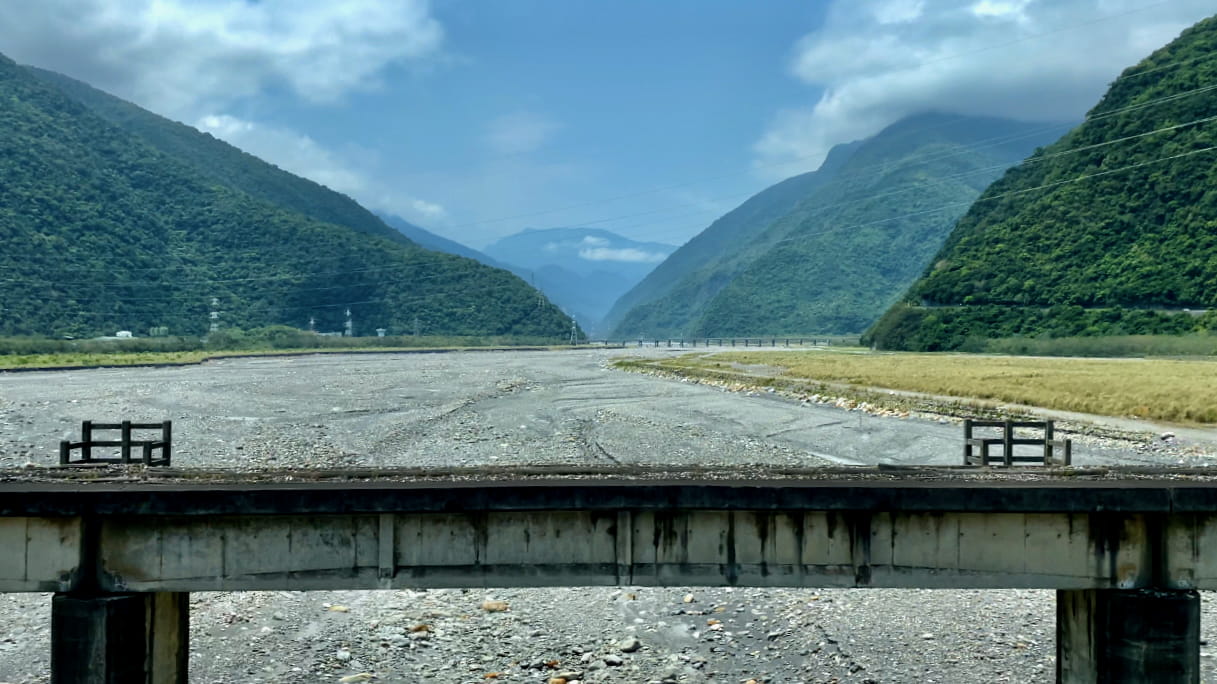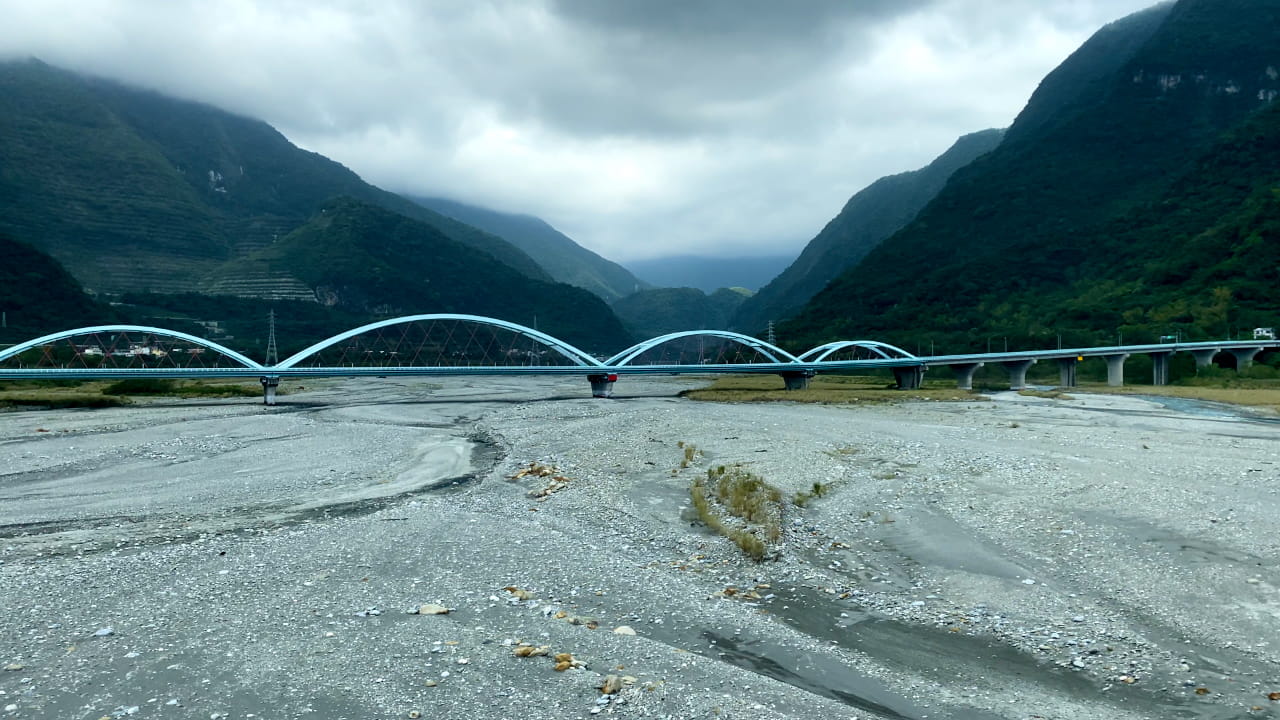 Emerging back into Taipei was a pleasant shock. The sheer density of businesses overwhelmed—they seemed packed and stacked into every block, and every block was packed and stacked together. After a while in smaller towns, it was fun to feel lost in the big city again, even if just for one day.
Bye Taiwan
I kept thinking: after two months in Taiwan, I can't believe how little of it we've seen. On the trains, we'd pass endless towns and villages, forests and factories and riverbeds with stories of their own. Each city we stopped in, even walking and bussing for hours, we'd encounter just tiny slivers of what was there. The scale of the earth is humbling; even a small island nation provides so much to explore. And, of course, not speaking any dialect of Chinese, it's even harder to say what was on people's minds.04
With that said, I'm very glad we saw what we did. It was an immense privilege and pleasure to get to spend so long in one country. And in a way, I like that there wasn't a deep feeling of completeness or closure. Because I've never felt like travel ought to be treated as a checklist—"oh, we did Taiwan." Instead, it feels like each place you go, you're dipping in. How deep? You could stay a week, a month, a year. And going back, you will discover new angles, uncover sides of things you hadn't known. See how the place and the people have changed over time.
One final bubble tea in hand, we boarded the elevated airport line, rocketed over the fields of New Taipei, and checked into the flight for a much-delayed, very long stint in Japan.