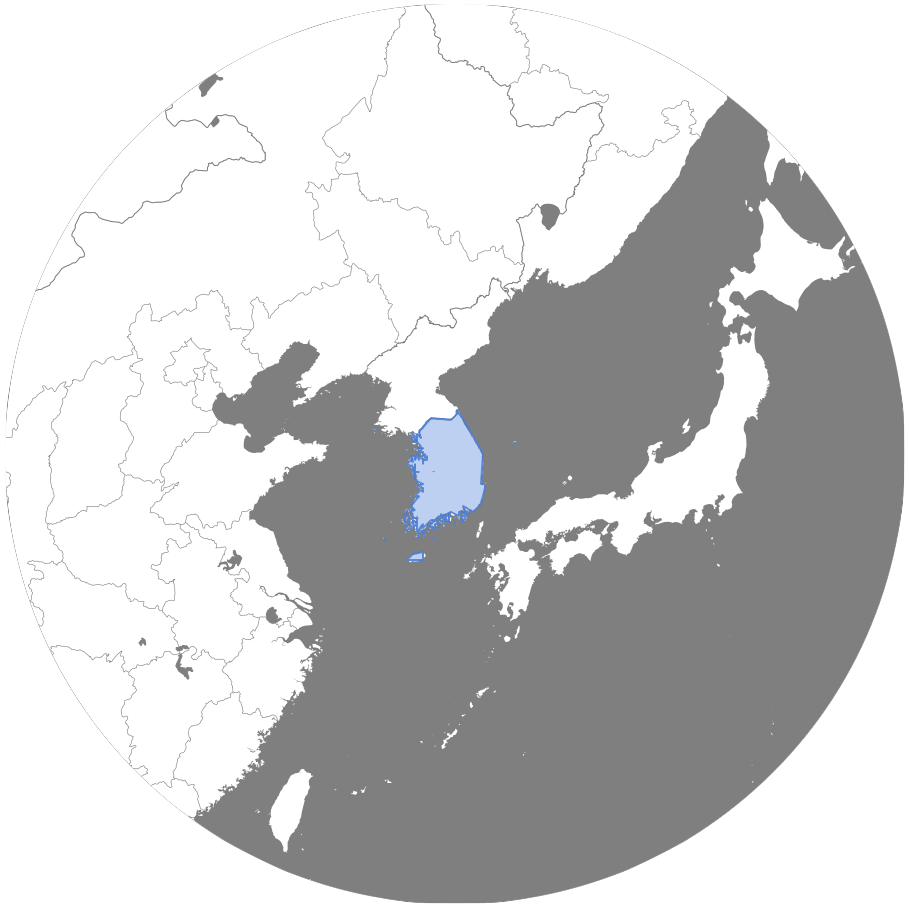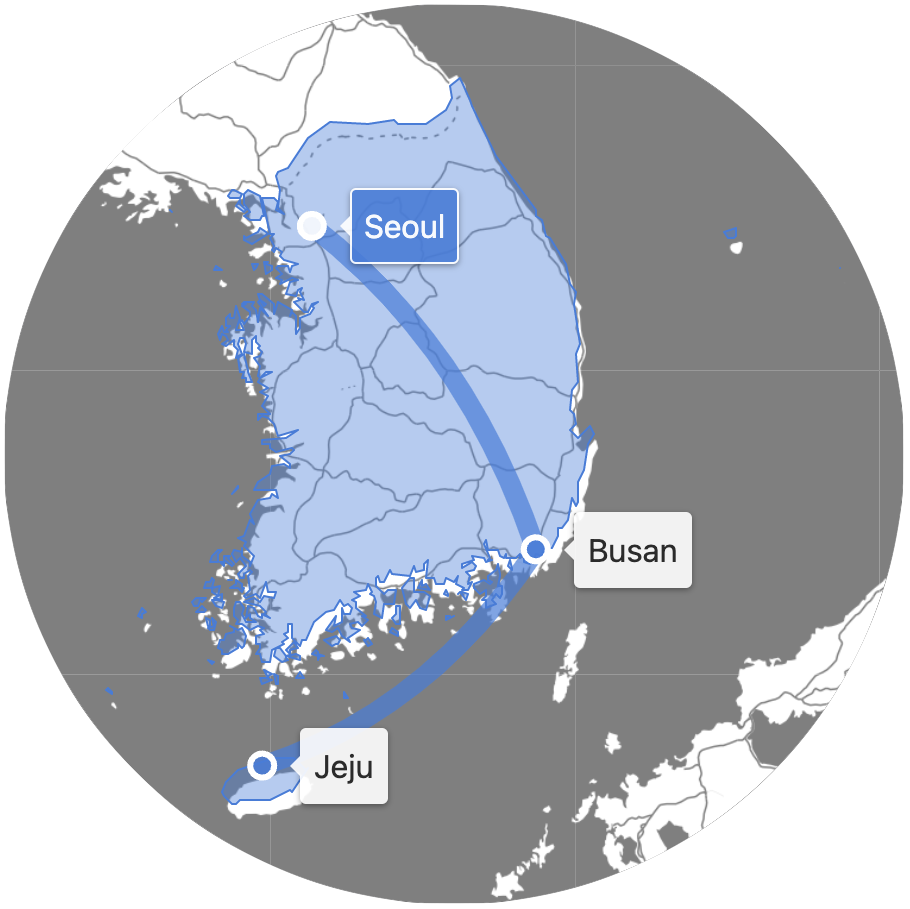 Note: For this post I'm going to try writing chronologically. No grouping of photos into themes, no A-reel segment, no separate observations section at the end. Just one long time-based narrative flow. It's an experiment. It might be worse. Let's see how it goes.
Once More Upon Istanbul's Airports
We layovered, for the third time, in one of Istanbul's mega terminals. It turned out that this time, we ended up in the megaest of them all, roofed with giant swoops and speckled throughout by luxury brands.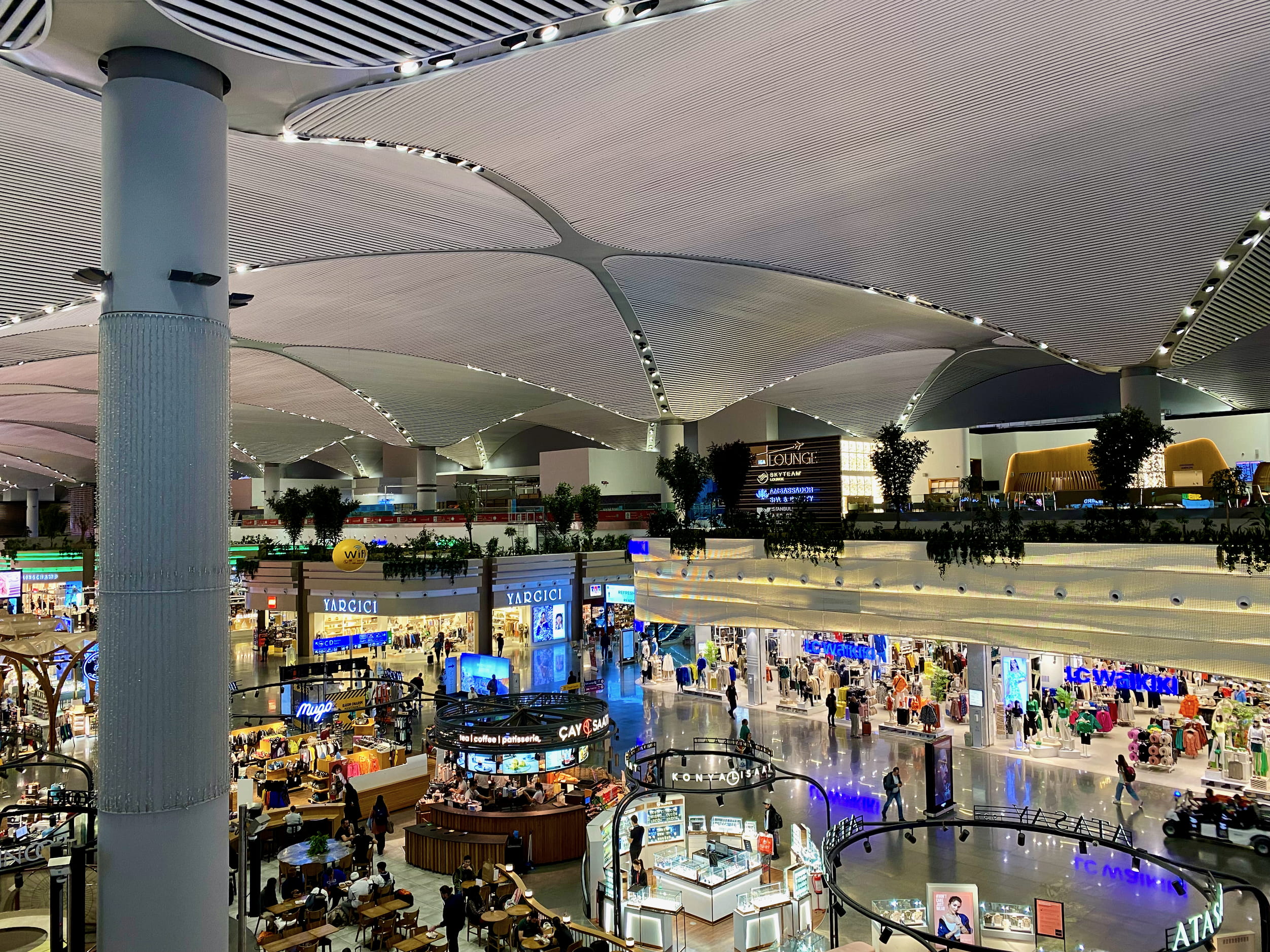 Oddly, though this one was the nicest, it was devoid of good overnight options. We managed01 to get a three hour nap in these canvas pods. I wish I hadn't been spoiled by Istanbul's other airport's sleep pod offer, with their brick-and-mortar snooze room, dedicated (if janky) shower area, and imaginary toothbrush delivery robot.02 Instead, here were a bunch of semi-dark felt pods in a big carpeted area right off an airport walkway.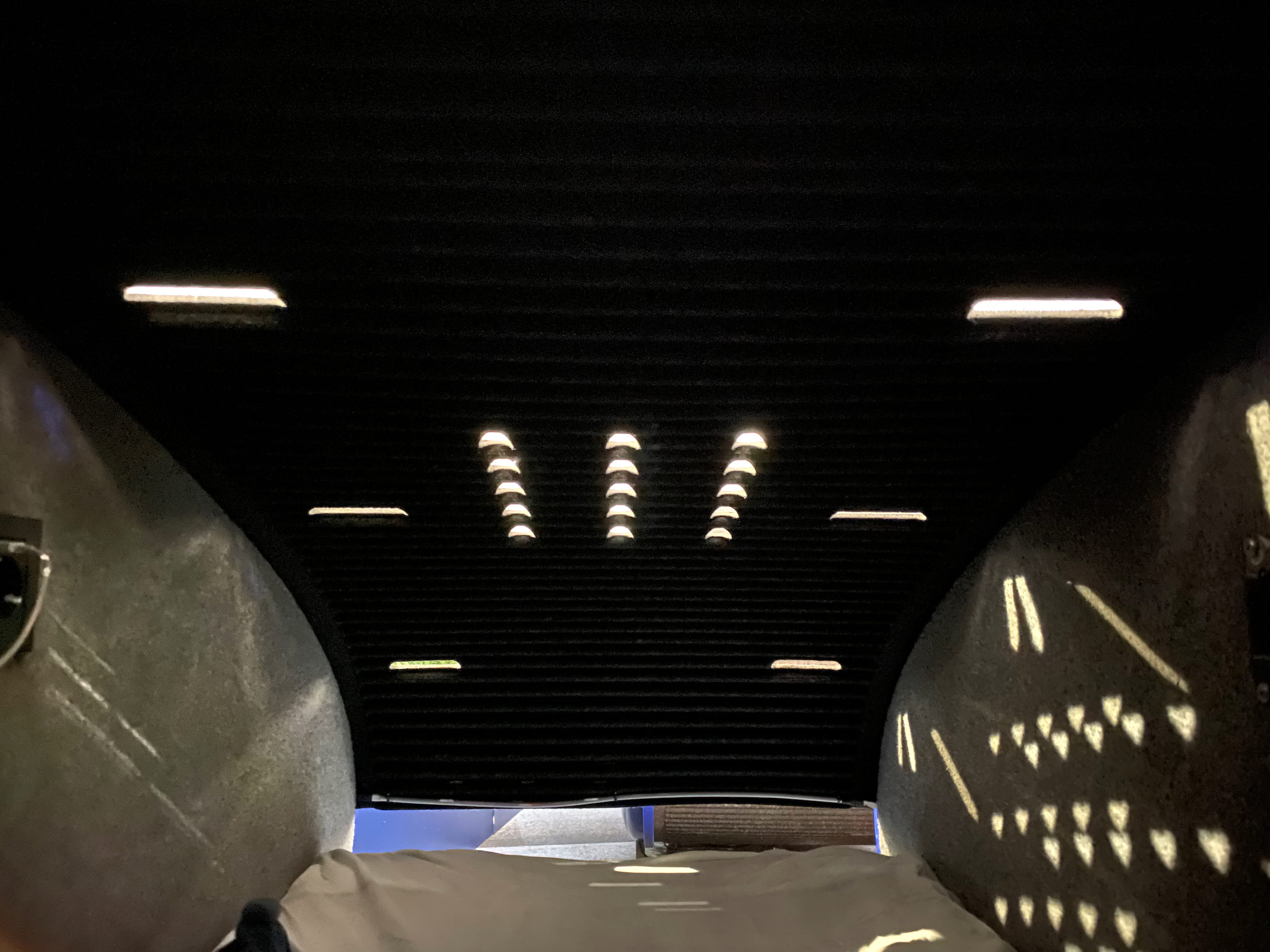 Why did we keep booking these overnights? In our defense, this time we didn't, it was just a legendarily bad 1:50am → 6:10am delay. On the bright side, nothing like visiting the airline service counter to make you feel much better about your situation. Because you'll hear the stories of people who have way more problems than a bleary night ahead of them.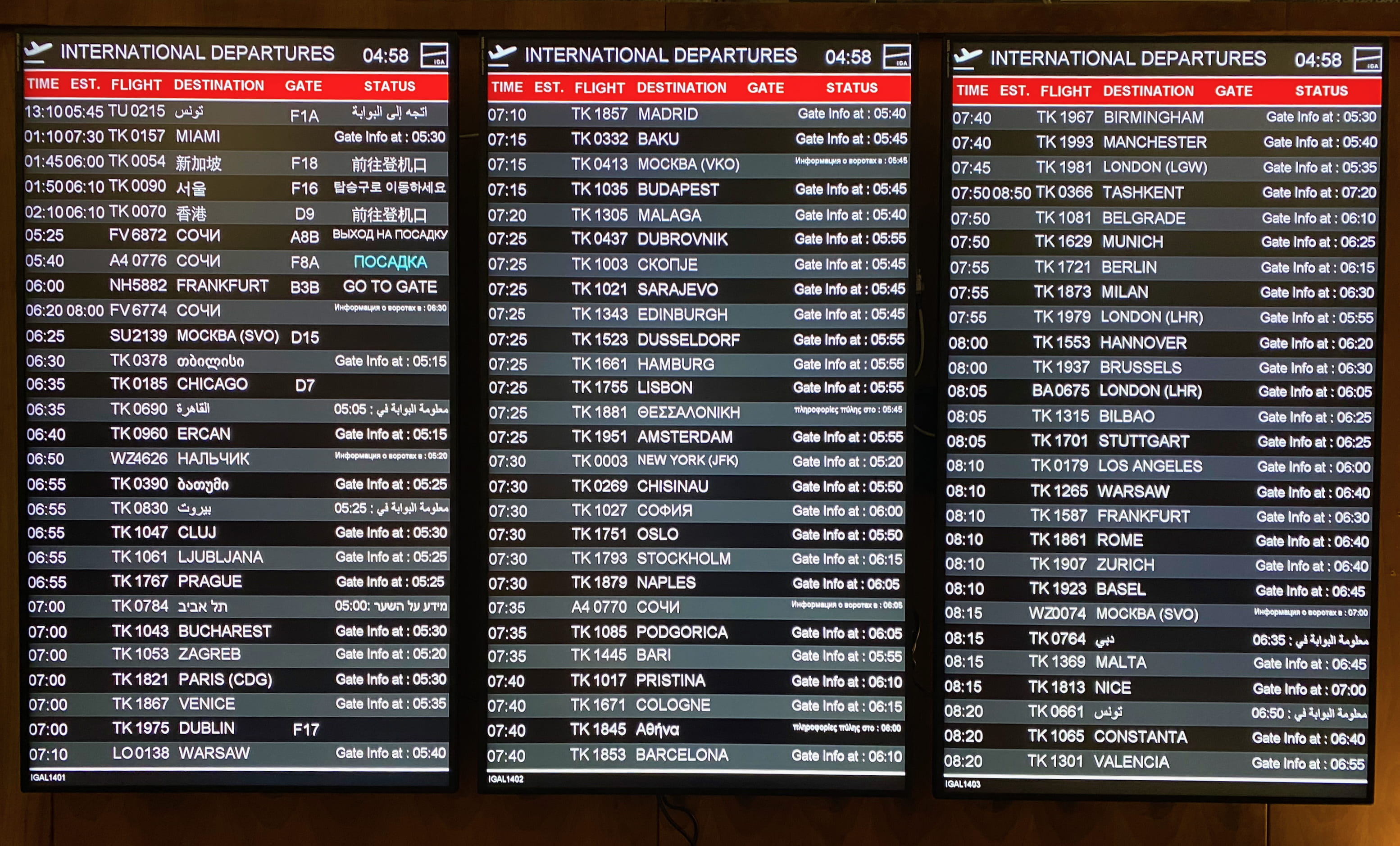 Seoul, Actually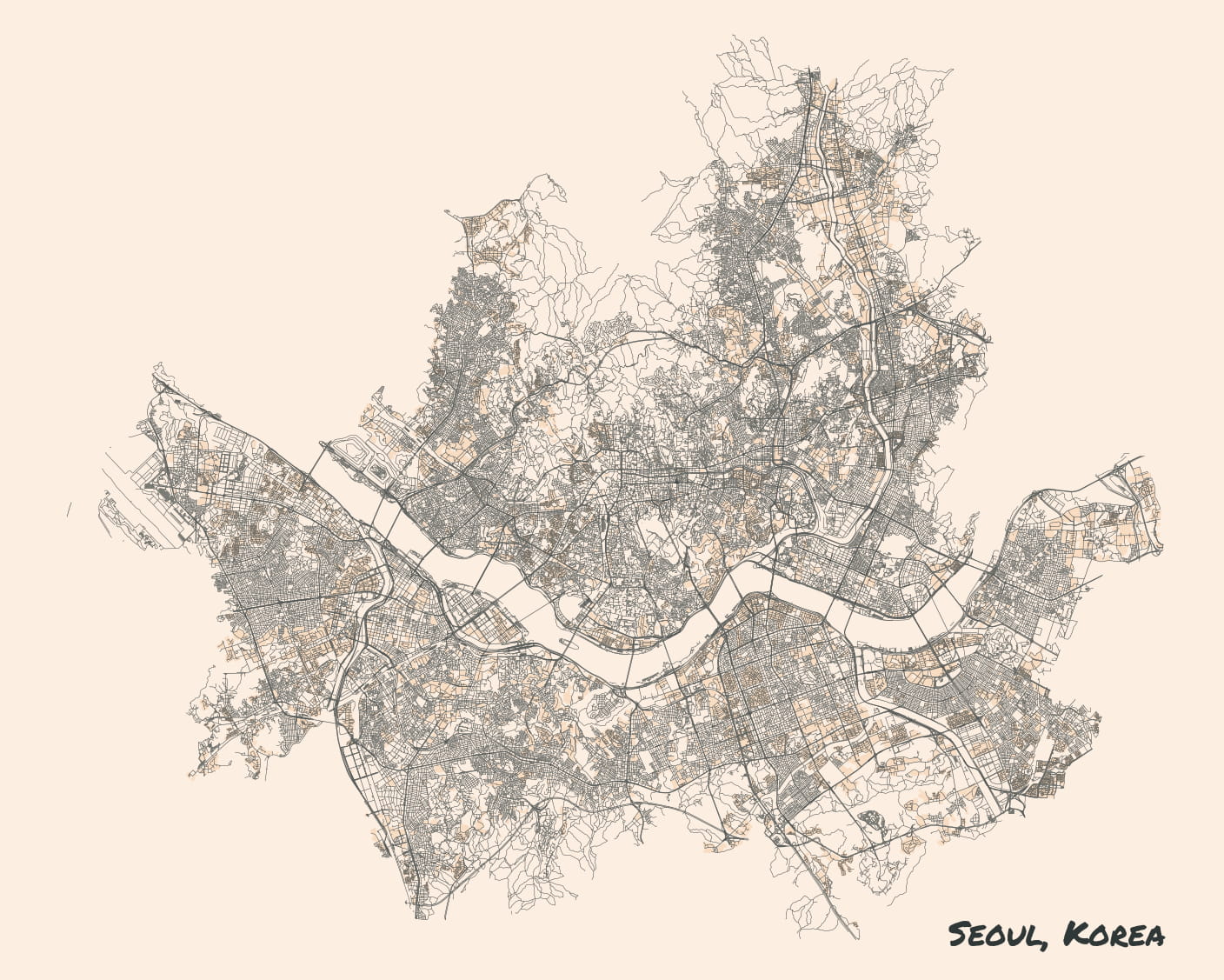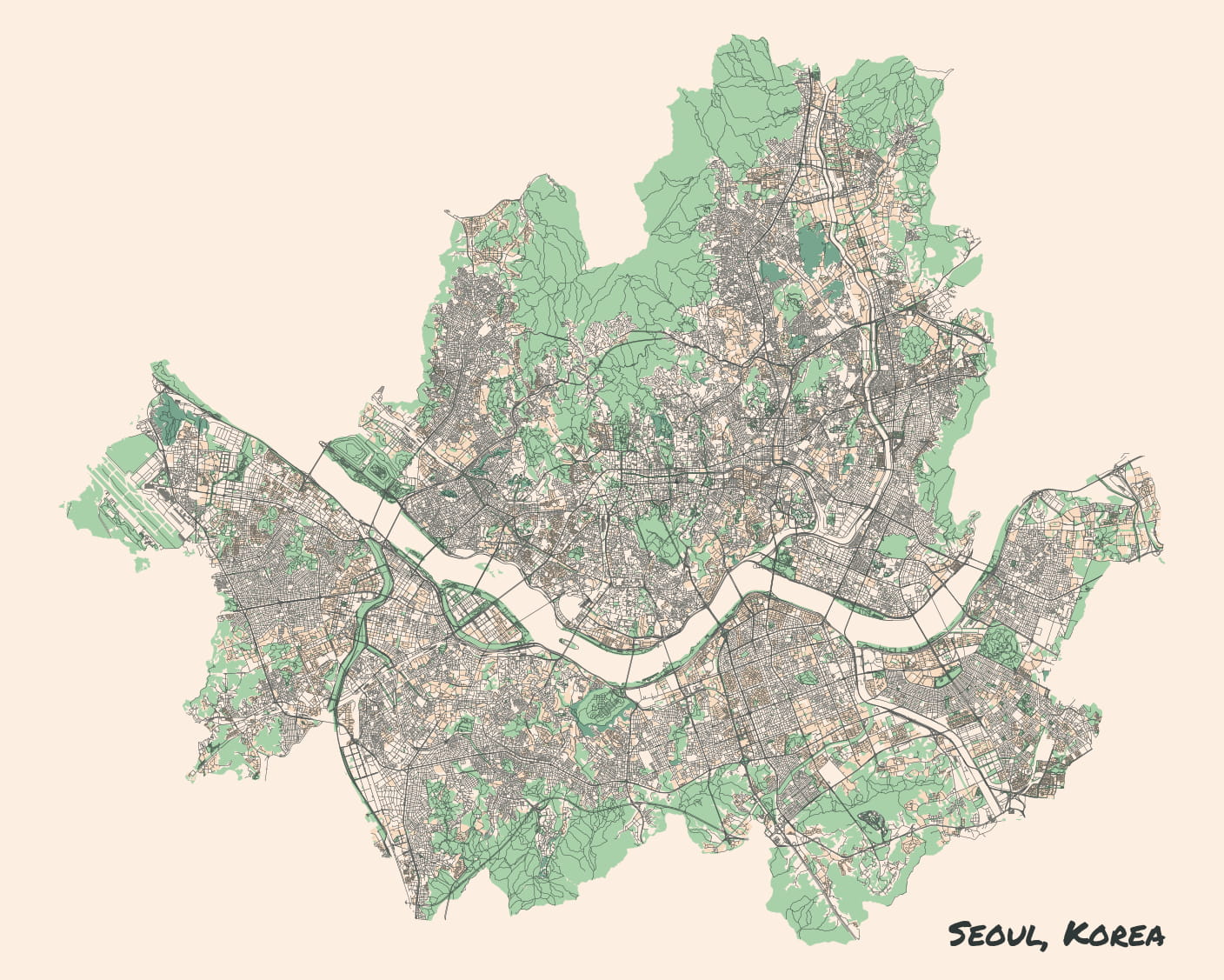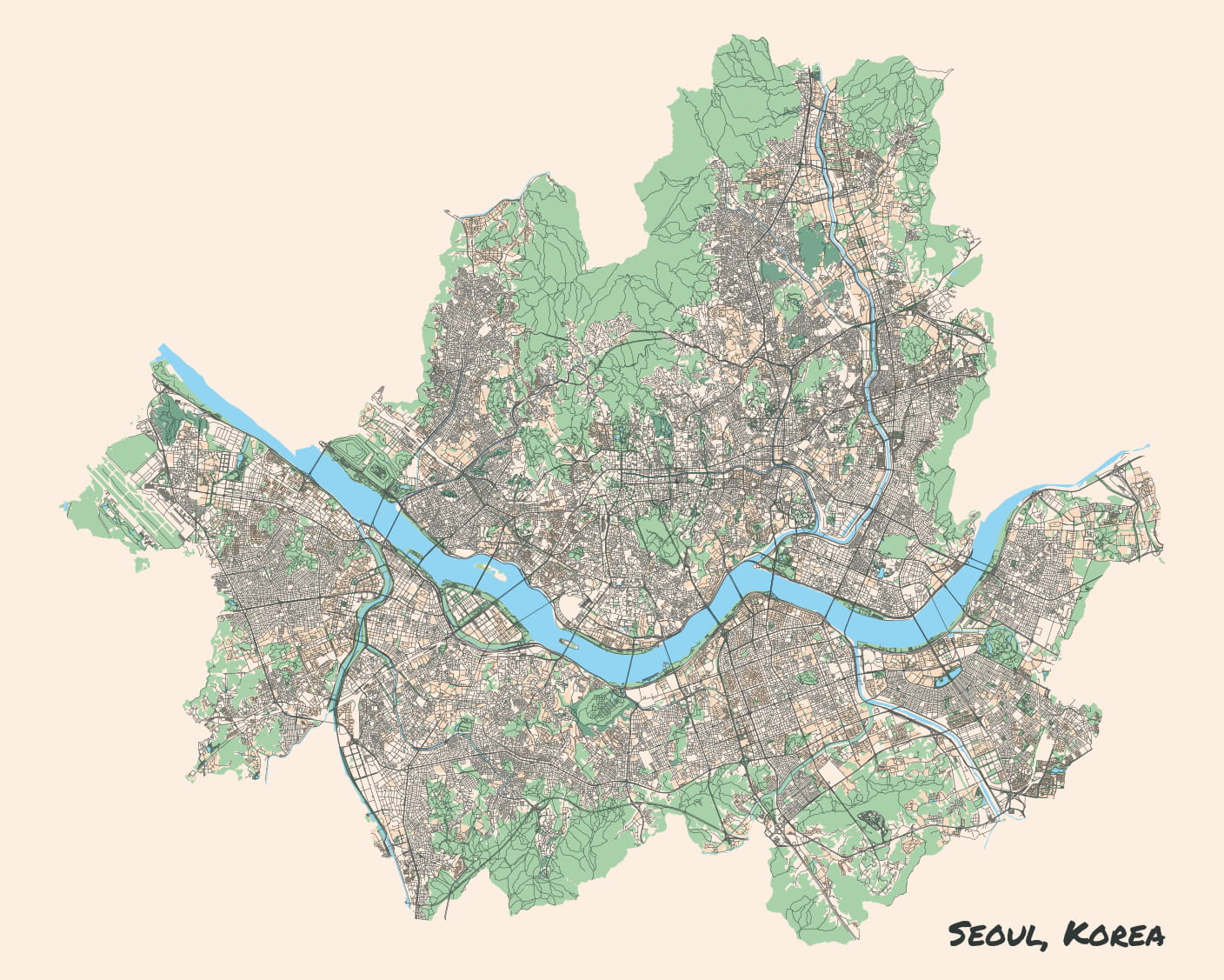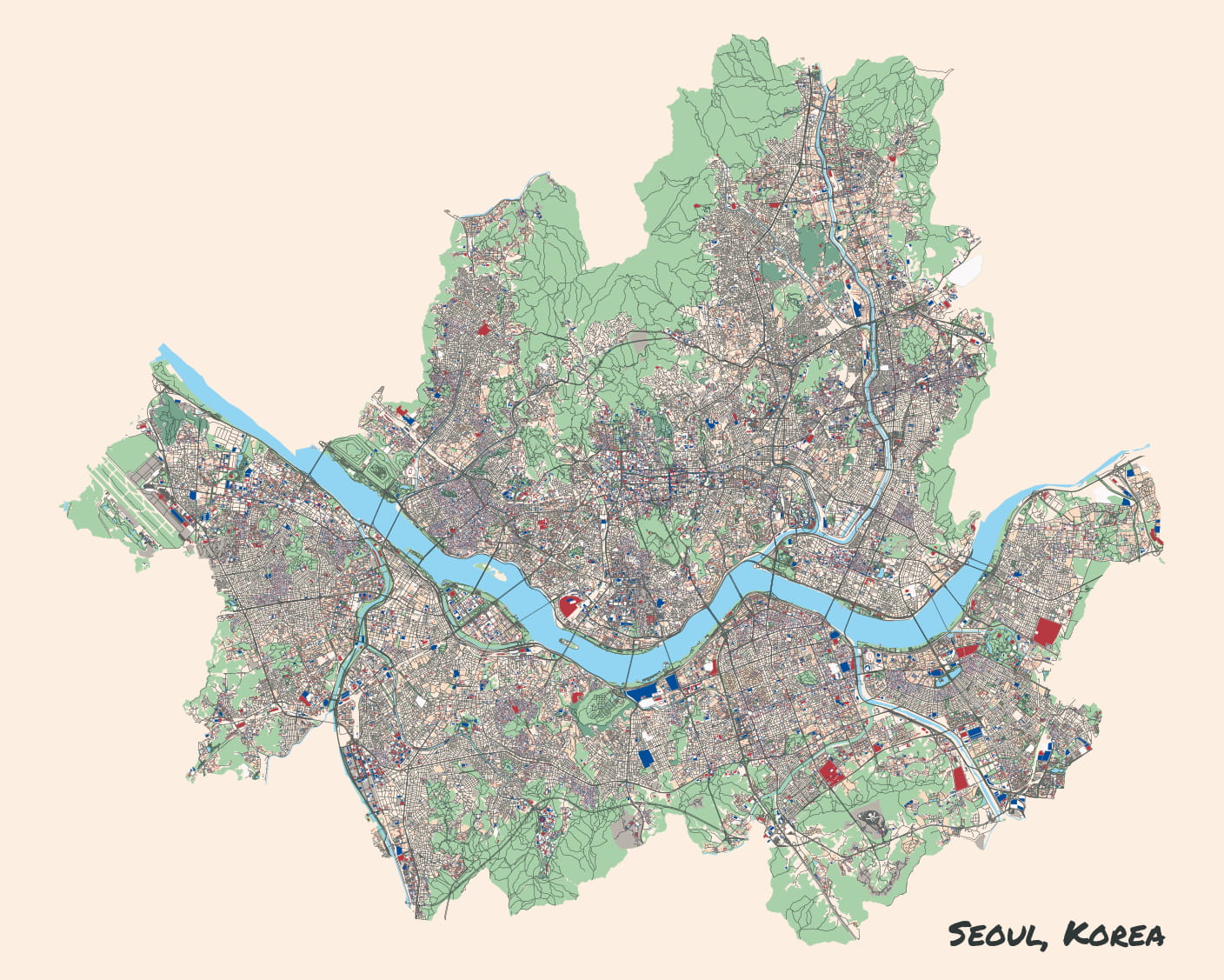 Seoul is a delightful place.
I visited S. Korea's capital city in 2015 and have been eager to come back. Seoul has the connective public transport tissue that most cities would dream of, a vibrant food and drink scene, it's safe, and—somehow—it's cheap. The atmosphere feels fun rather than stuffy.
Granted, this is all an outsider's view. The lens of a tourist who doesn't have to think about their studies or a career or a social network or reputation in a place. But as a visitor, I felt easygoing the whole time.
I'm glad I had this optimism from a past visit, because the landing was a bit rough. We arrived on an extraordinarily rainy night. With our delayed flight, we could only take the first of our required two metros into the city—they shut down the subway before we could transfer. The queue for the taxi at Seoul Main was enormous, so we rolled our way to a gargantuan bus stop complex and managed to snag one to our district.
The first part of our stay was in an Eastern district of central Seoul, by the Dongdaemun Design Plaza (DDP). The DDP is a big swoopy white museum / transit hub that I'll discuss and show you photos of later.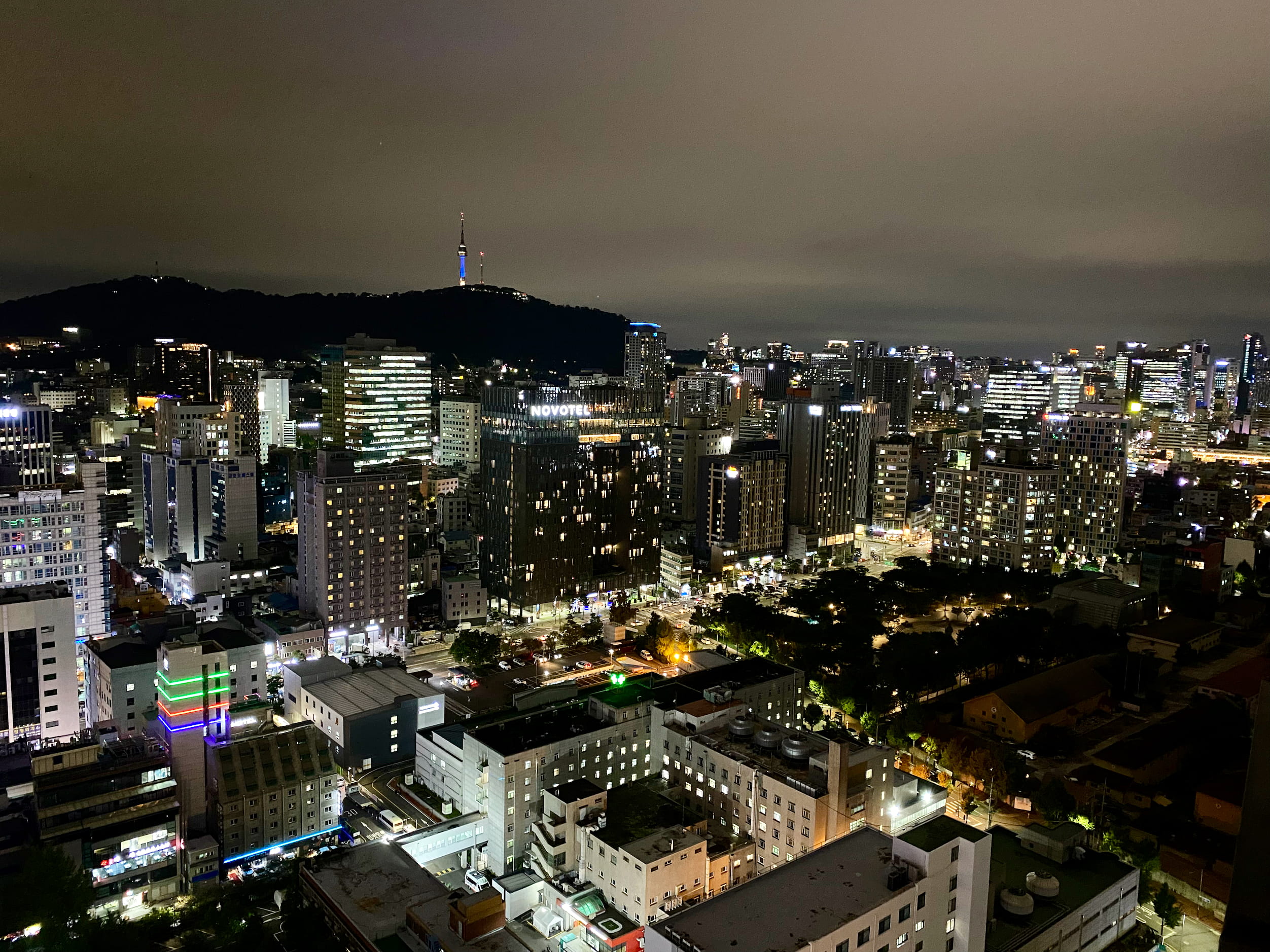 The DDP is near the Pyounghwa Market, which (the Market) is made up of either one or three warehouses. Street markets and shops flank most of its perimeter(s).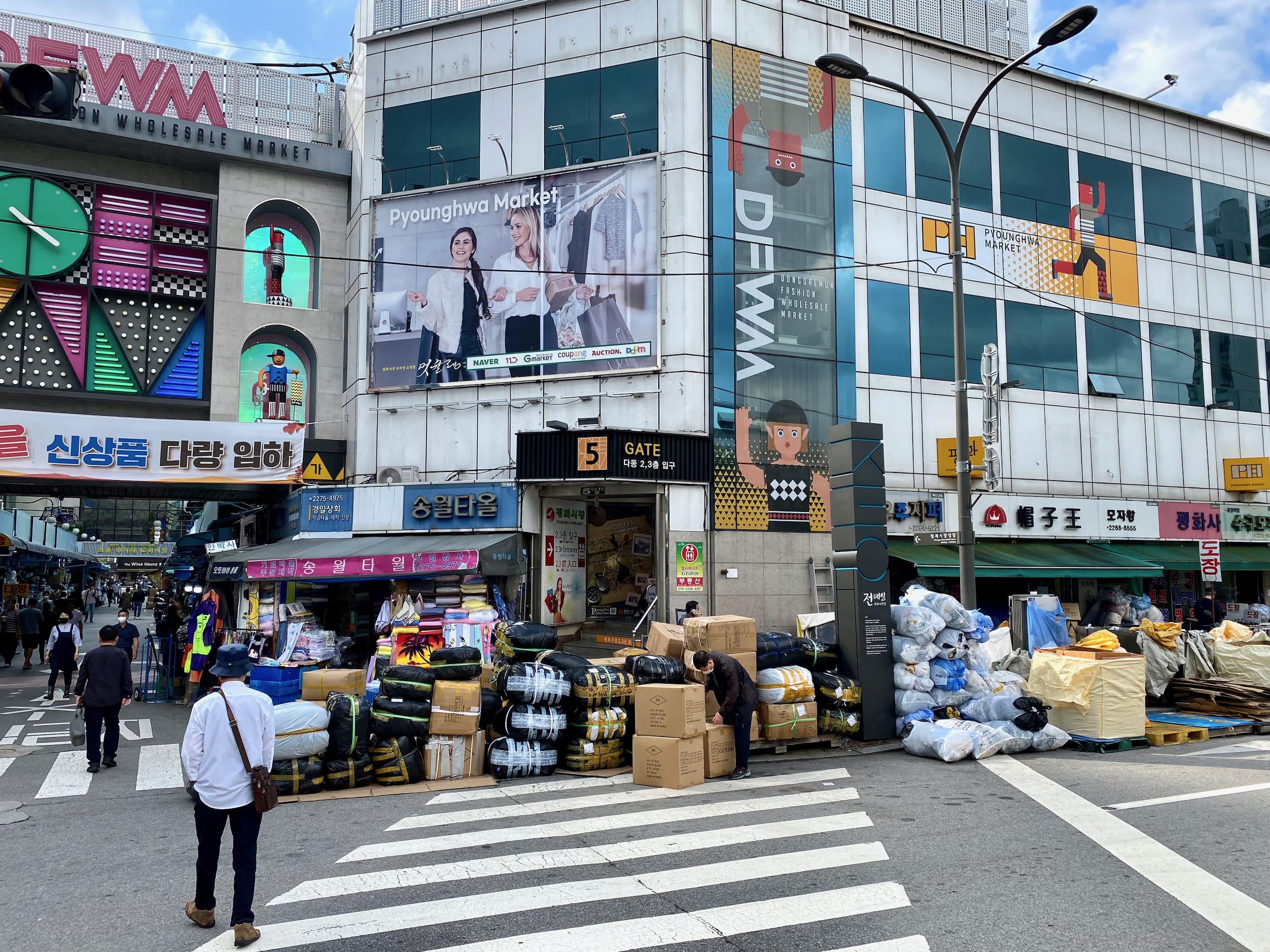 Do not believe the stock photo. Nobody is shopping inside, and nothing looks like an upscale botique. I have a picture of the interior later that you'll just have to wait for.03
We soon set off doing Officially Mandated Tourist Activities (OMTAs)04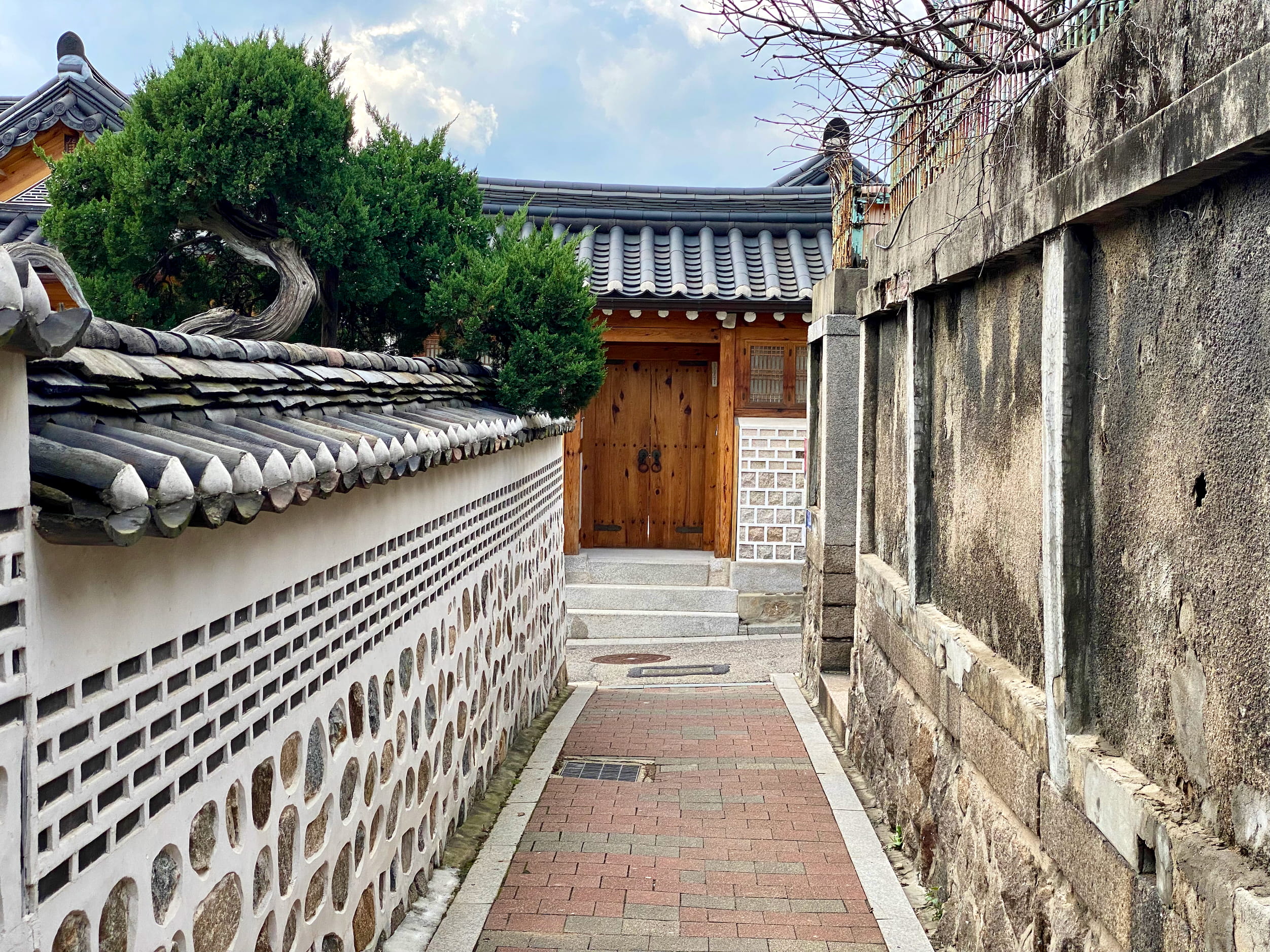 I remember being a bit underwhelmed seven years back when I had my first shot at Seoul's tourist gauntlet. I was disappointingly validated to have the same experience yet again.
Palace, Park, Yawn
Let me try to explain a bit so it doesn't seem like I'm trying to dunk on Seoul. Remember, Seoul's great, one of my favorite places on this shared planet we have.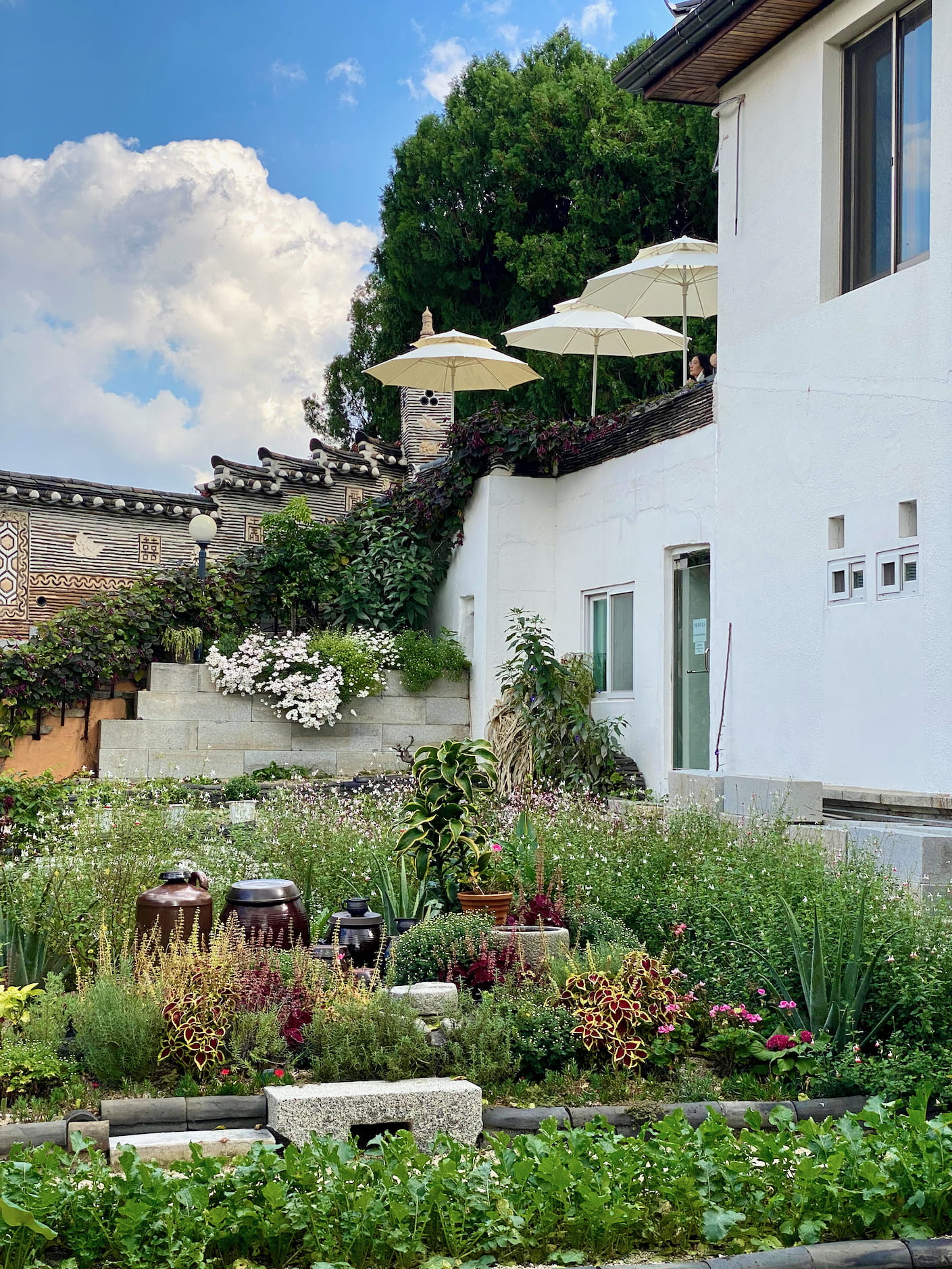 On the surface, there seems to be plenty of OMTAs which promise interesting things to look at. So you buy your ticket to one of the many park + old royal palace areas, or meander your way into an officially declared interesting zone, and whip out the ol' phone camera.
You see some some cool structures, so you dutifully snap photographs.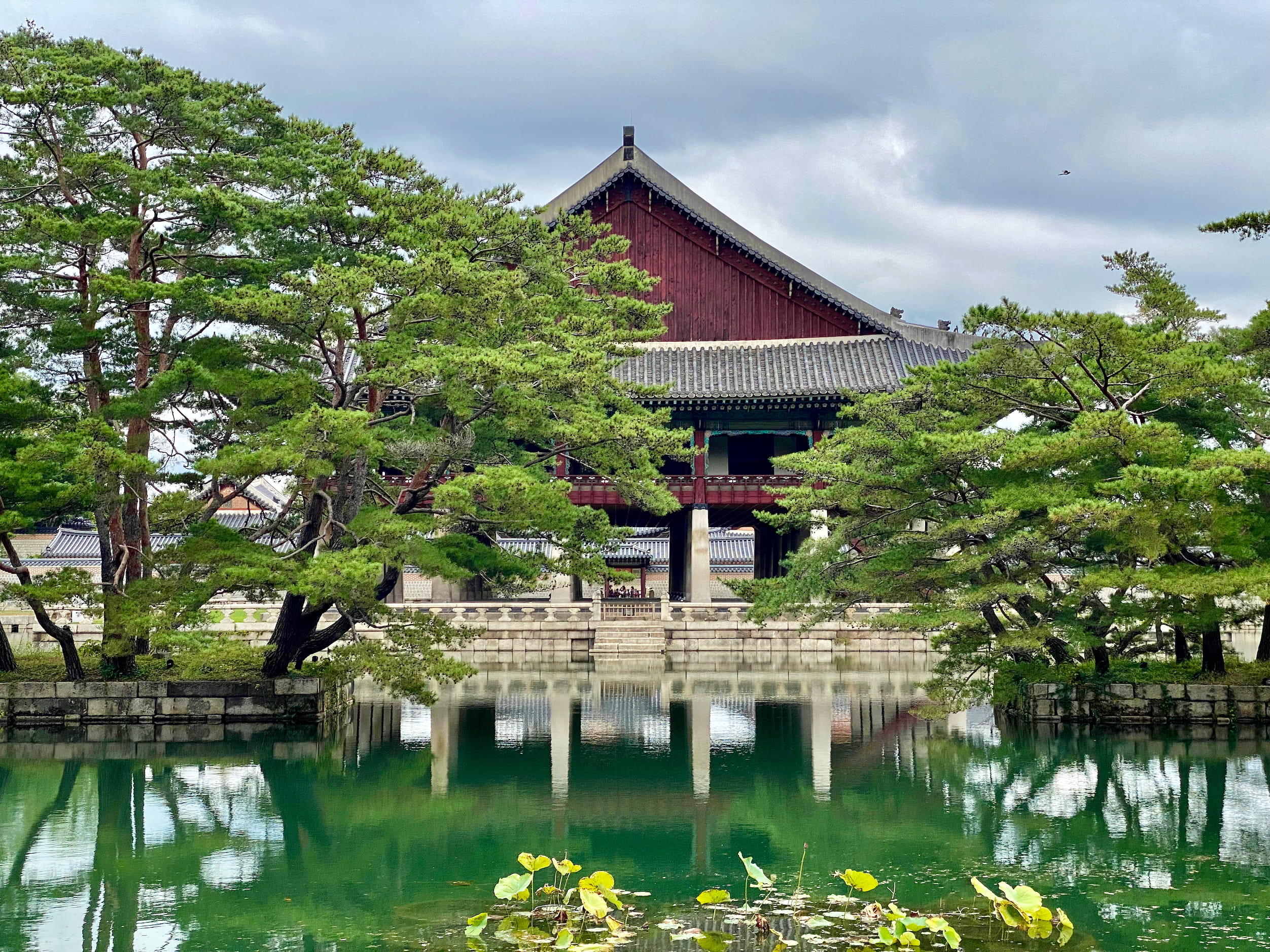 Keep heading through, ignore the myriad security cameras positioned to film every inch of your journey.05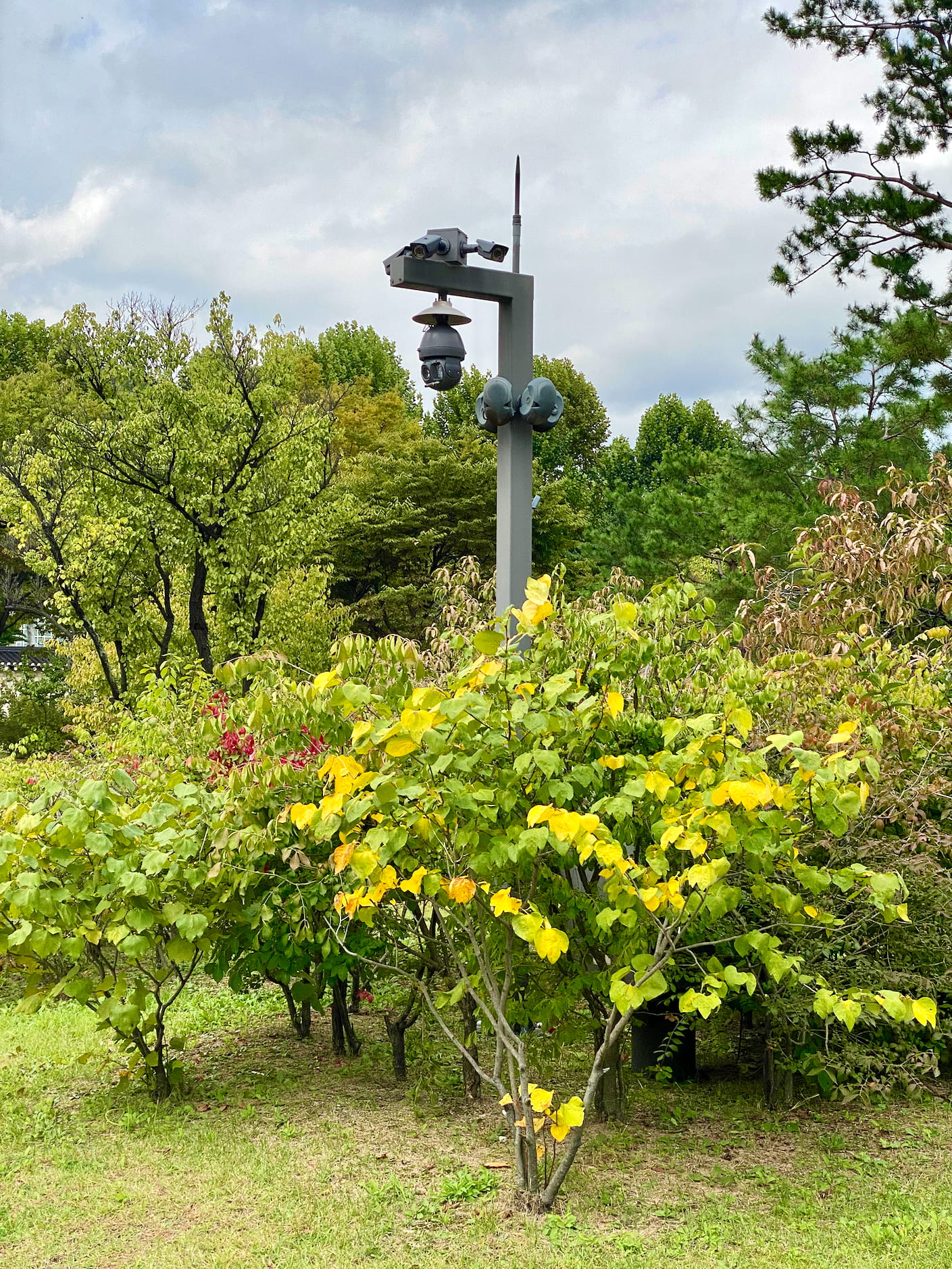 But after you check out a couple buildings, everything starts to feel… shut. Empty. Closed. Barren. Ropes block doors, gates are locked, courtyards could use tumbleweeds.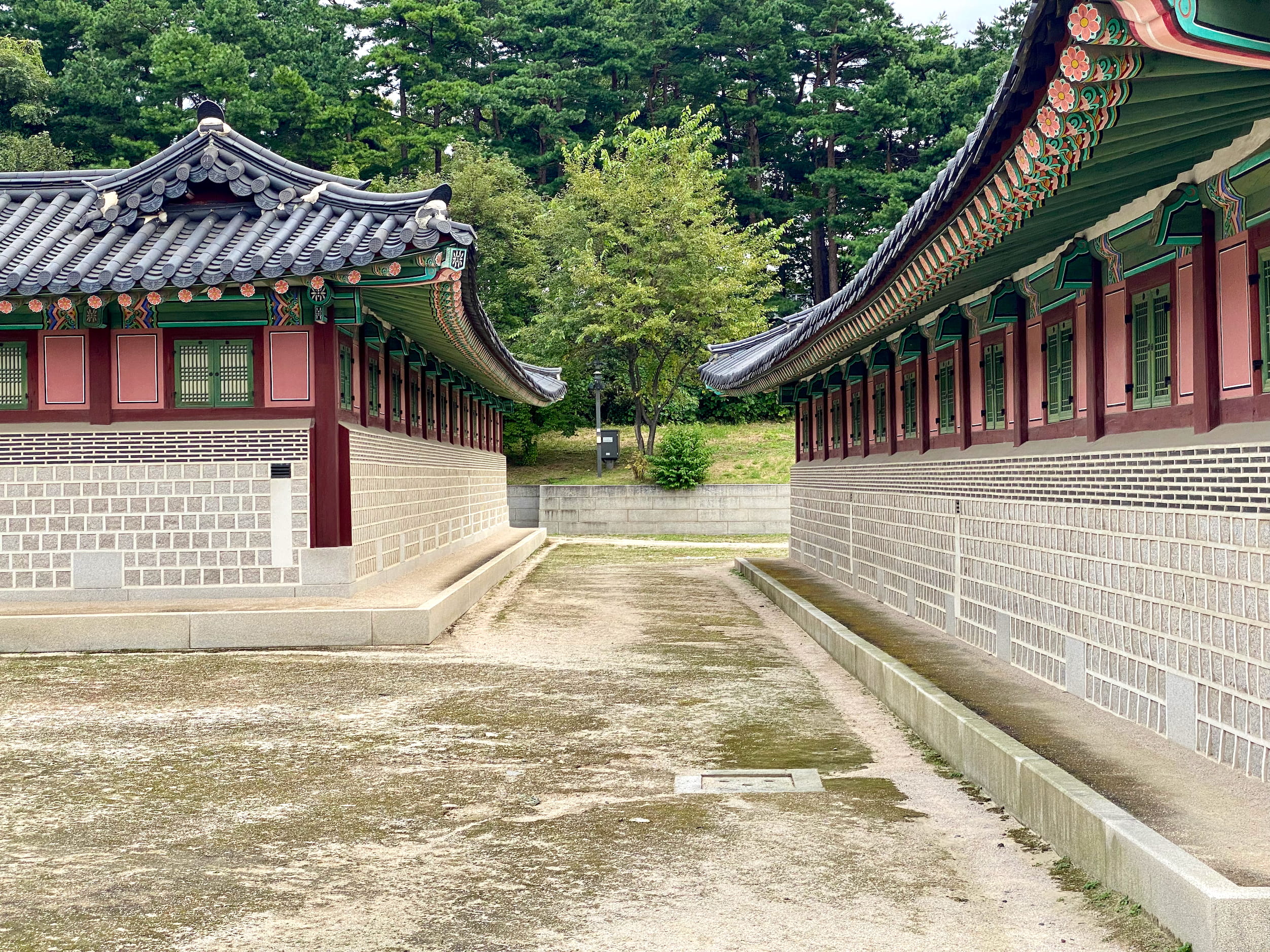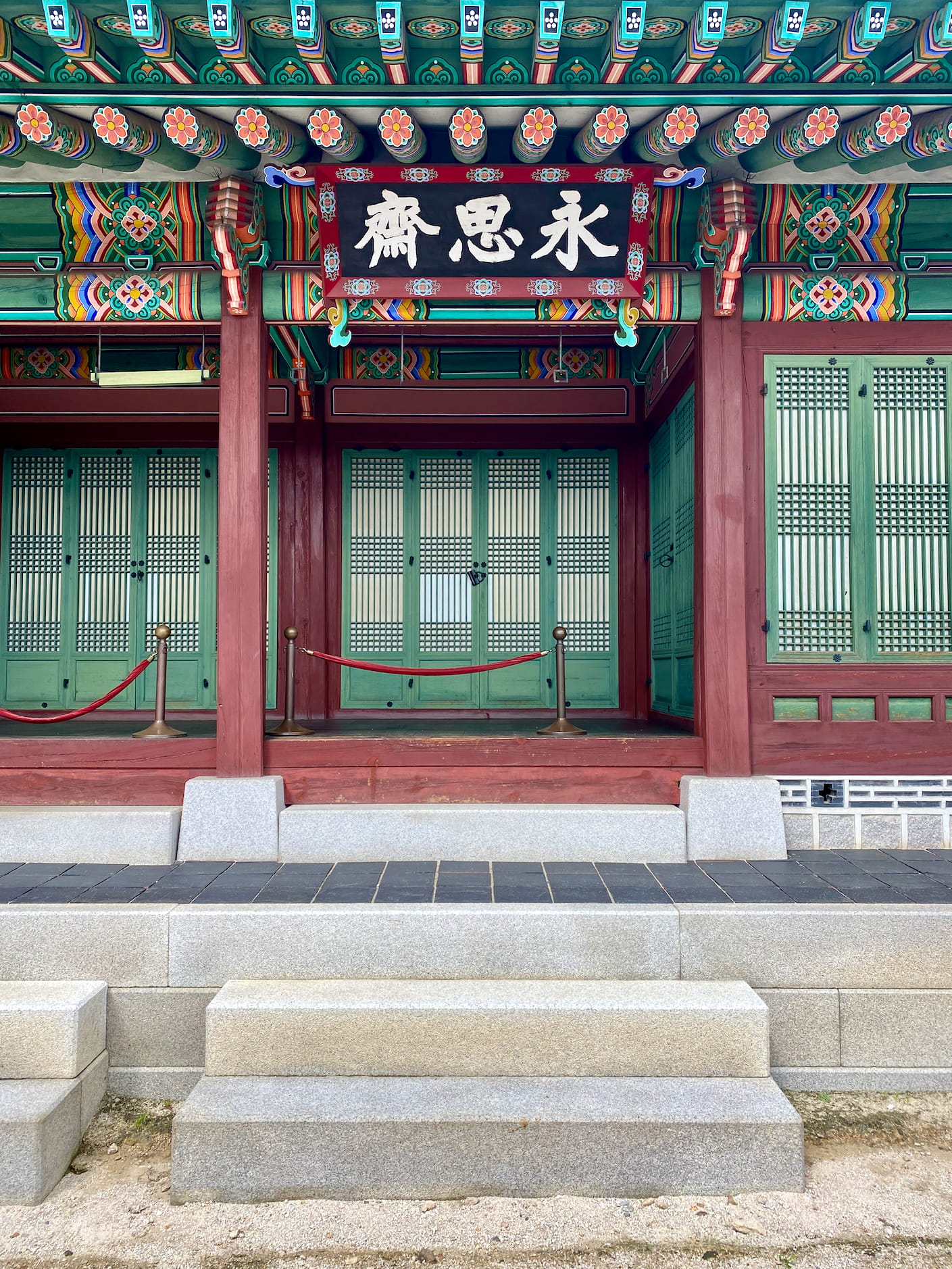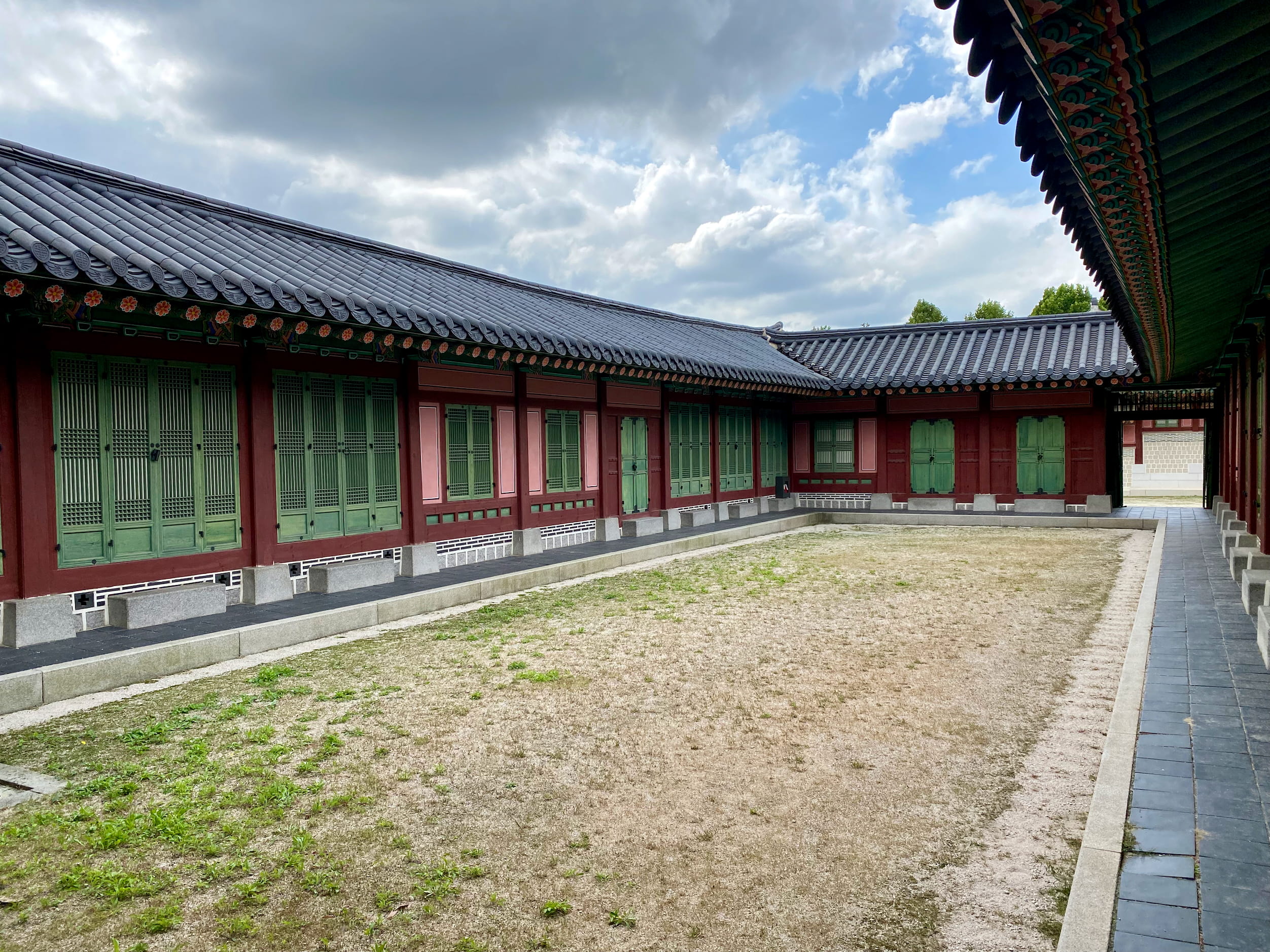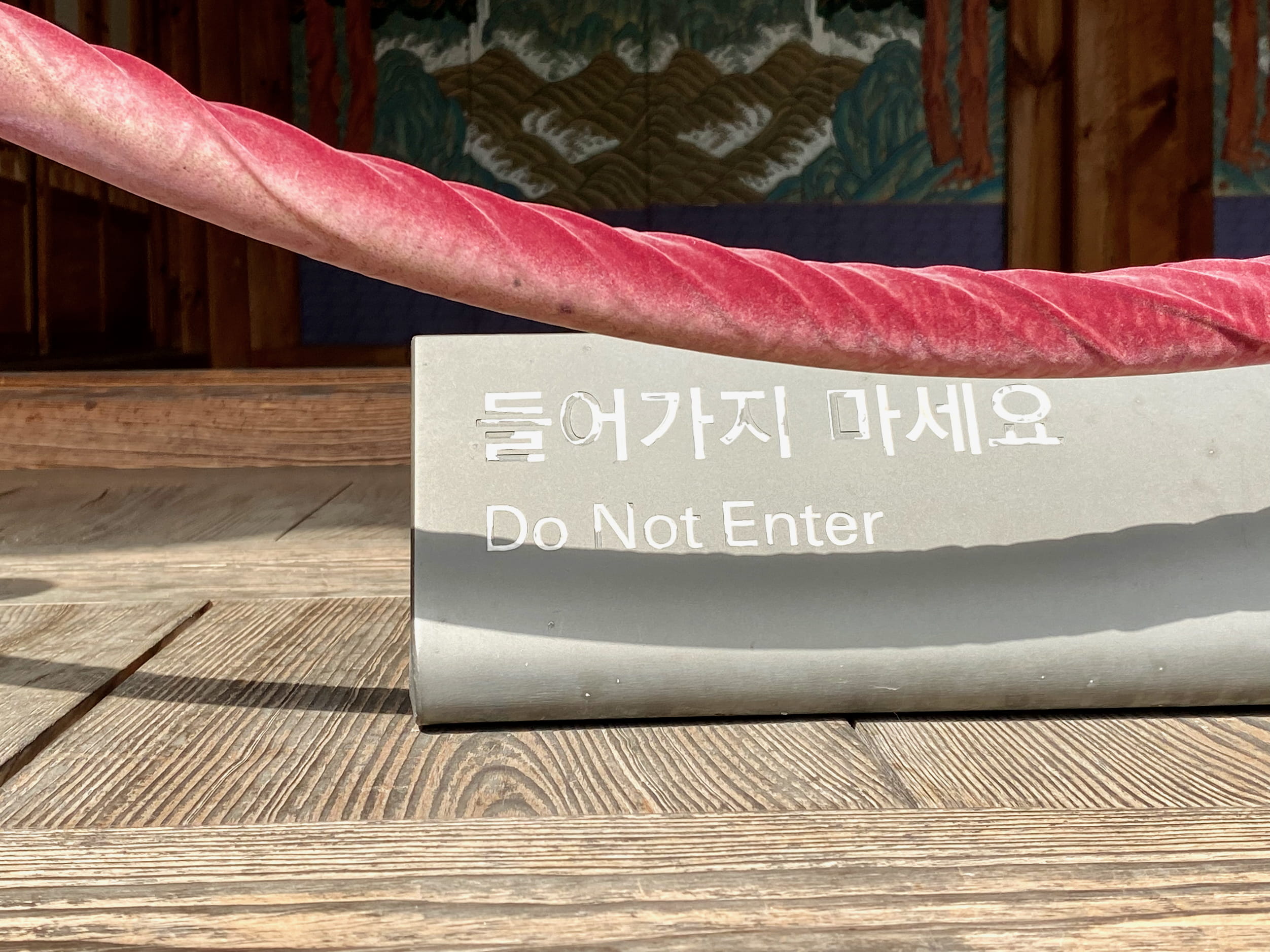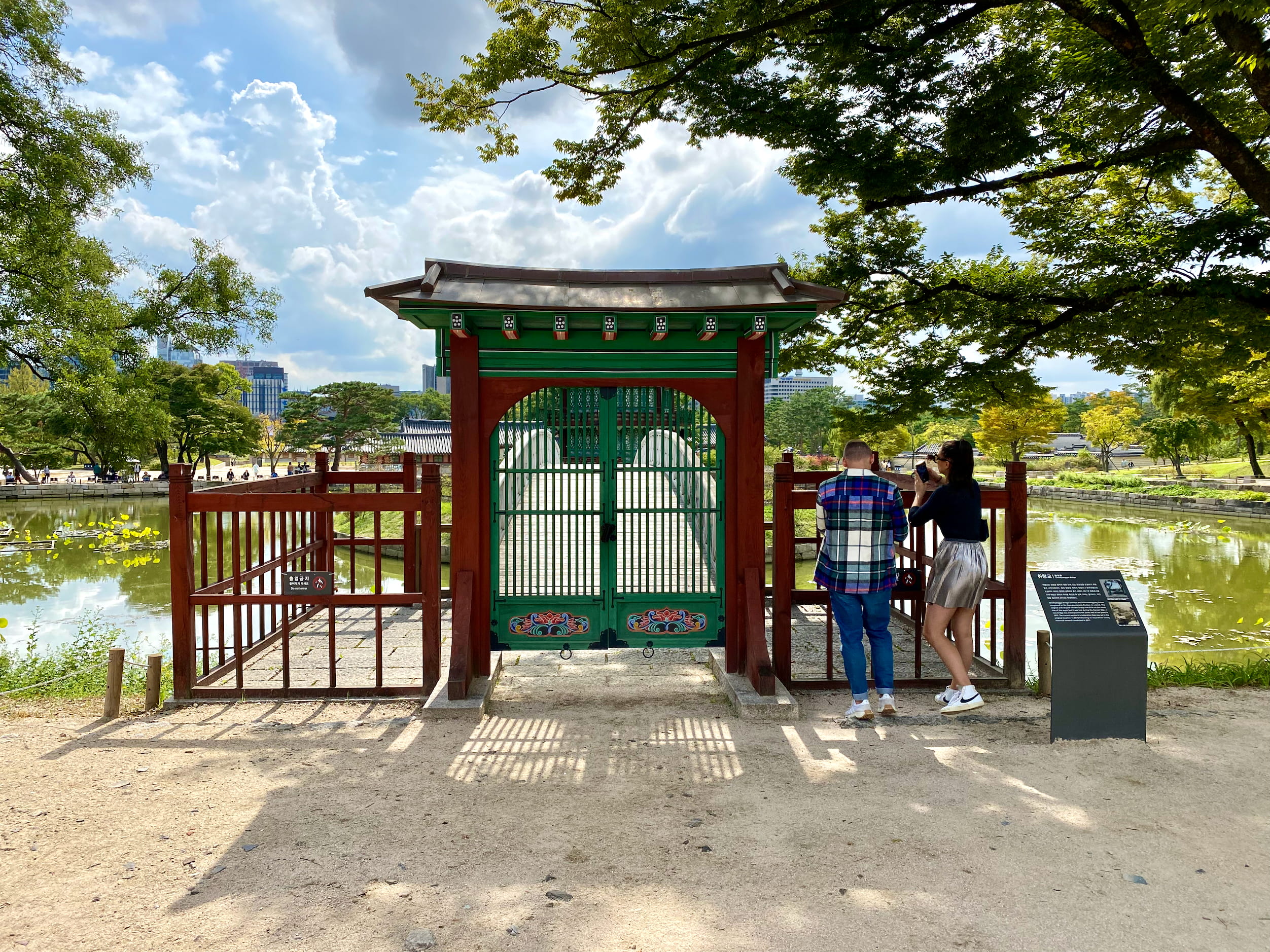 Look, don't touch. Photos only.
It reminds me a bit of a phenomenon I've only seen at such scale as in Korea: shops devoted entirely to taking photos. Commercial multi-room picture booths. They have stylized rooms, piles of equipment for dressing up, and that's it. Some didn't even have humans manning them. Just aesthetic disposable shells.
This connection has bled even further: many of the young Koreans we saw at the historical sights were there for photo shoots, professional photographer and outfit in tow.06
And don't get me wrong, the scenery is pretty. They've done a beautiful job restoring and maintaining the architecture and landscaping.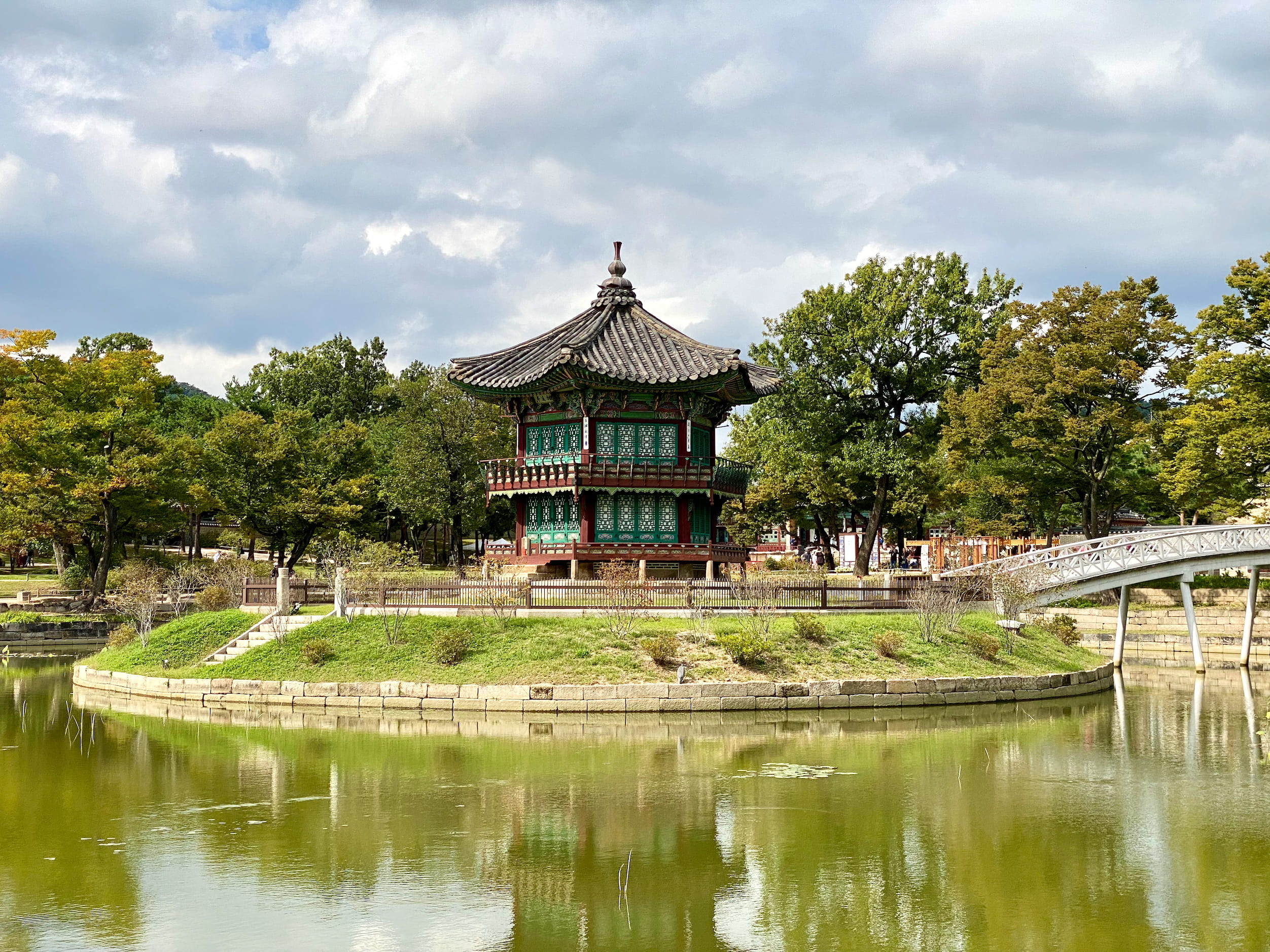 But I wanted more! Tell me stories, let me learn about the past. It may take effort, but Akko did far more with far less: lengthy informational plaques, moderate-budget filmed reenactments, lavishly labeled objects and zones, interactive audio tour guide, games from the era to play—the list goes on. And Akko's not even on most travelers' radar. Not the way Seoul is.
It seems like Seoul really is trying, too. Pairs of guides dressed in hard-to-miss red outfits wander around tourist-relevant zones, offering maps and advice for free.07 In the courtyard, hired crews dressed to the toes in traditional clothing play music and perform dances.08
So, that's all to say, I don't think you oughta come to Seoul for OMTAs. Not yet, at least.
And you don't have to, because looming around you everywhere is the mega-modern. Let's explore.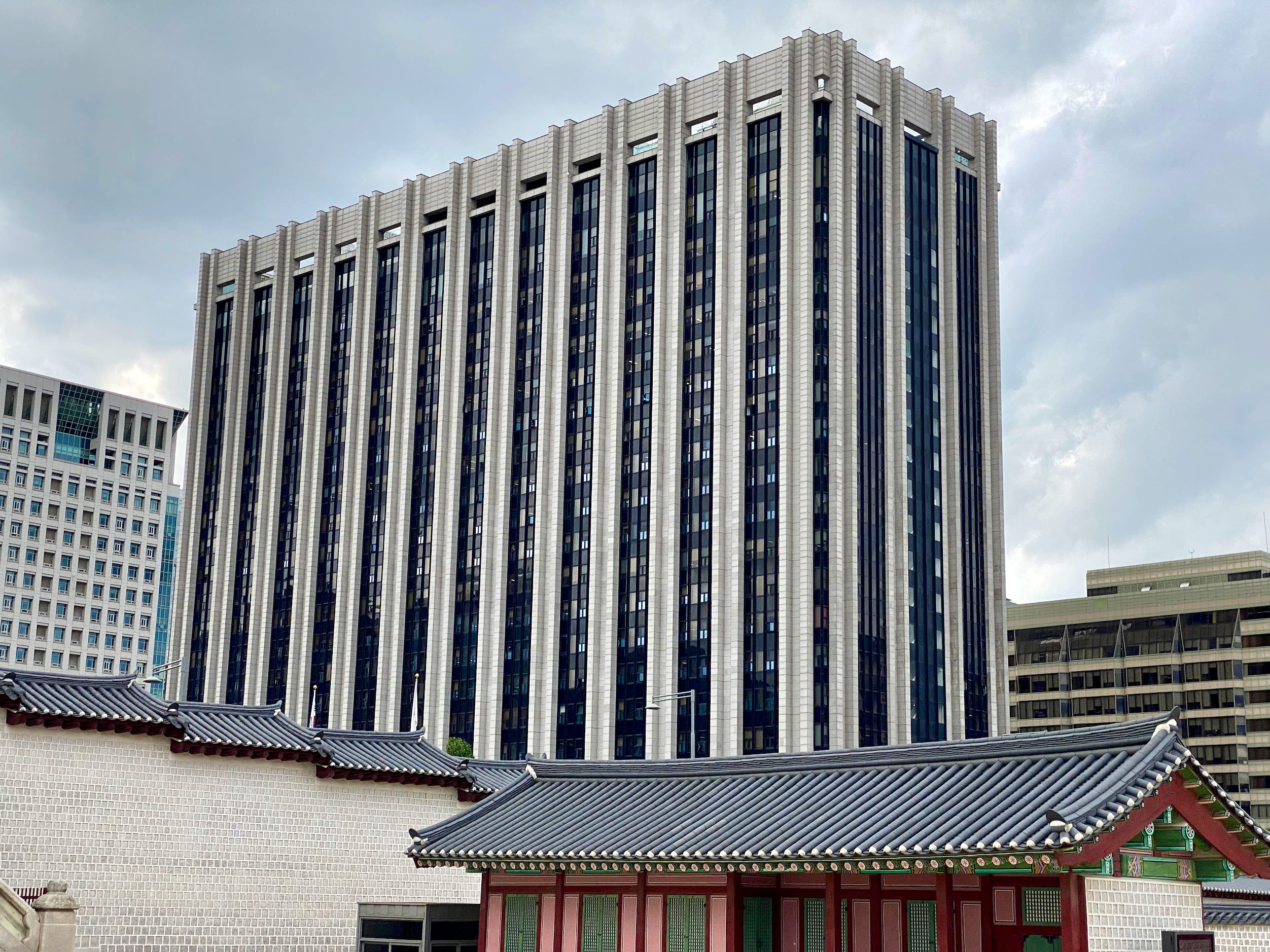 Diving In to Seoul
We found Tiger Sugar, the best boba-disguised dessert-in-a-cup I have ever had. Mine even had espresso in it.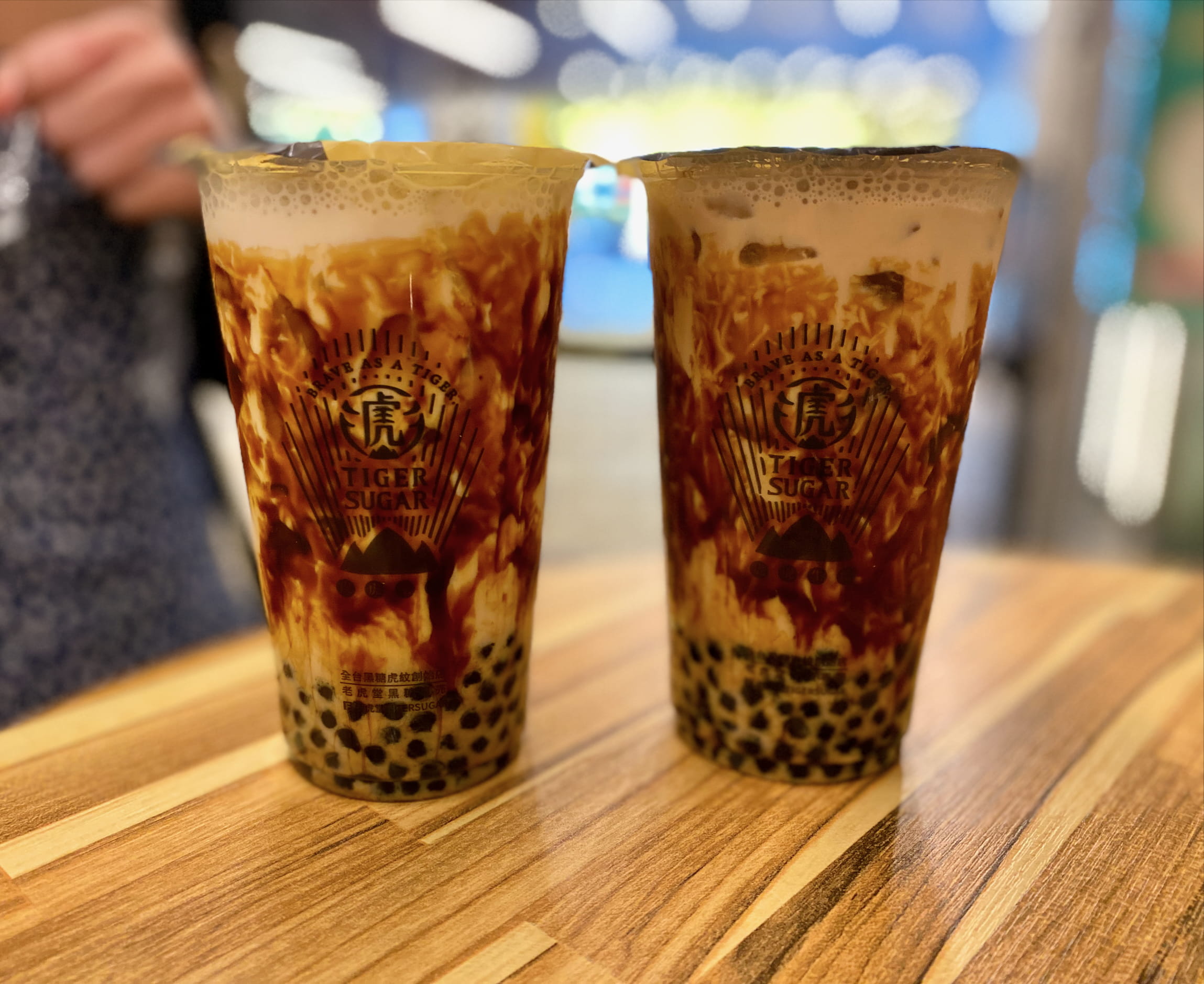 One thing I liked about Seoul was its willingness to jerry-rig infrastructure together. E.g., this bus had a TV (and several security cameras) unabashedly mounted and wired up post-hoc.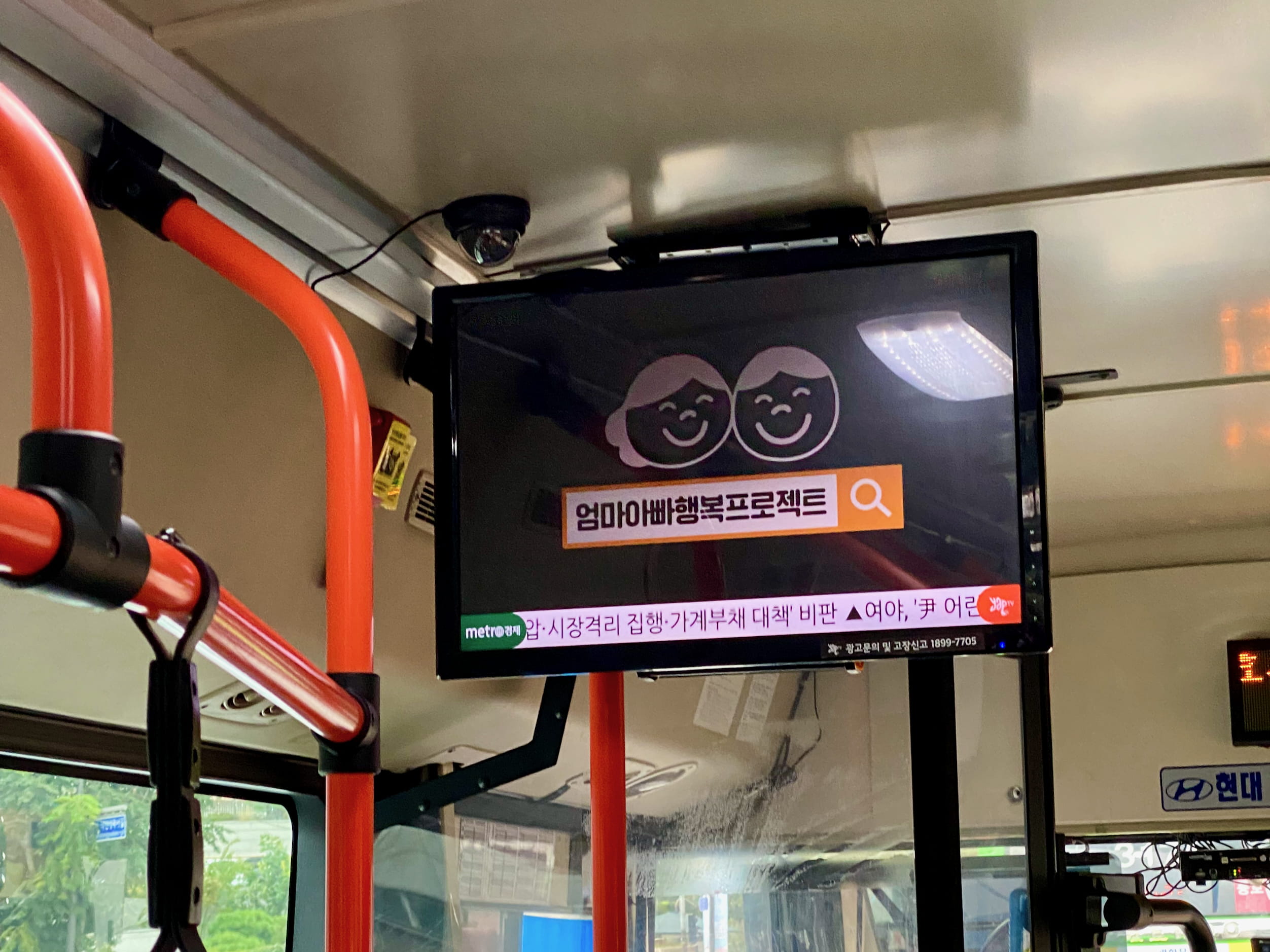 Seoul Tower sits on a mountain right in the city. You don't even need to buy a ticket because primo skyline panos are available at the base.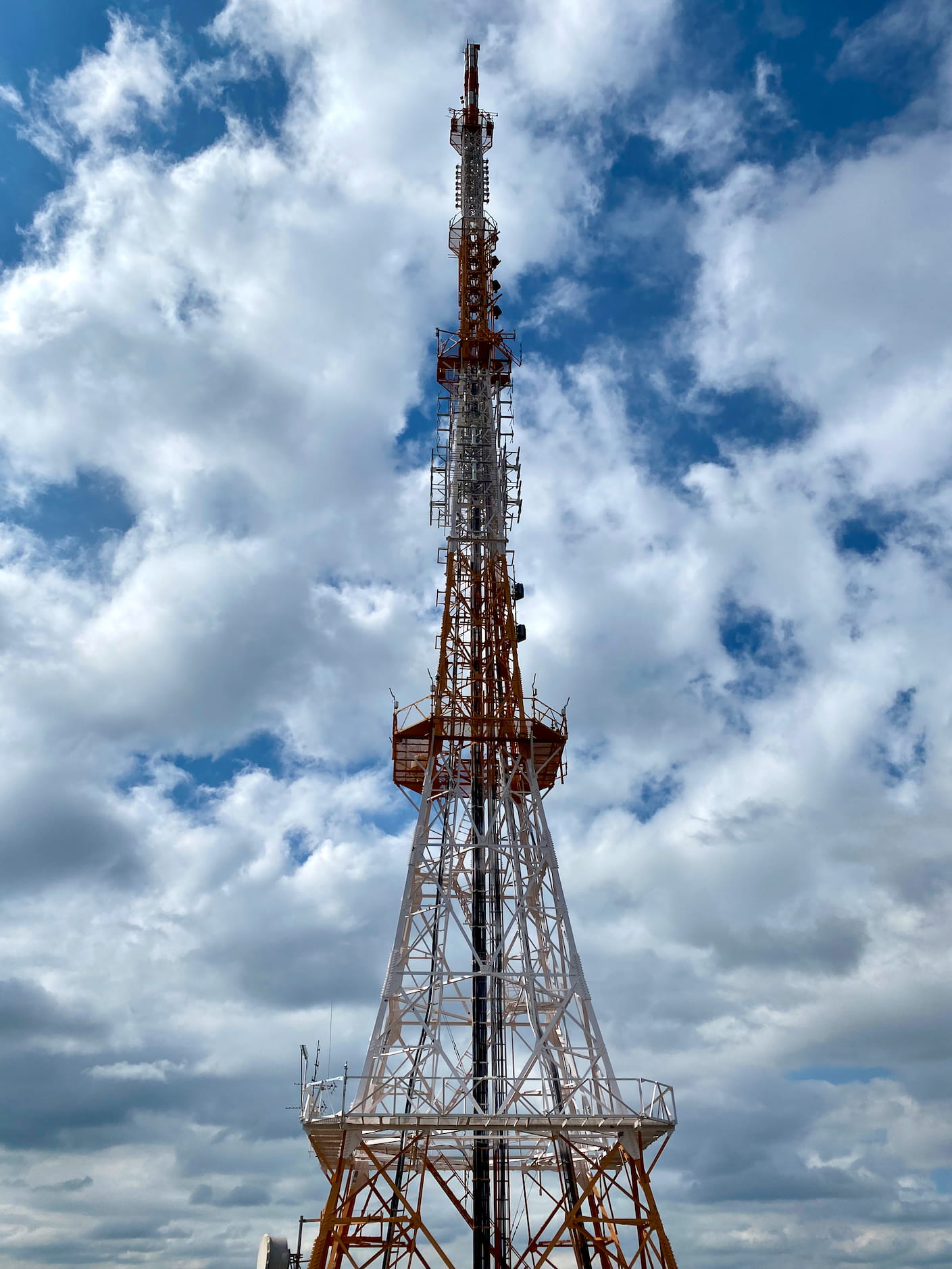 Another great part of Seoul is its natural geography. Plenty of green hills erupt from the dense urban metropolis.09 The Han River is enormous and plows right through it. But most importantly, the skyscrapers could easily have succumbed to copy-paste dystopian utilitarianism housing, but they didn't. Seoul's architects were working overtime. The variety of glass towers somehow feels fresh and interesting in every district.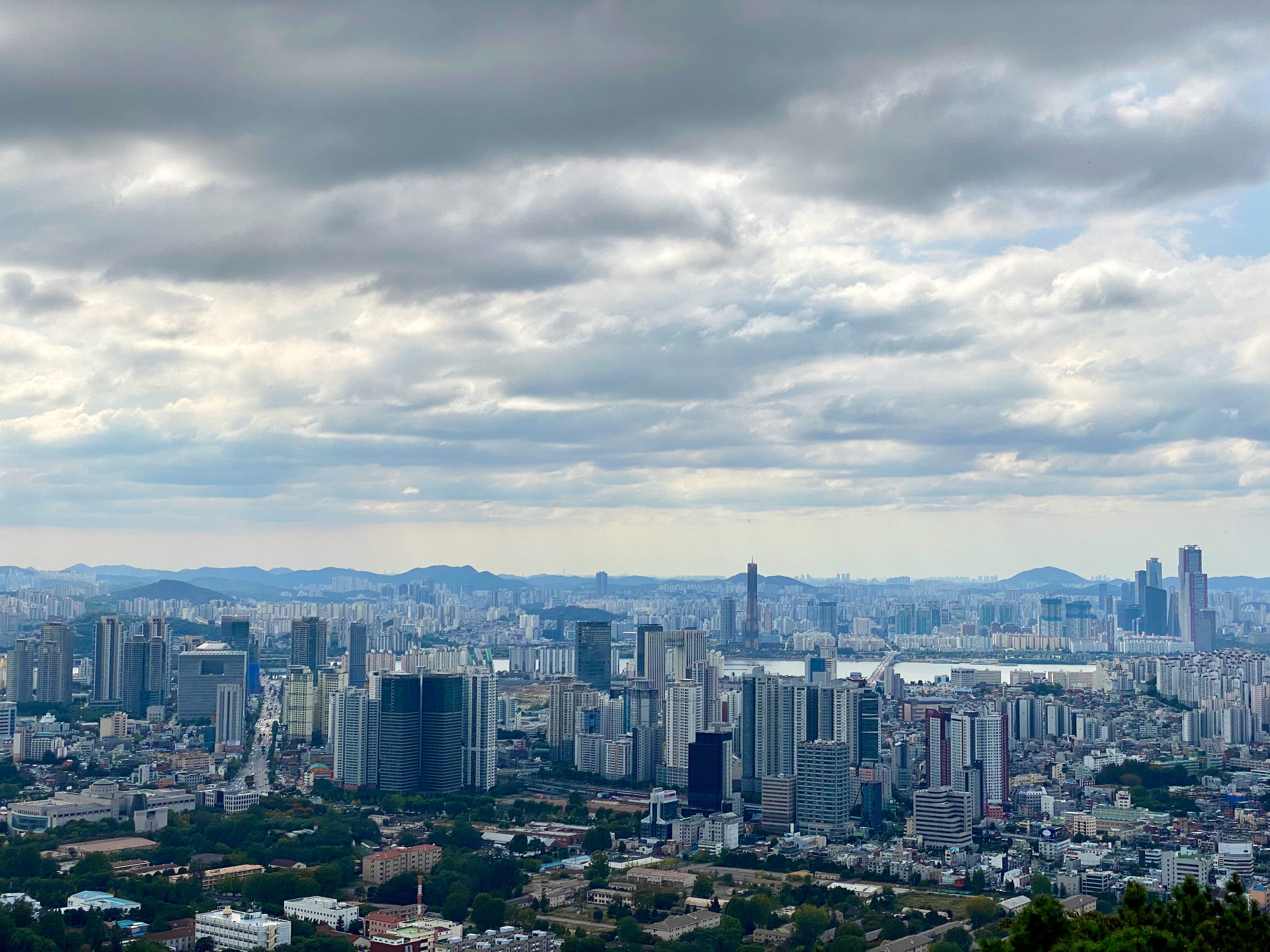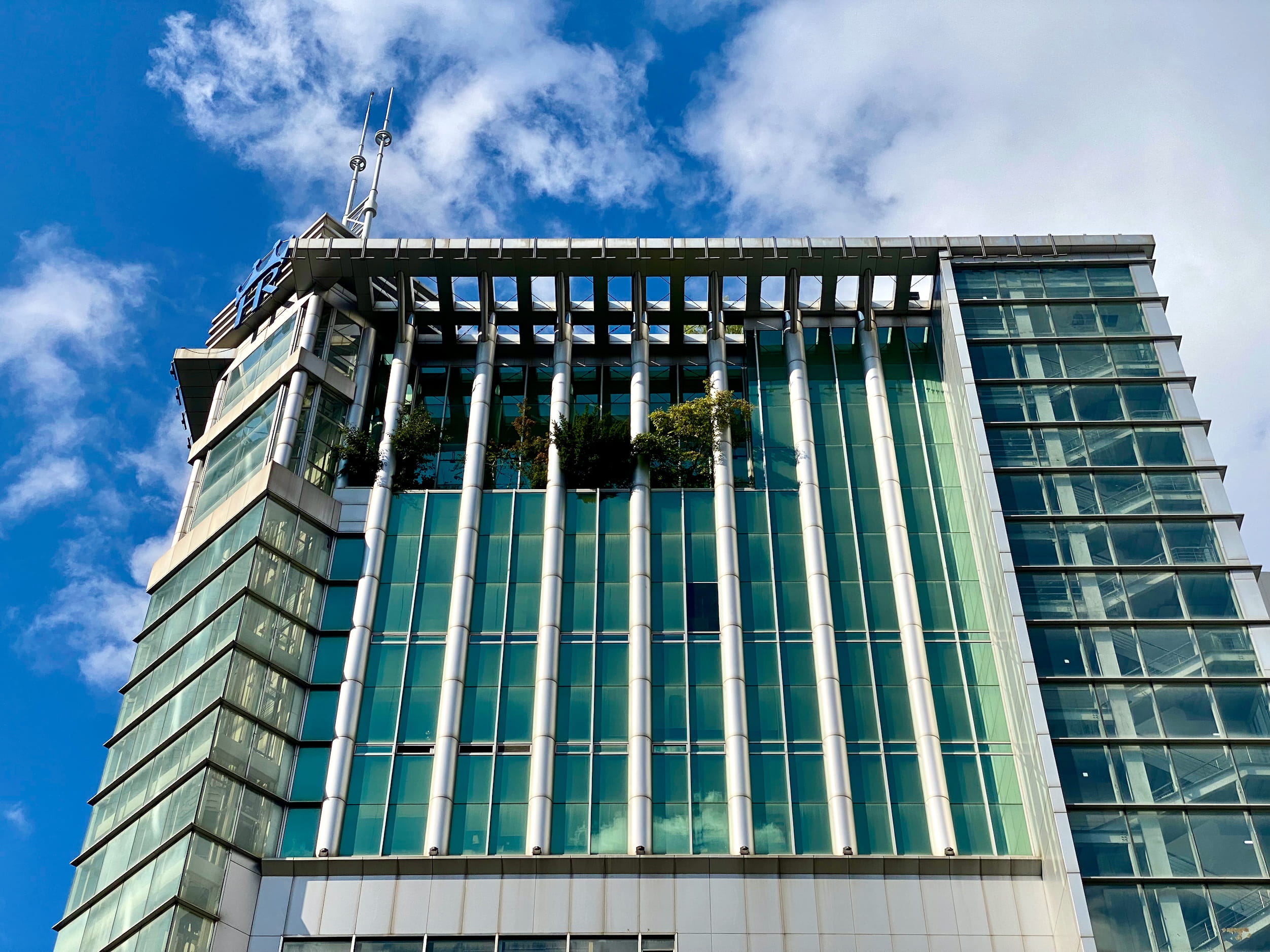 Korean pottery is a thing. Lovely green hues.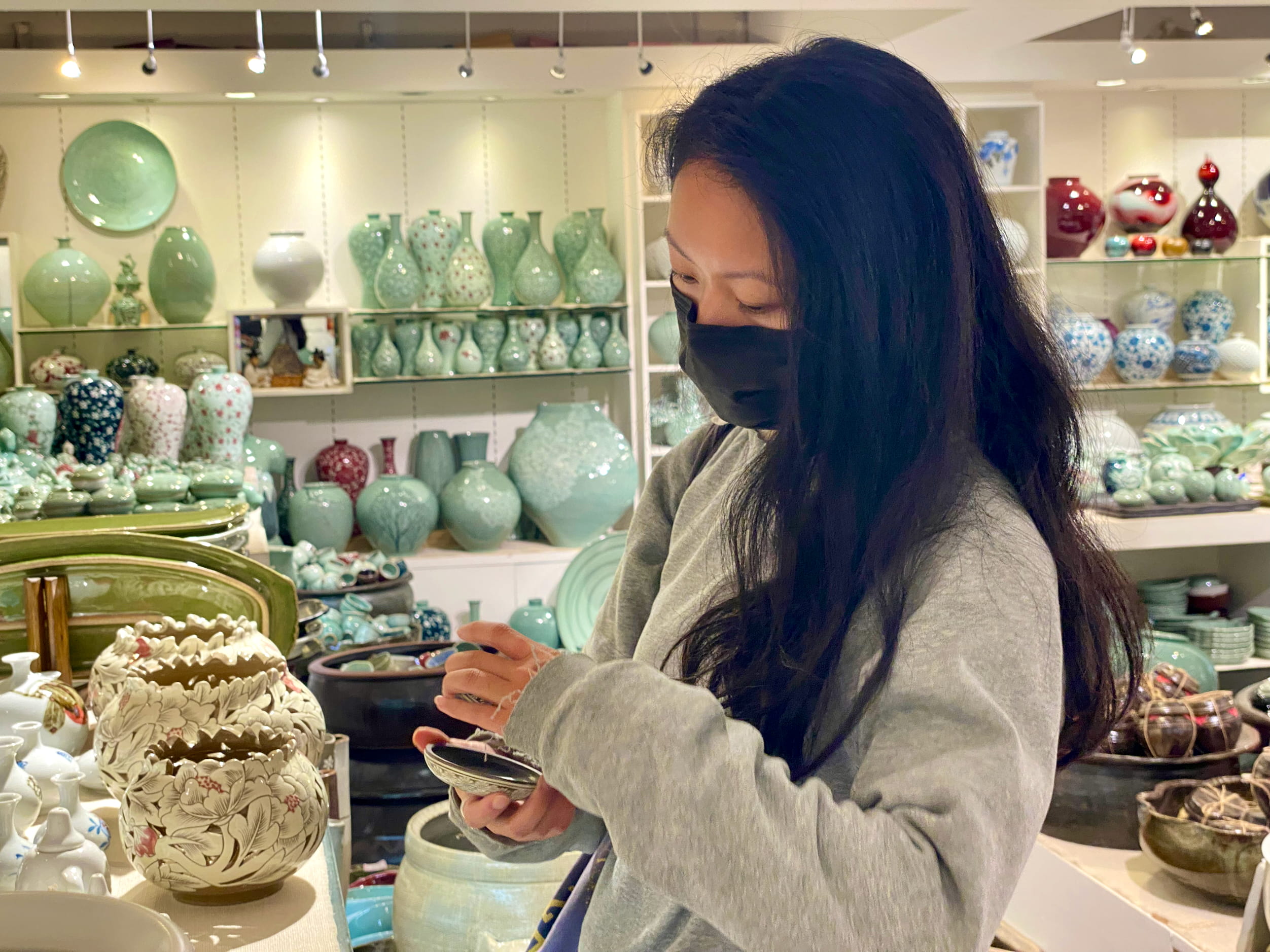 I didn't photograph even 1% of the myriad good design choices Seoul makes as a city. Visiting well-designed places is four parts delightful and one part maddening, because I always pine for better design in my home city. Here's one little cute thing at the subway / museum: they projected extra navigation signs onto the ground.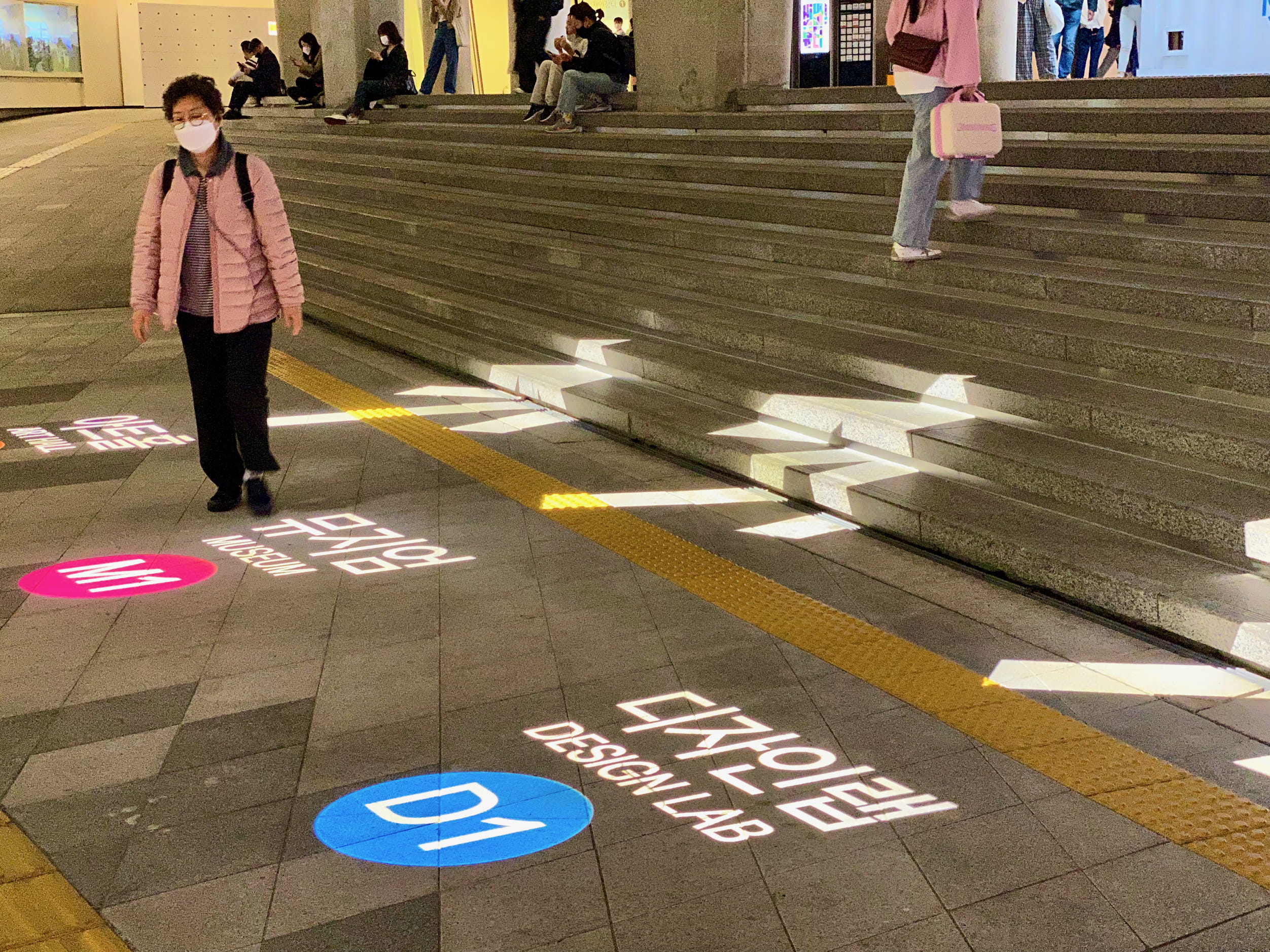 Walk through the street markets for lots of fried foods and occasionally terrifying piles of baked fish.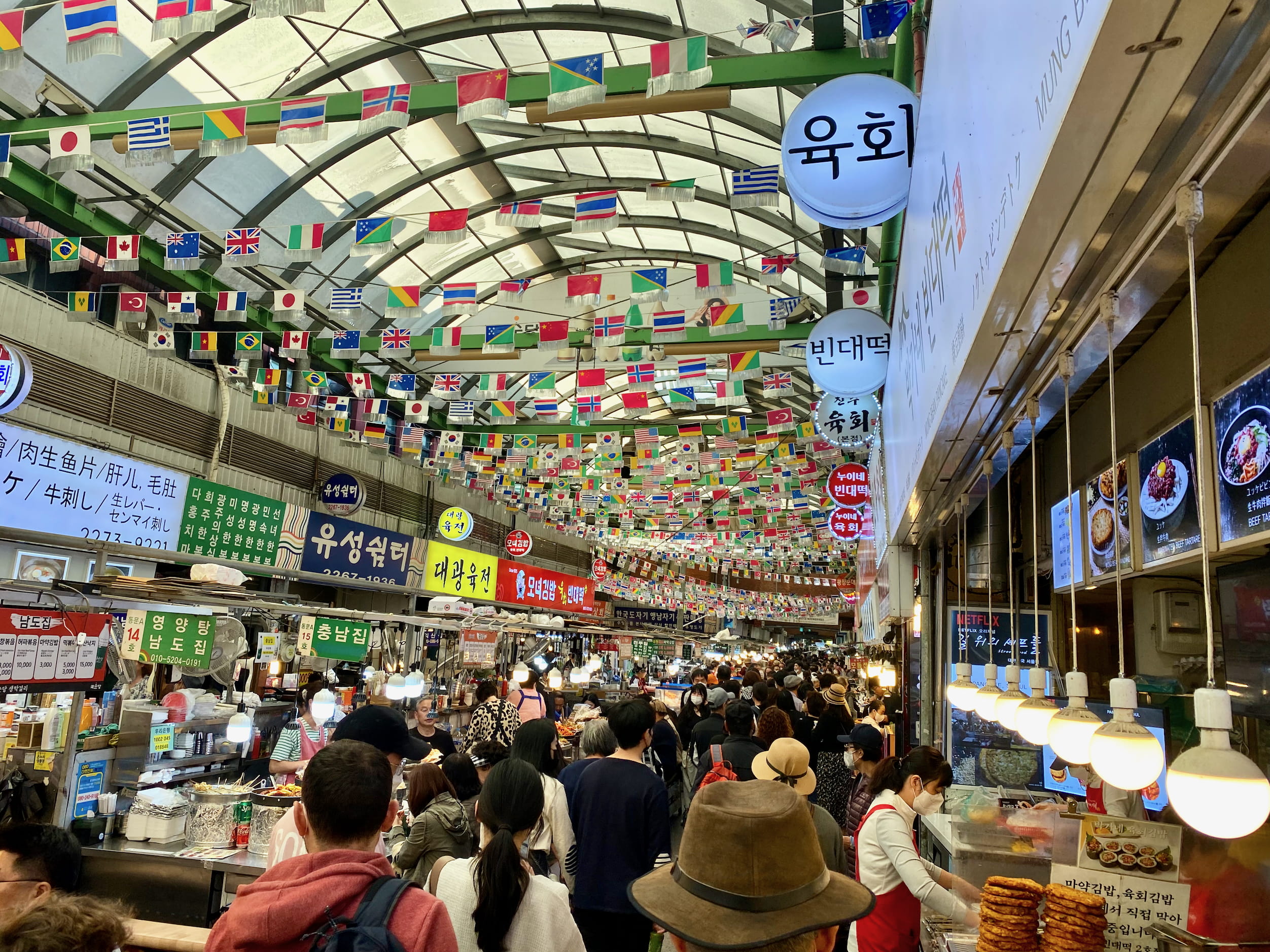 More Parks and Palaces
I present to you more fodder for my argument above: pretty preserved scenery, look-don't-touch empty rooms and increasingly familiar architecture, end of list.
I know it's awkward to have another section devoted to this. We visited the Secret Garden, a by-tour-only OMTA which requires advance reservation and a slew of tickets and inter/intra-park navigation. So I have another section about this—the whole chronological experiment thing.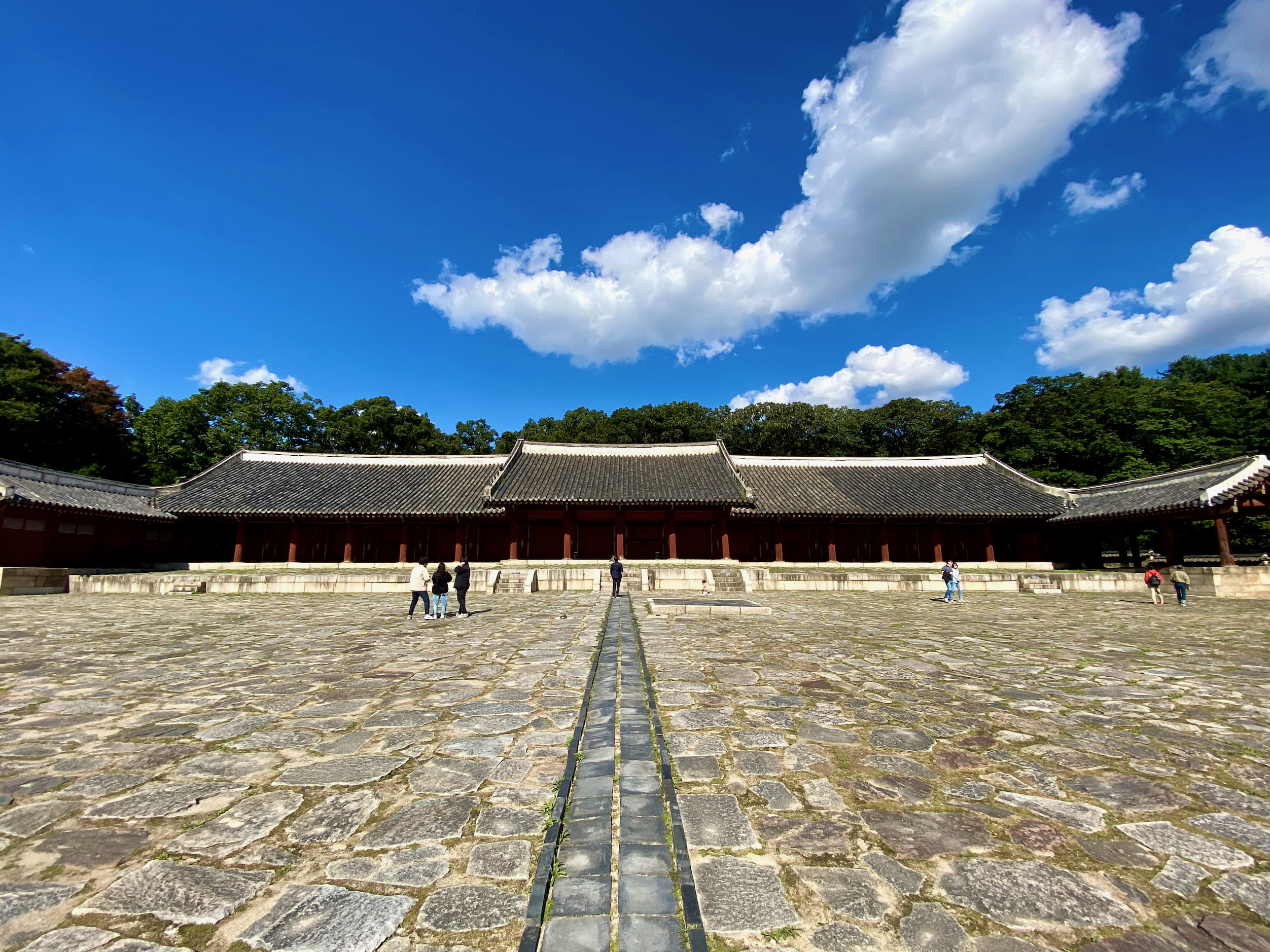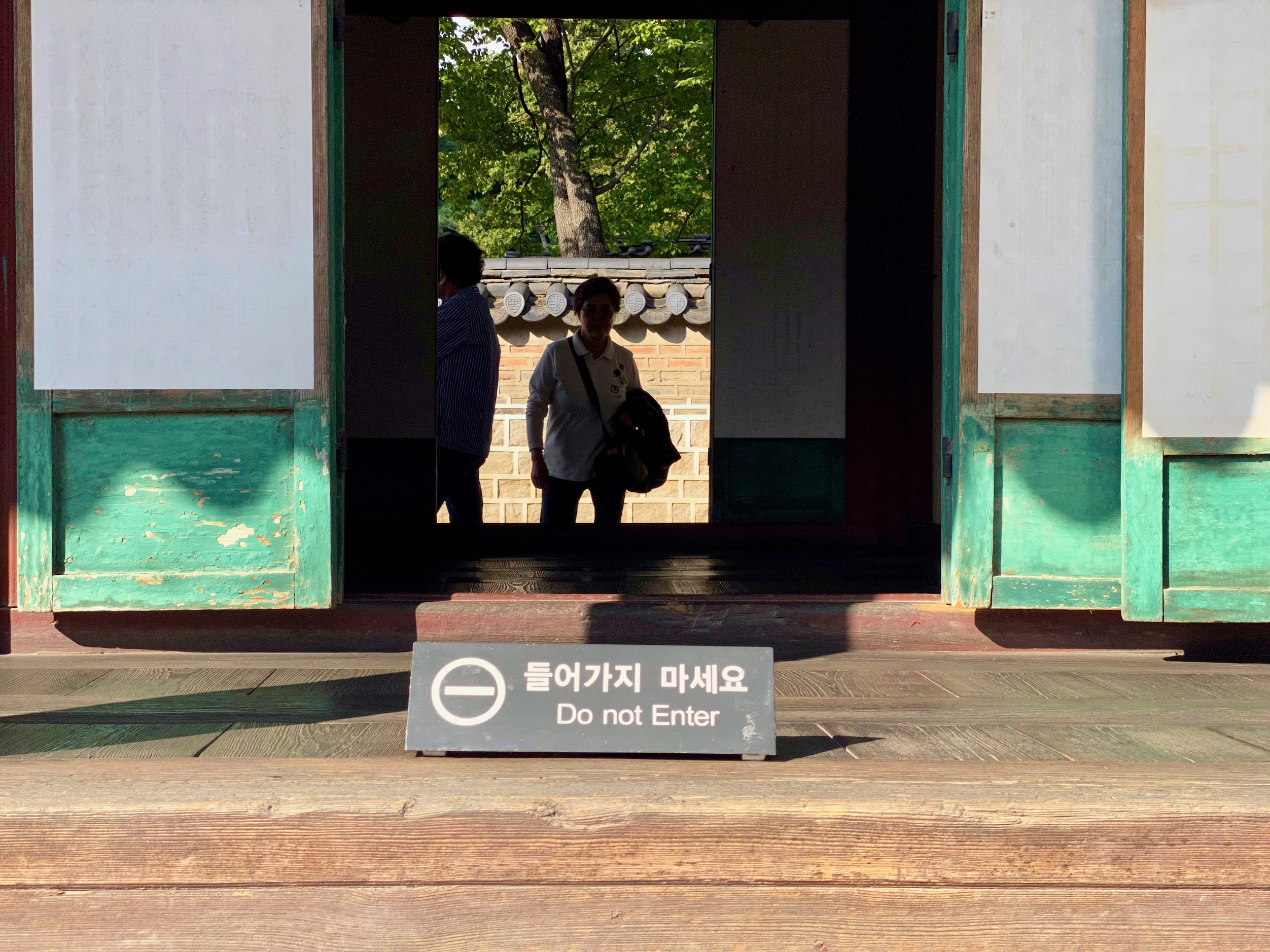 Though I think if you were to pick one OMTA in Seoul, do this one.10 The Secret Gardens really are the prettiest officially-kempt scenery that I saw, and you'll end up going through a palace park thing to get there. Check out these pond hangout zones.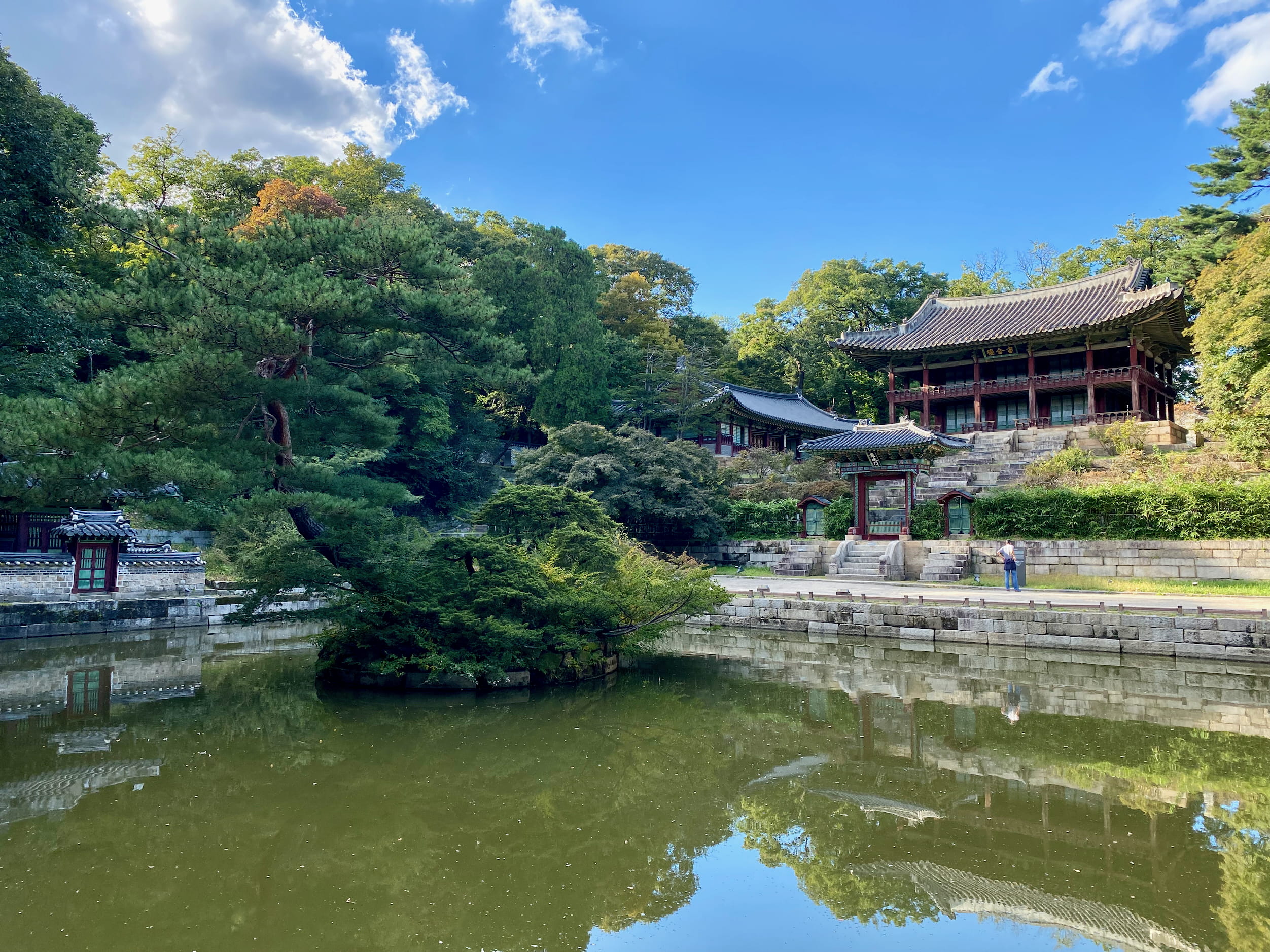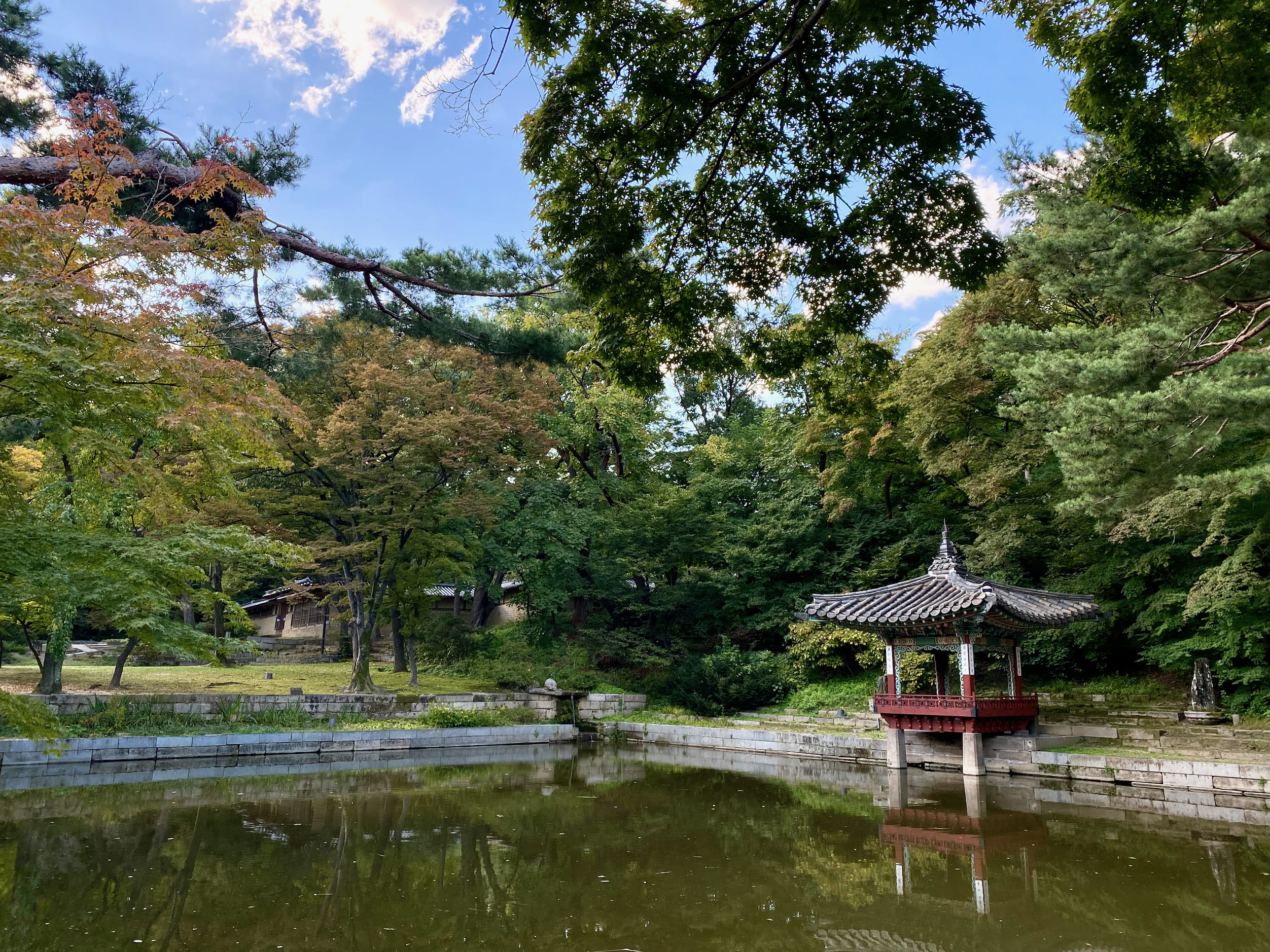 I did get a kick out of how exhaustive they were about marking what was off-limits. Like, did somebody go sit in that tiny wooden box and the staff was like, never again.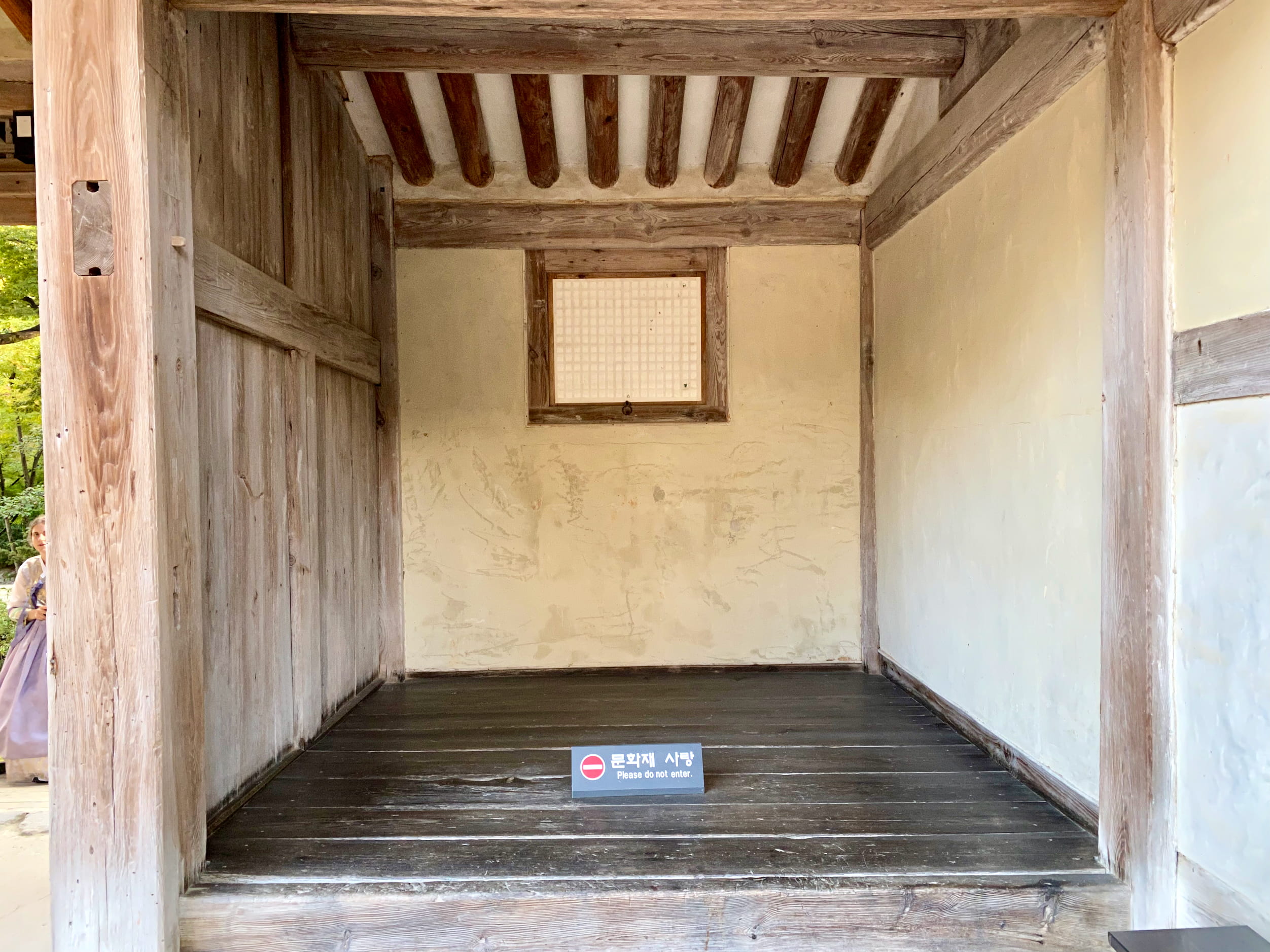 Then, wandering the broader park afterwards: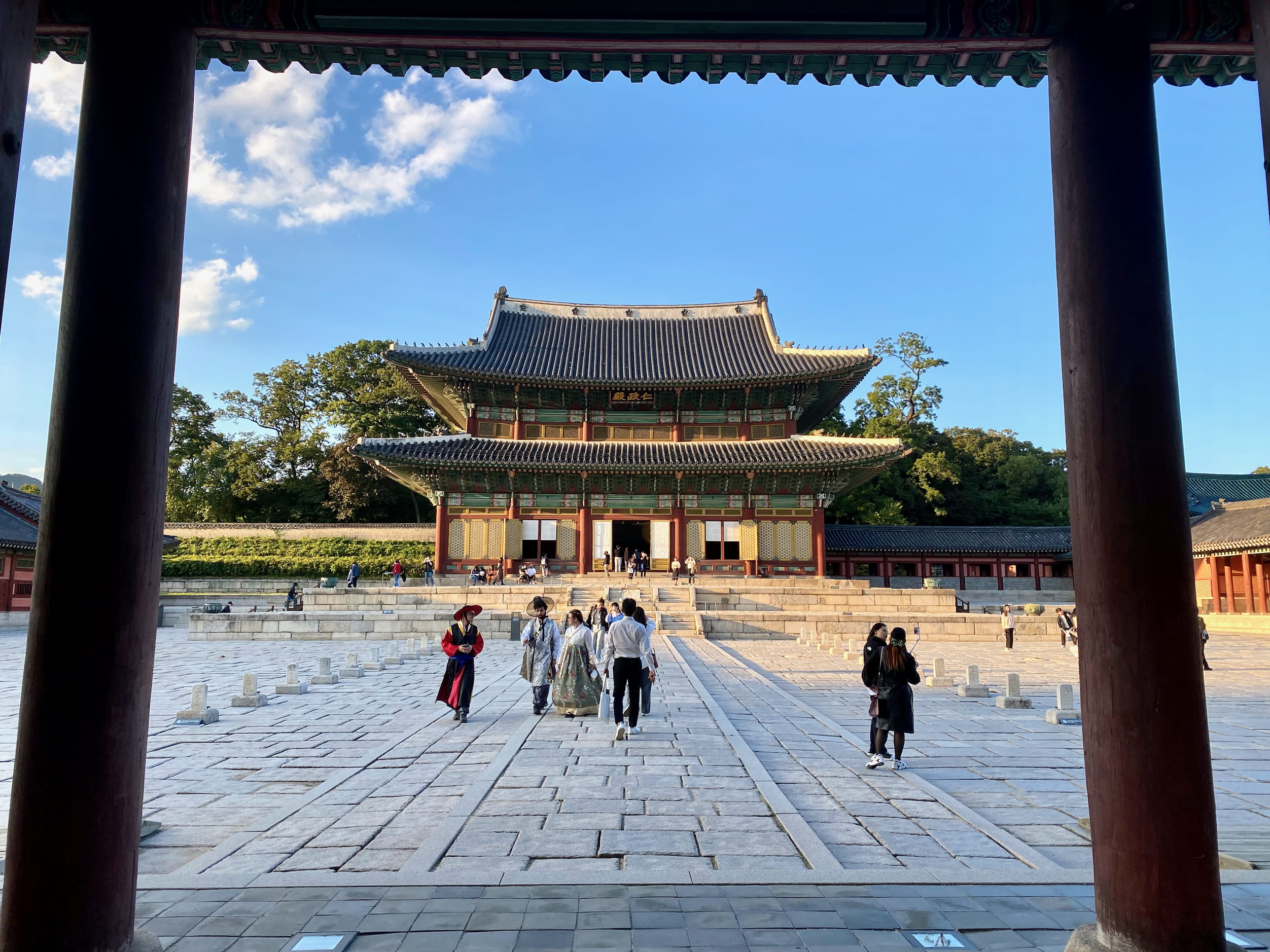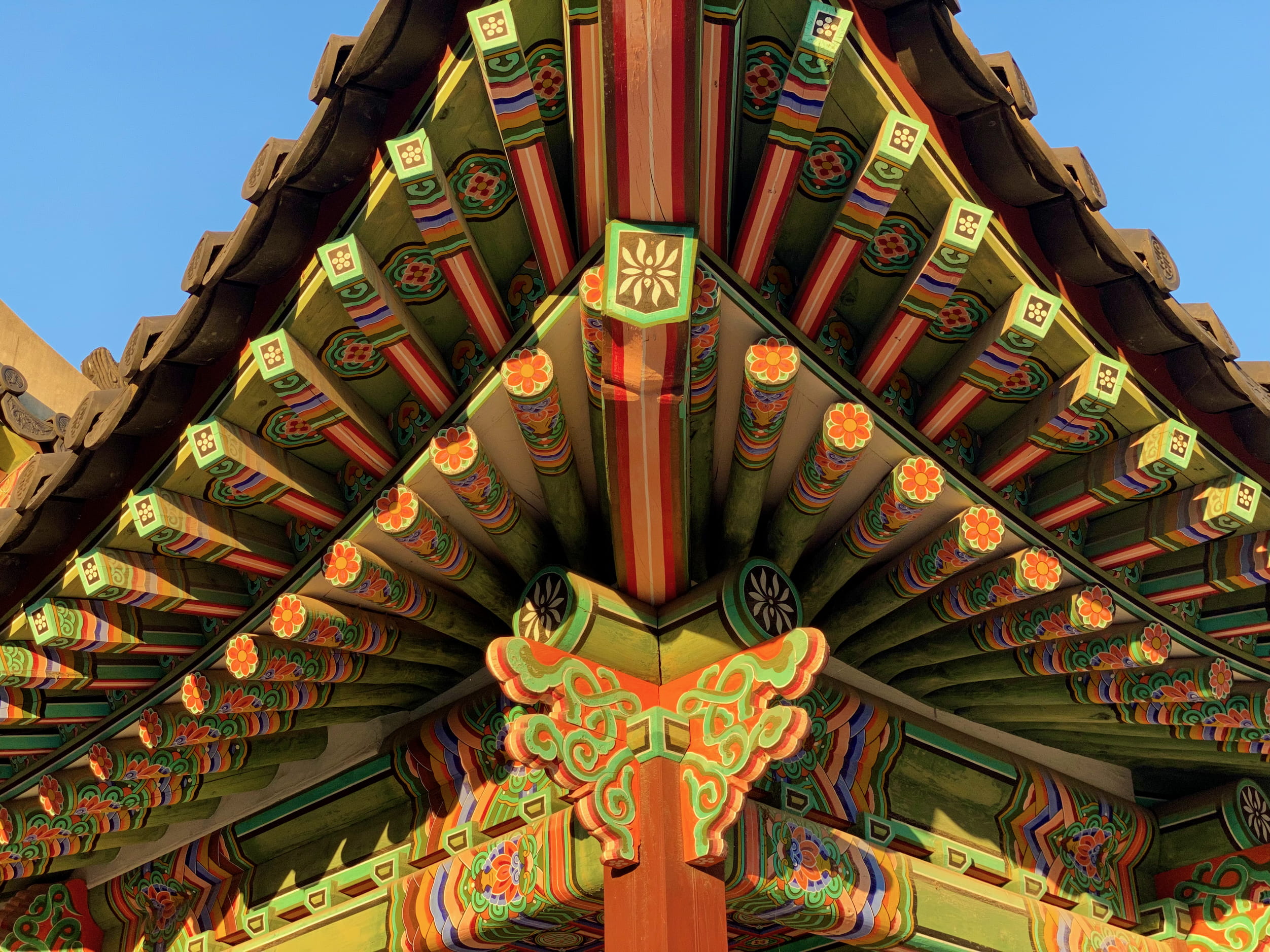 The nice thing about spending several weeks somewhere is that excursion duds don't stress you out. Take it in stride, go have a beer somewhere. There's always tomorrow.
Dongdaemun Design Plaza (DDP)
This museum complex is awesome. I mean, mostly it's awesome it exists.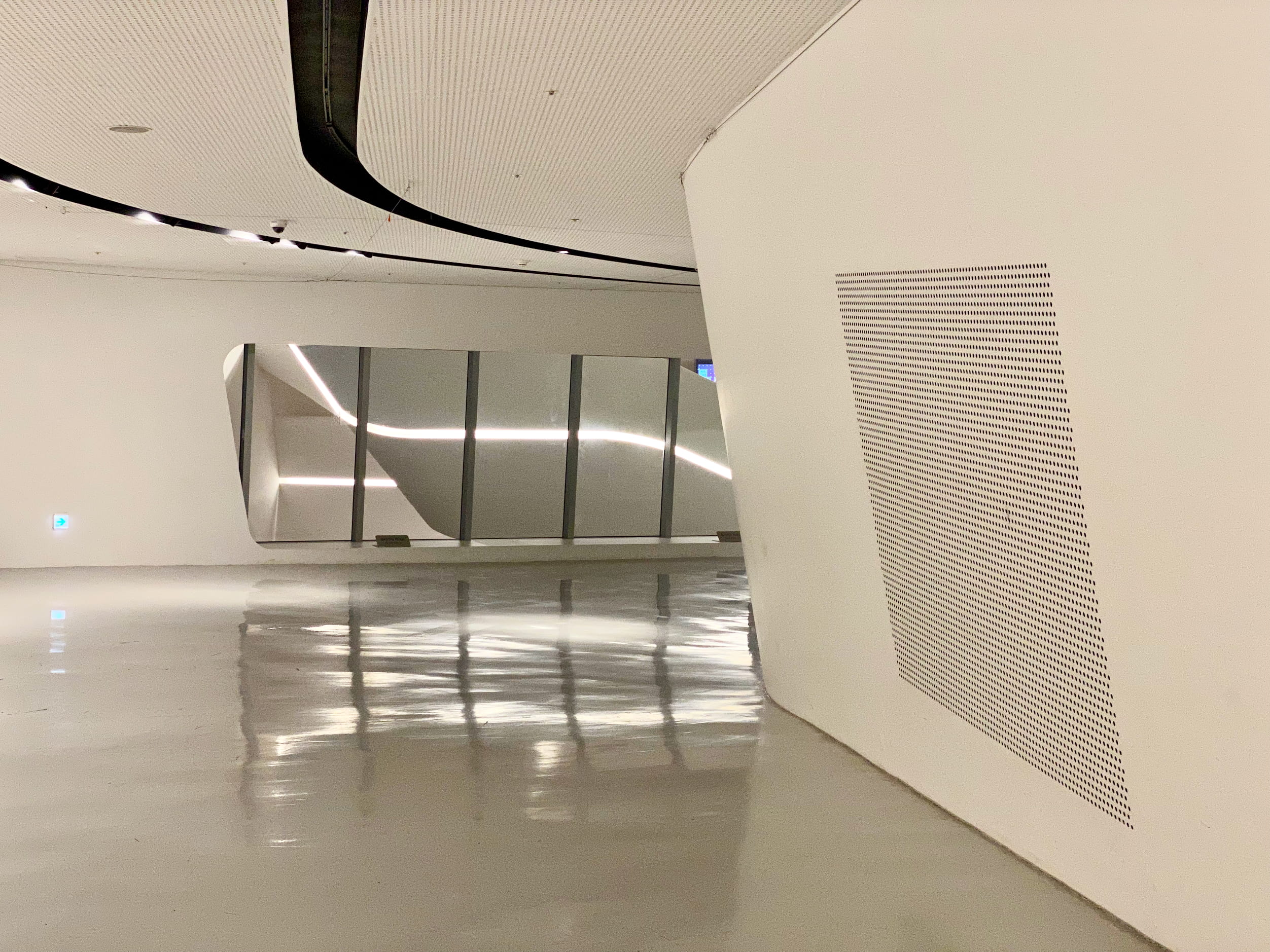 We went and saw what I later realized was corporate art, and about which I had a small existential media art crisis:
Everyone filmed the whole thing, which meant they wouldn't have had access to any more depth even if it was there, and they filmed it because it looked so good, which makes me worry that somehow media art maybe has to be bad to be engaging?

— Excerpt from my blog post on the art installation Opposites United
If you're curious, that's a link to my blog post about it. I'll keep moving right along here, save for one sneak peek of the exhibit.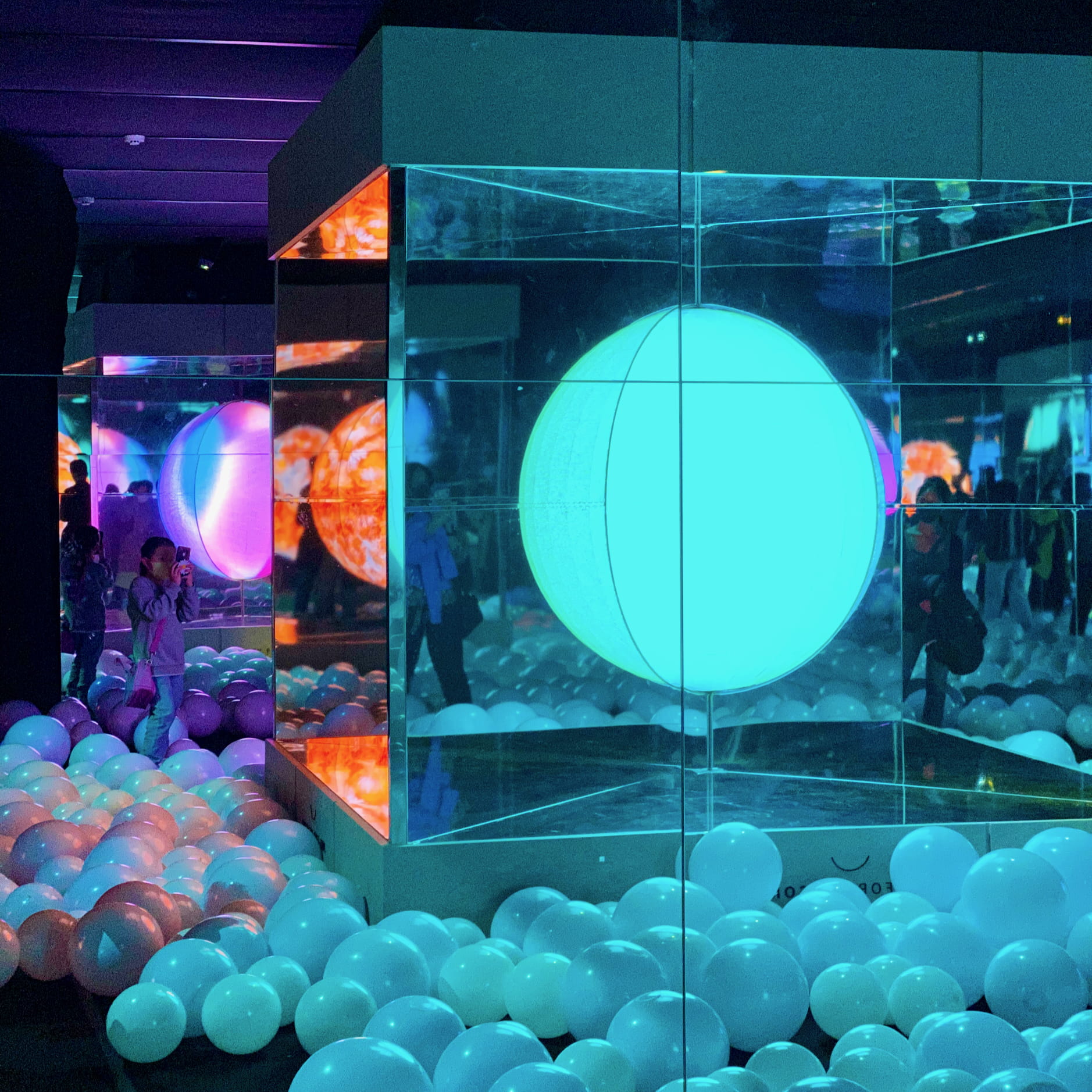 The best part of the DDP is they have a sizeable and free design book / magazine library. My biggest regret about Seoul is that I didn't make time to go back there.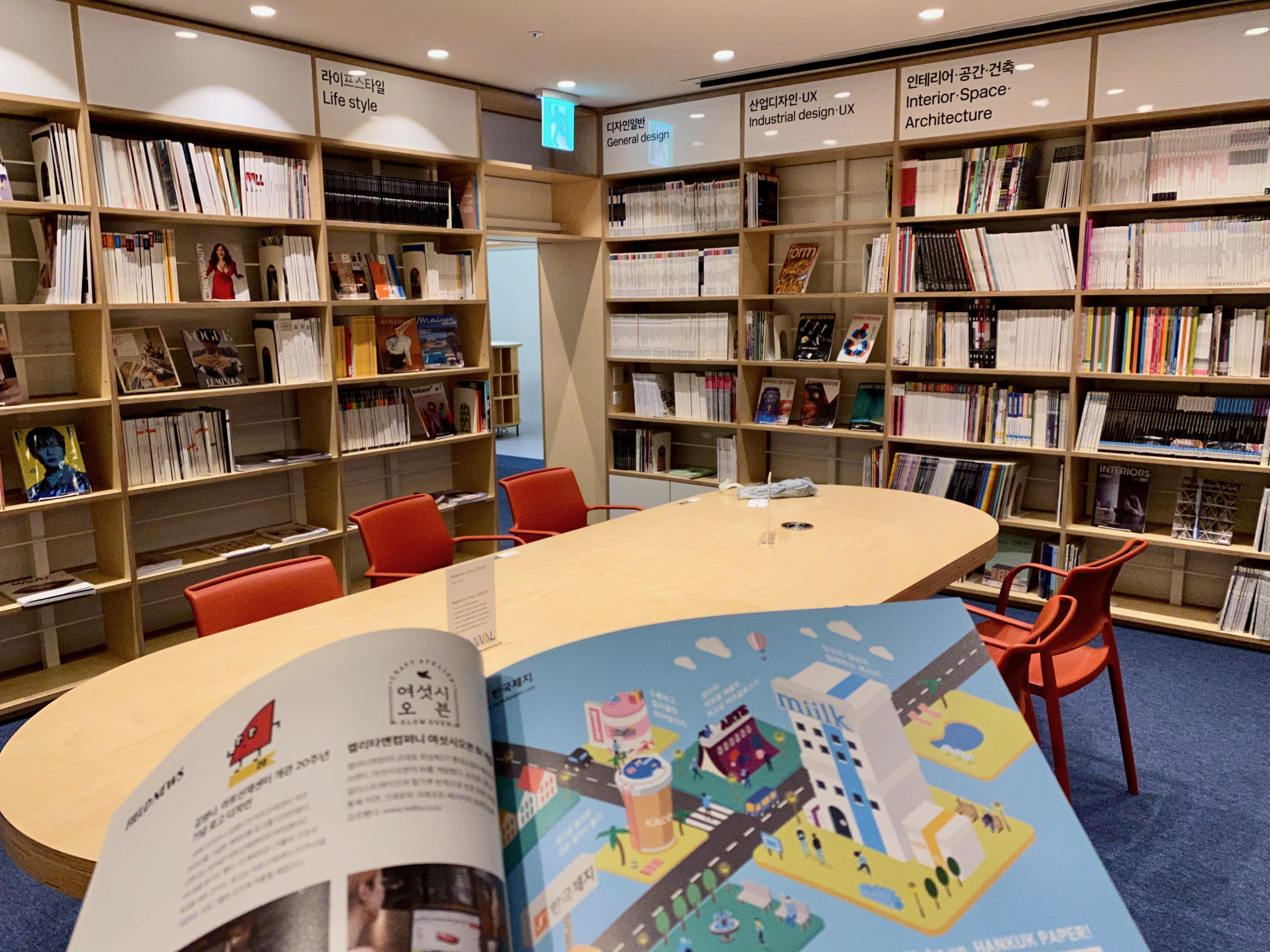 I don't have a good transition for the next two photos (boy, this chronological thing is harder than I thought it would be). So instead, I simply present to you:
Exhibit A: the joy of banchan plus Korean BBQ: a million tiny bowls. If you like composing little bites this is heaven.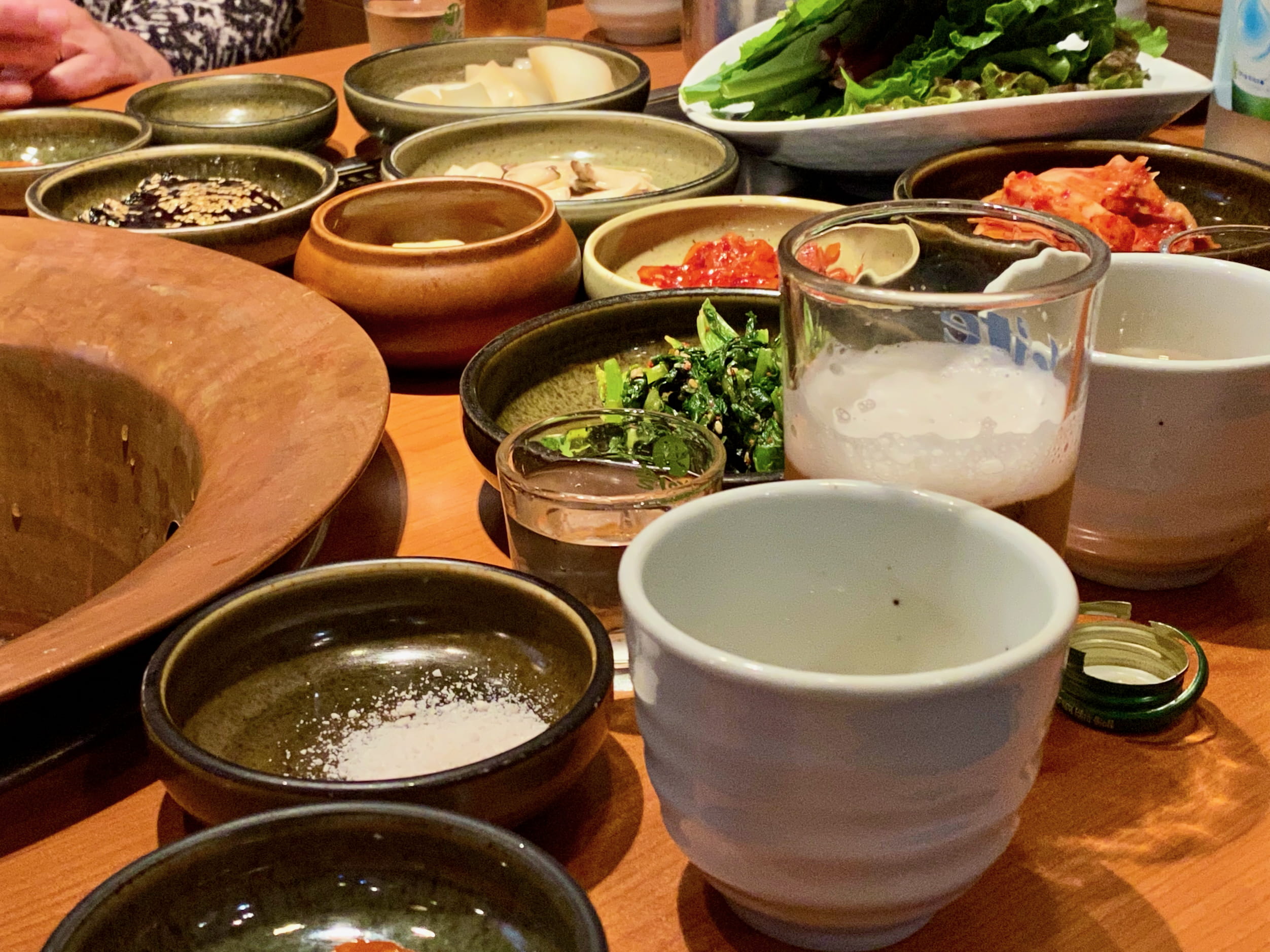 Exhibit B: the inside of Pyounghwa Market. I tempted you about this above, remember? With the stock photo of the two (white11) women shopping? So yeah, this is the inside. It's some kind of wholesale clothing mecca: buttons, patches, zippers, pins, fabric, etc. Every open store had someone in it, and I never saw a customer.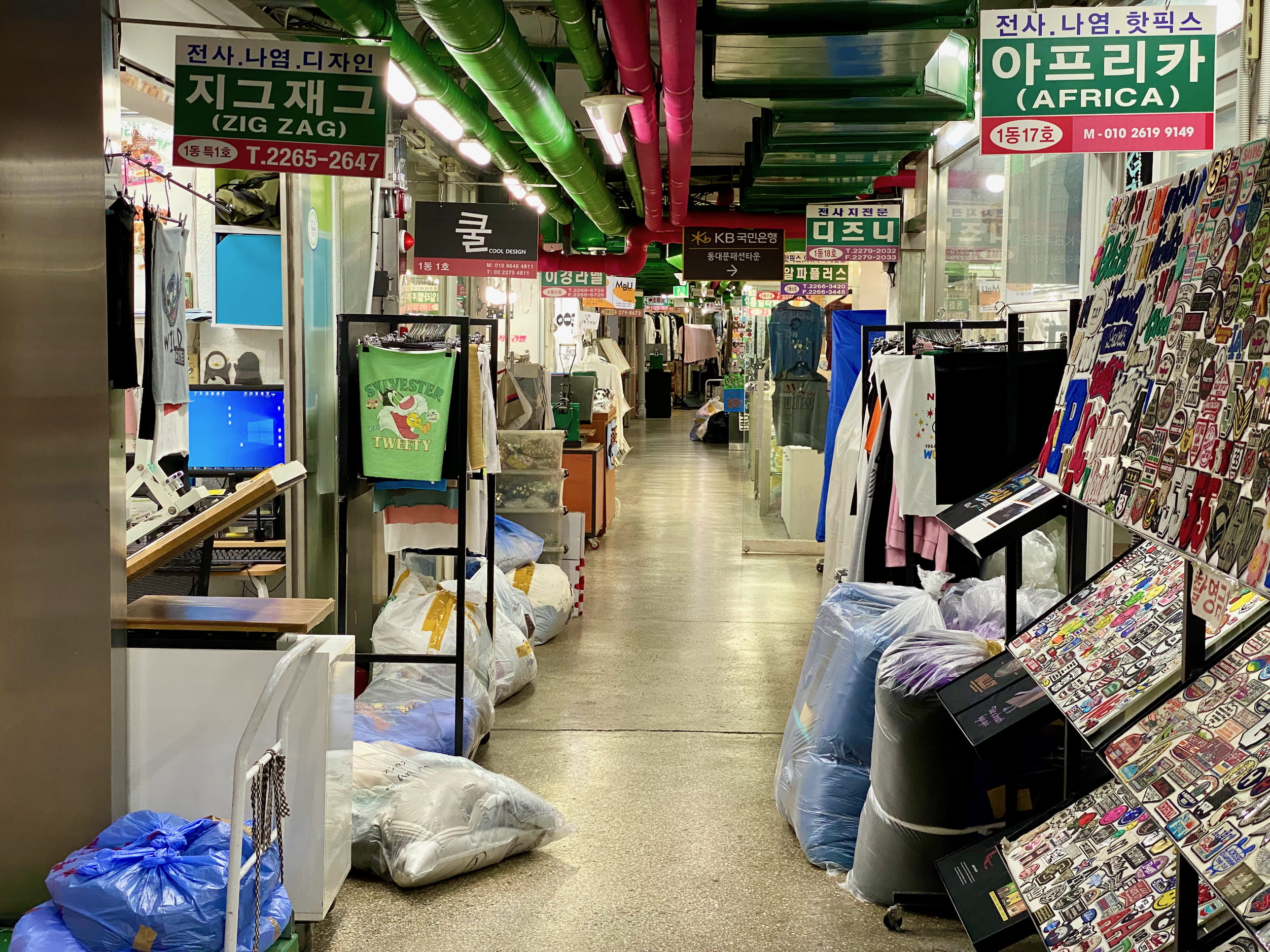 National Museum
The National Museum of Korea is the one enormous exception to my blanket advice to not feel bad about skipping tourist activities in Seoul. This place not only frames city views with an easy-to-love architecture, but the inside had enough variety for you to pick-and-choose stuff you're interested in. Did I mention that it's also somehow free?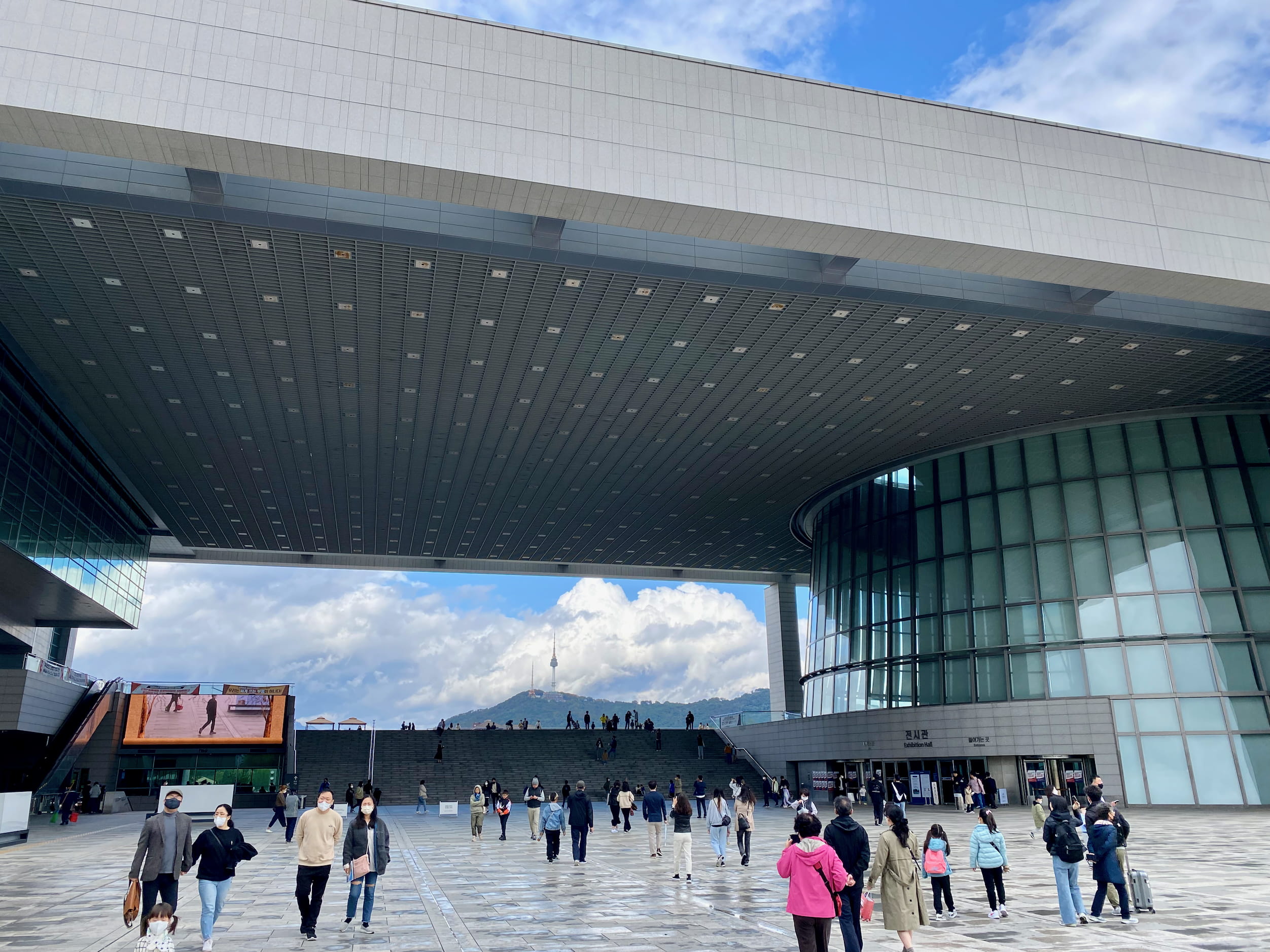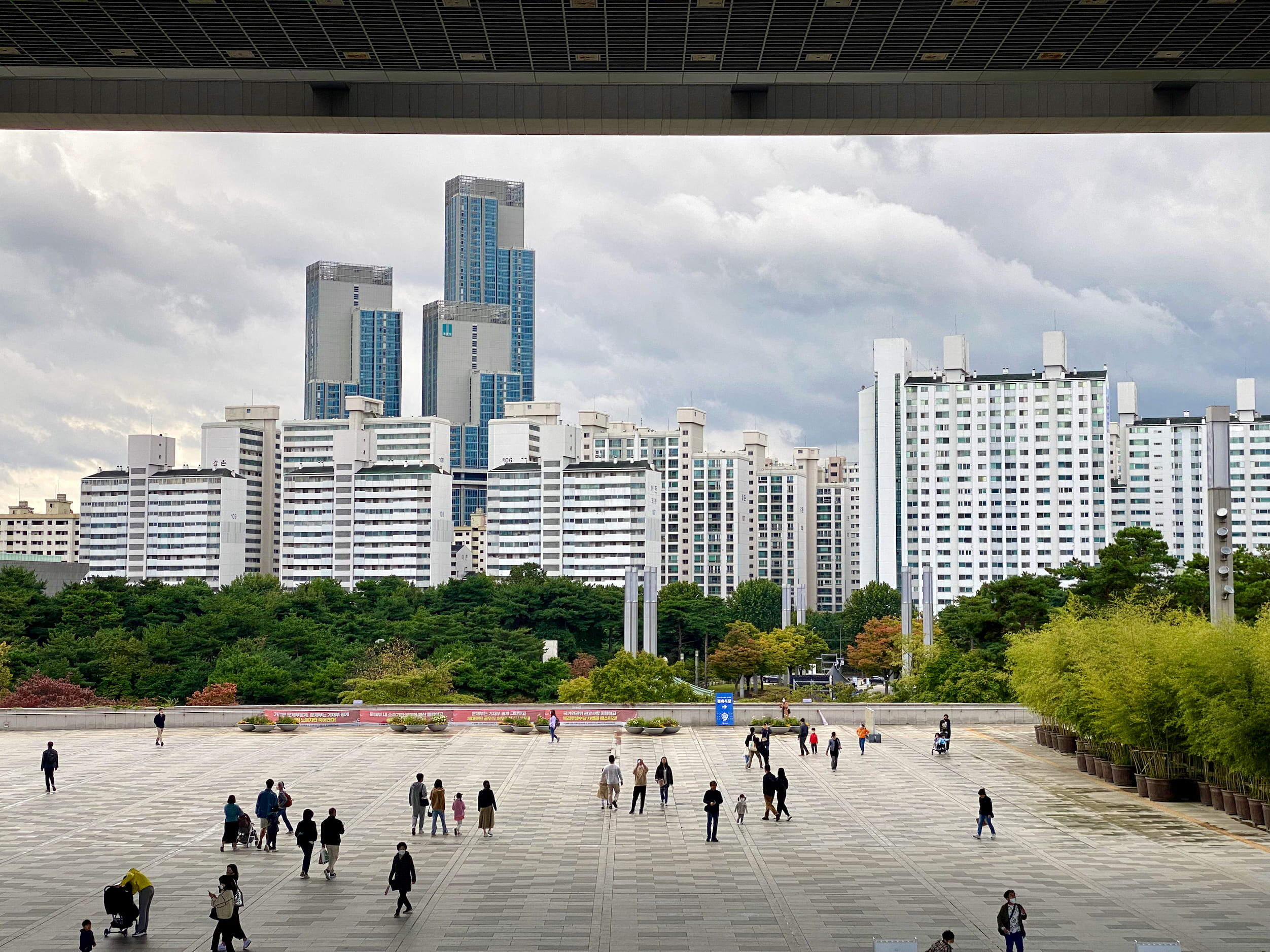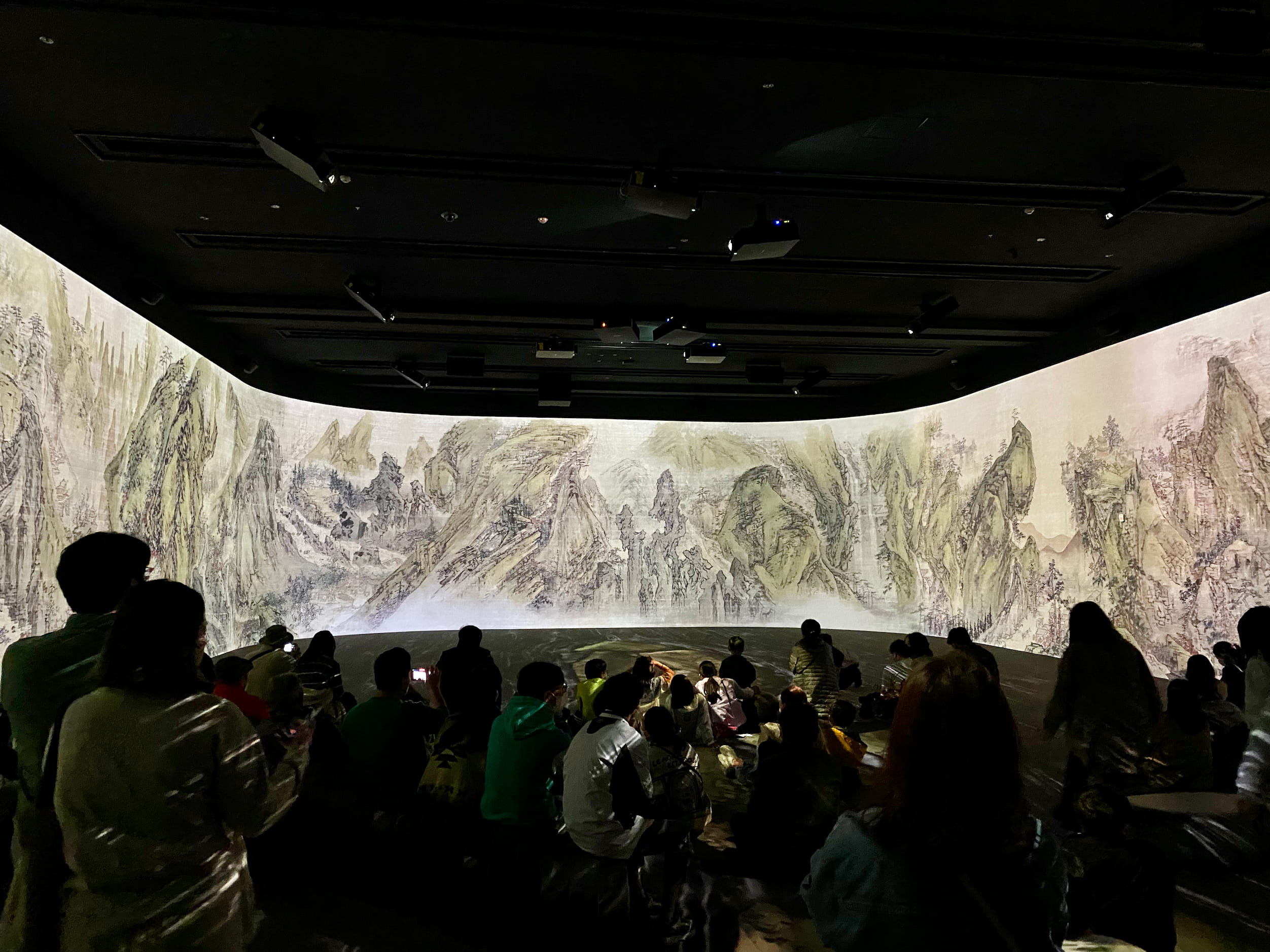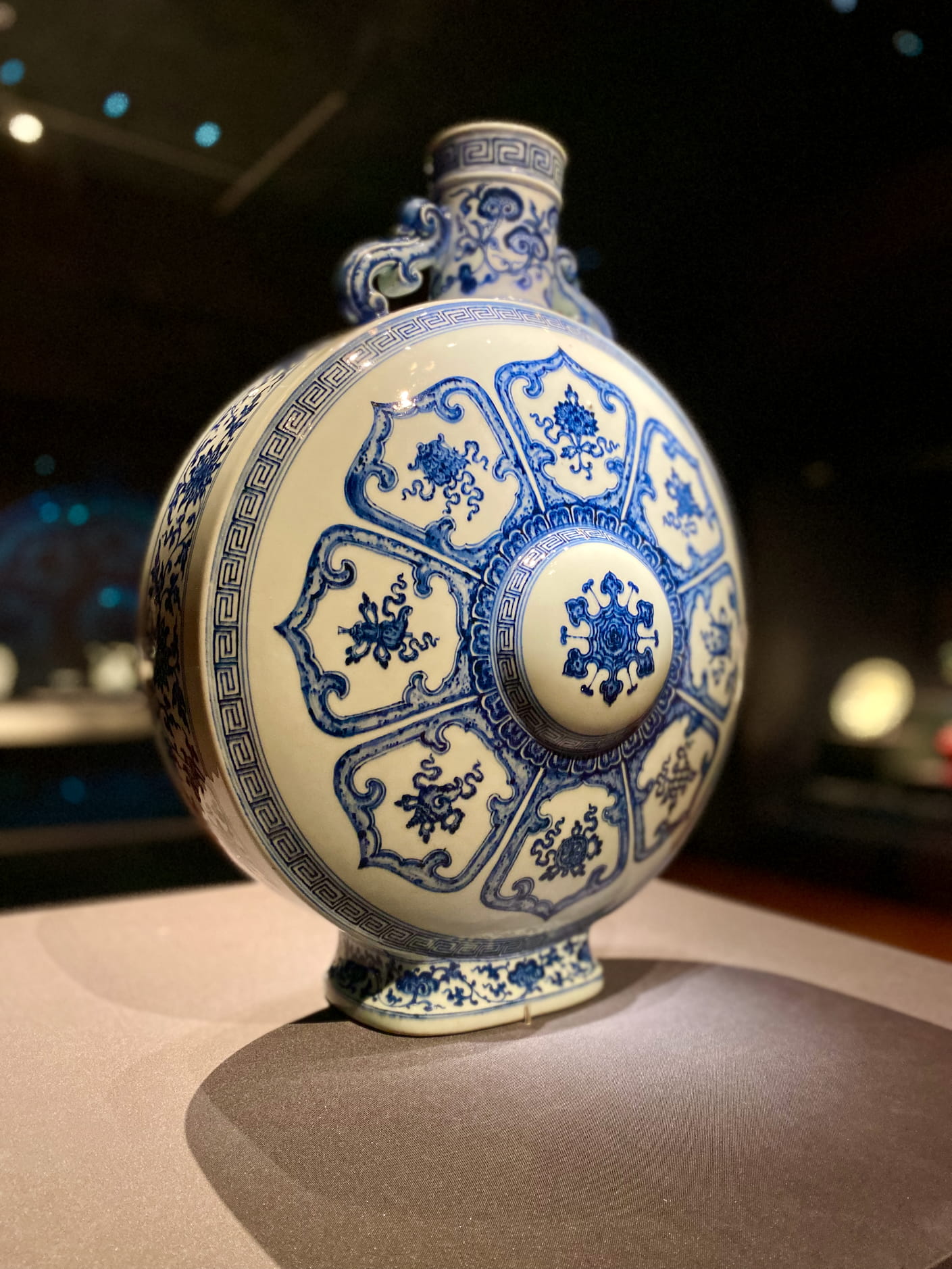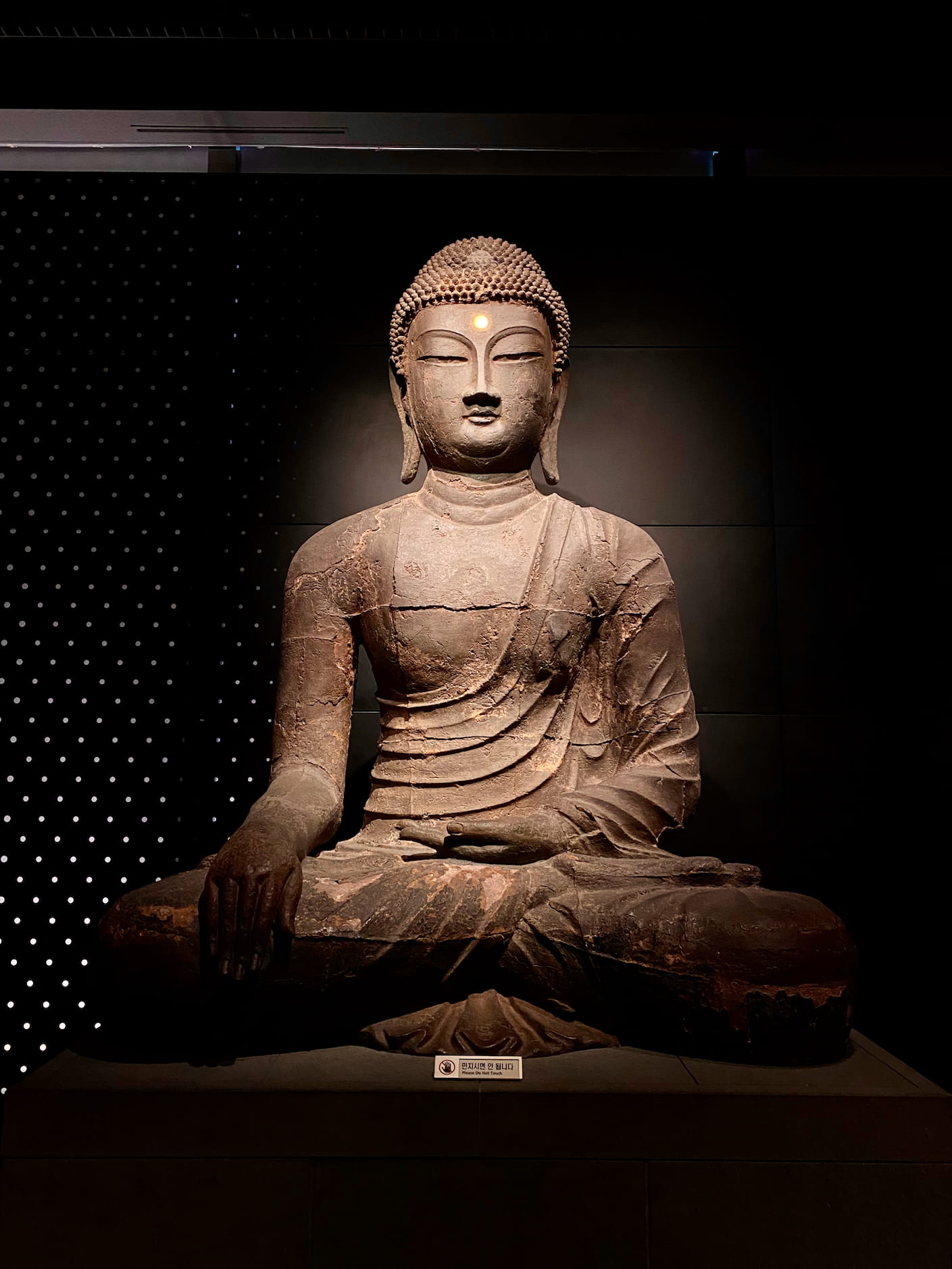 Ahh, at last. I can introduce the first of my favorite theme of photos from Korea. It is the overly specific / graphic warning sign collection. It starts tamely: just the humanoid in the yellow triangle falling off the ledge, clearly too far over to grab ahold of anything, and with nothing beneath but sweet, sweet doom.12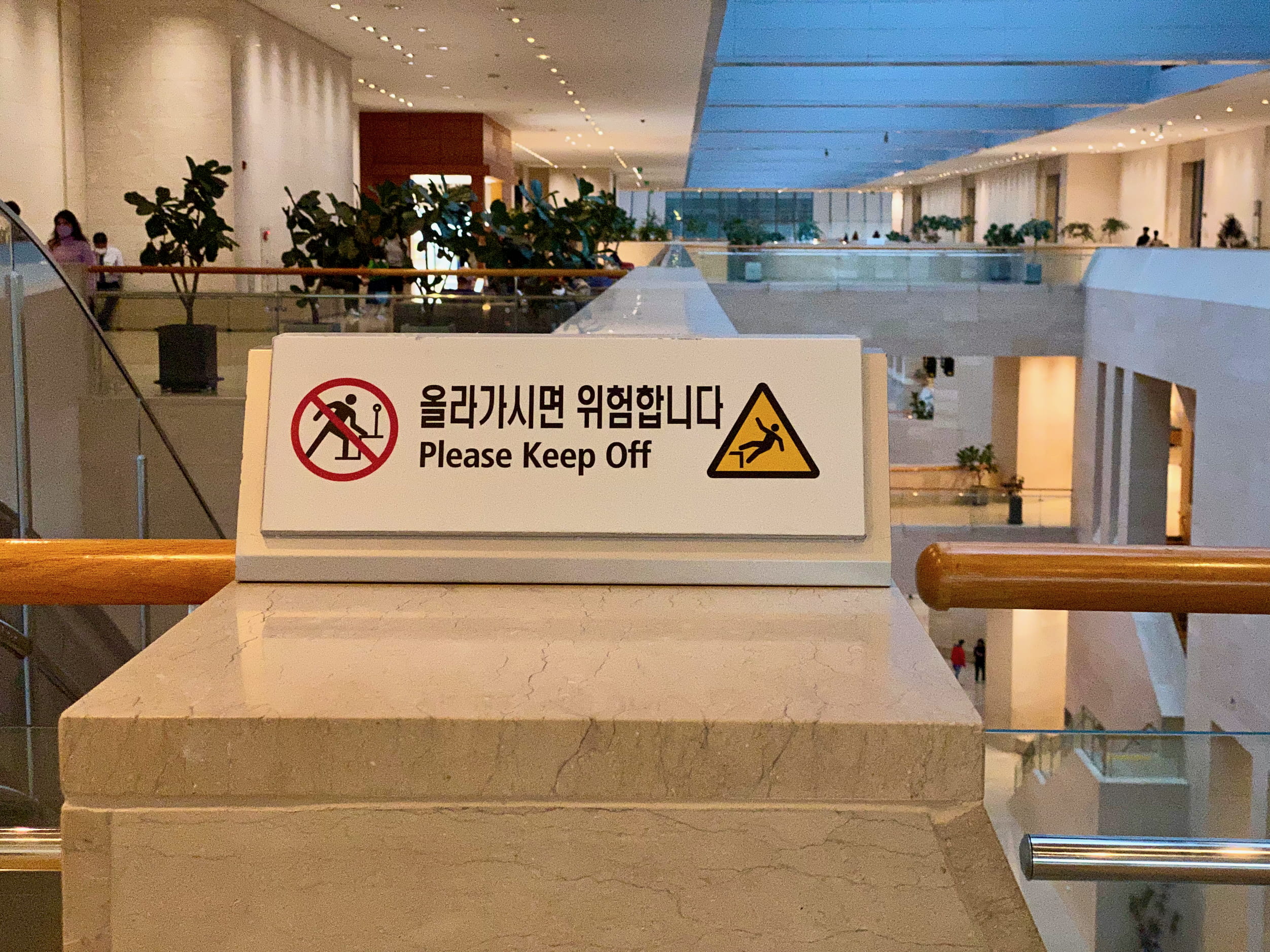 Don't worry, there is plenty more where that came from.
In the mean while, enjoy a couple more photos from outside the building, but this time around sunset.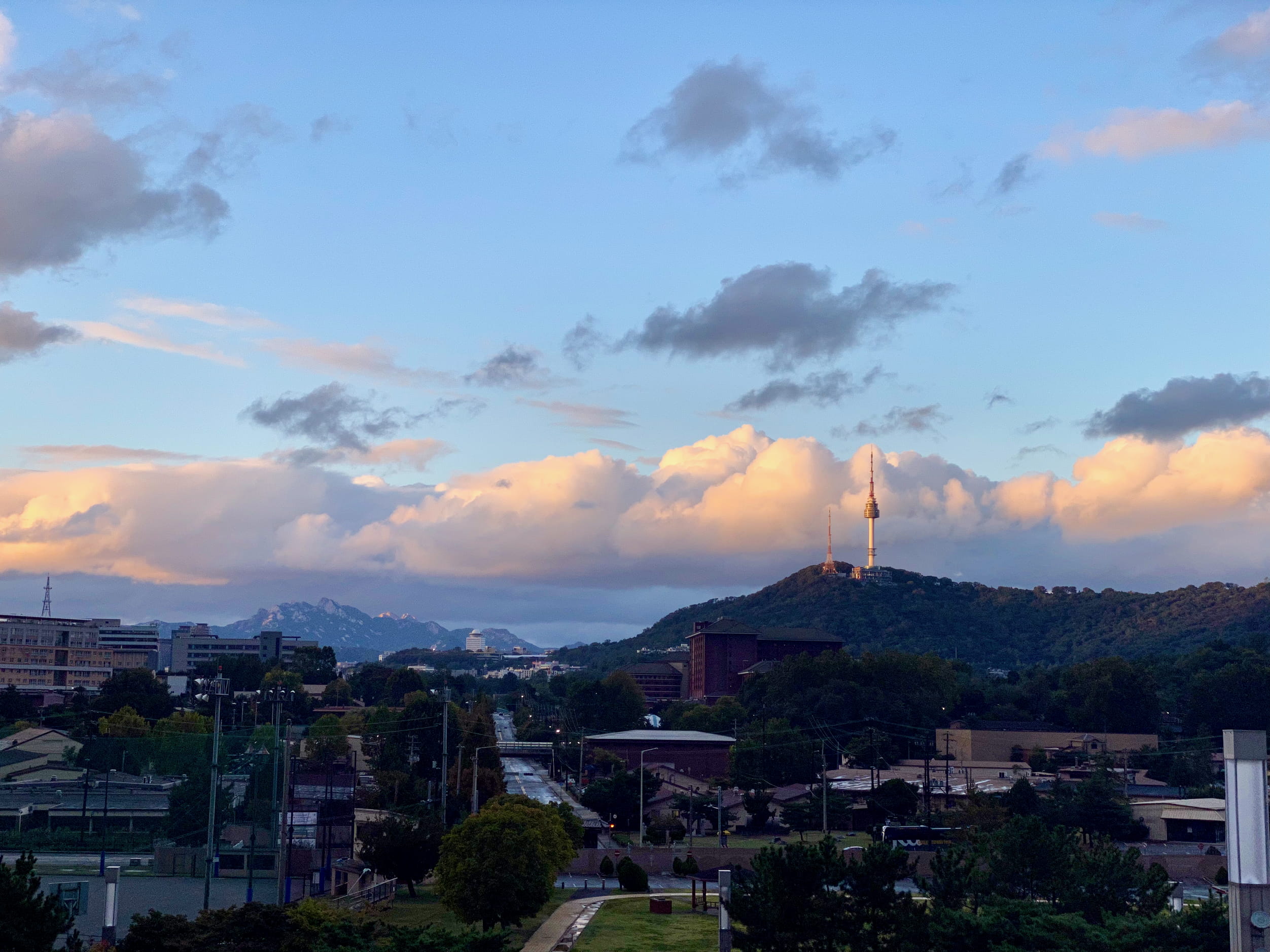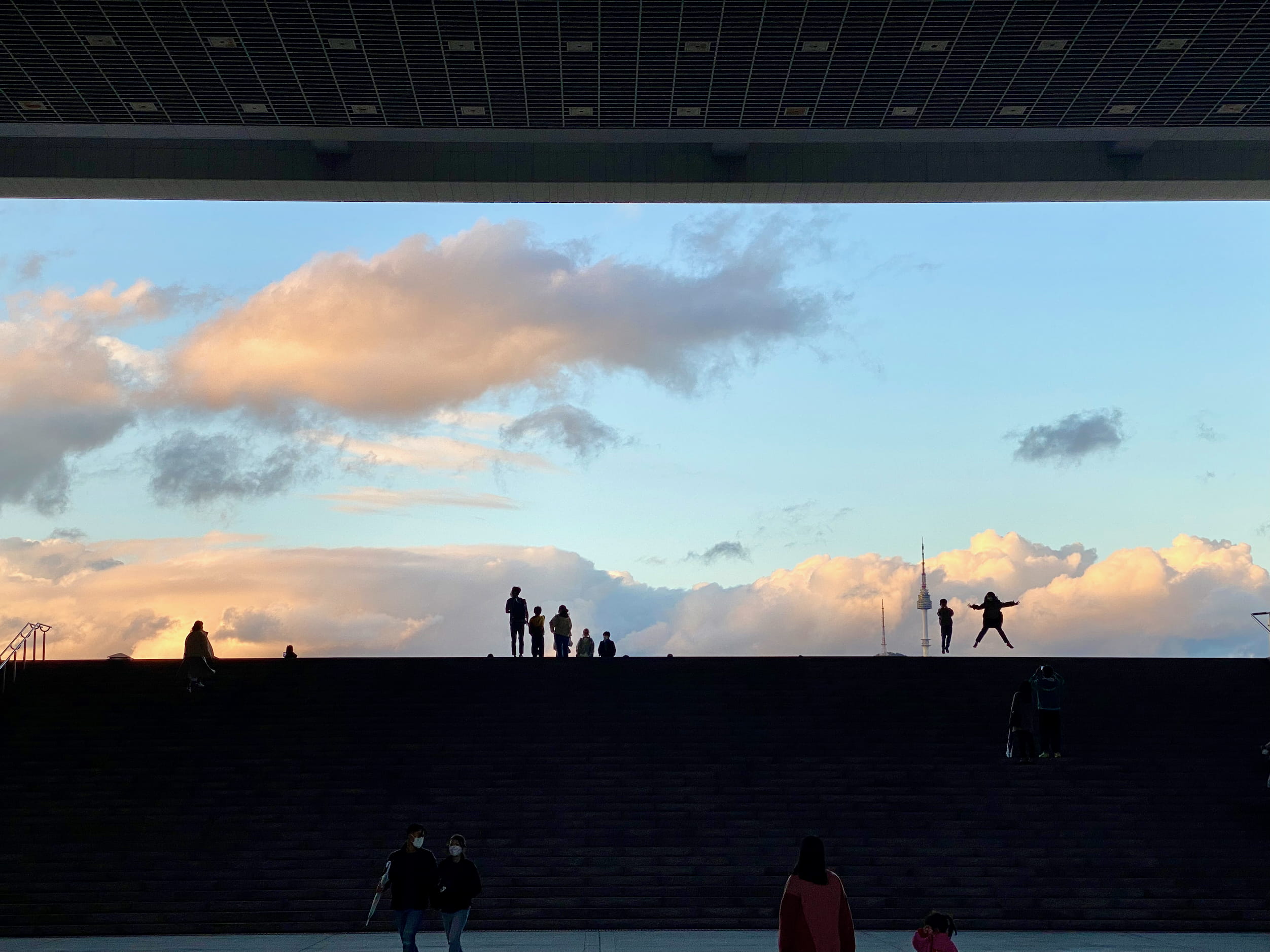 More Seoul
I have a handful more things to show you before we get to our 50k day, which I am very excited to tell you about.
The first are these funny plastic domes, full of Instagrammable plastic light-up trash, all sitting on AstroTurf on the roof of our hotel. You were supposed to go up and have a little pretend camp-out.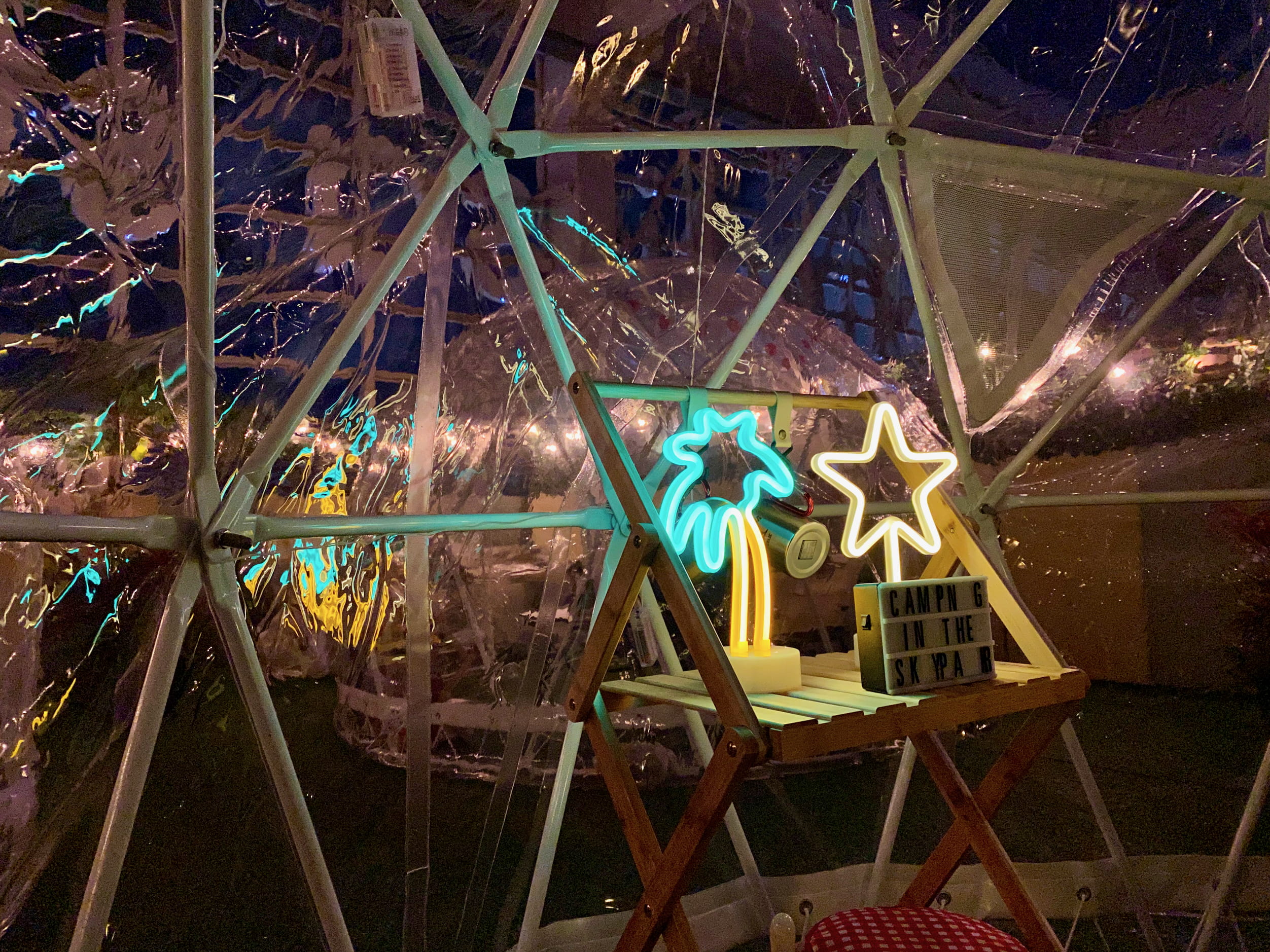 Another cute design thing: shade for waiting to cross the street.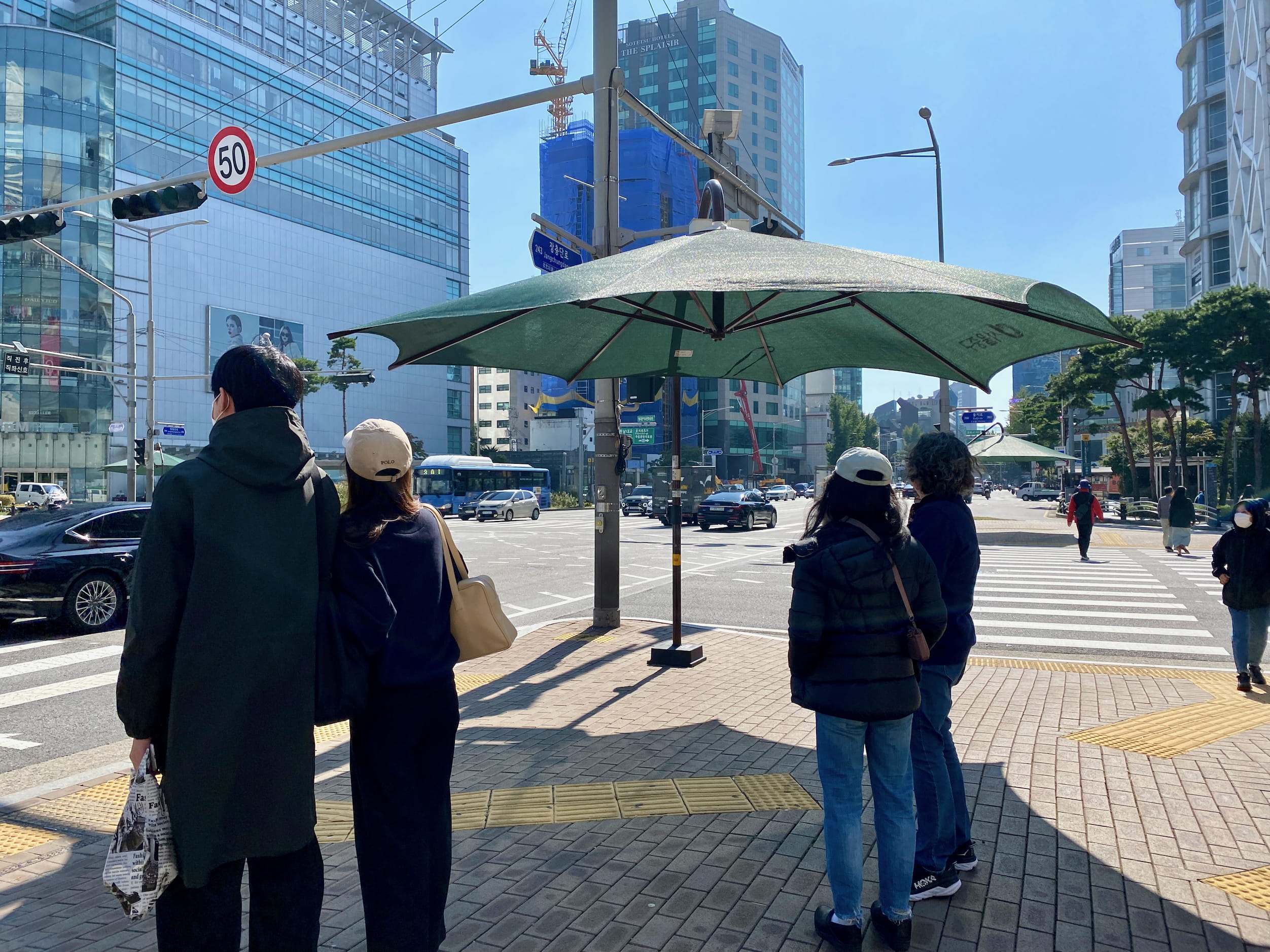 Two more excellent warning signs follow. While I (obviously) appreciate the fully upside-down slipped man, I couldn't stop thinking about fully upside-down falling man. Did the elevator door open like a flapping window? Did he make it into the shaft? How is the window so small?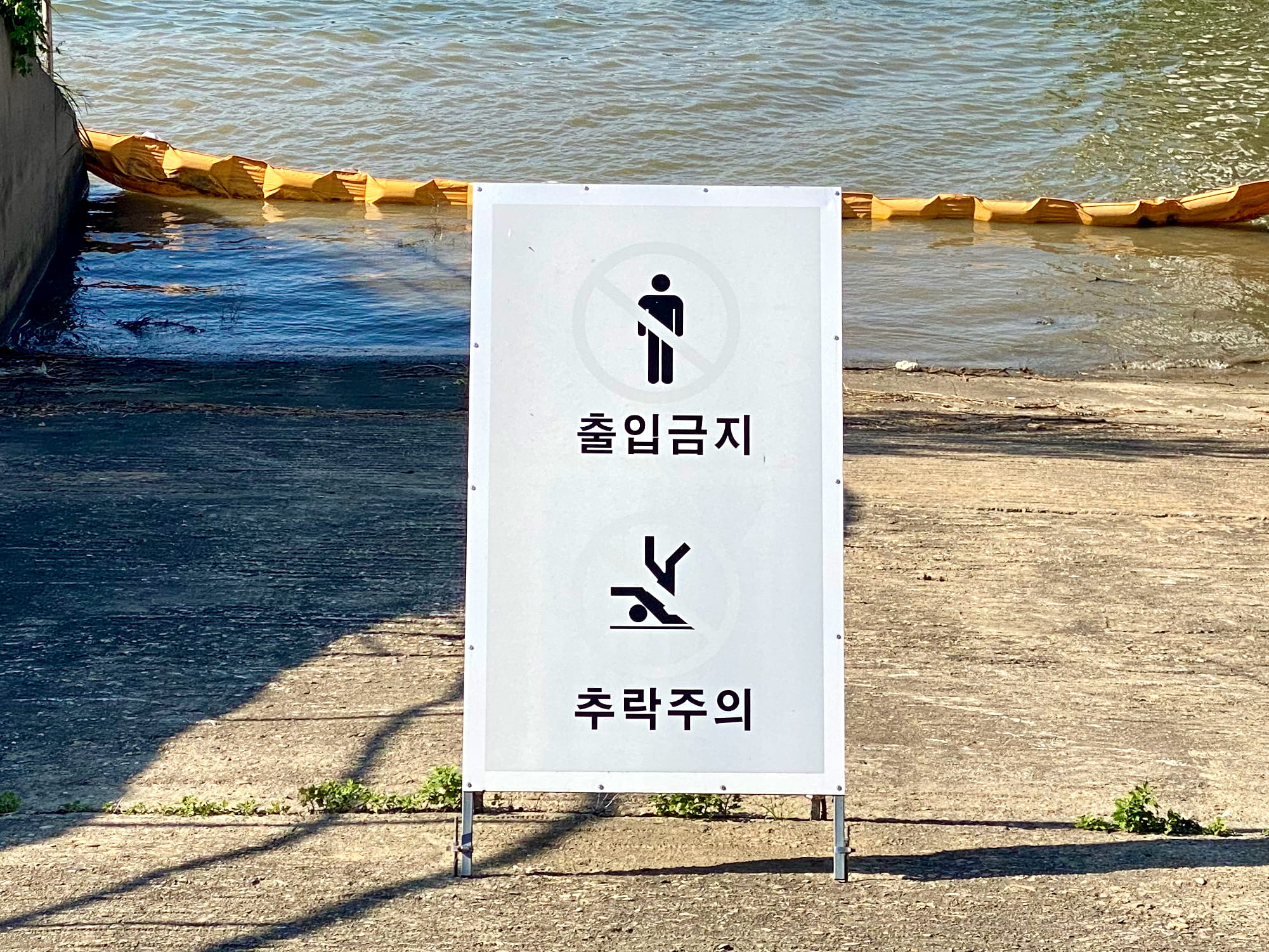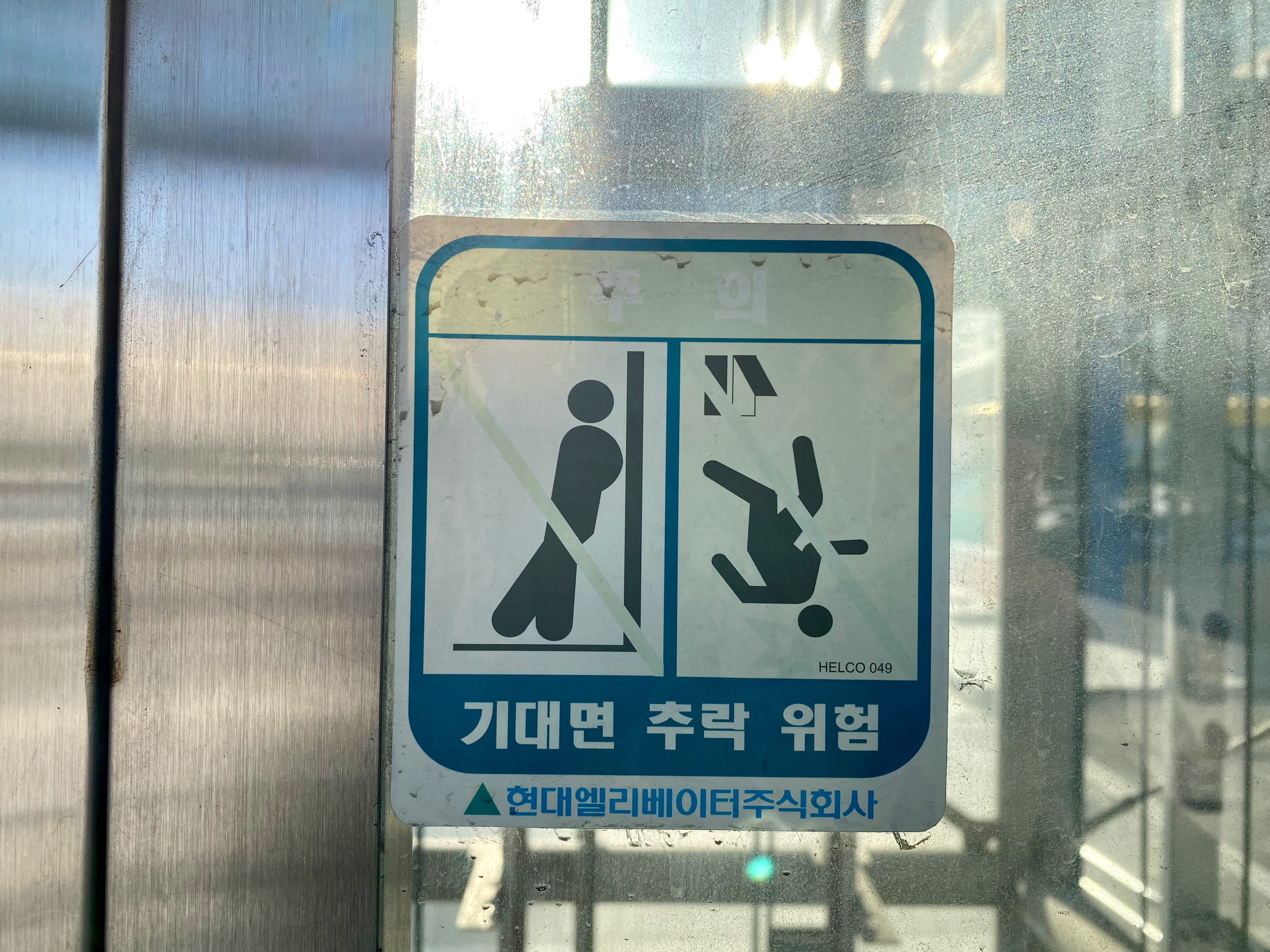 Straight up transparent soda can. I didn't know you could do that. Why isn't this way more common?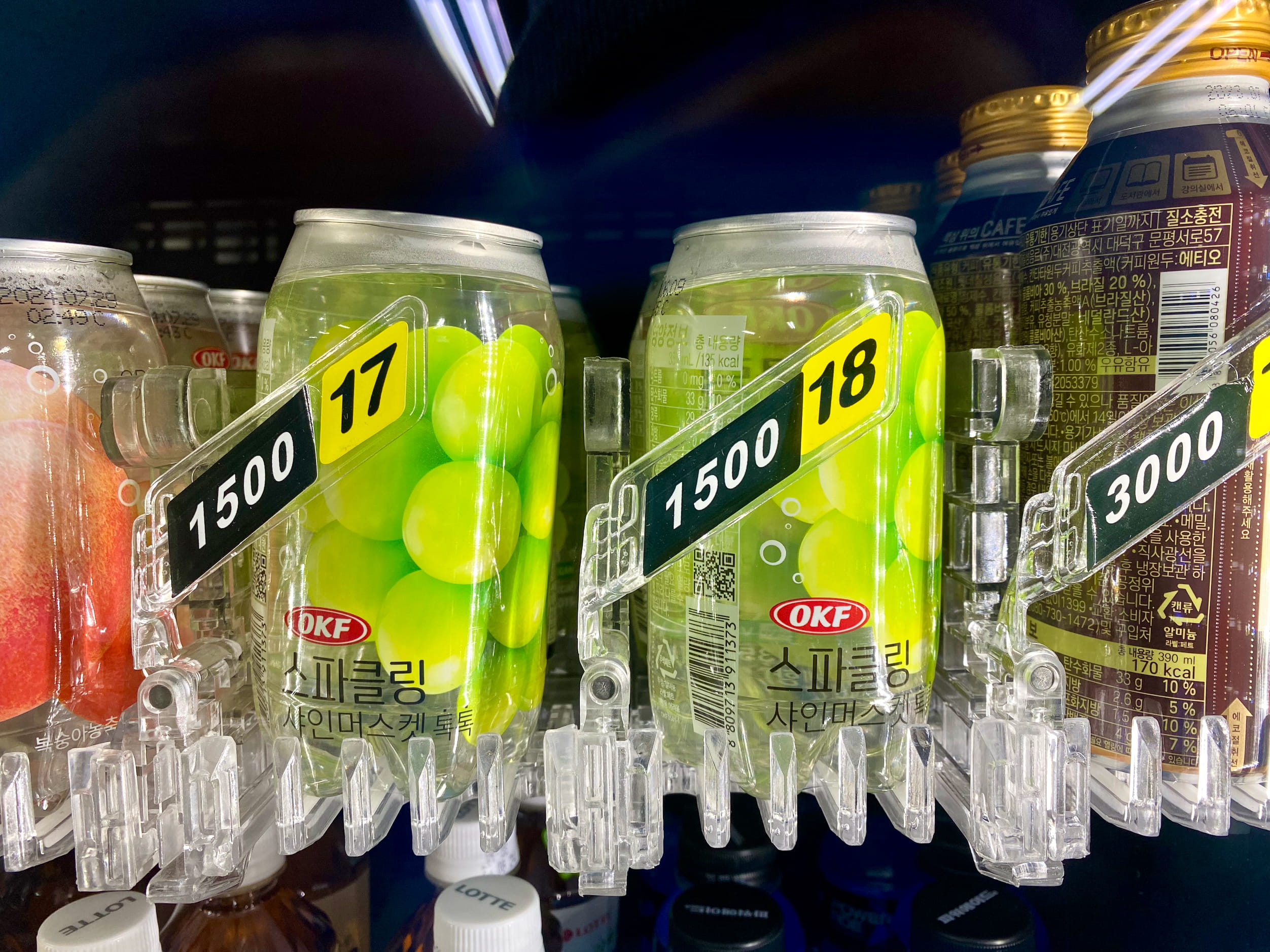 Accidented upon a Buddhist temple at sunset.13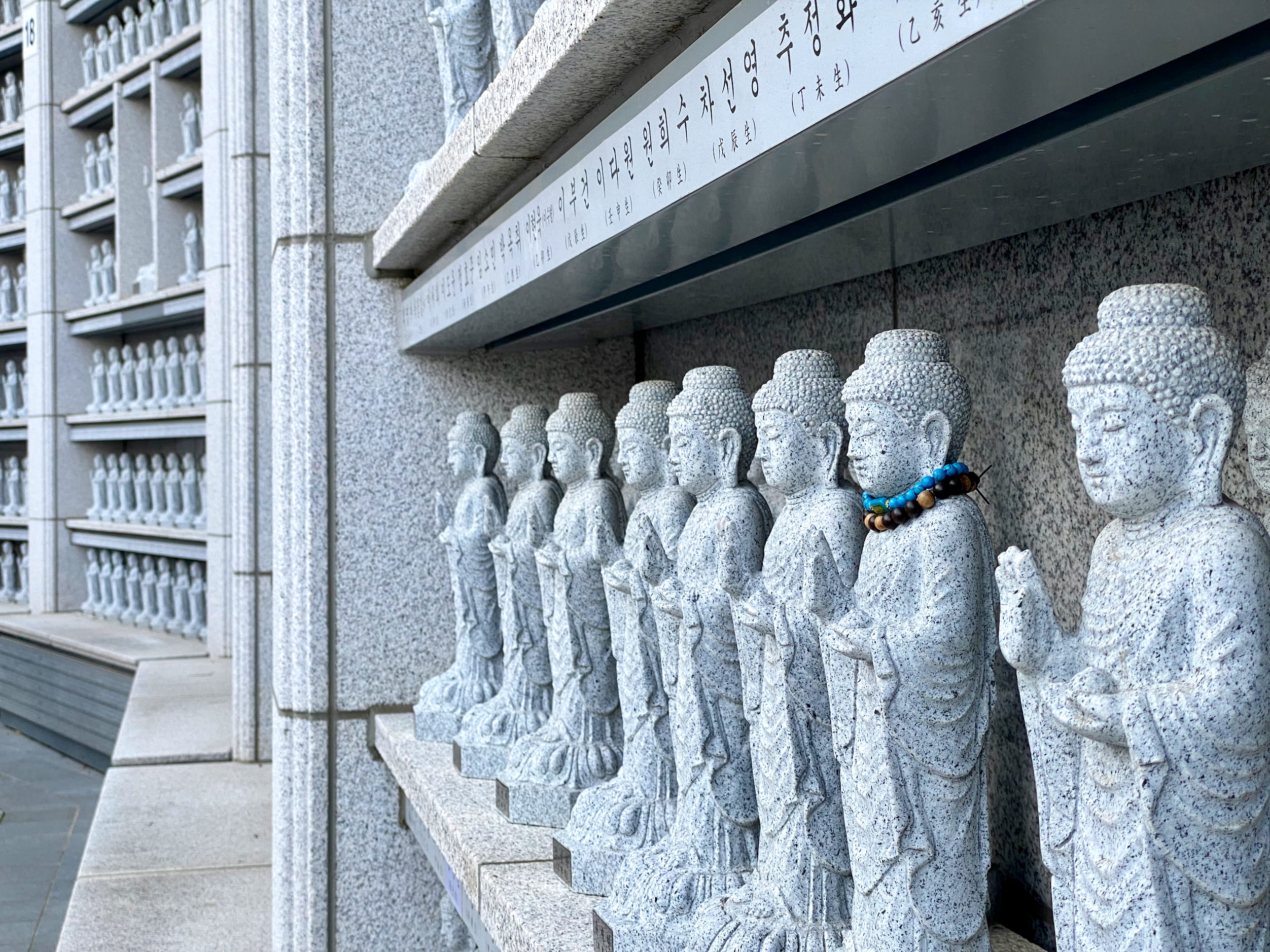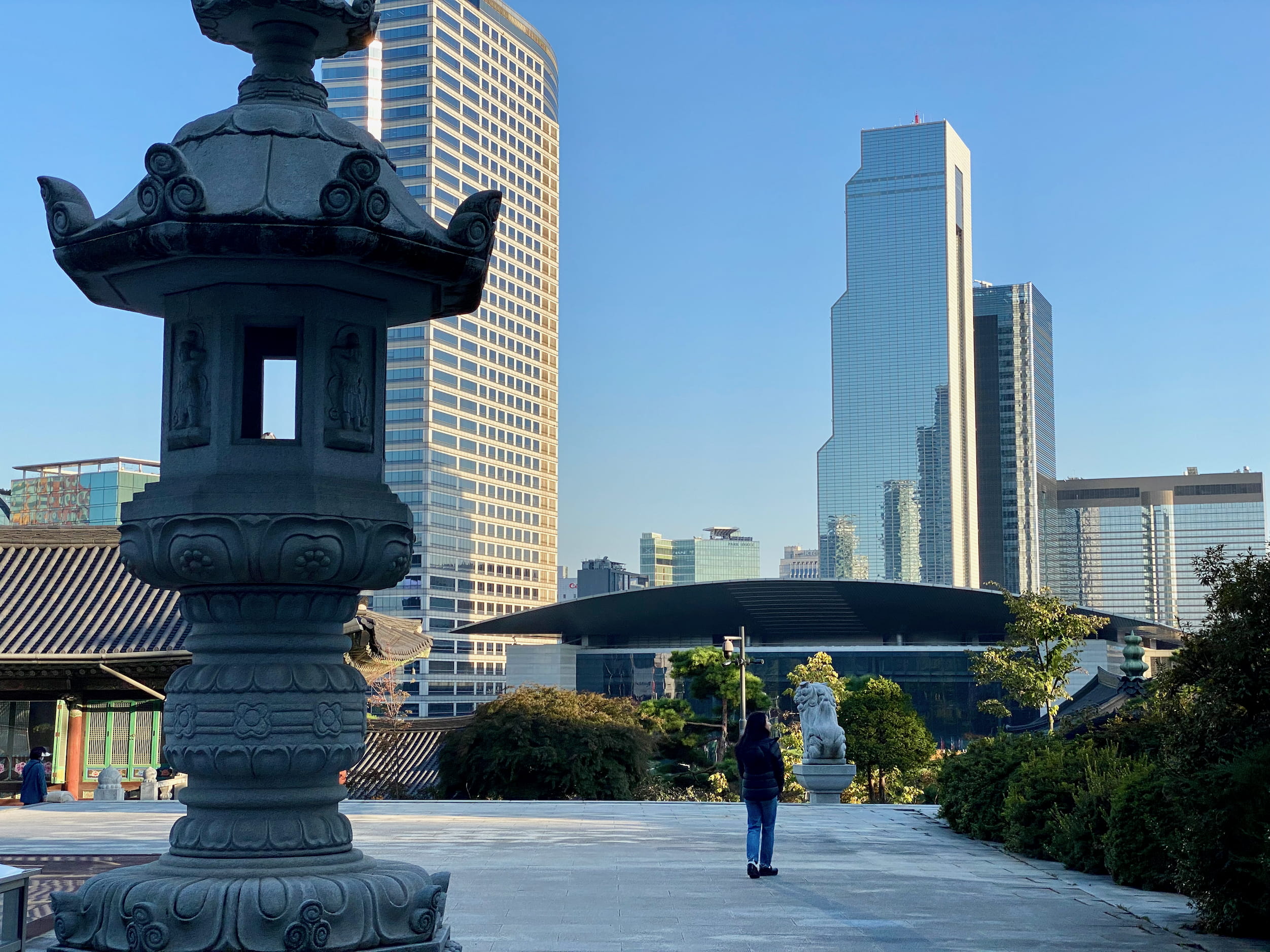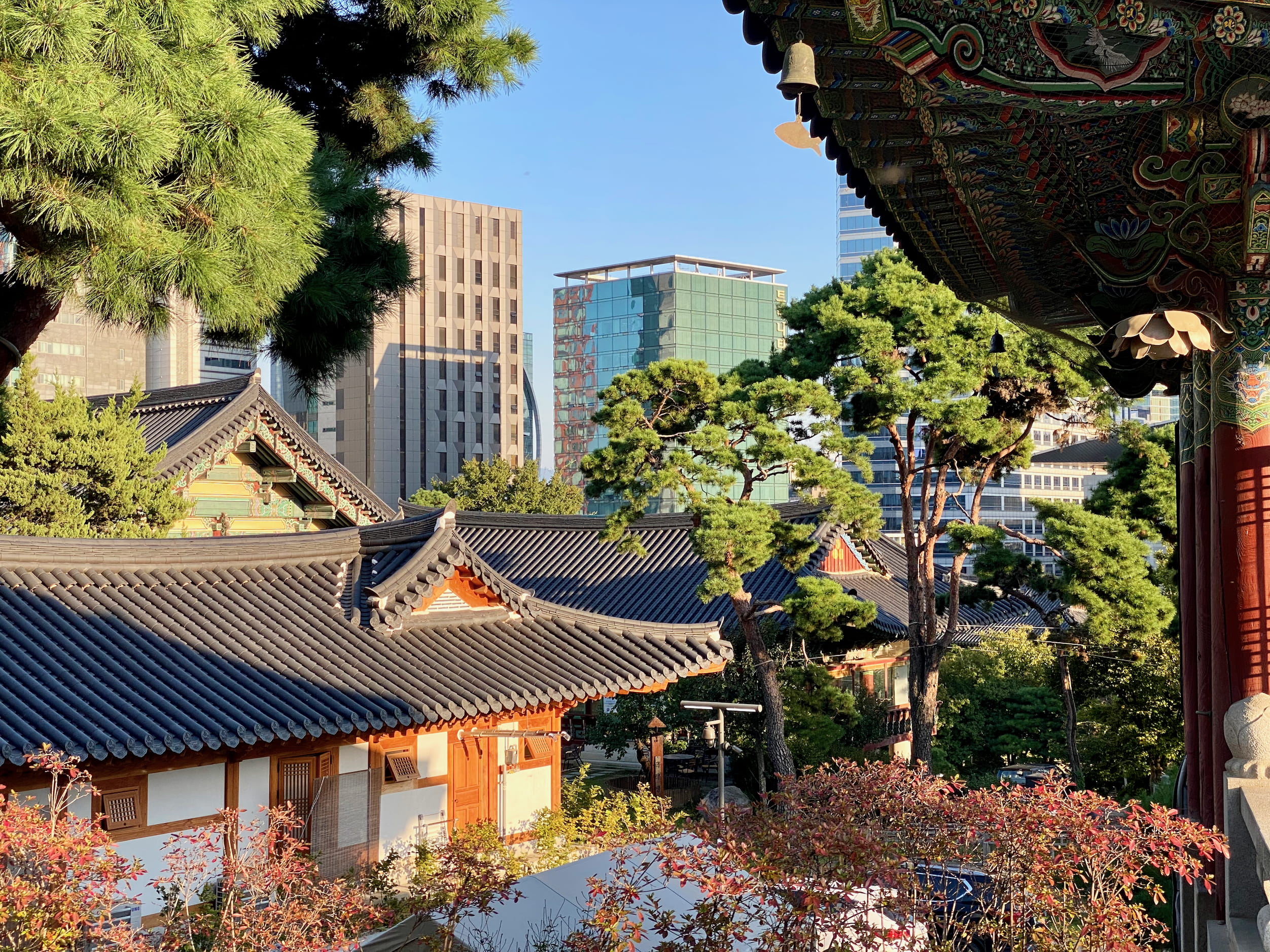 I guess this is as good a time as any to ask: are skyscrapers cool? Do you get any aesthetic value out of them, reader?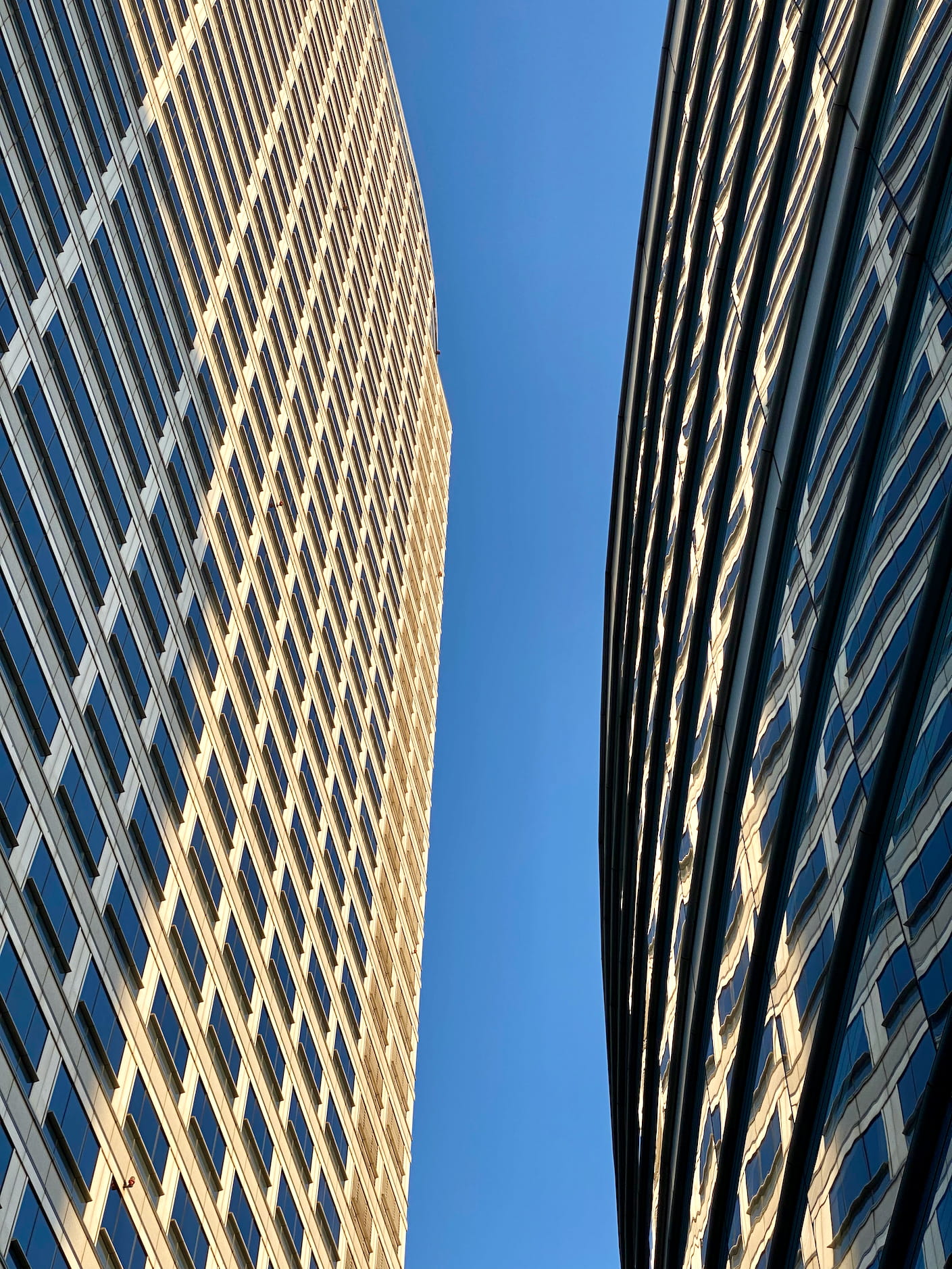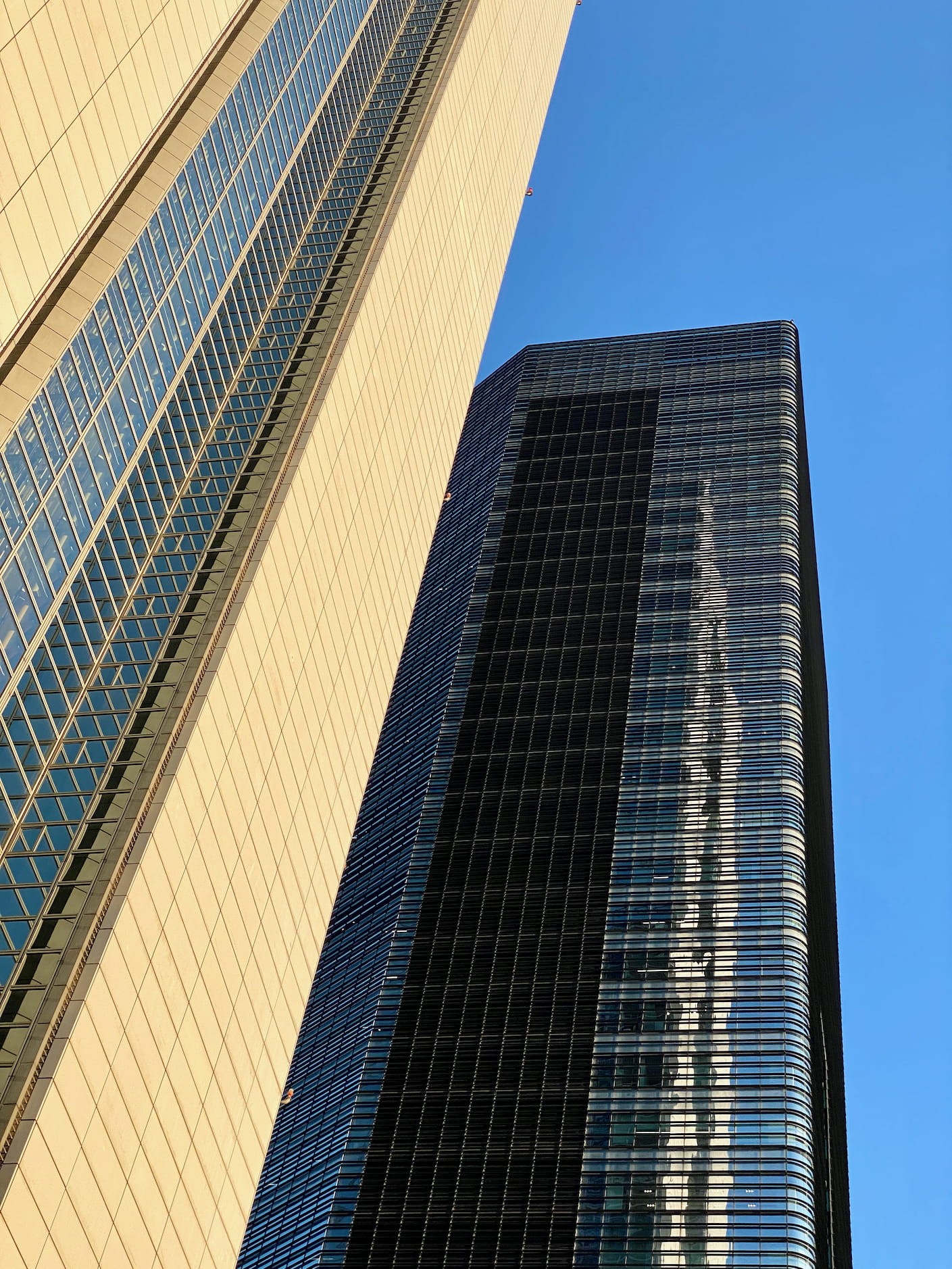 Yes, we went to Gangnam. And yes, we went to a mall. Look, take it up with the folks who made these things, because they are massive and gorgeous.
I think you have to go to malls in Asia with an open mind if you're coming from the USA. There's often significantly greater store variety, more pleasing architecture, and better vibes than you'd expect from the chain-filled shiny hallways of America's consumer caverns. I now think of them as "hey, what if we all shared air conditioning and utilities?" spaces. Granted, you won't get anything at the indie level of a food cart, night market, or hawker center.14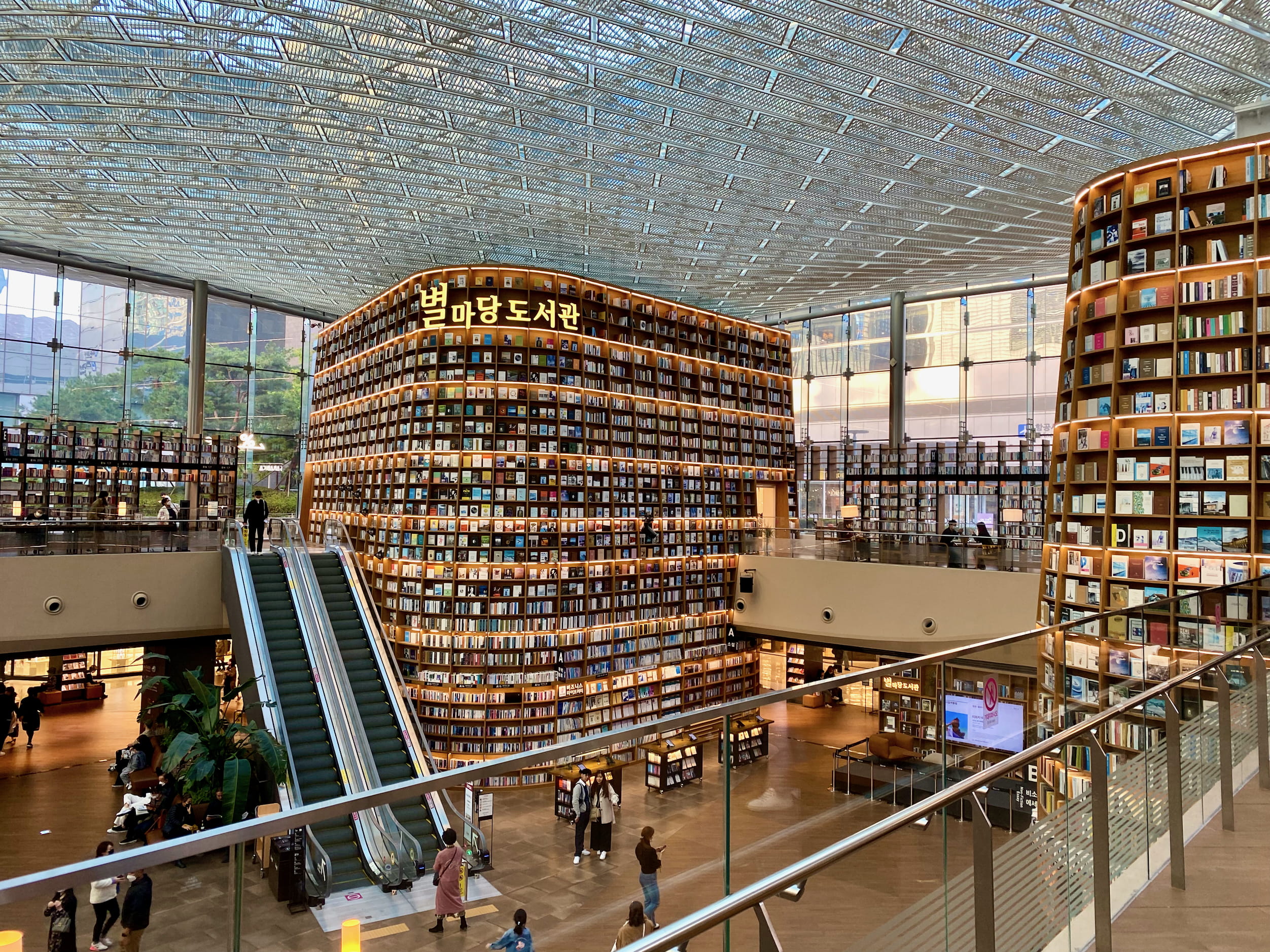 Seeing this bathroom air freshener is just a device to push a spray can was like the first time I saw a photo of a big lighter opened to reveal it's just a big case with a small lighter inside.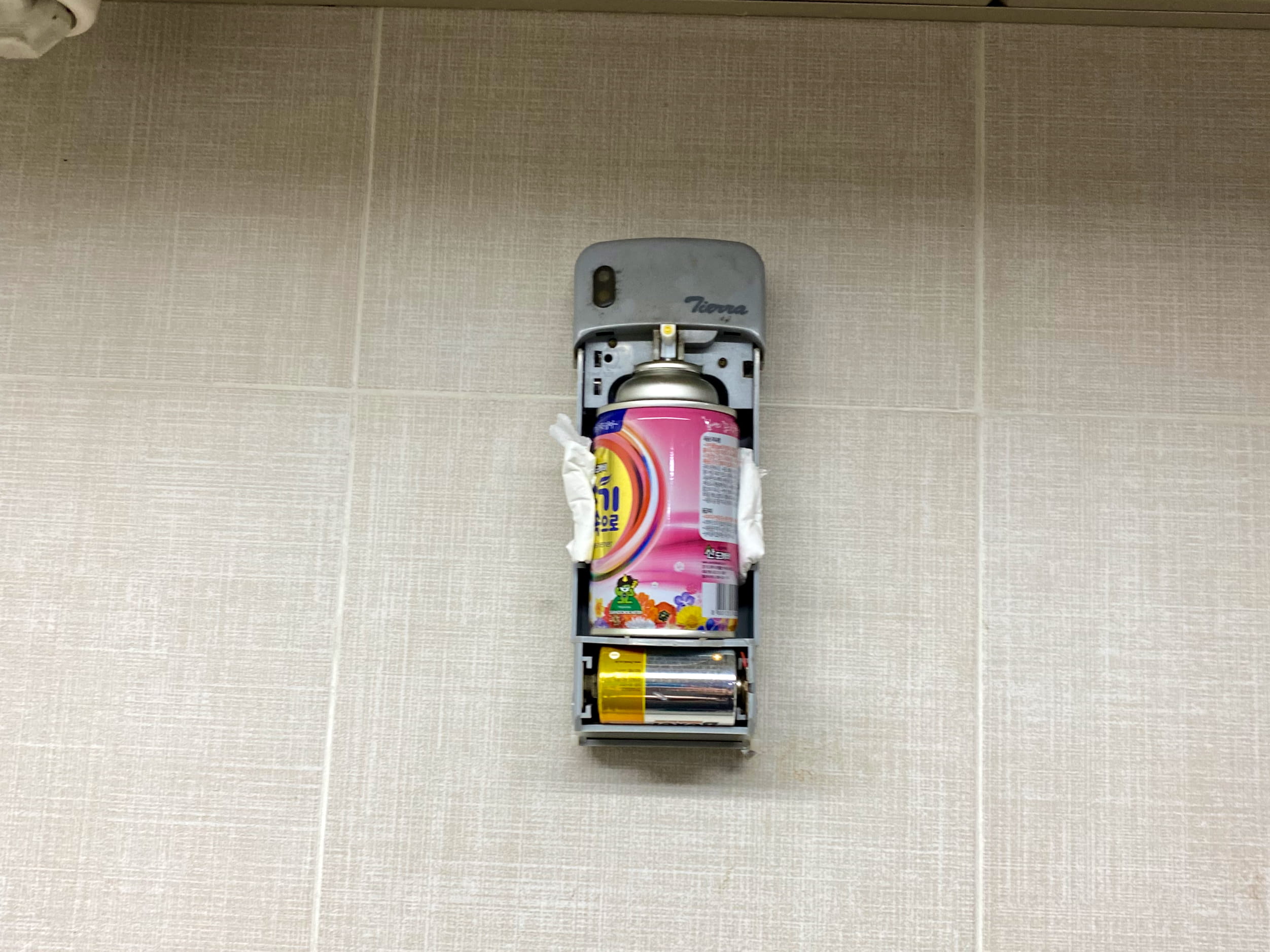 Here's the exterior of the DDP. It's hard for me to photograph with my iPhone. The building looks coolest at night because they bathe it in colored lights. But iPhone cameras have tiny light sensors = poor night performance. You get the picture.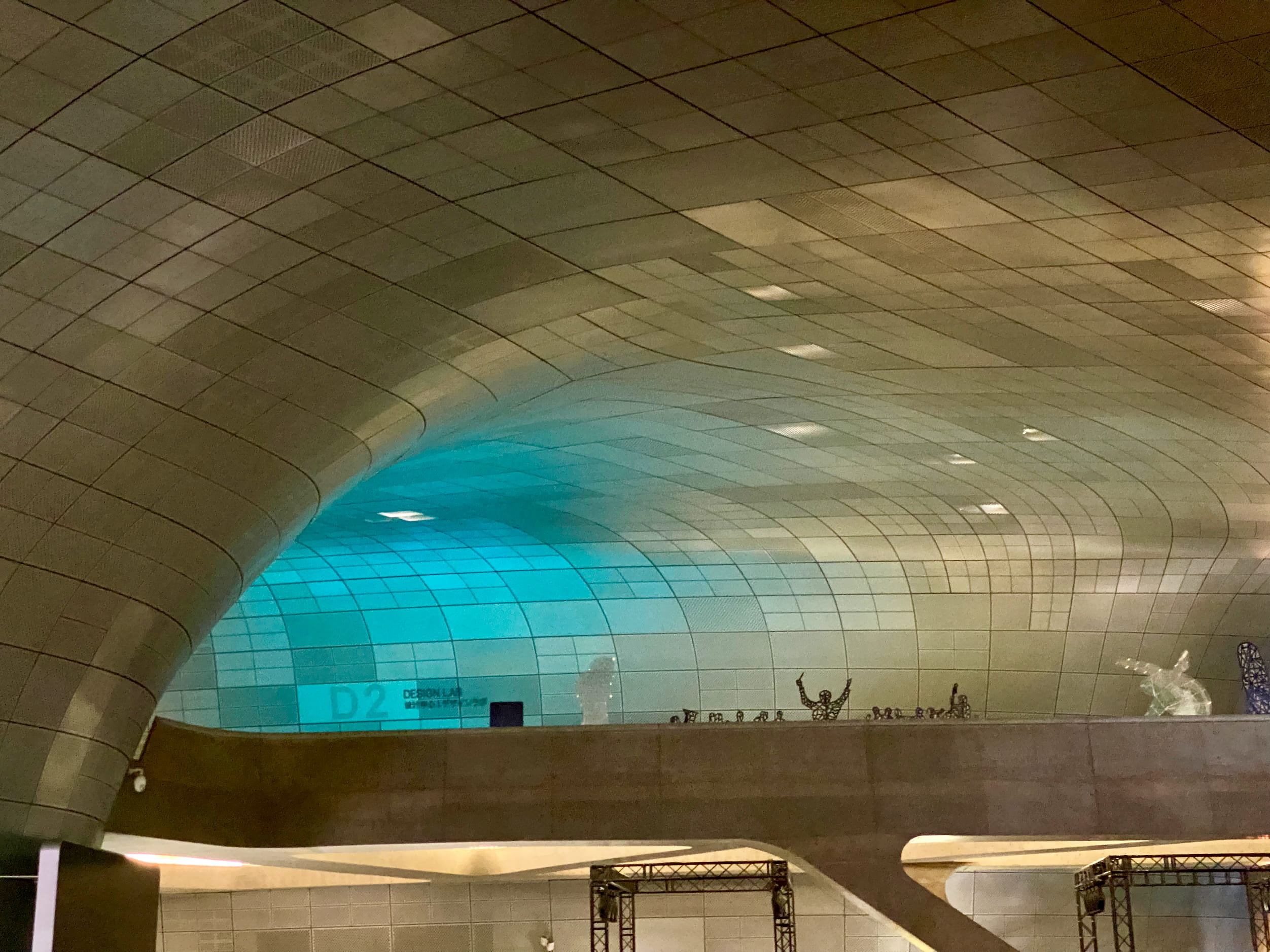 I've also got a few translations sprinkled in the Korea series I hope you like.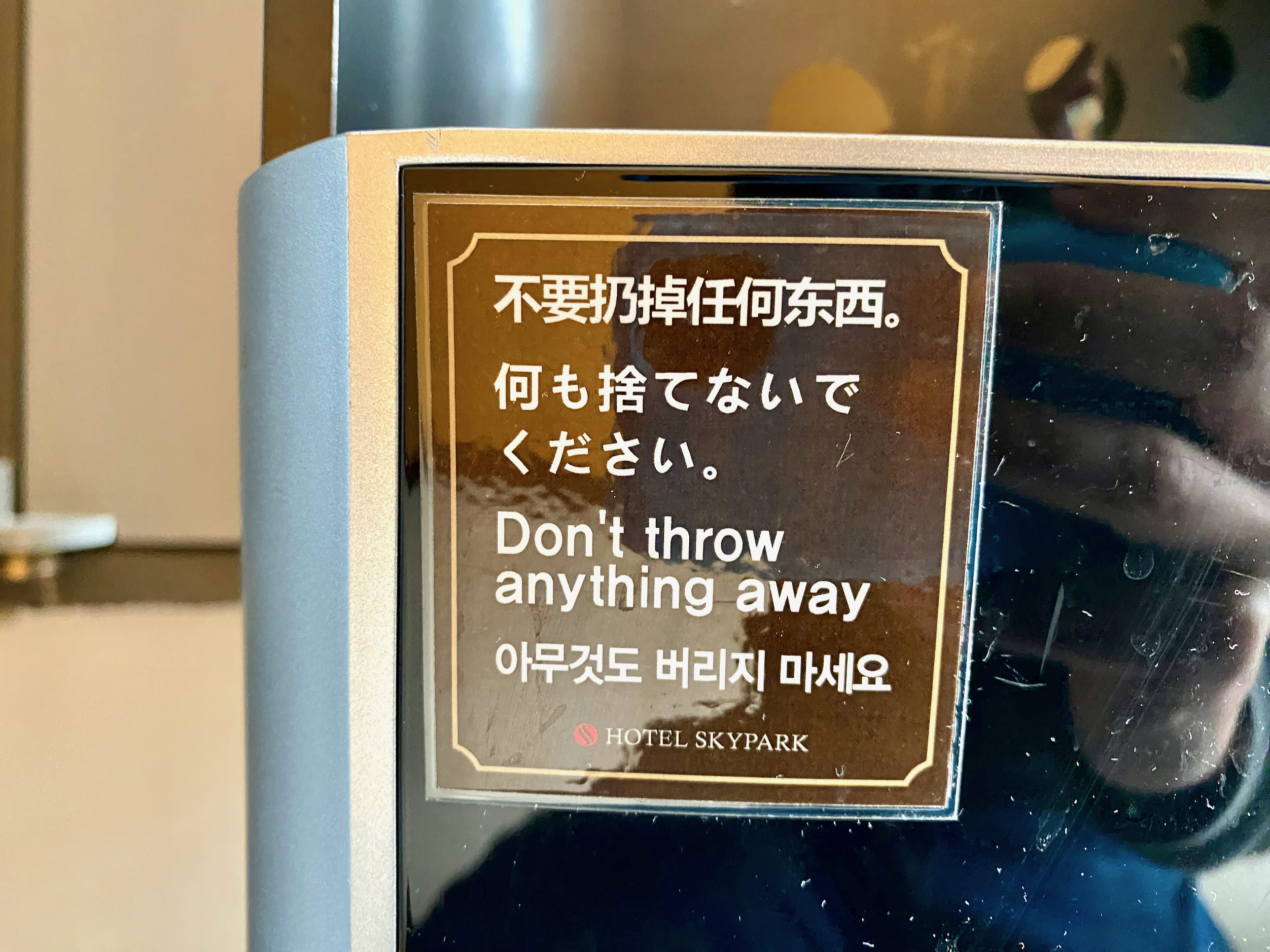 The smaller river near the DDP had a whole landscaping revitalization project done a few years back and now it's quite walkable. I think maybe this was even some politician's poster project?
At this point we migrated to Hapjeong. This district was advertised as being a great place for 30-year-olds, AKA old souls, AKA people who value cute cafes and restaurants over night life. Perfect fit.
It looks like a TV screen, but out of the window of that sleeping loft you can see the domed roof ot the National Assembly Building.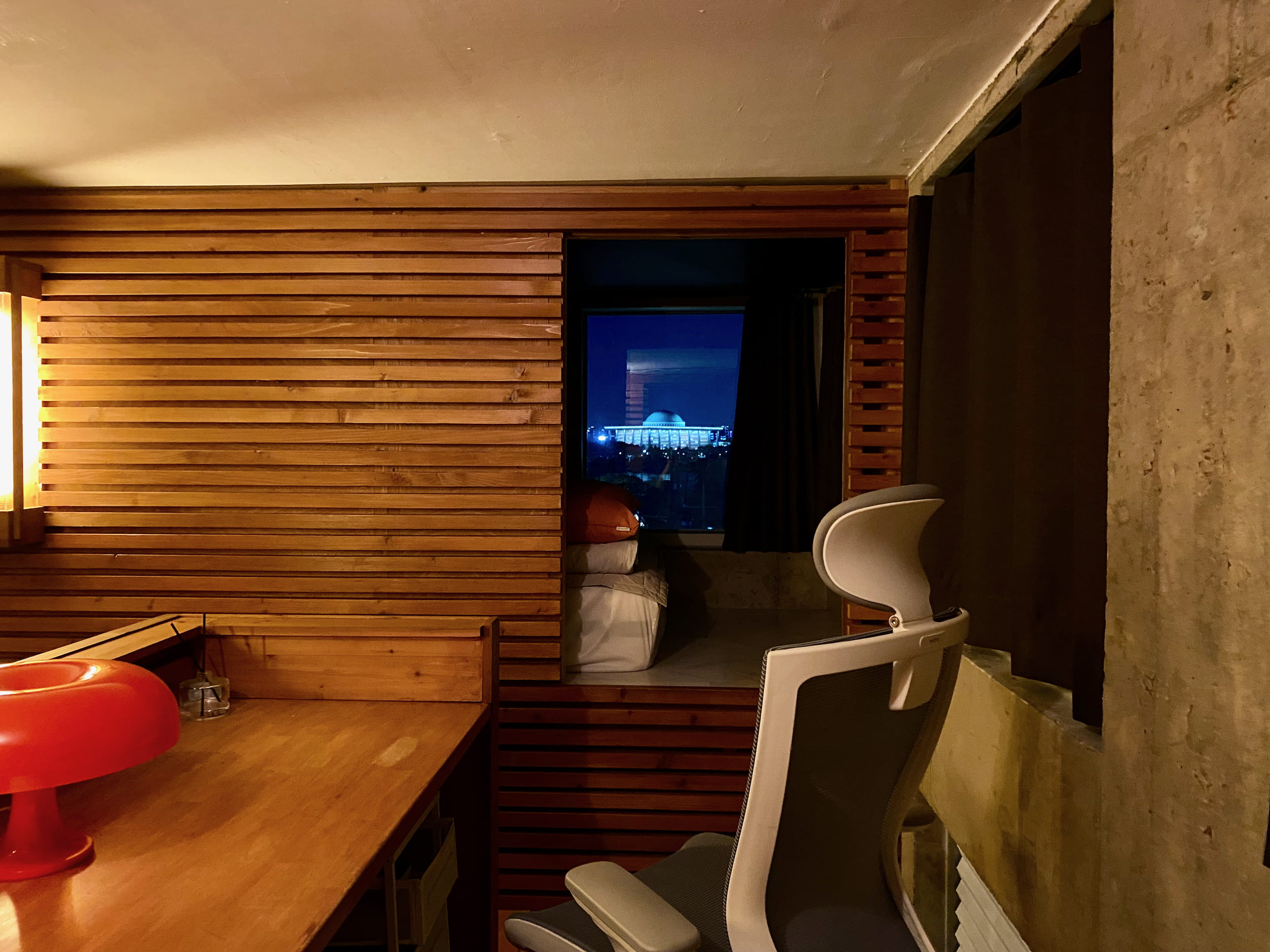 This is a good time to mention a funny phenomenon about Seoul AirBnbs. What is usually the one forbidden condition is AirBnbs was the primary function of most rentals. In short: they are explicitly for parties.
I guess technically they were "event spaces." It makes sense: your apartment in the big city is tiny, but you want to have a birthday party. What do you do? Rent an apartment for a night. Love it, great idea.
The only problem is, we had quite a bit of trouble finding places that were explicitly for, you know, just living and sleeping. This place ended up being a hybrid rental, and worked pretty well for us. But be warned, most apartments here are tiny. One bedroom (not studio) almost impossible if you're on a budget.
50k Day
50k day! 50k day!
This is one of those cases where something stupid begets something wonderful.
Context: during the pandemic, Julie and I started using a pedometer app on our phones to make sure we walked around the block enough times per day rather than fully relinquishing our bodies to become like melted cheese on our chairs. (Though we came close.) This app simply displays Apple's data on your home screen so you can see it easily. But, you can do extra stuff like set a daily goal, and it will turn green if you get it, count your consecutive days achieving your goal, that kind of thing. I set my target to an extremely modest 5k/day.
But after a handful of times opening the app, I noticed that they have achievement badges. One of them is for how many steps you've gotten in a single day. The top achievement? 50k.
One day, early in the trip, I floated the idea. What if we went for it? 50k in one day? The most we'd ever done in one day was on full-day hikes, and that was low-30s. We'd be exhausted. Could we do it?
We resolved to try. We knew we needed a walkable city, preferably with long, flat routes (you don't get any extra points for elevation), minimal pollution, and somewhere where we were spending a lot of time. Seoul checked all these boxes.
Finally, the day after we moved home bases to Hapjeong, the conditions were right. The weather was going to be sunny, and we were in-between seeing visitors.
The night before, I planned a route.15 We'd need somewhere between 21 and 25 miles. We'd go along the river Han, with detours around parks we'd encounter, and then cross over whenever we wanted and circle back along the other side.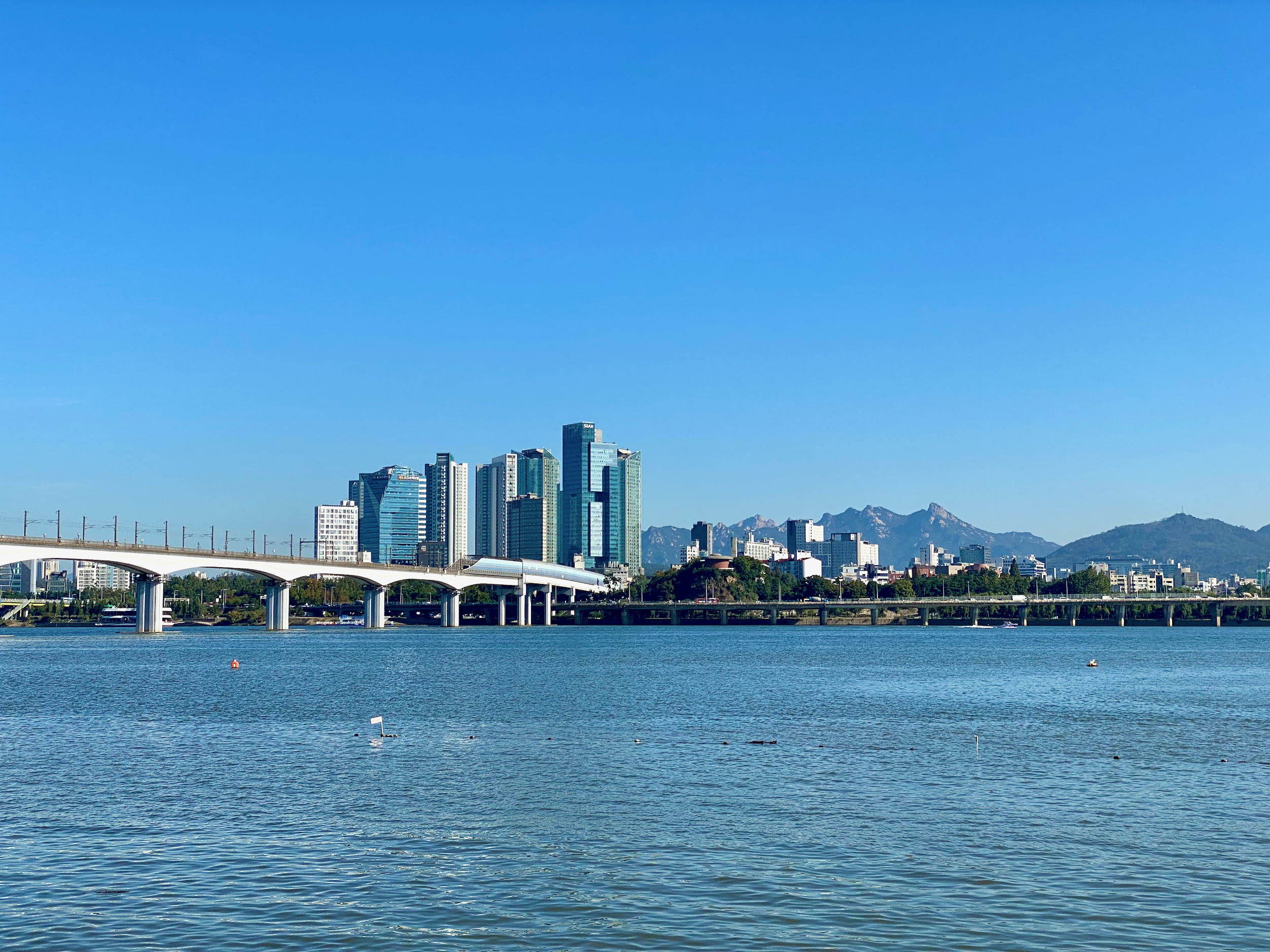 It ended up being perfect. Sure, minor stuff went wrong, but nothing Seoul's infrastructure couldn't solve without hassle.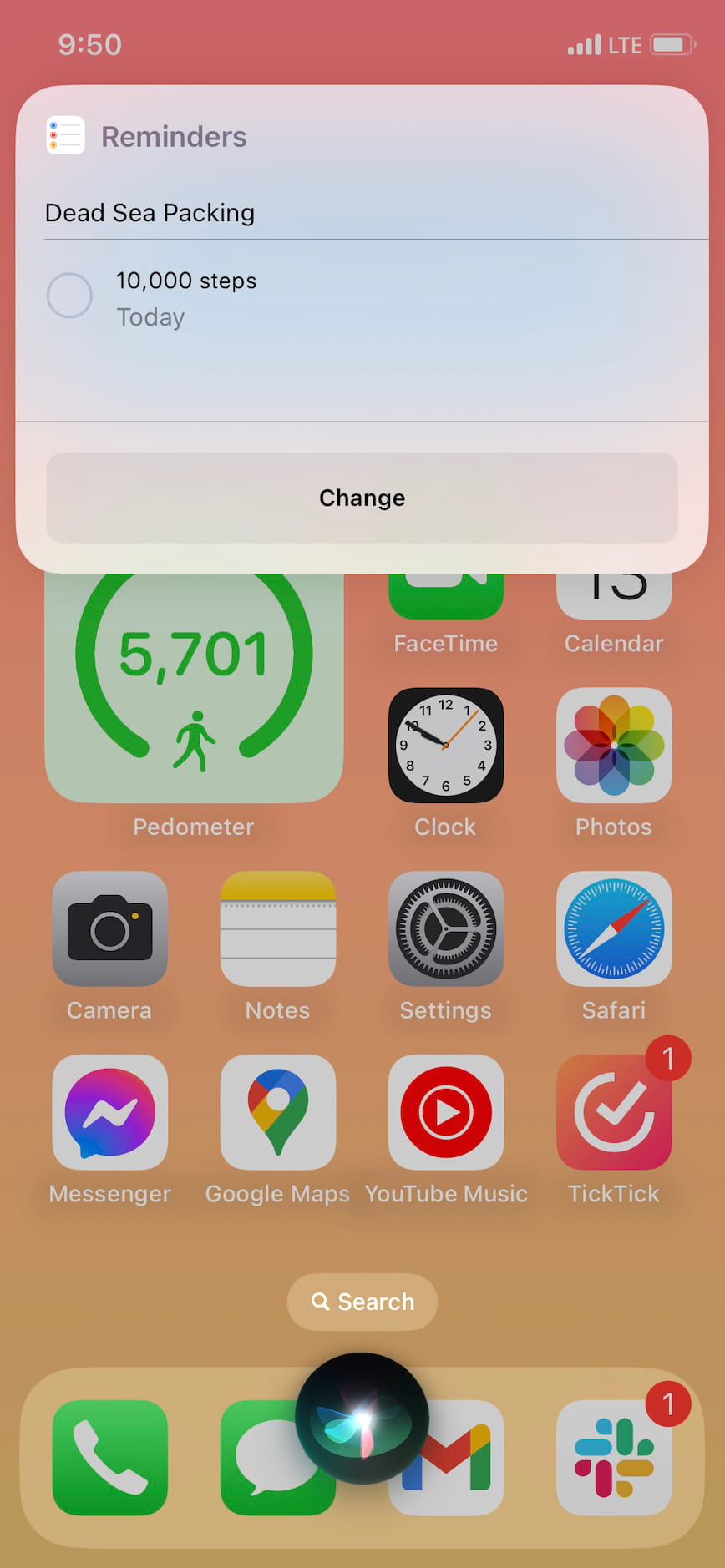 We would happen across so many things in a long day of walking we wouldn't have otherwise. Public parks with playful concrete steps around its water features; umpteen enormous bridges; and public art at regular intervals.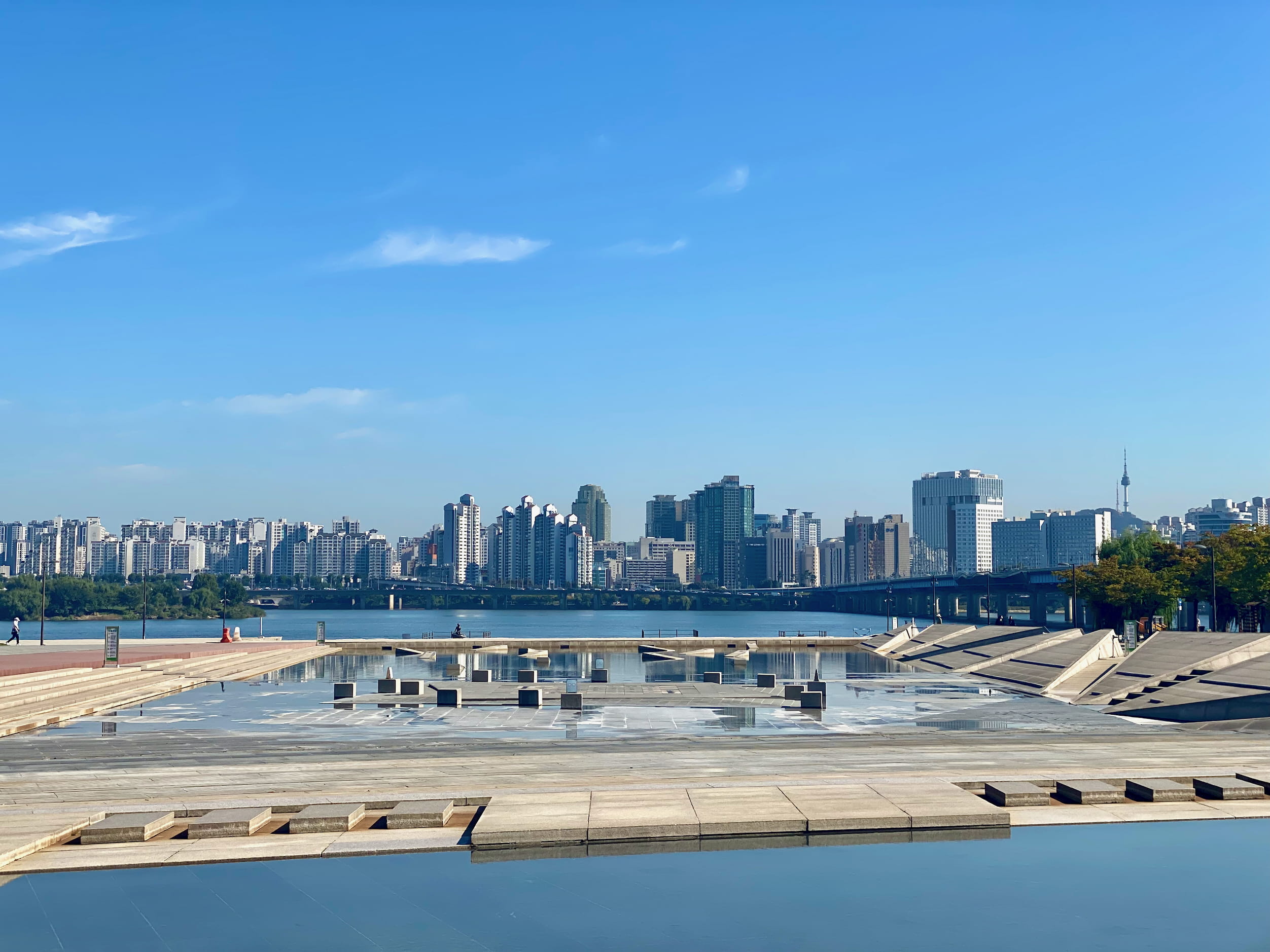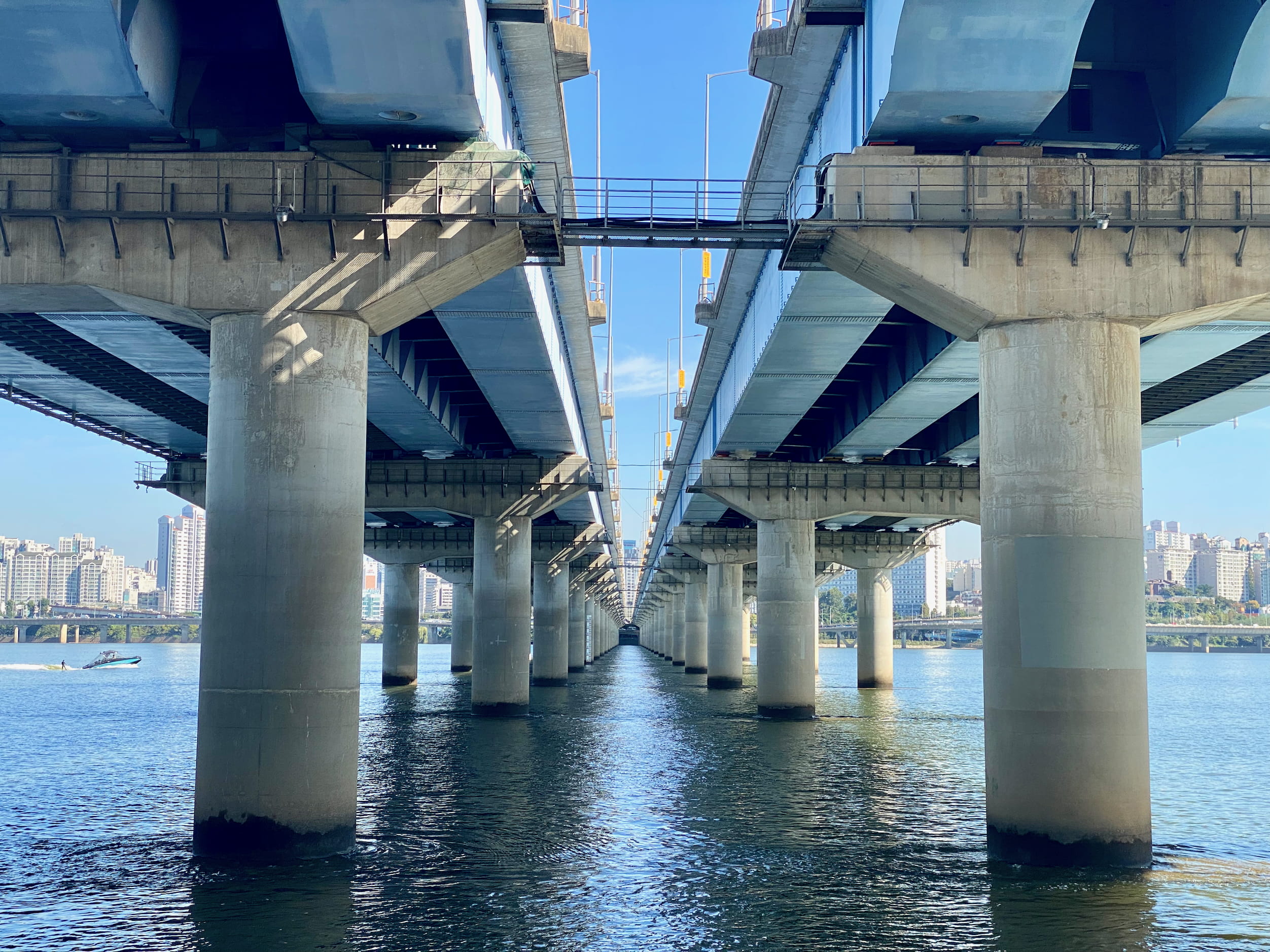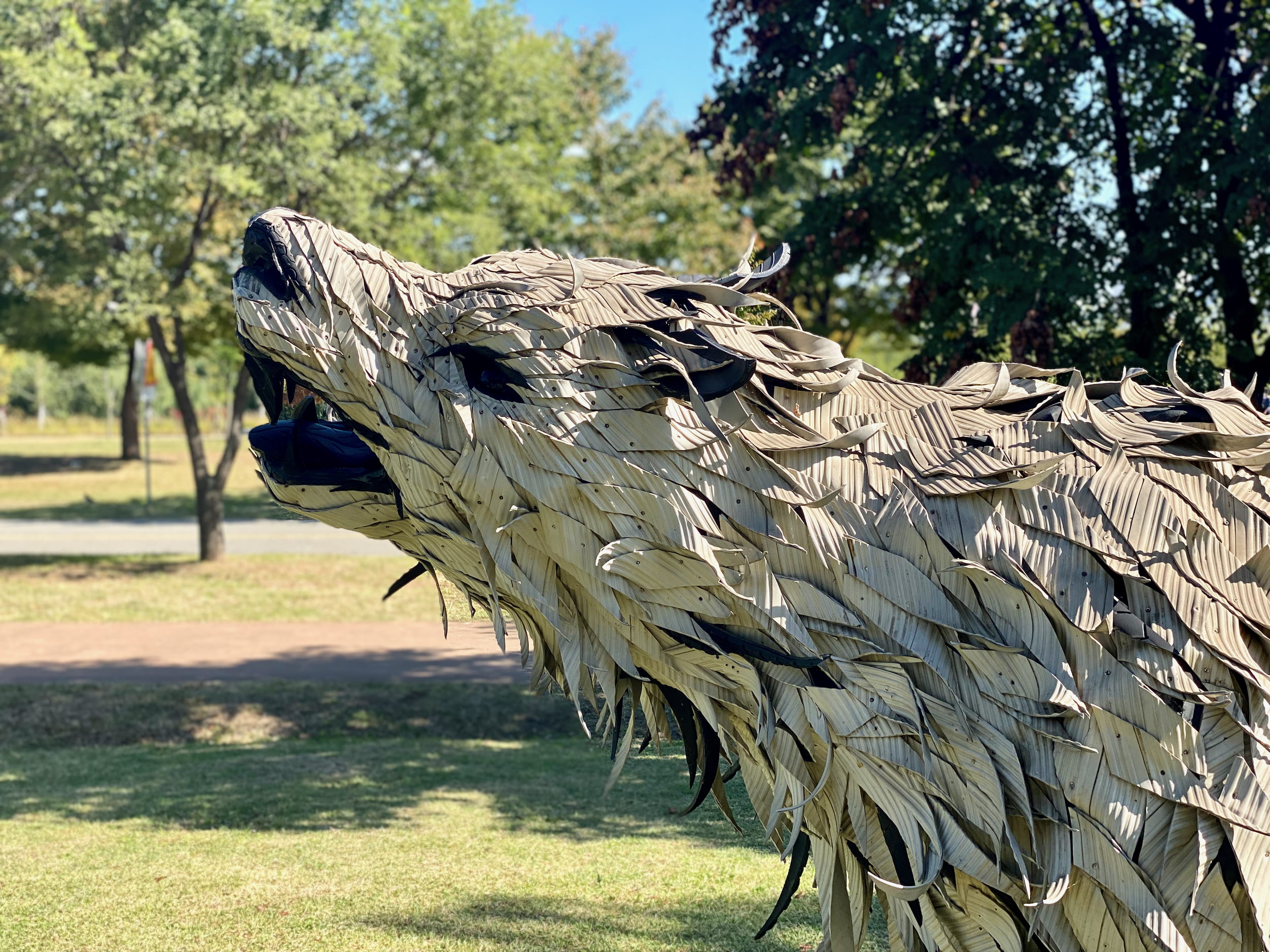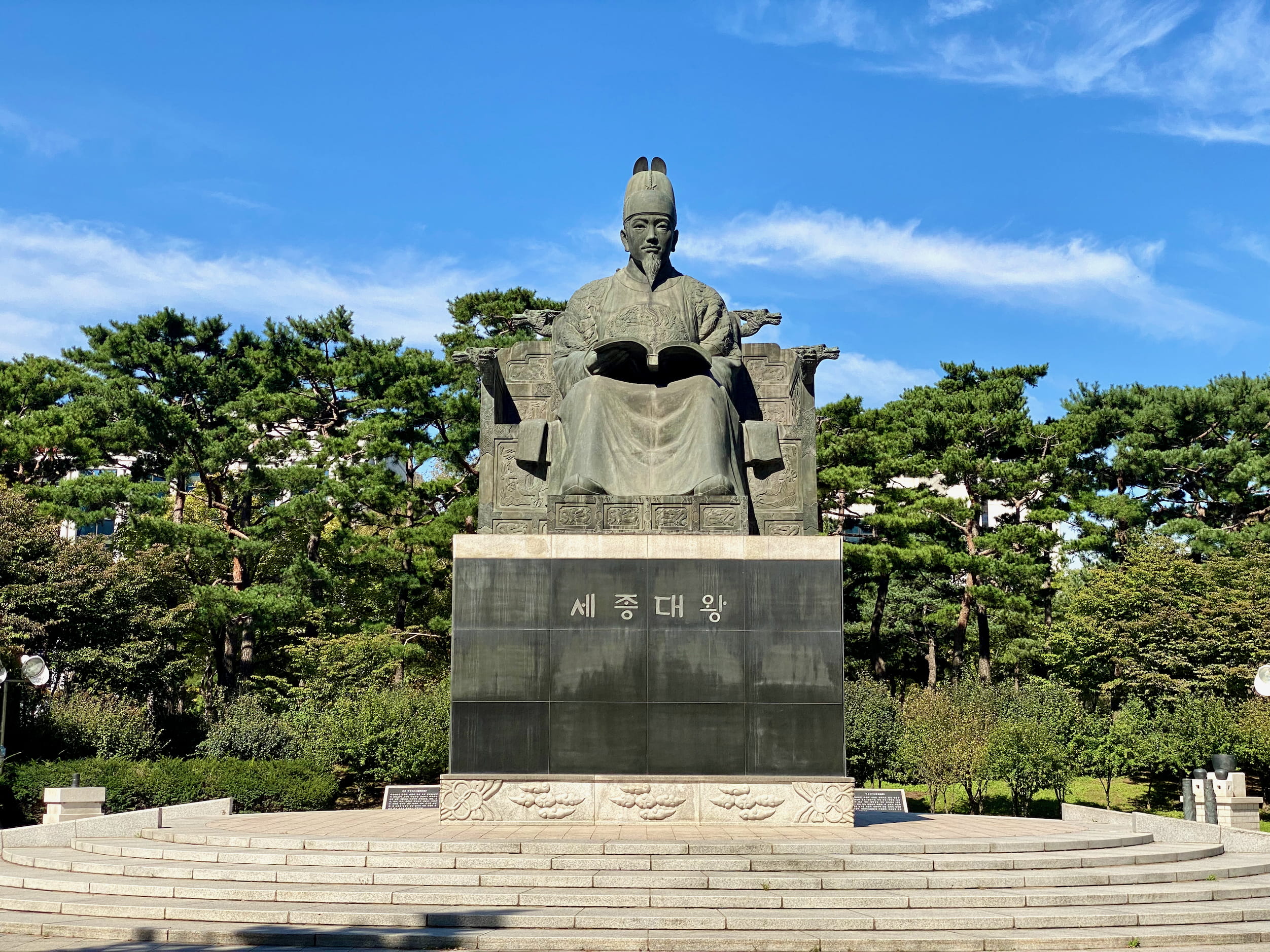 Seoul has turned the banks of the Han River into parks. For miles and miles and miles. It's so awesome. Bikers blast by with skin-tight jerseys and carbon-steel frames; old people power walk with exaggerated arm motions; other old people team onto the free bodyweight exercise machinery littered in the shade of seemingly each bridge; packs of masked kindergartners play in grassy fields. Convenience stores pop up just enough to refill your supply of Pocari Sweat and onigiri. They have free public bathrooms. Or if they don't, a nearby subway station does. There's no trash, and—despite the signs—no snakes.
One unexpected complication was that it turns out Julie—being roughly a foot shorter than me—took 10% more steps than I did to cover the same distance. Since we were walking together, this meant every hour-and-a-half (10k steps), I'd have to walk another ten minutes (1k steps) to re-synchronize our step counts.16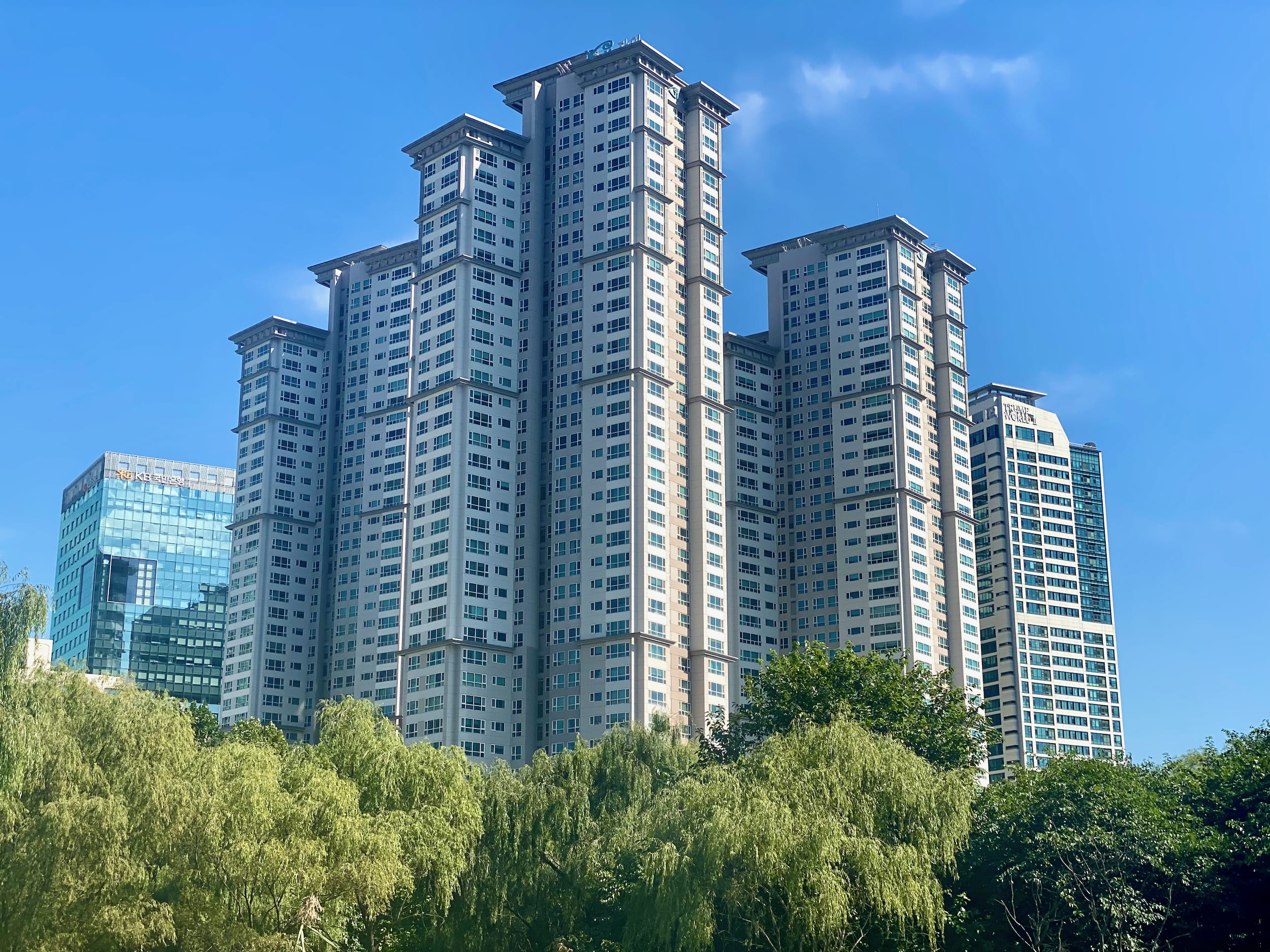 We talked, we listened to podcasts, and we walked and walked and walked. The best part of just getting miles under your feet is the pace slows down, but there's still interesting stuff to see. You never know when something will come up. It's low-stimulus, high-reward.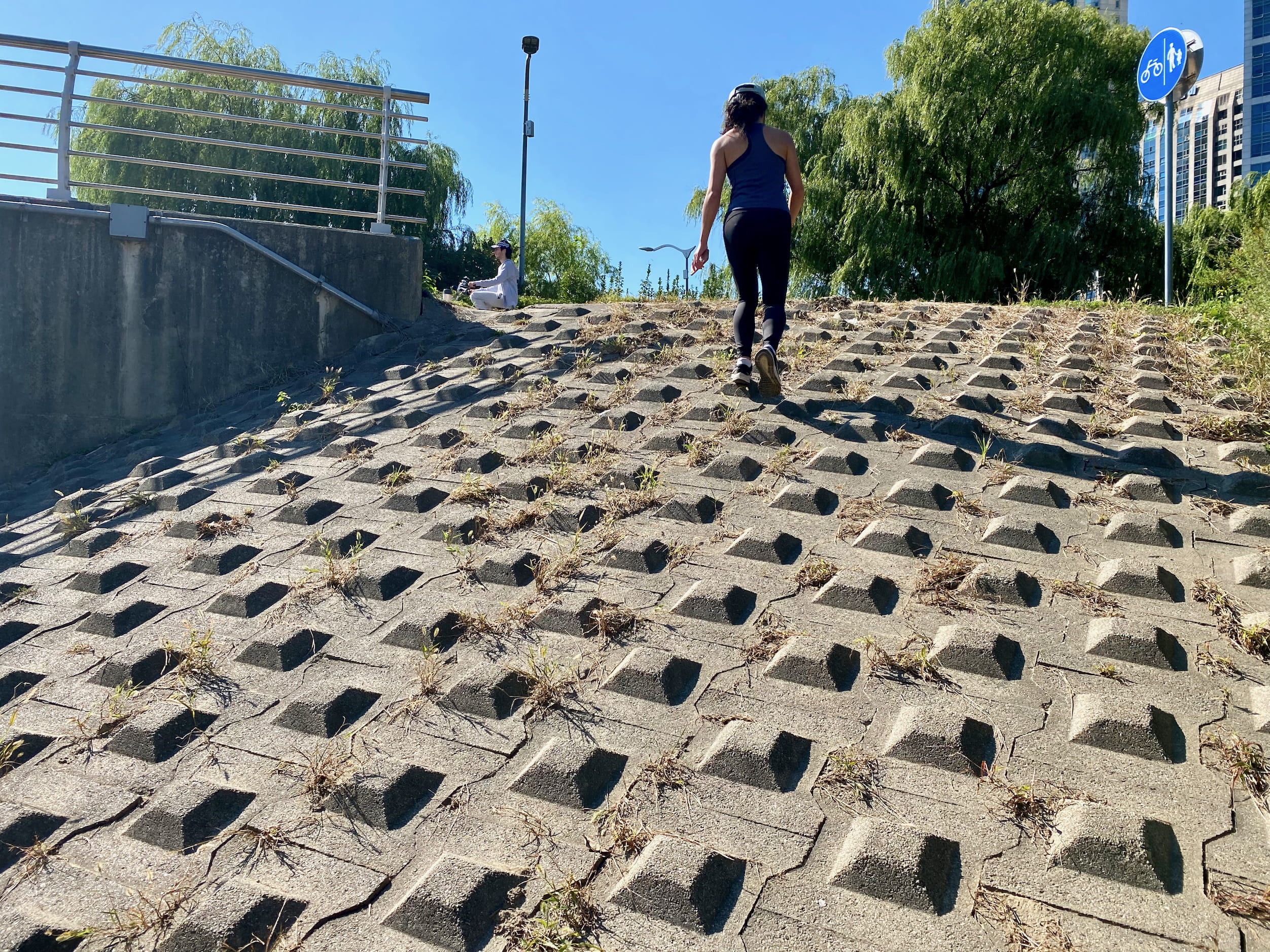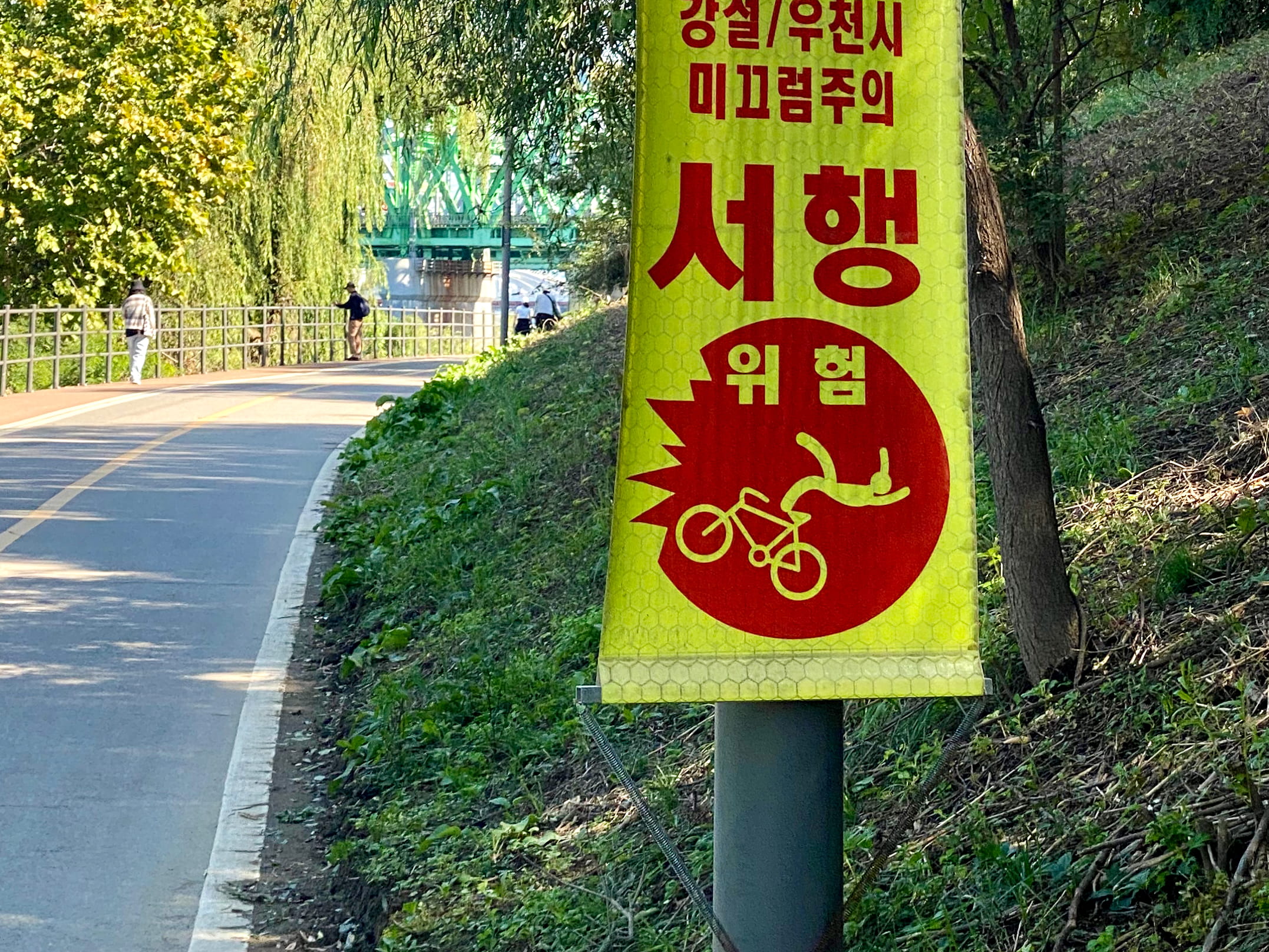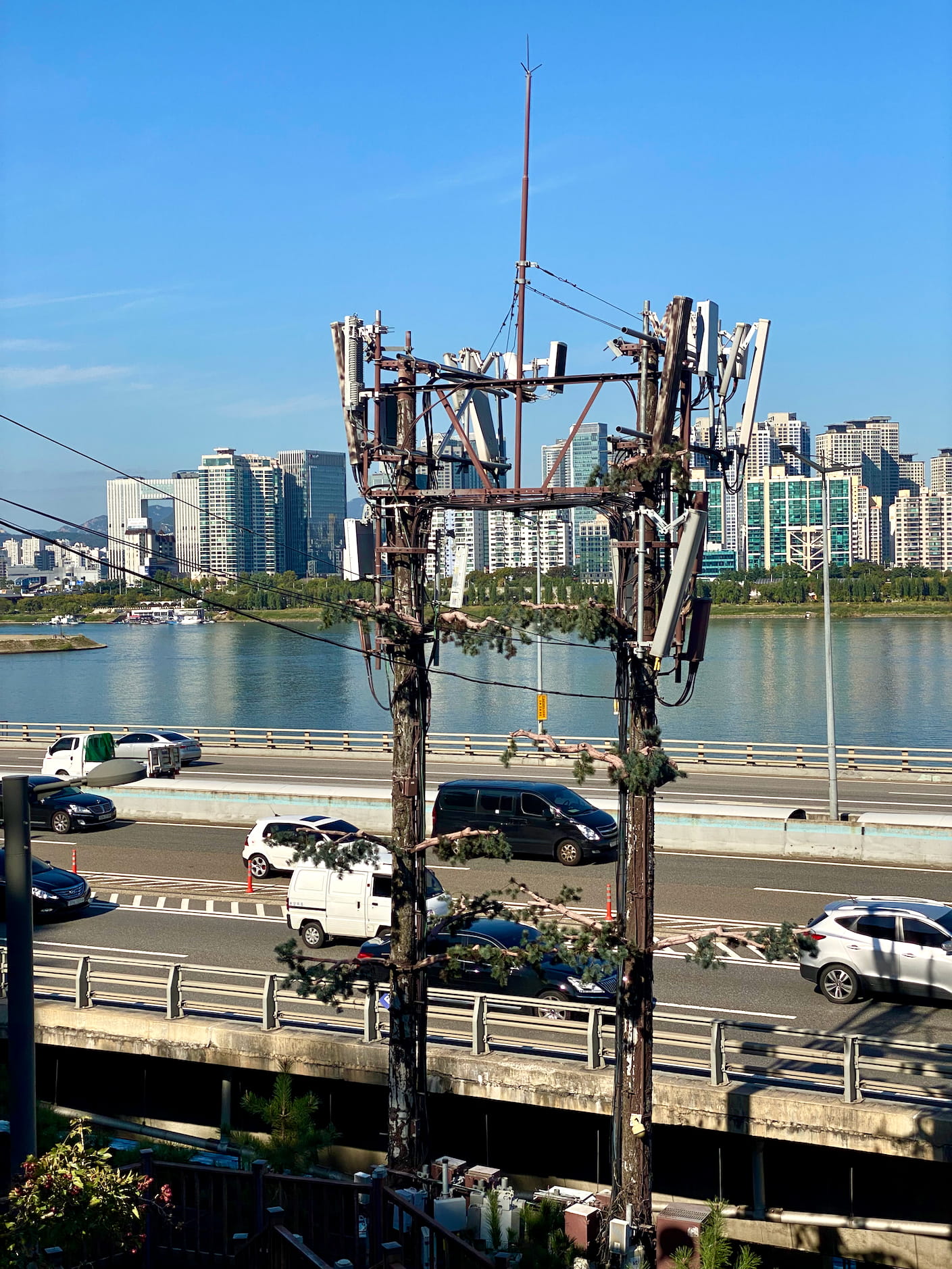 Even the long segments where we found ourselves walking under bridges were pleasant. Autumn was still warm, and the water helped it stay bright. The thick concrete felt like a cheery roof rather than an imposing lid.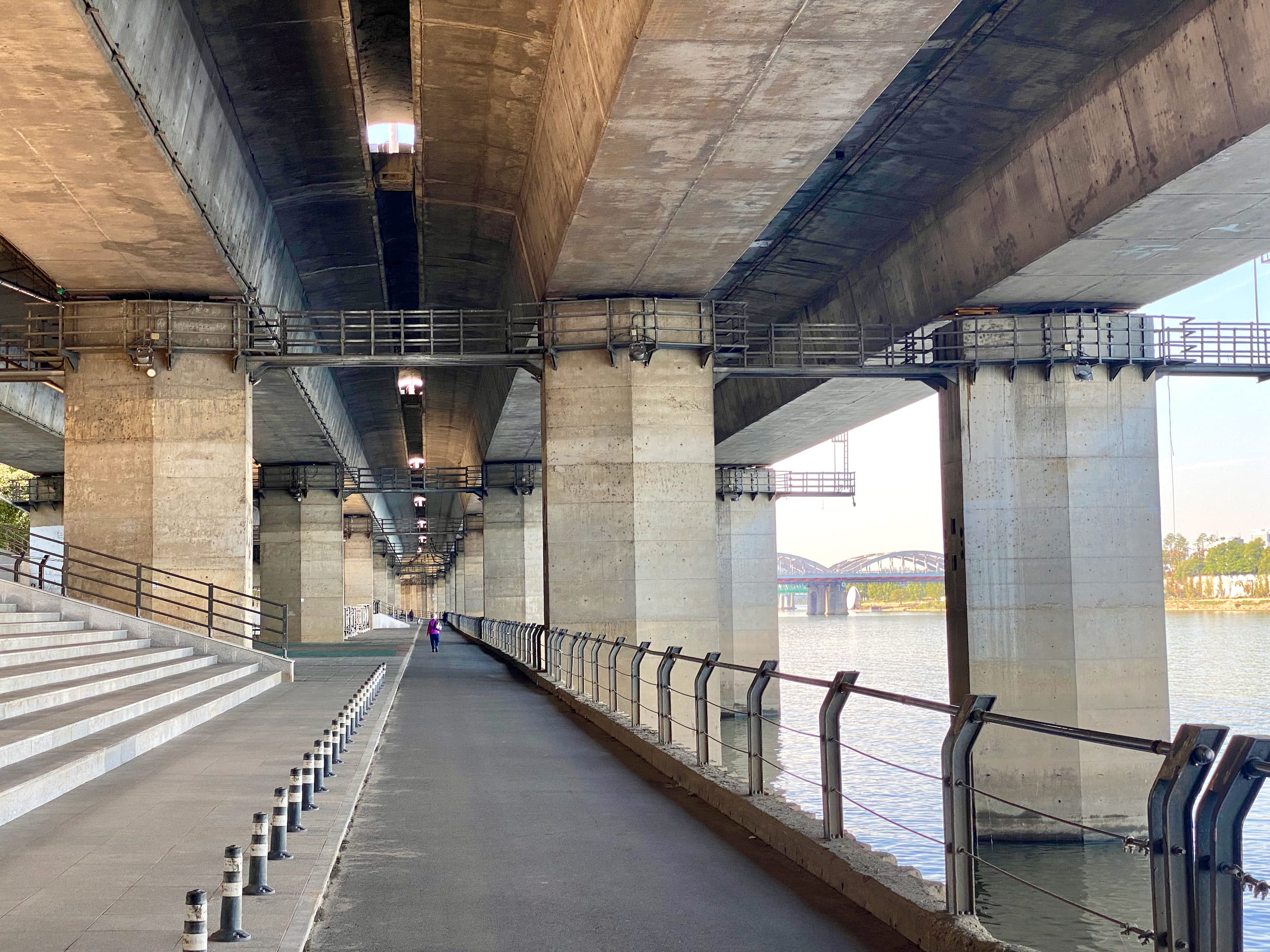 We'd taken enough detours that we knew we'd finish up the walk and take the subway back—no on-foot return journey needed. So we decided to take a meander through the Korean War memorial.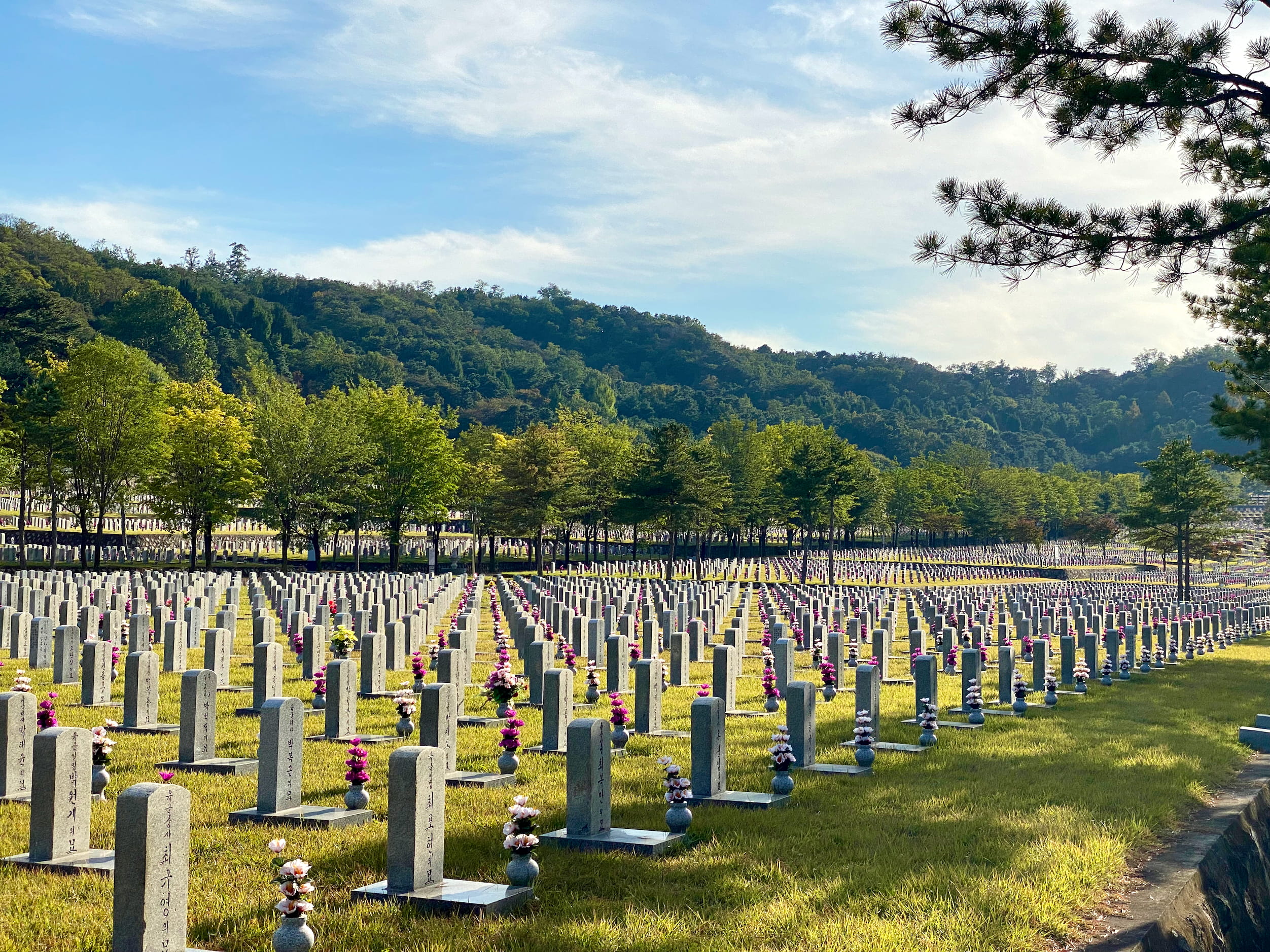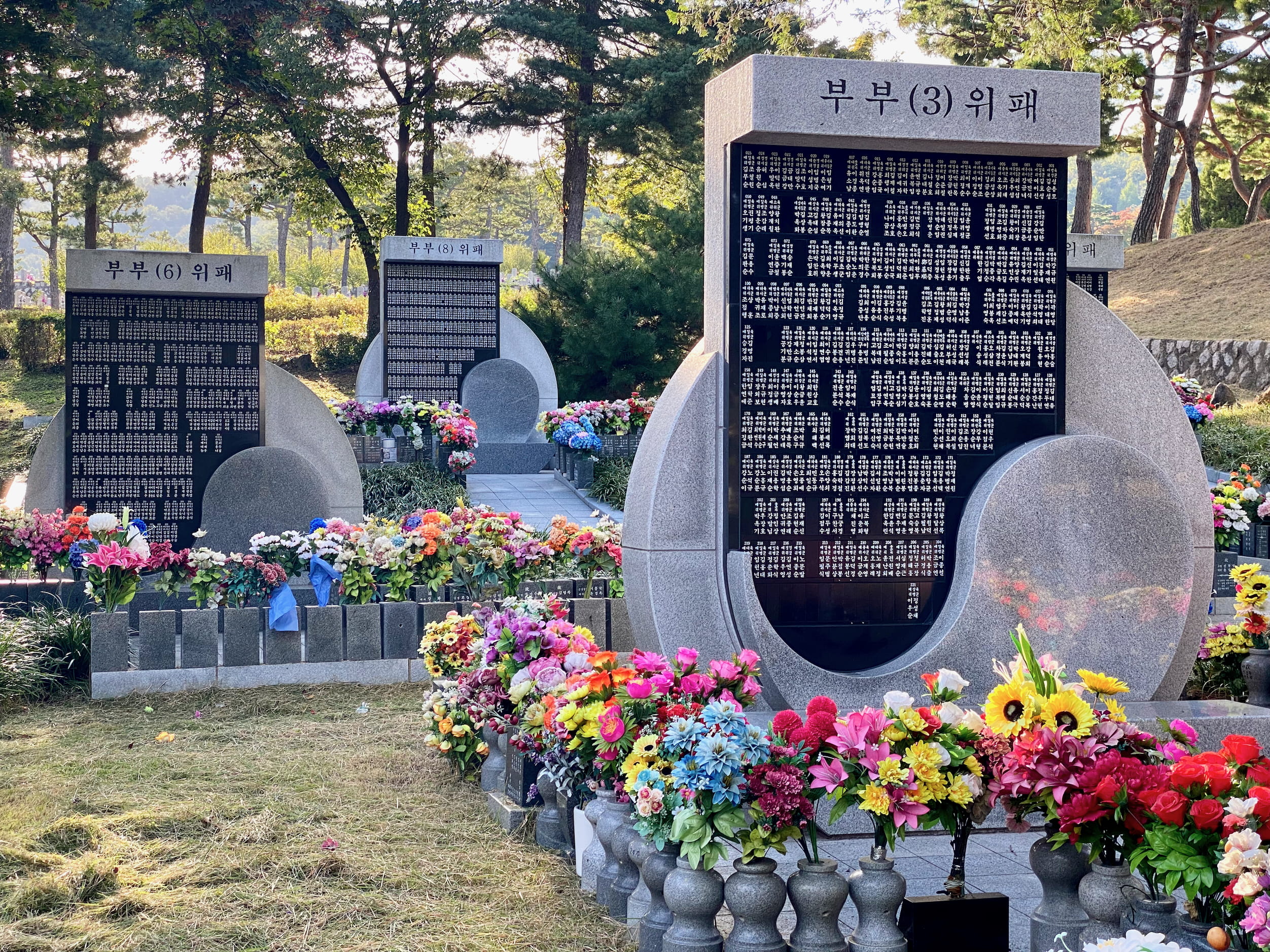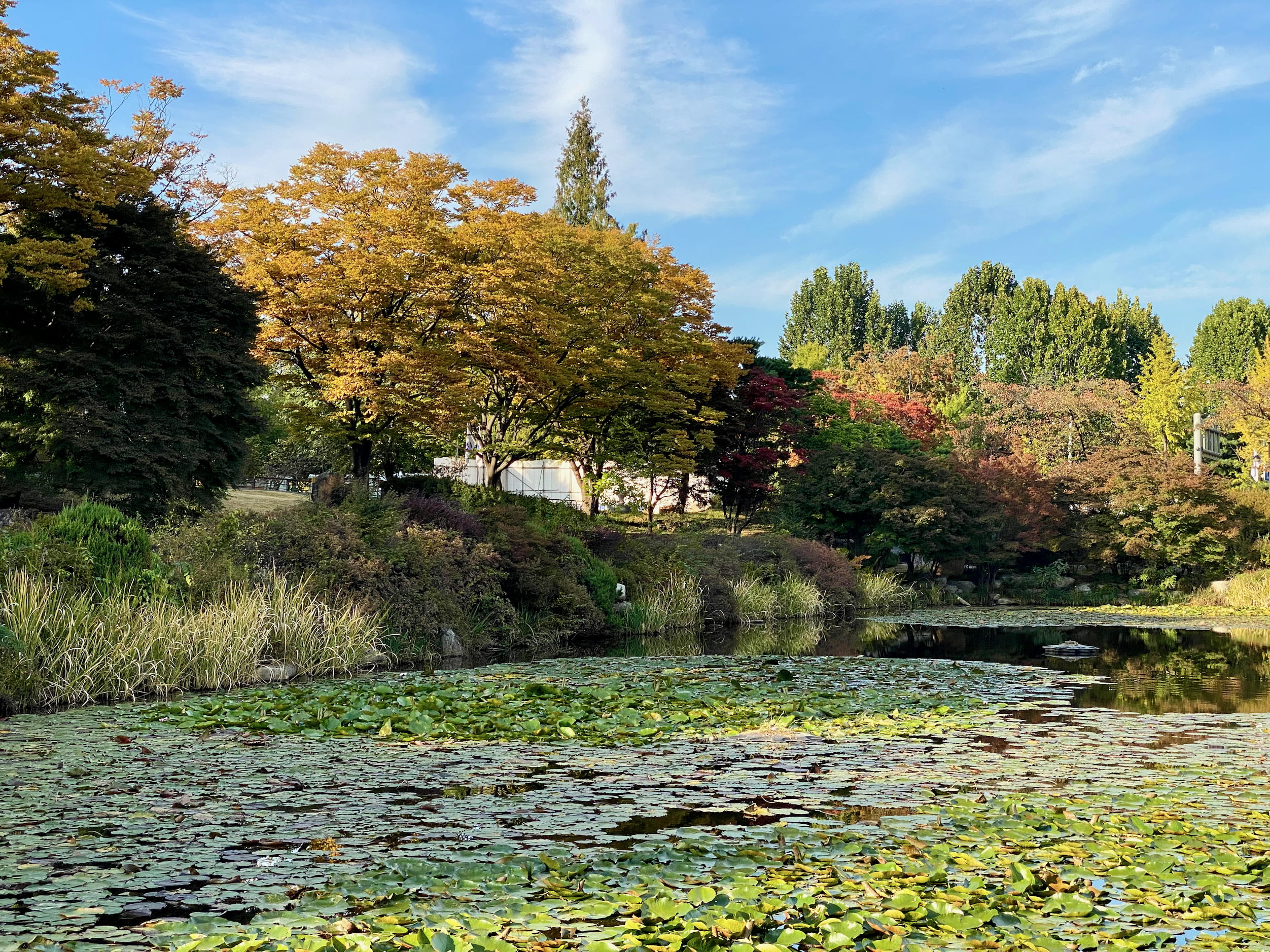 Sunset approached. This was another thing you never think of when planning for normal walks: daylight. We actually had to start pretty early, and keep a semi-aggressive pace going, if we didn't want to walk in the dark.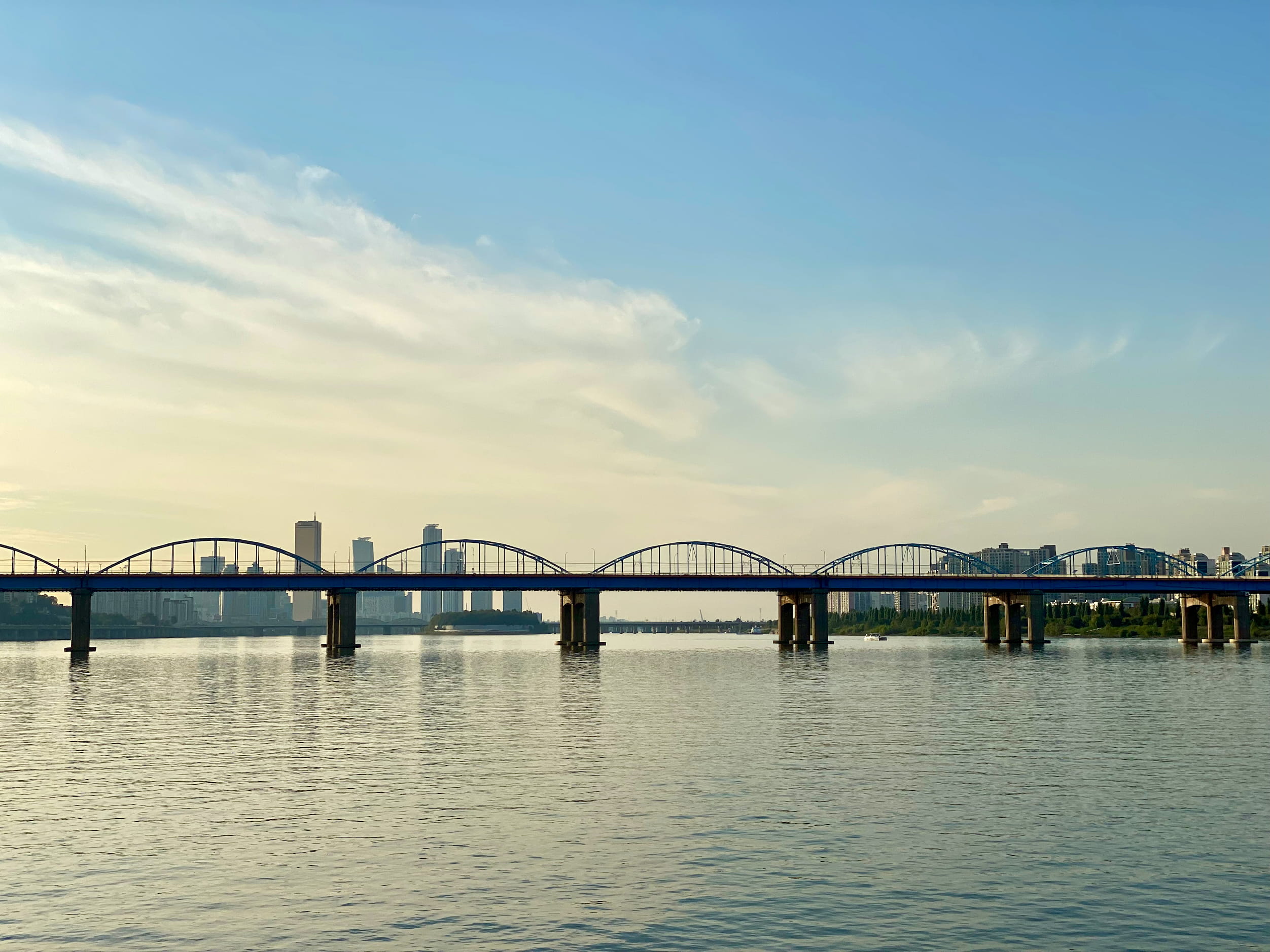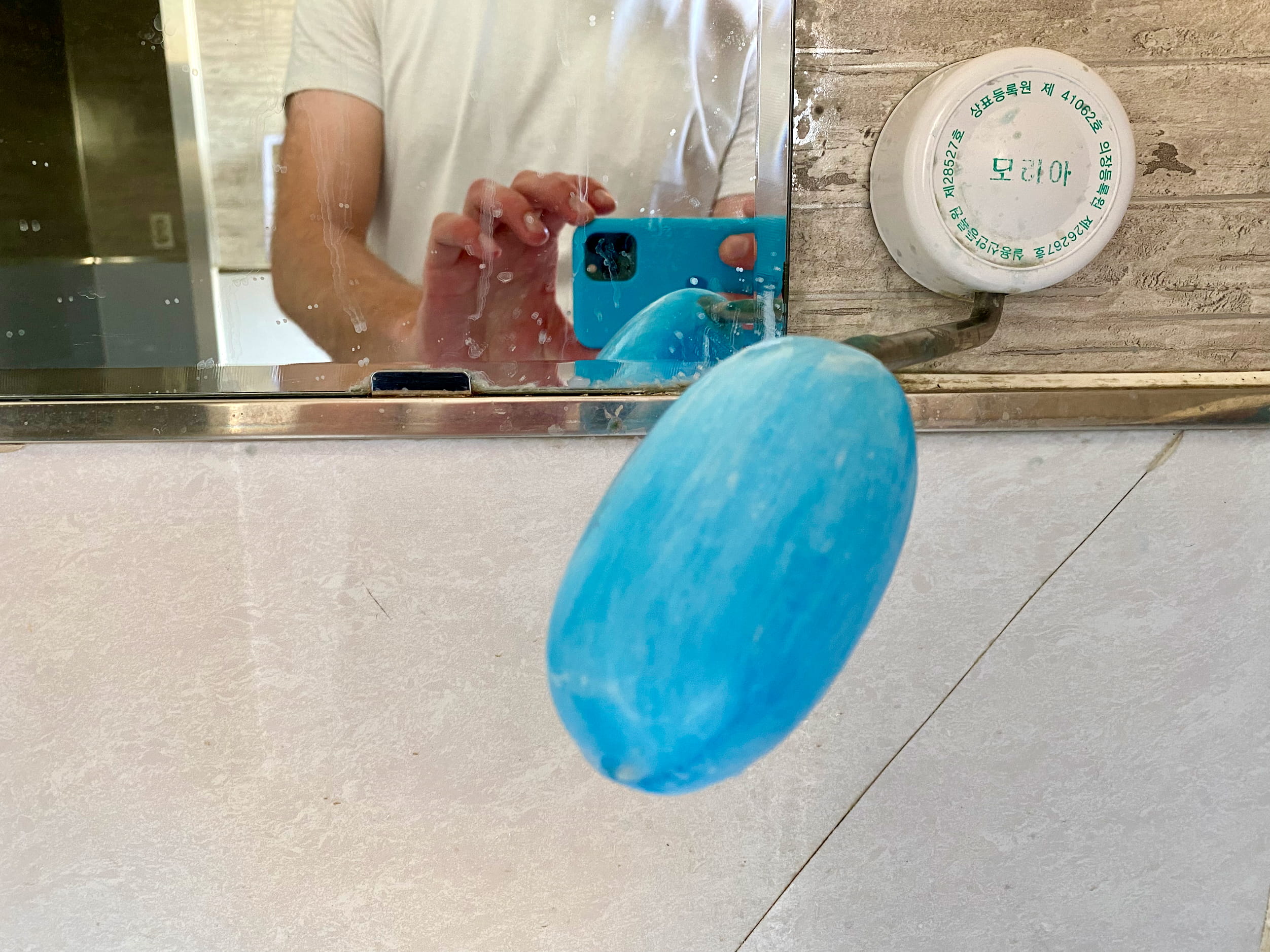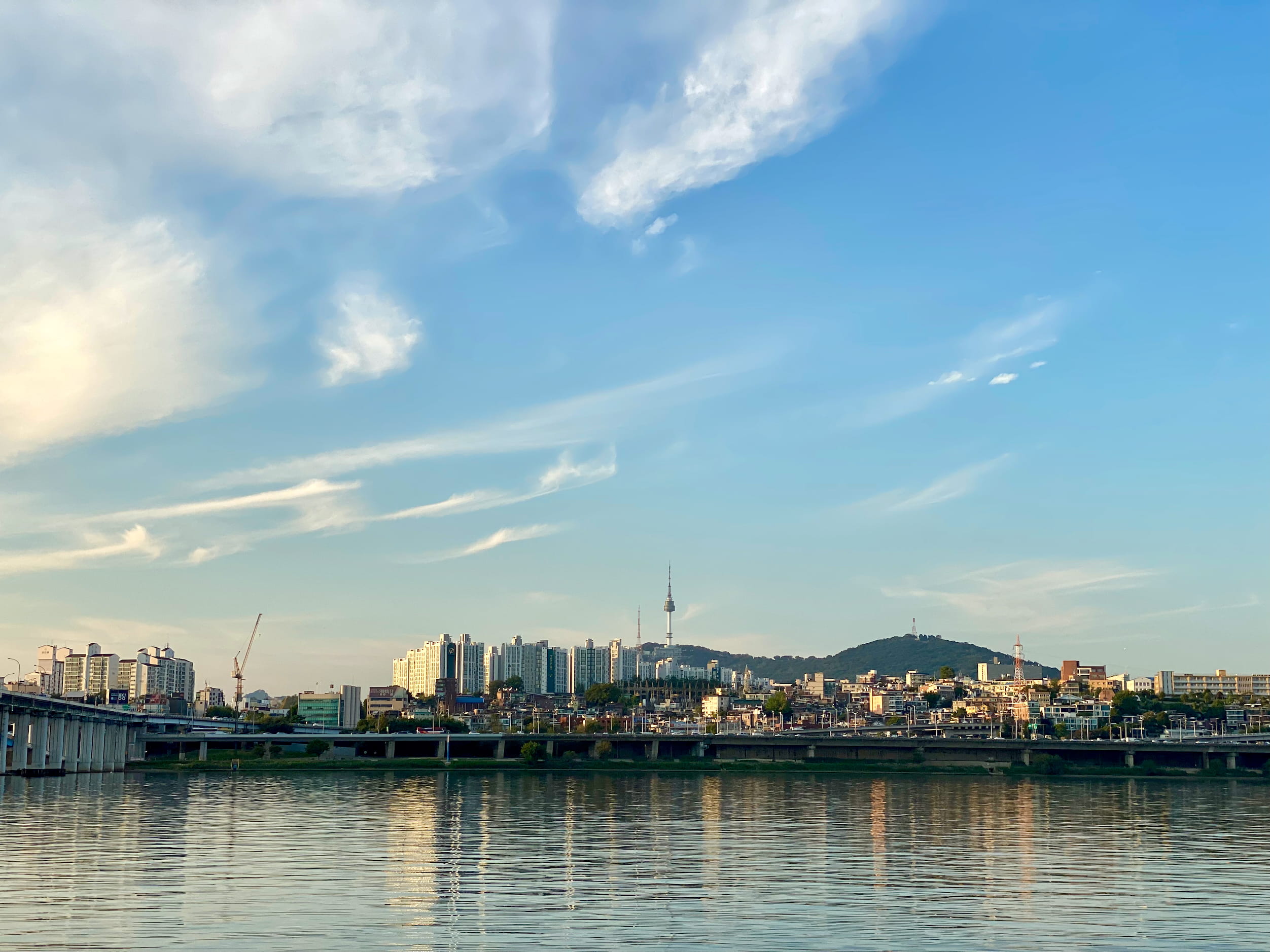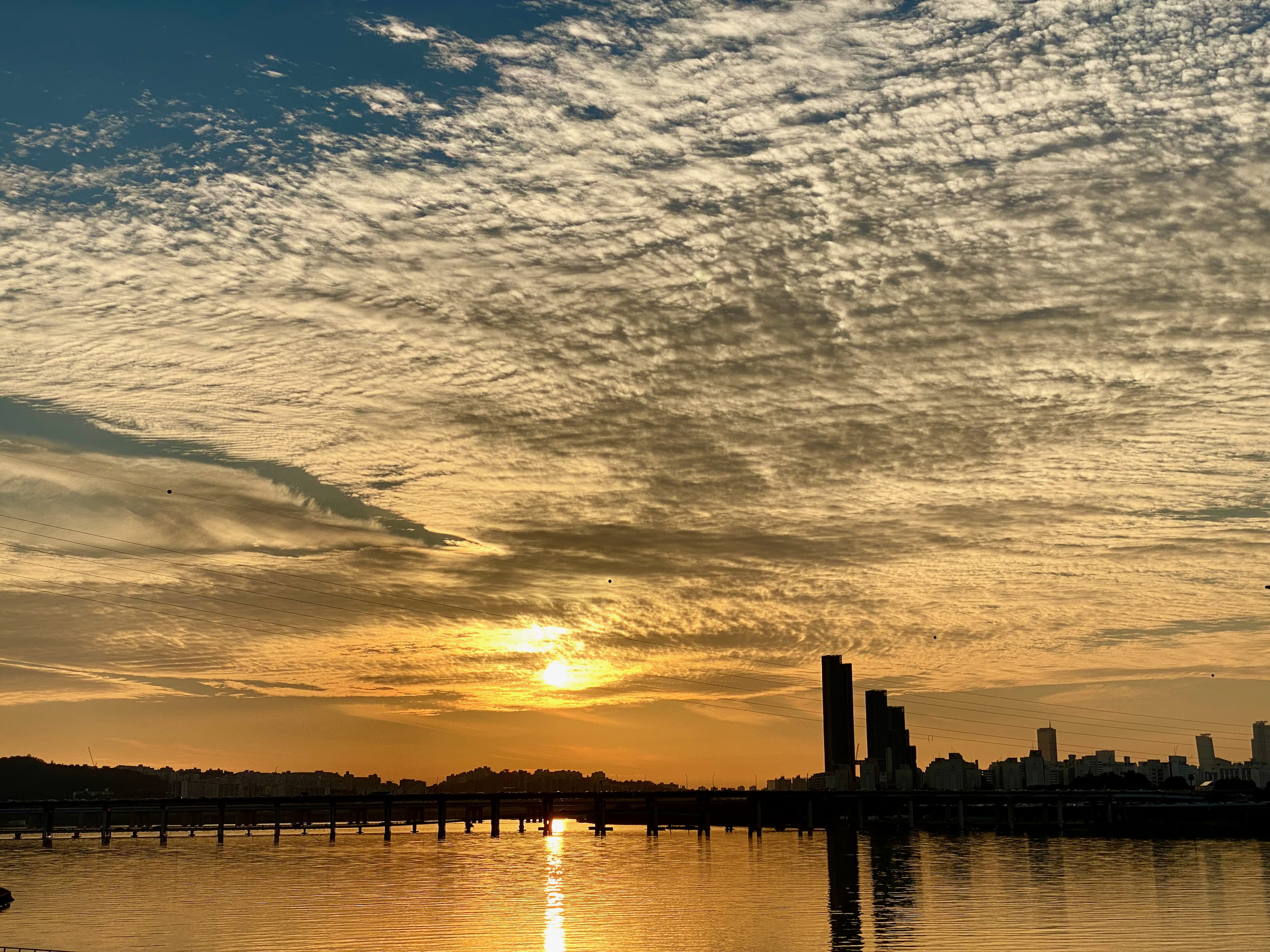 We ended up in Gangnam again, took a ride back home, and carbo-recovered at a Neapolitan pizza joint. Food tasted so good.17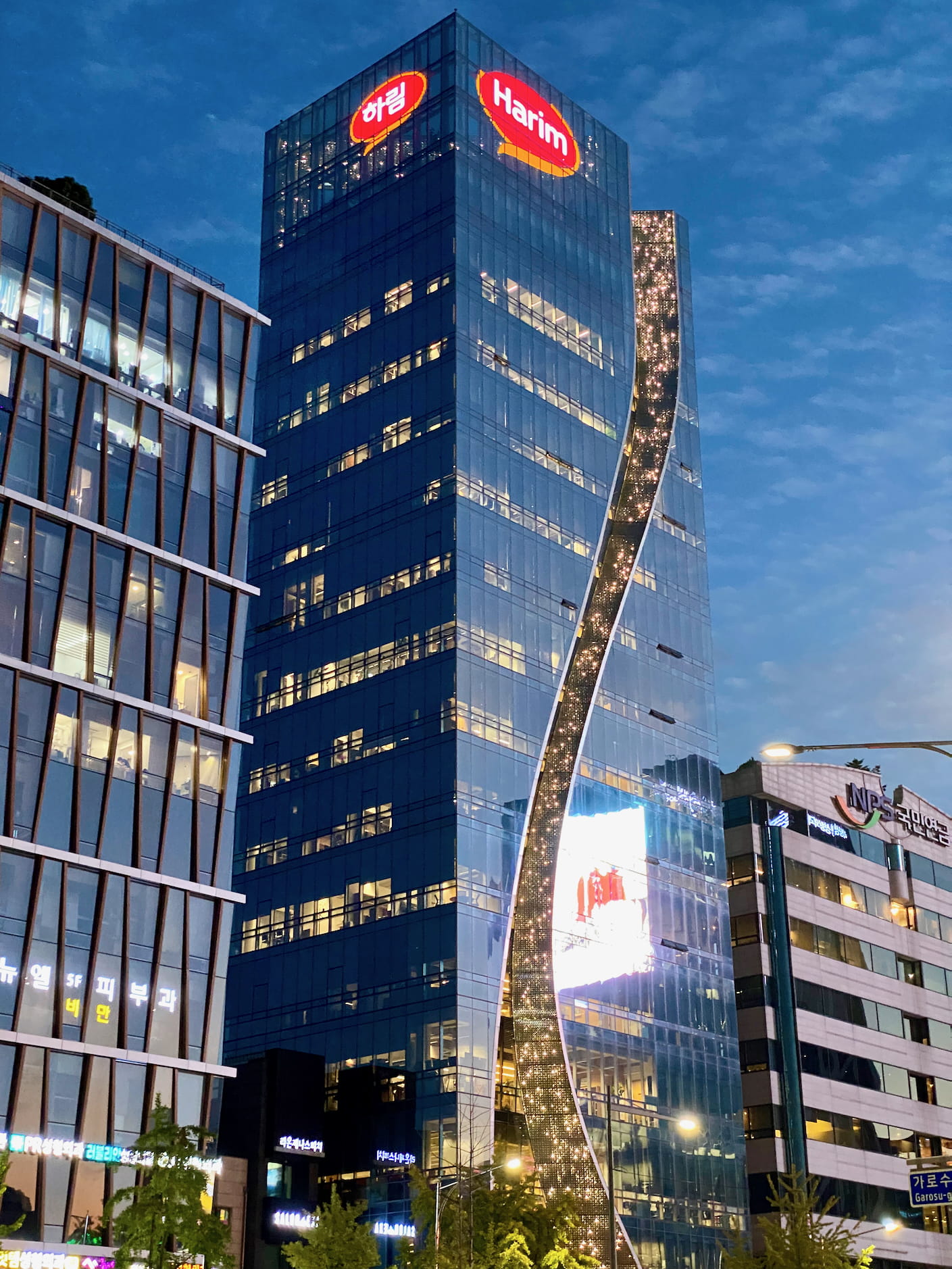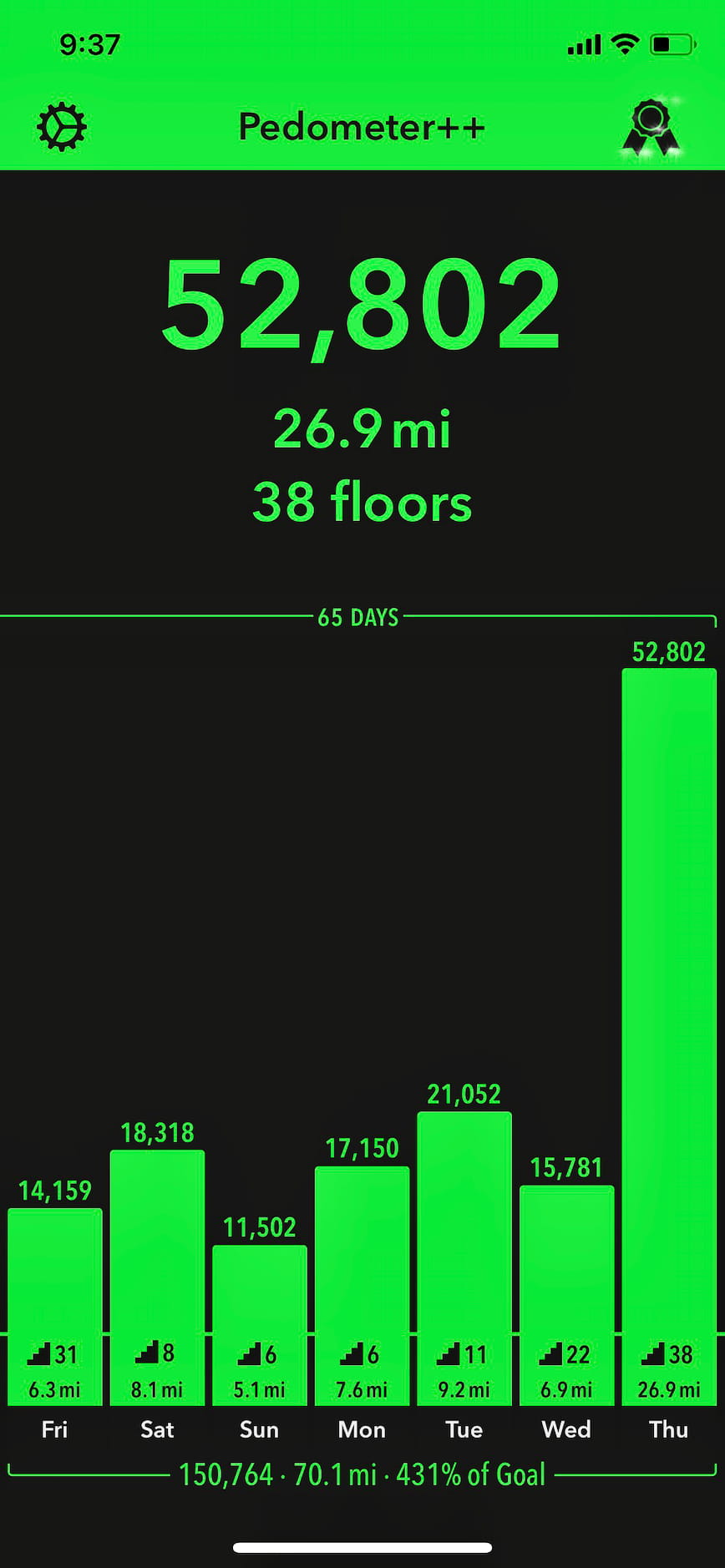 Seoul, Haven of Type I Fun
You may have heard of this particular fun ontology.
Type I fun: activity that's fun while you do it. "Fun now." For example, eating donuts or drinking booze.
Type II fun: activity that's somewhat unpleasant while you do it, but which you look back on fondly. "Fun later." Prime example: hiking.18
Seoul, I submit, is a haven for mostly harmless Type I fun.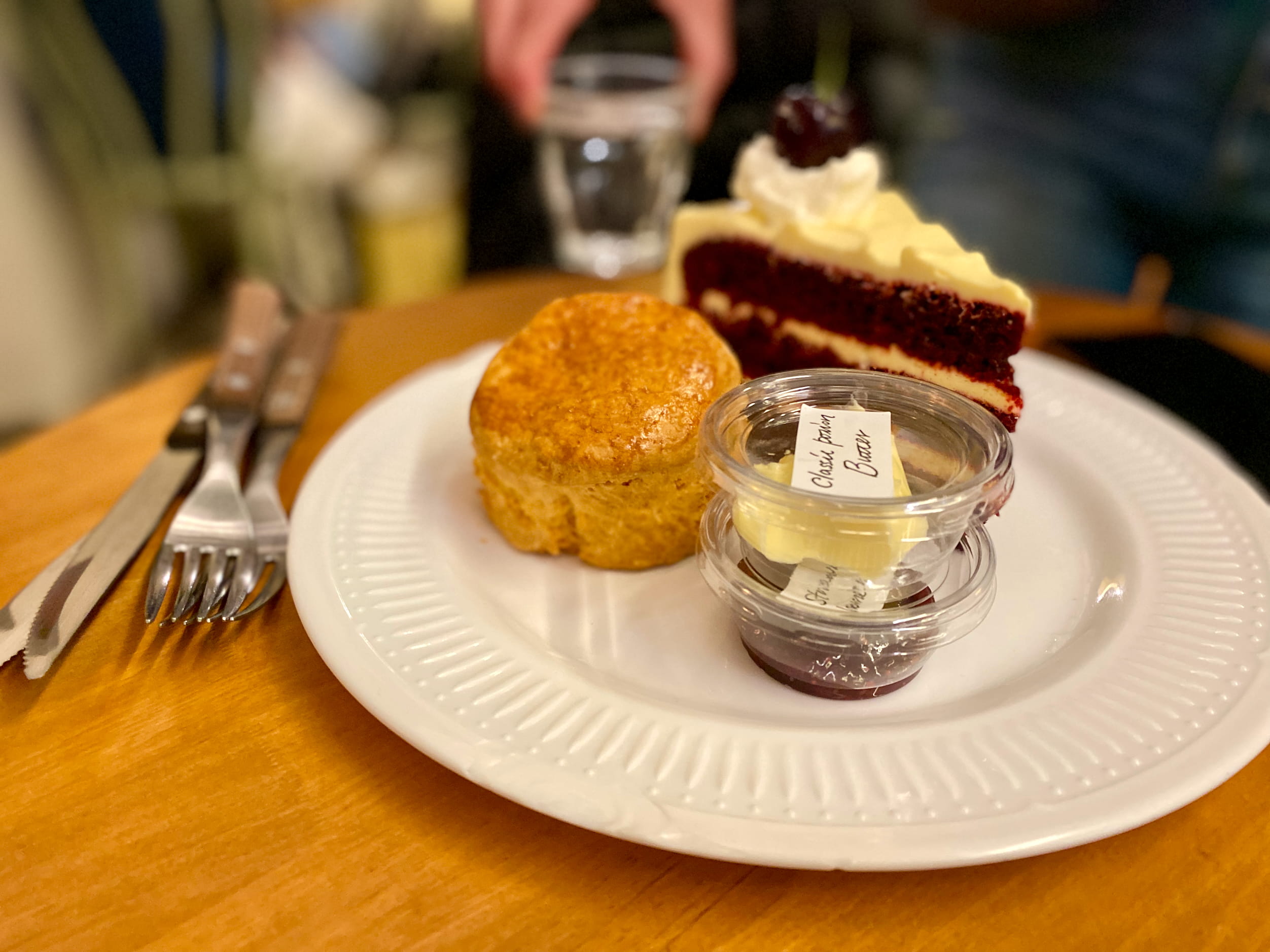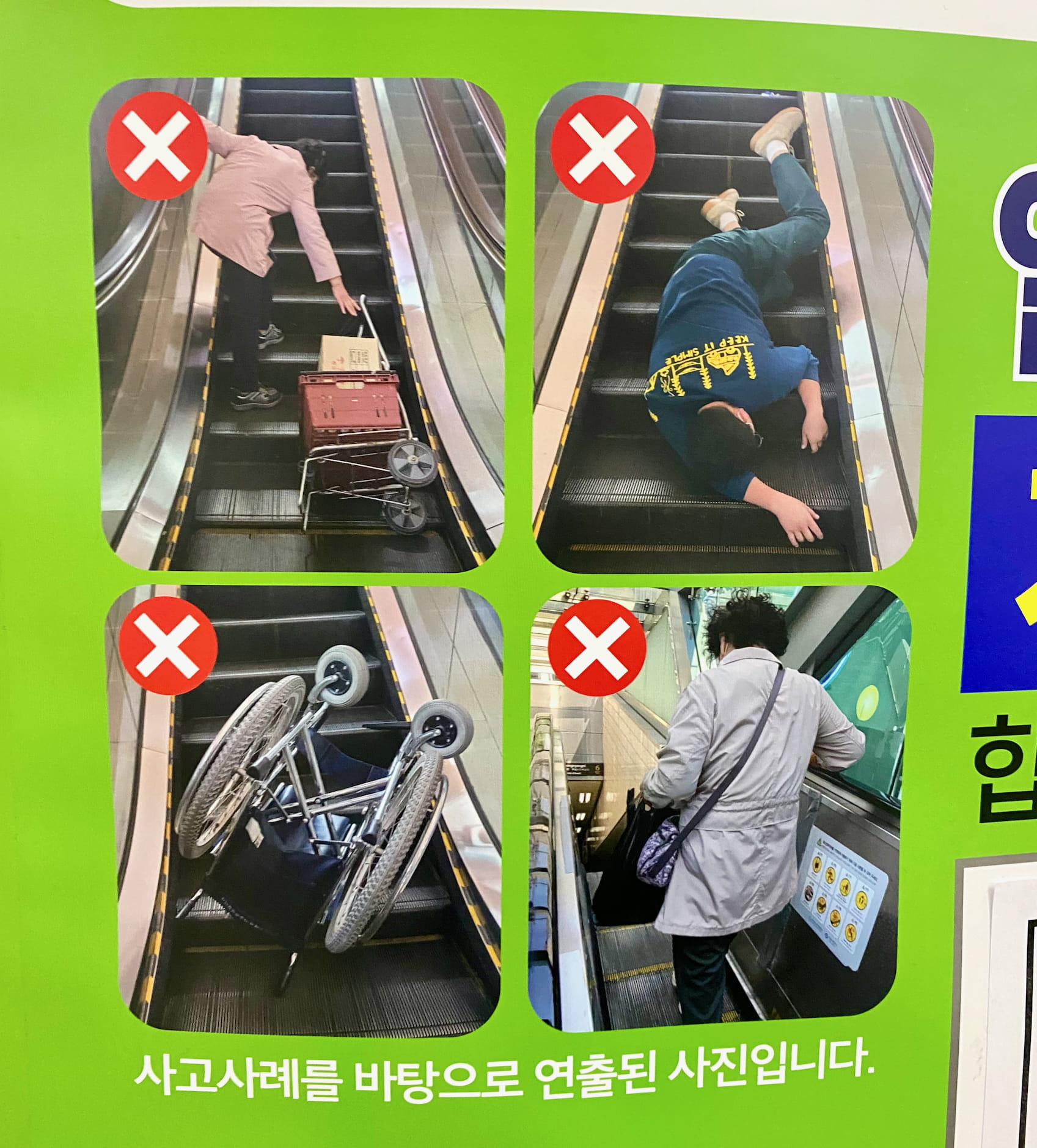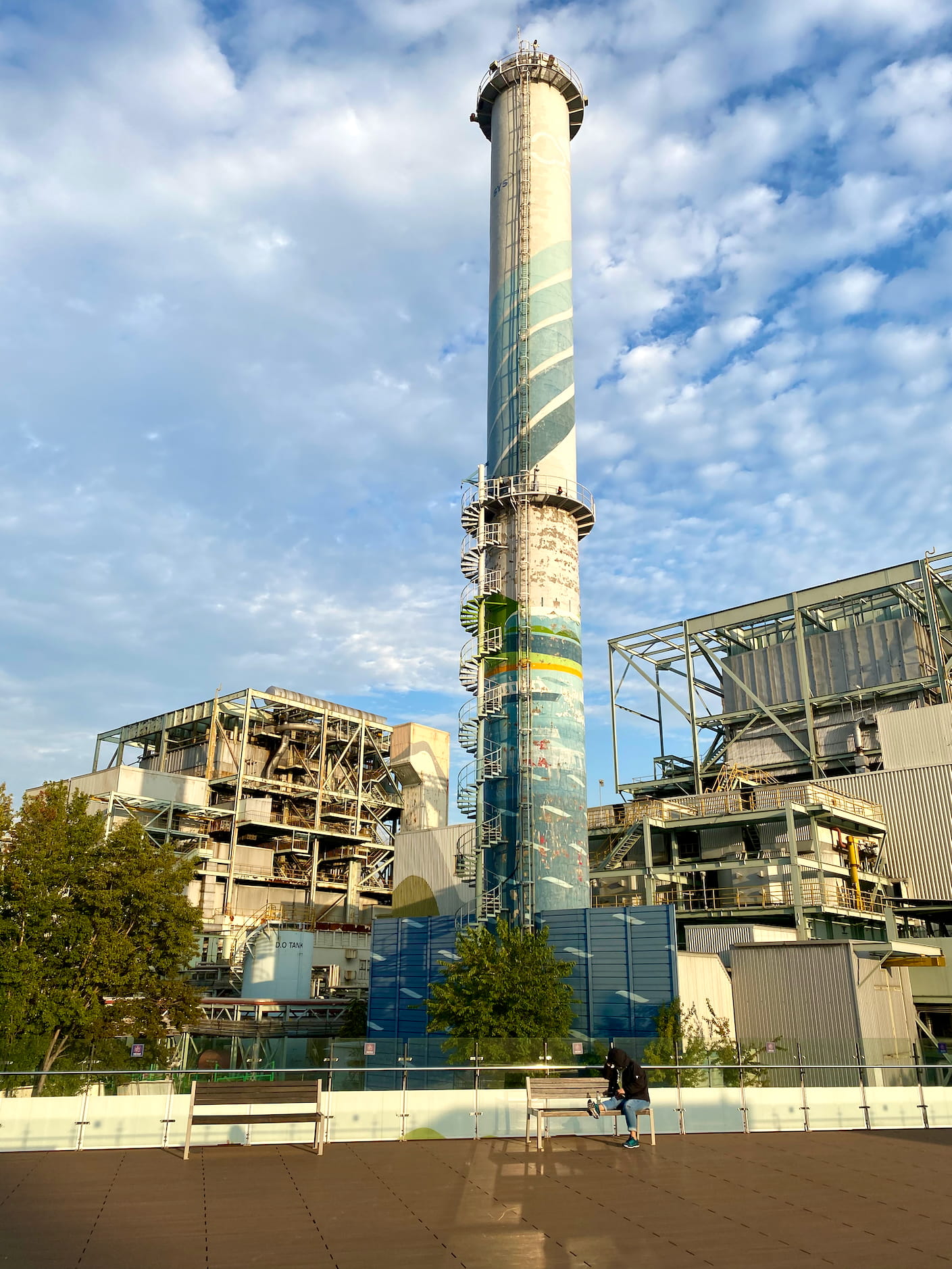 The delights here include things you would not expect from Korea. For example, one of the most monstrously unhealthy things I have ever eaten. The restaurant appeared unassuming, even a little fancy, but then served things they either called Monster Pasta or Monster Pizza. You break through a top later of cheese into a pasta bake, the whole thing encrusted in pizza dough.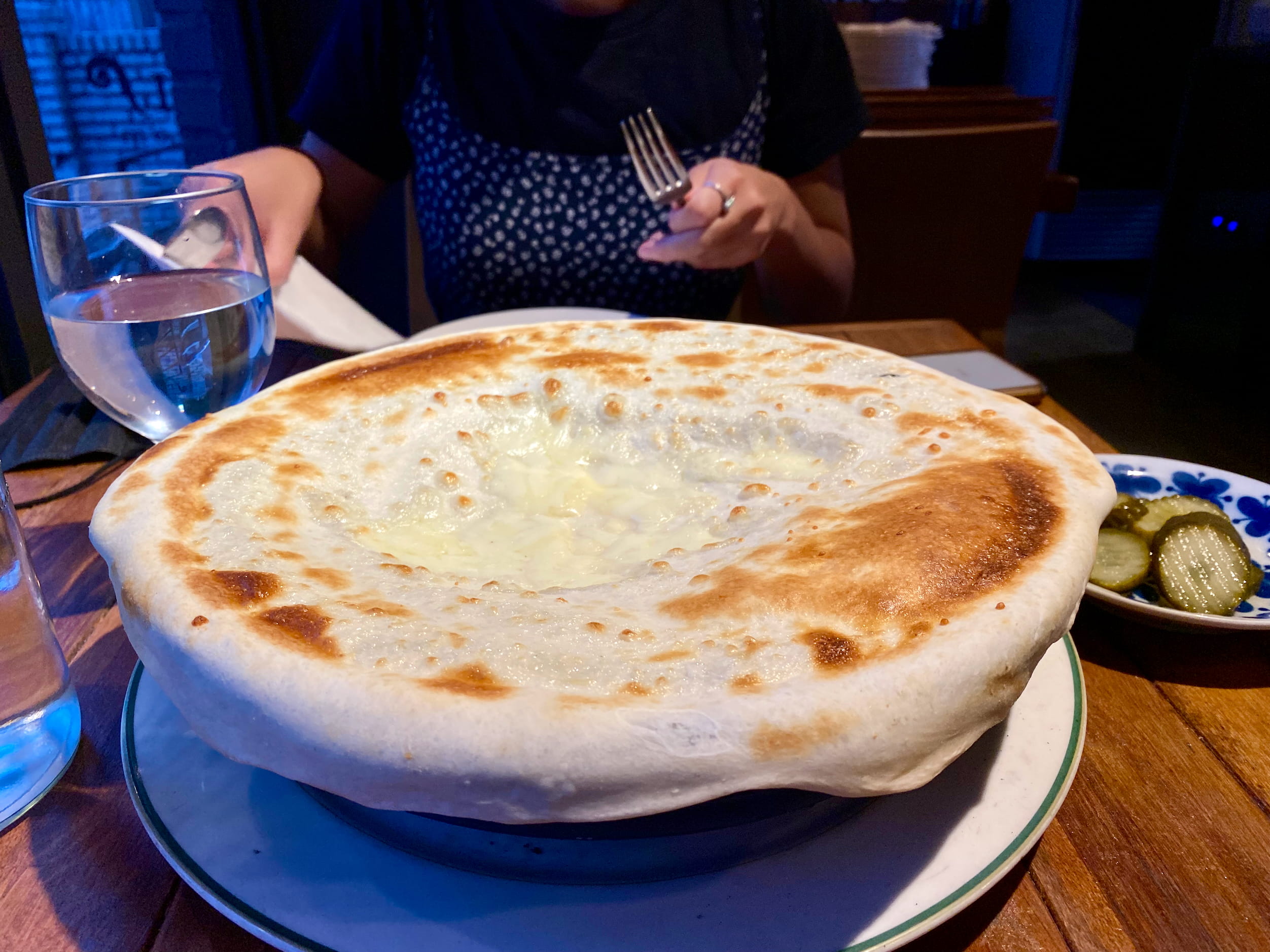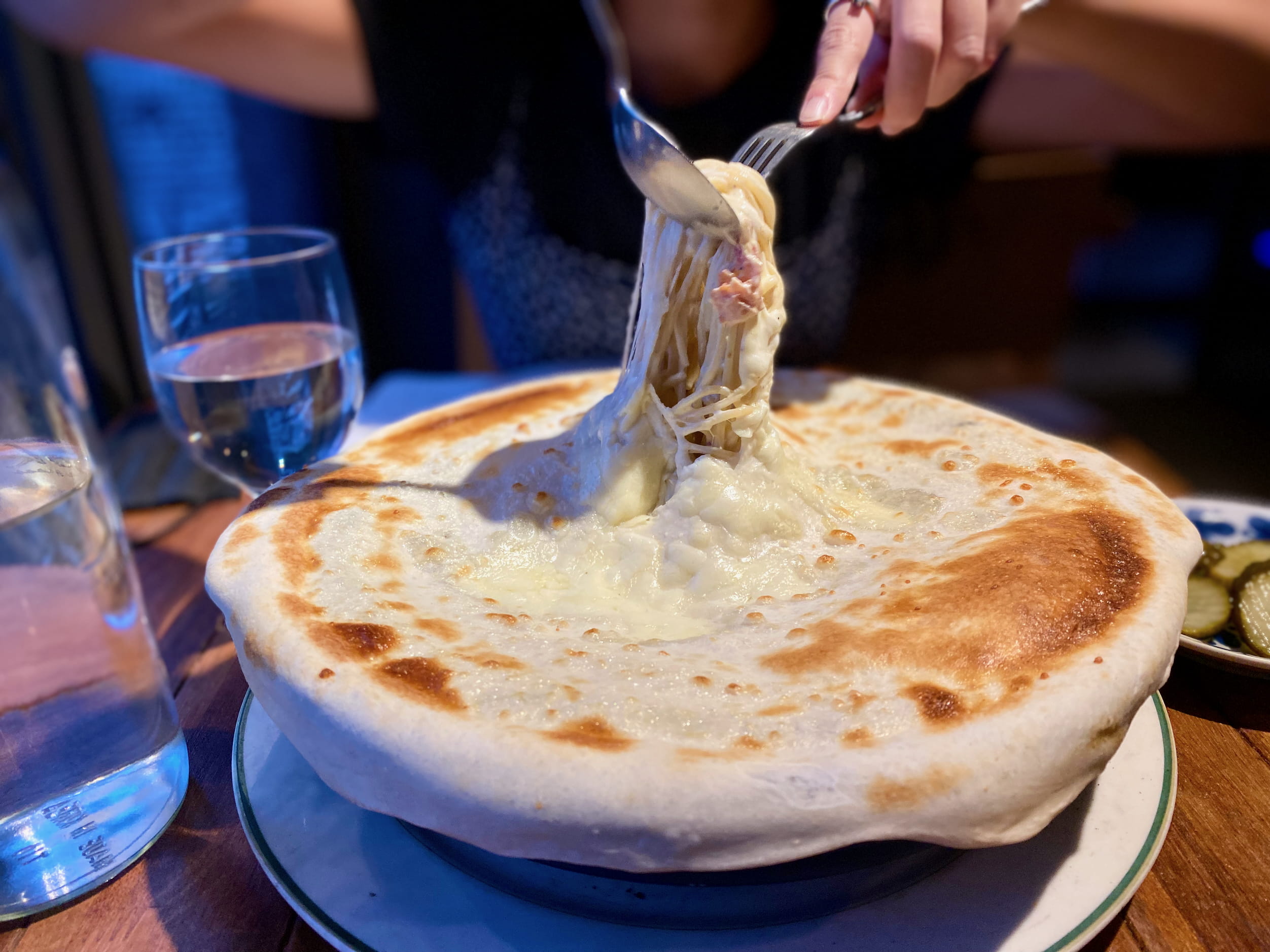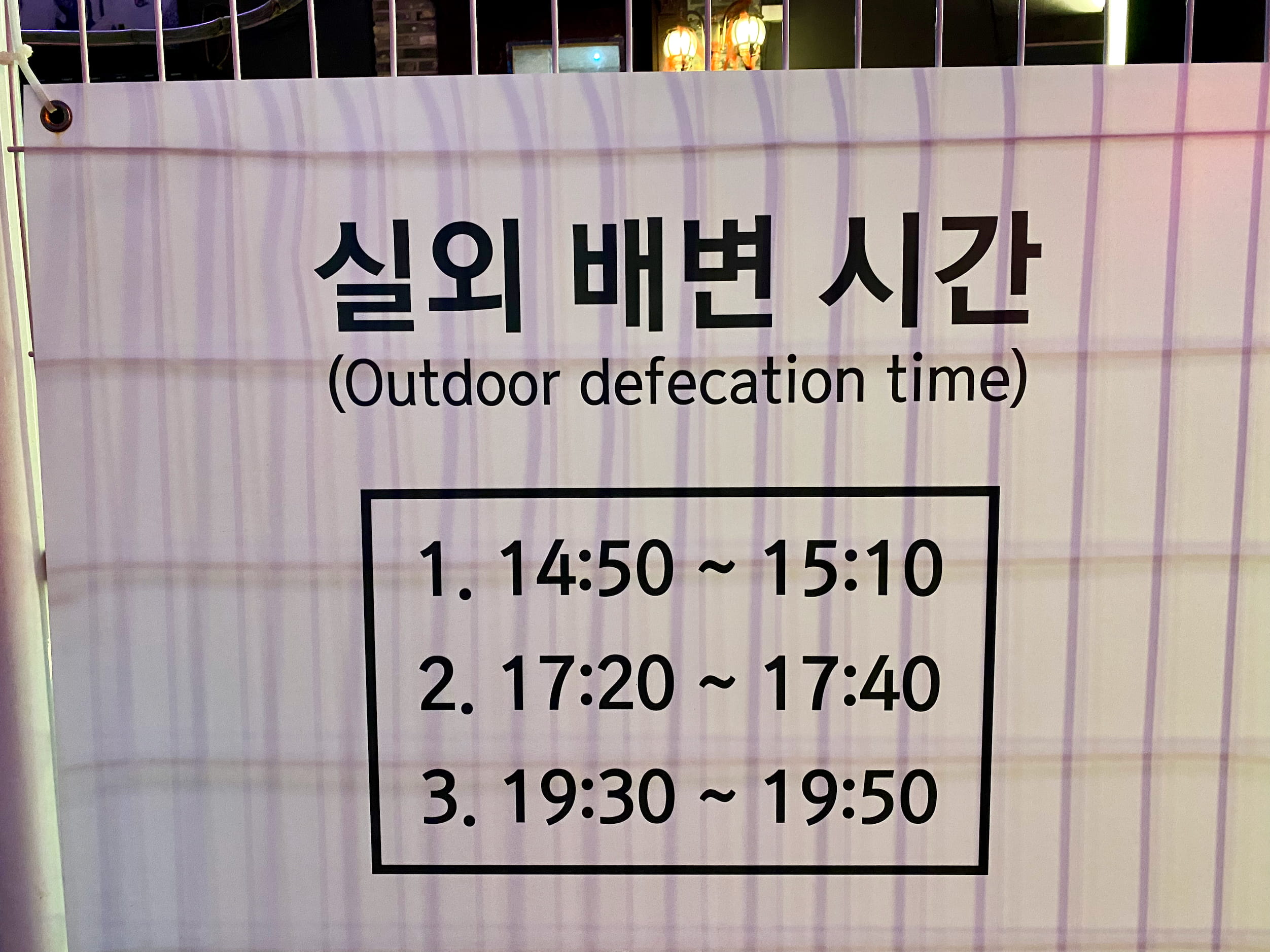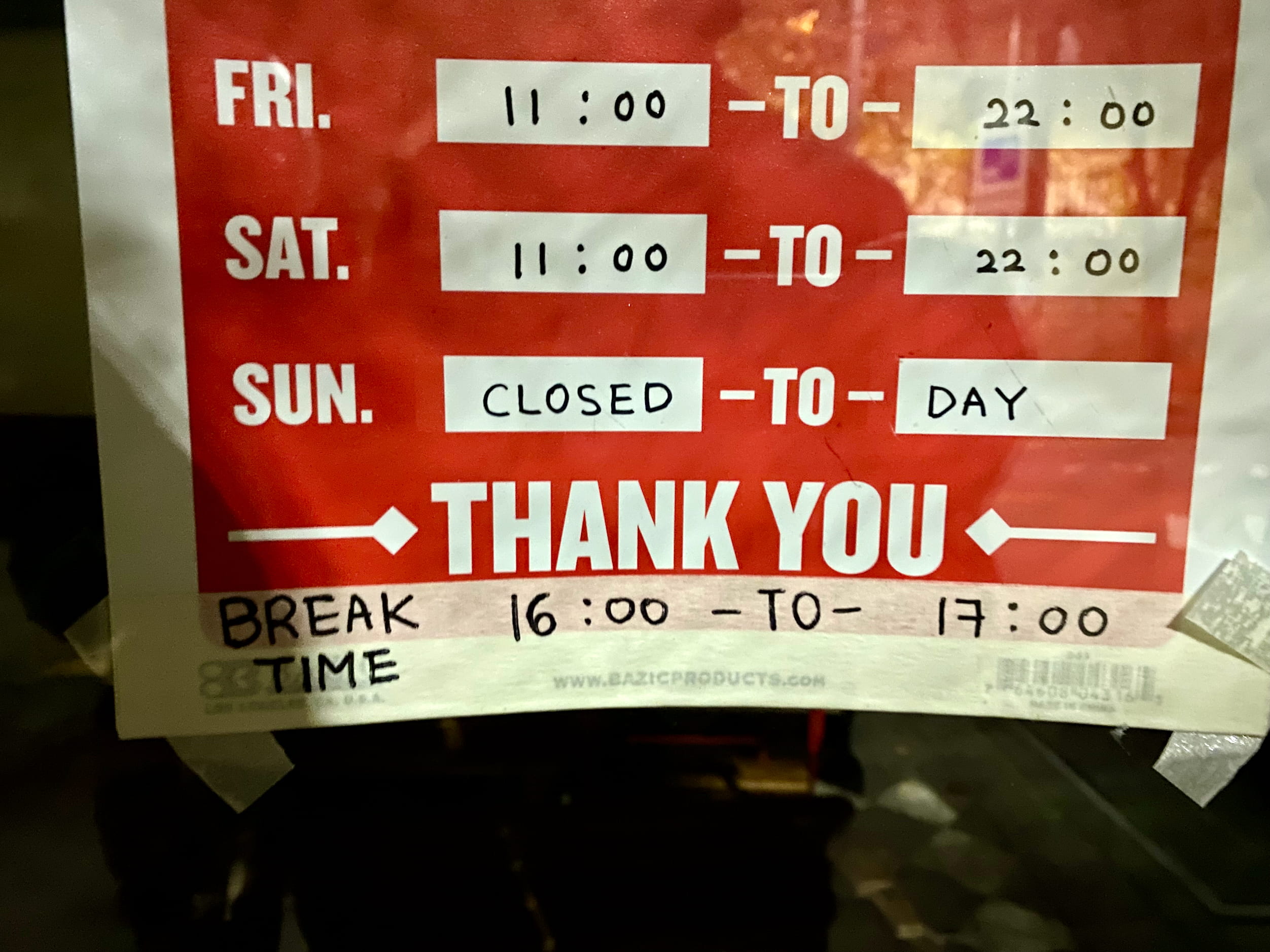 Hapjeong was packed with hipster coffee joints. Heaven for a Seattleite, right? Well, there were two catches:
Most only did espresso-based drinks (no drip / filter / pour-over / French press / etc.)

Most only opened at 12pm (!)
(!!!!!!!!!!!!!!!!!!!)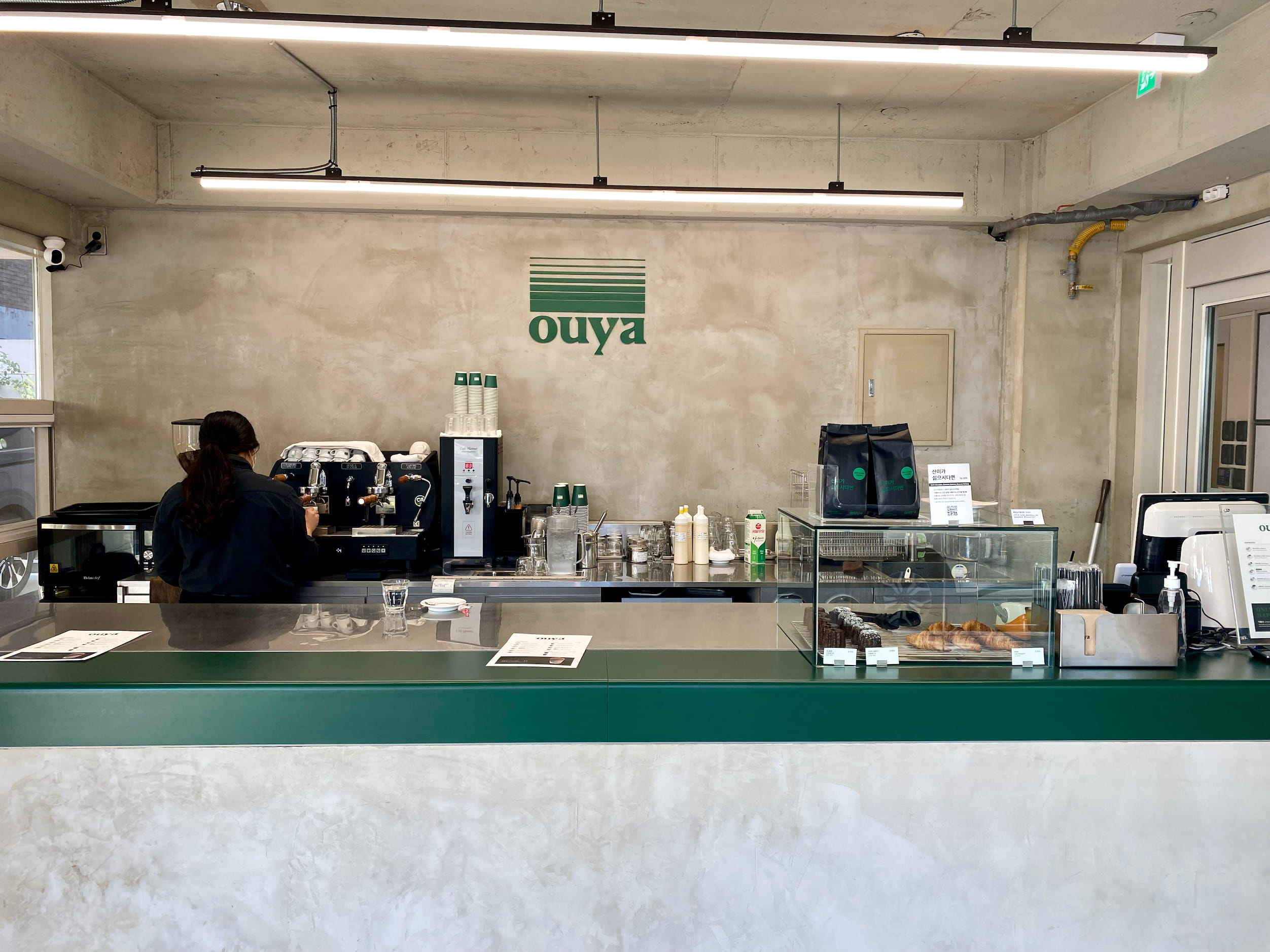 I mean, OK, sure, I guess if you have a reasonable coffee culture of supporting people hanging and chatting, rather than brain-blasting caffeine addicts like me from 6am onwards, then I suppose opening at noon is reasonable. But what a tease. There were literally dozens I never visited because they were never open when I wanted the daily joe. Damn shame. Oh well, it's their coffee world I'm just spelunking around in it.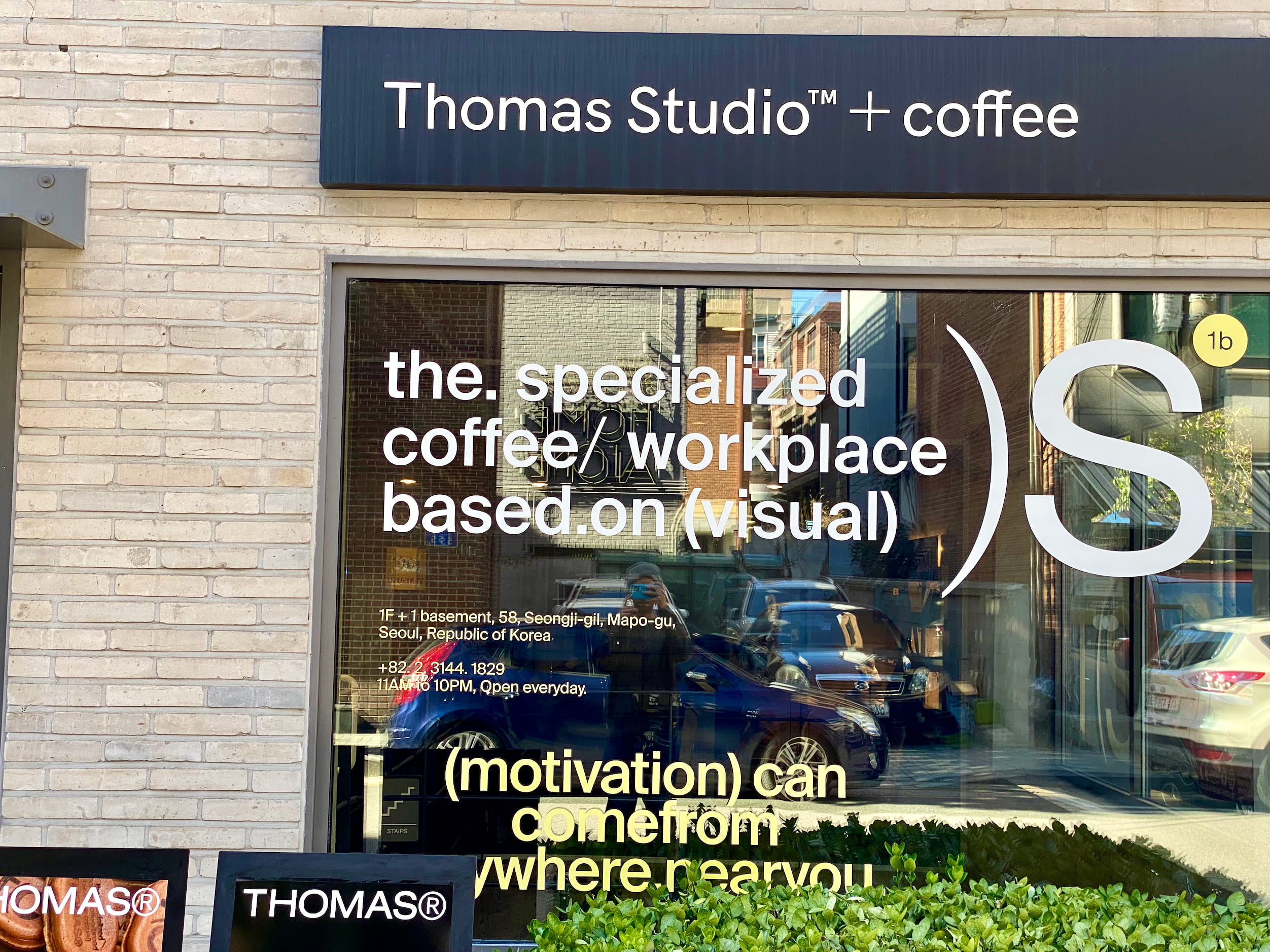 Globally, I don't think we've entirely figured out the whole smart home thing yet. A few places we stayed in Korea had evidence of the kind of maximalist approach that infuriates old people, and now, me.
Within ten minutes of entering our next AirBnb, I:
Accidentally had the heated floors on at maximum setting
Couldn't figure out what the AC was
Couldn't lock the door
This was at an old place. The Busan apartment (forthcoming post), being swanky, reached truly legendary levels of convolution and over-control-paneling. I came up with a good litmus test: if the basic features of your controls can't be figured out by someone who is illiterate, it's probably too complicated.
Next up, I can't believe it's not plastic, oh wait yes it is.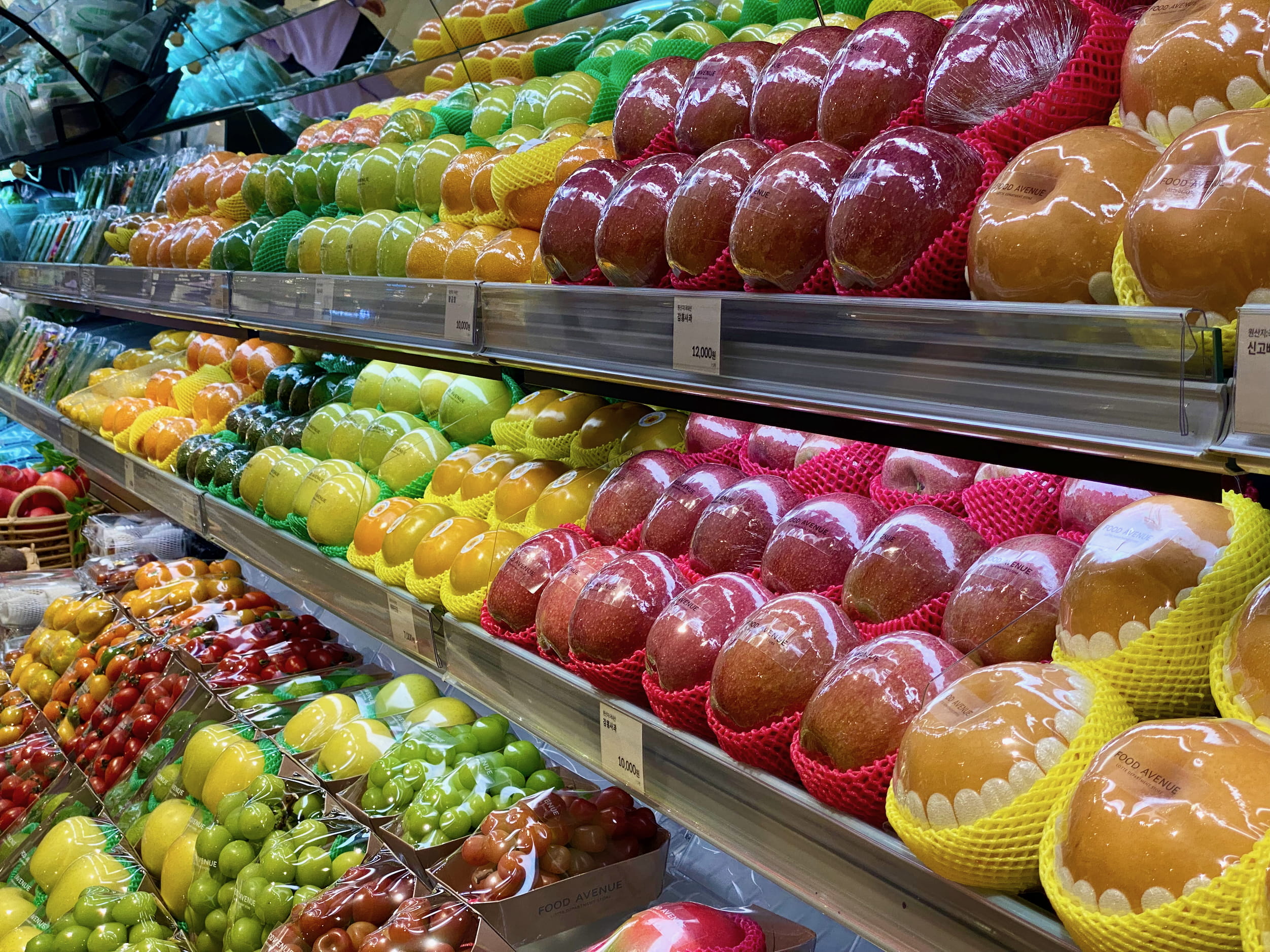 We tried a beer-ABV drink called Makgeolli, drunk from bowls in an open-plan brewpub. Wikipedia says, The milky, off-white, and lightly sparkling rice wine has a slight viscosity that tastes slightly sweet, tangy, bitter, and astringent. Chalky sediment gives it a cloudy appearance."19 I would say that is all spot on.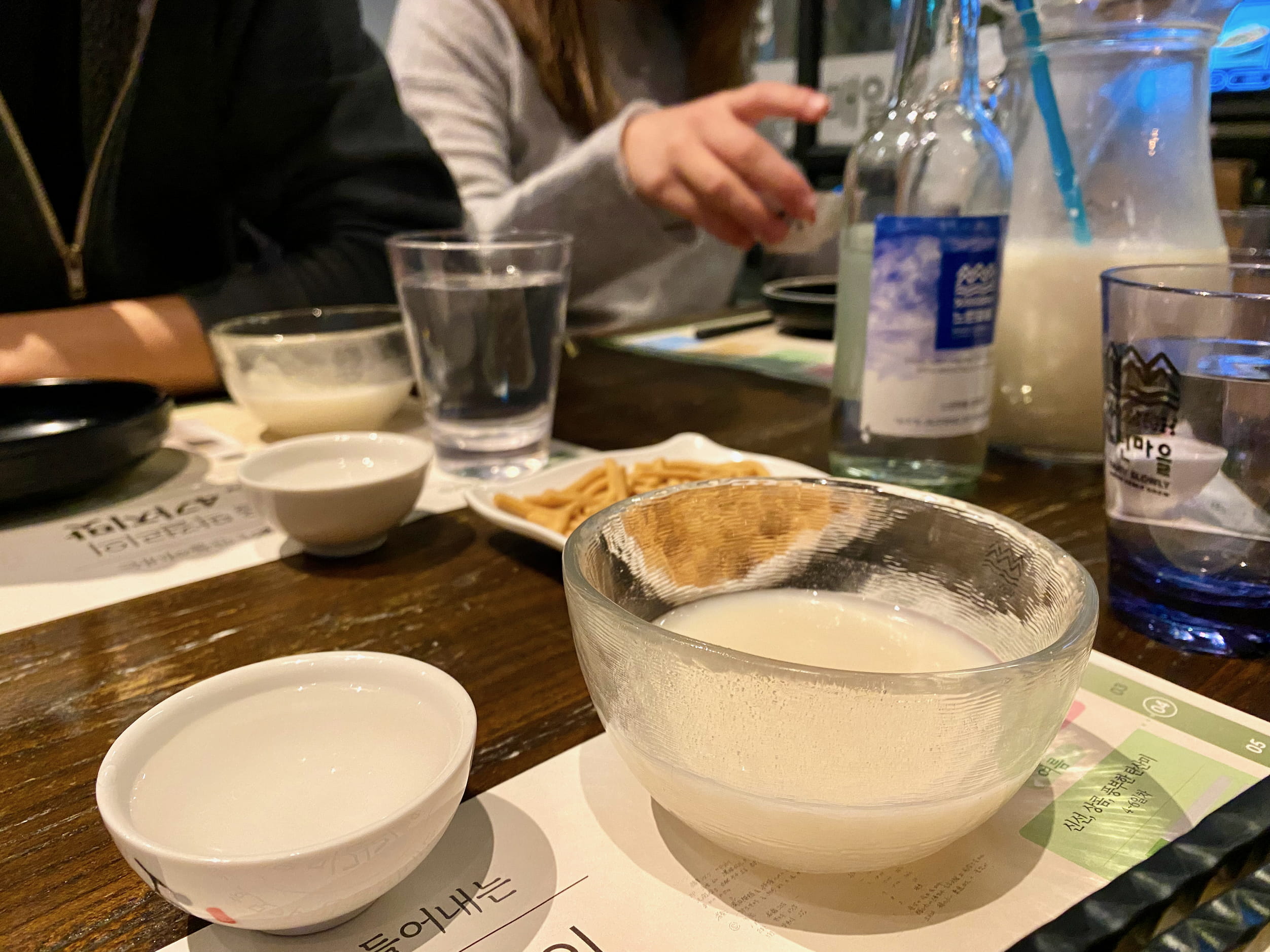 I will only briefly defend a bar squarely aimed at tourists called Thursday Party. I will say this. We went in semi-ironically. What a funny name for a bar, we thought. Then, there is a glowing lights rig for beer pong. You can order a beer pong set, solo cups and beer and balls and everything. There are multiple dart machines, into which we start pumping Won. The beer is so cold that ice forms in the foam. Completely disinterested staff were nevertheless ruthlessly effective. Fried food was quick and aplenty. And nobody was there. It. Was. Awesome.20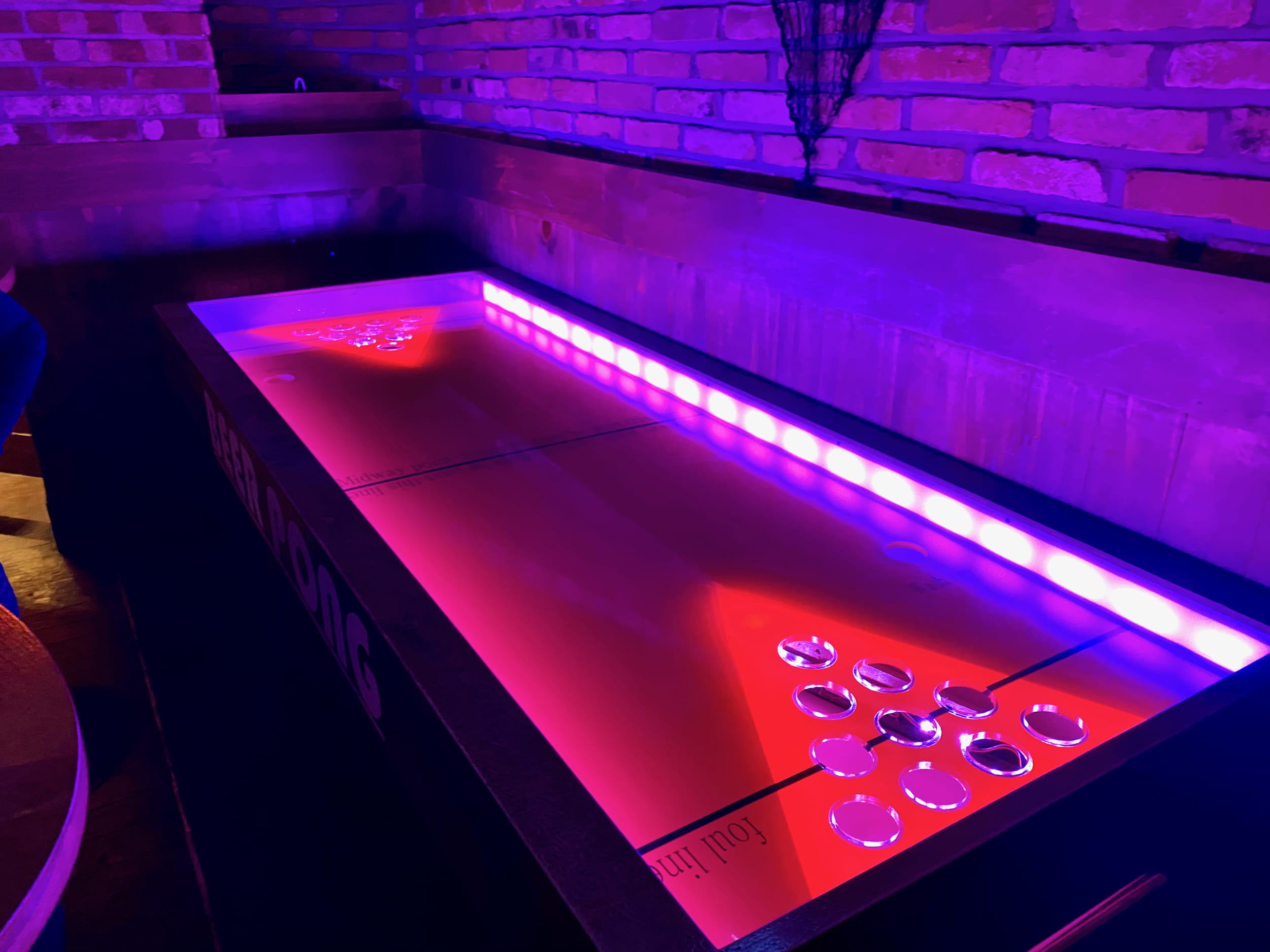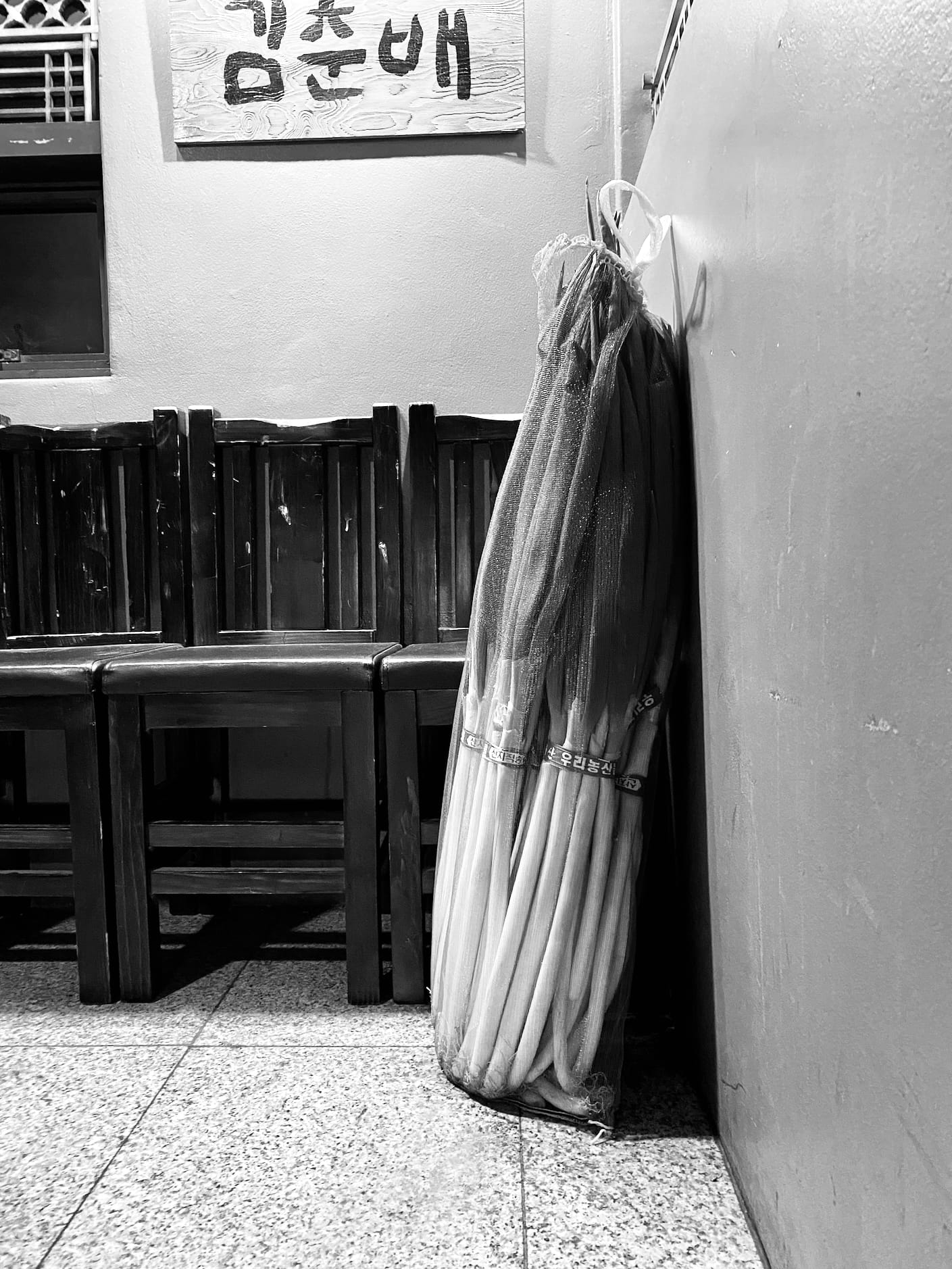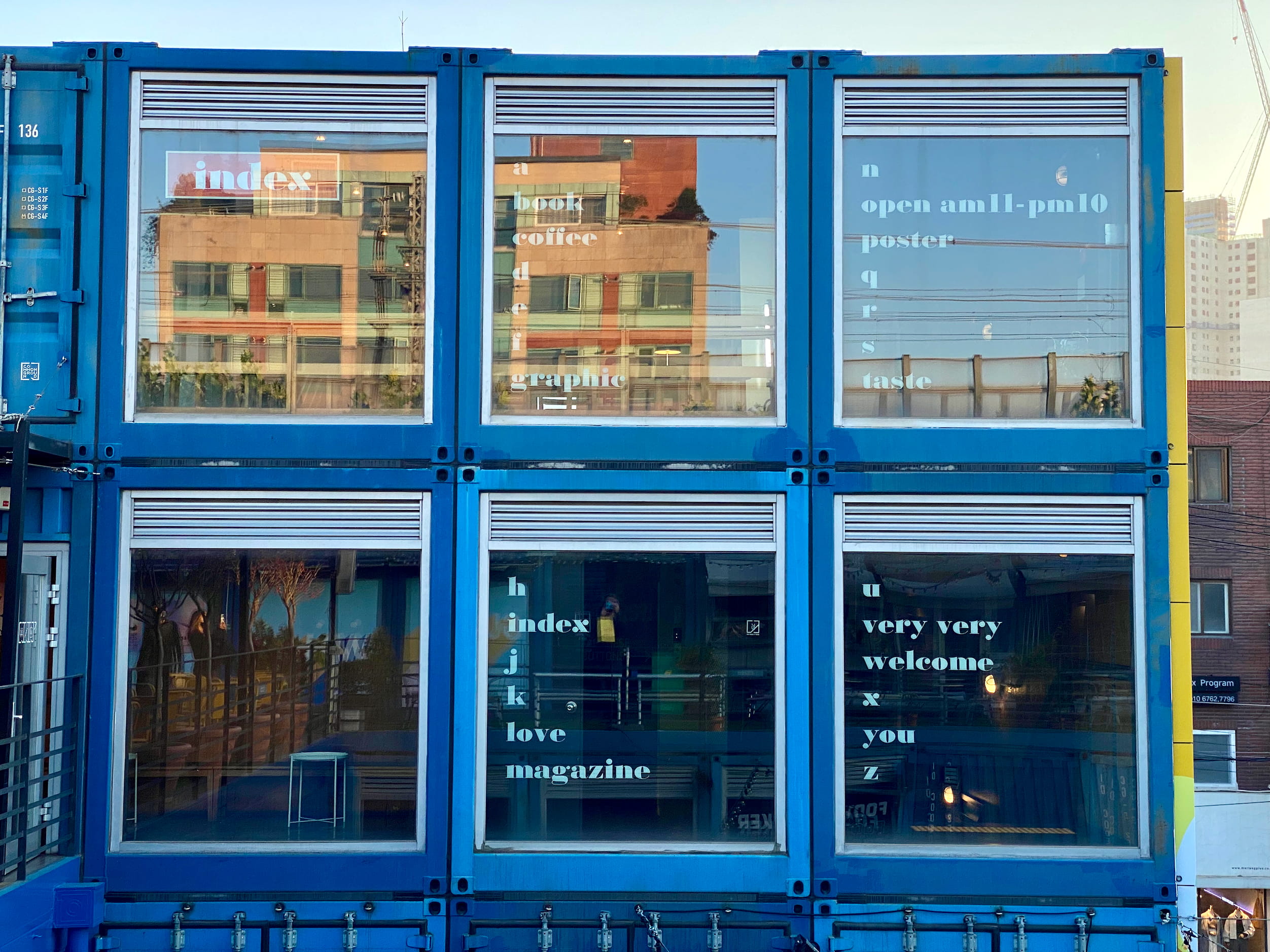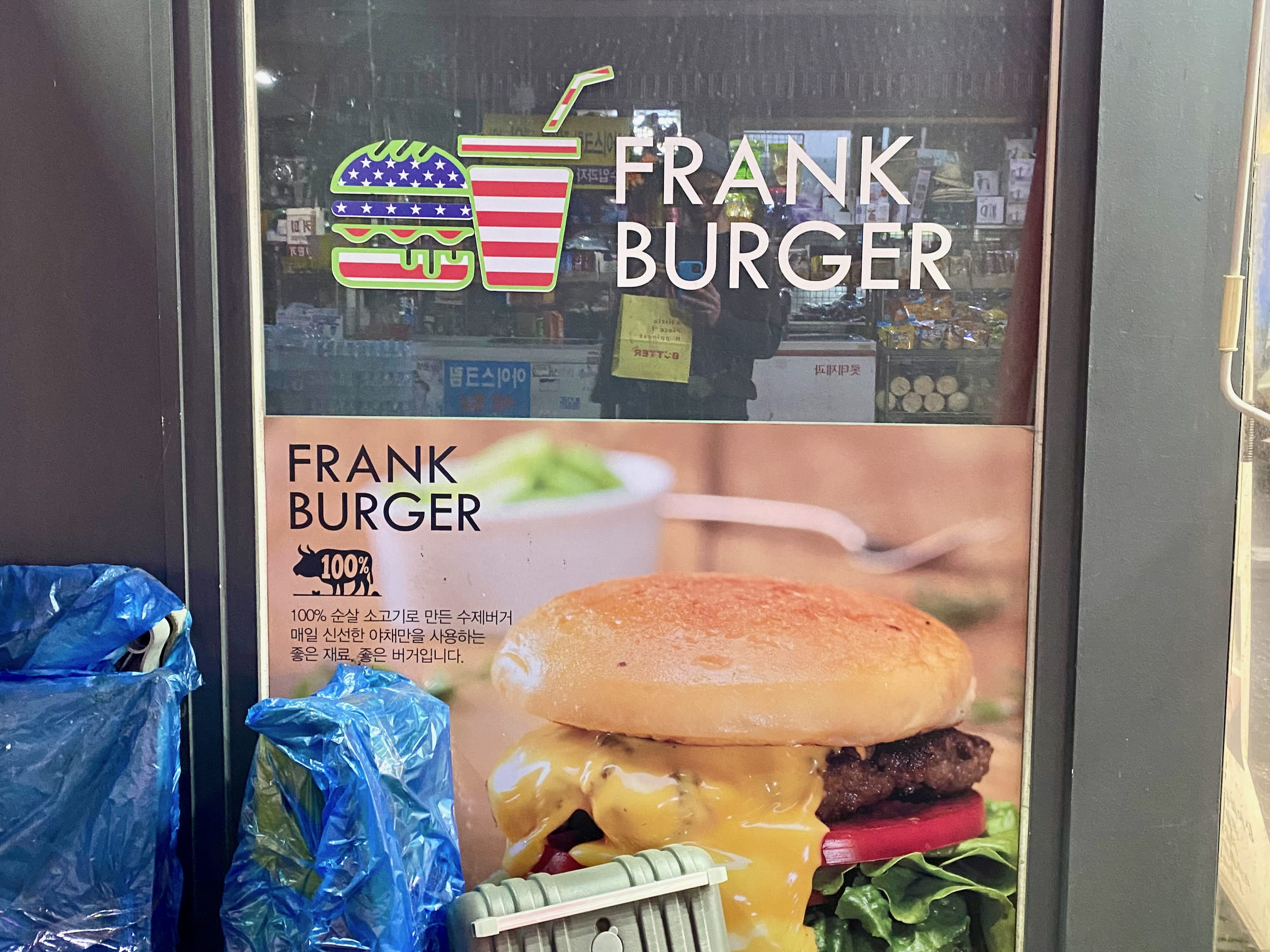 Seoul felt night-friendly. I rarely worried about not finding somewhere to eat or drink when I wanted to. But at the same time, everywhere except the busiest Hongdae21 streets on weekends wasn't too packed. It felt lively but not claustrophobic.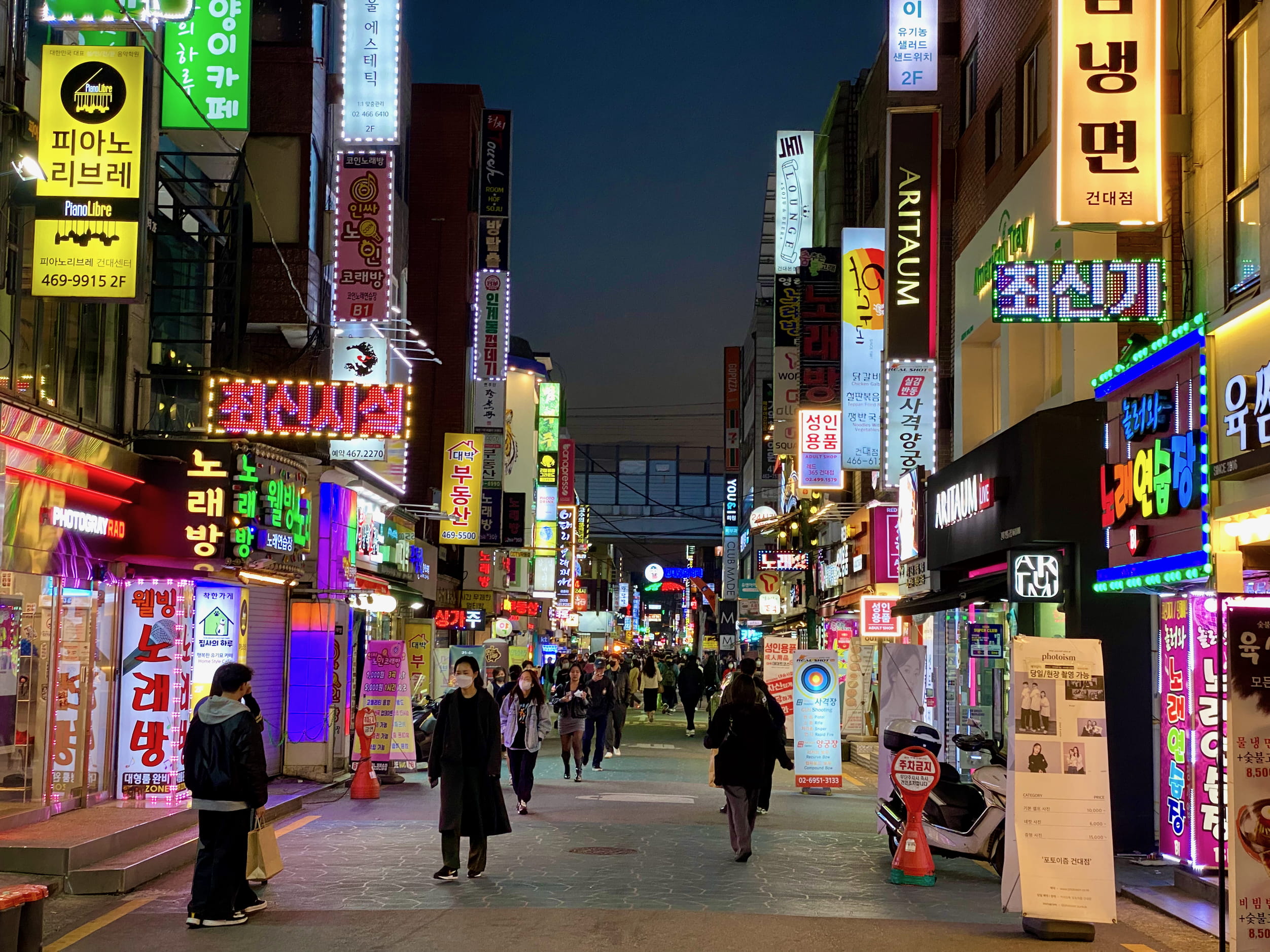 We checked out a bit of fine dining. The menu emphasized local flavors, both in bites and beverages. It was creative and carved a firm identity.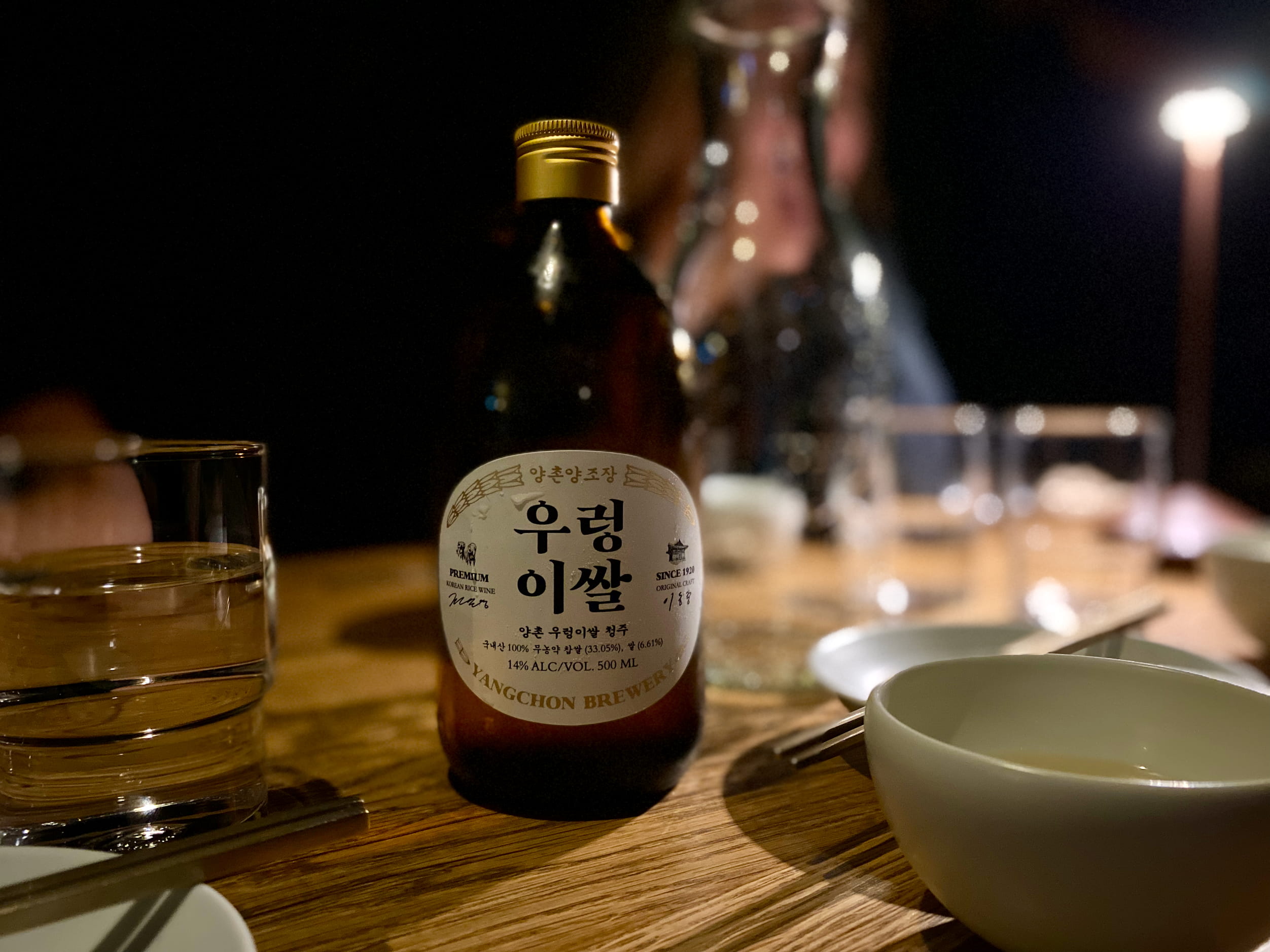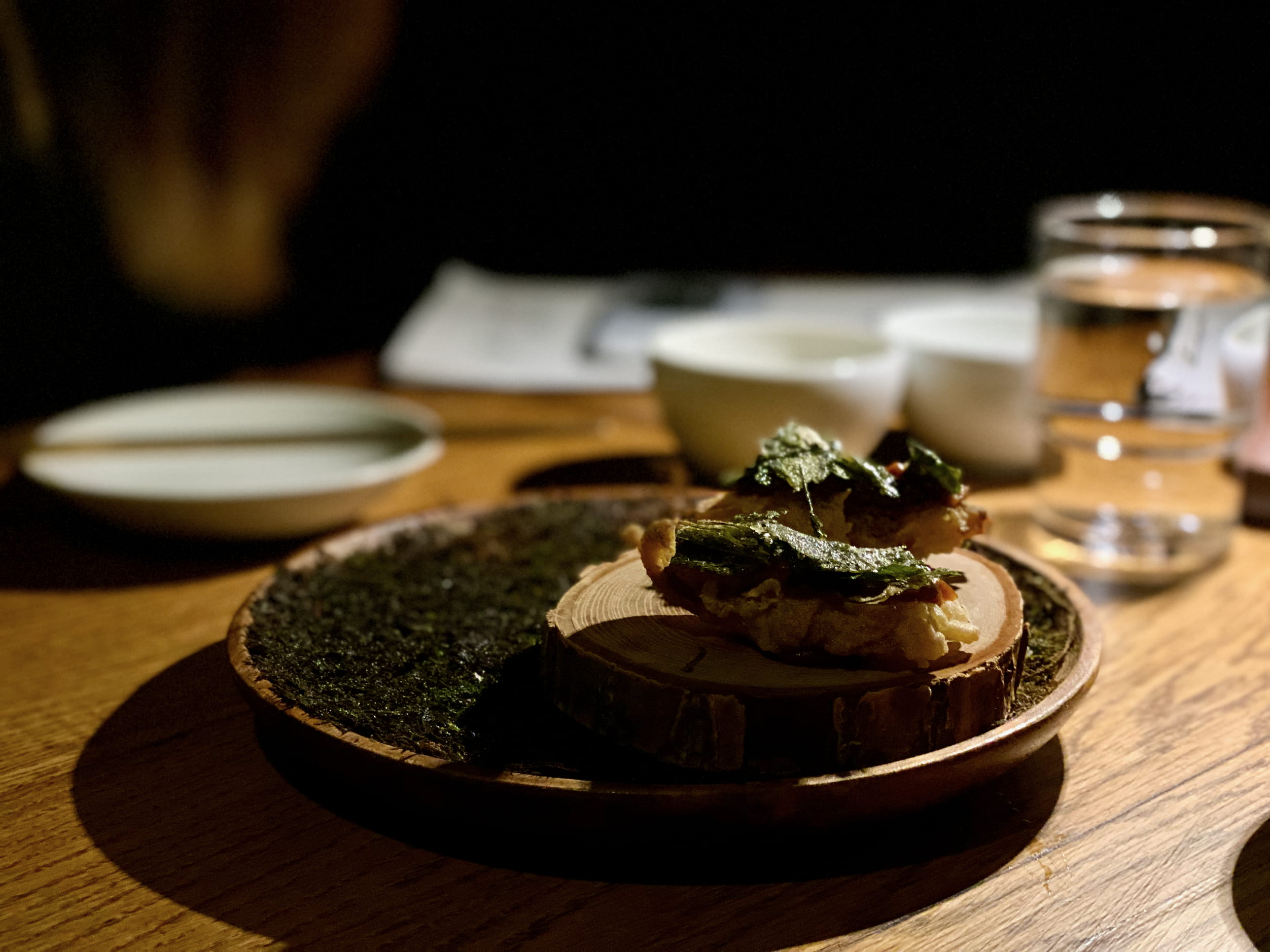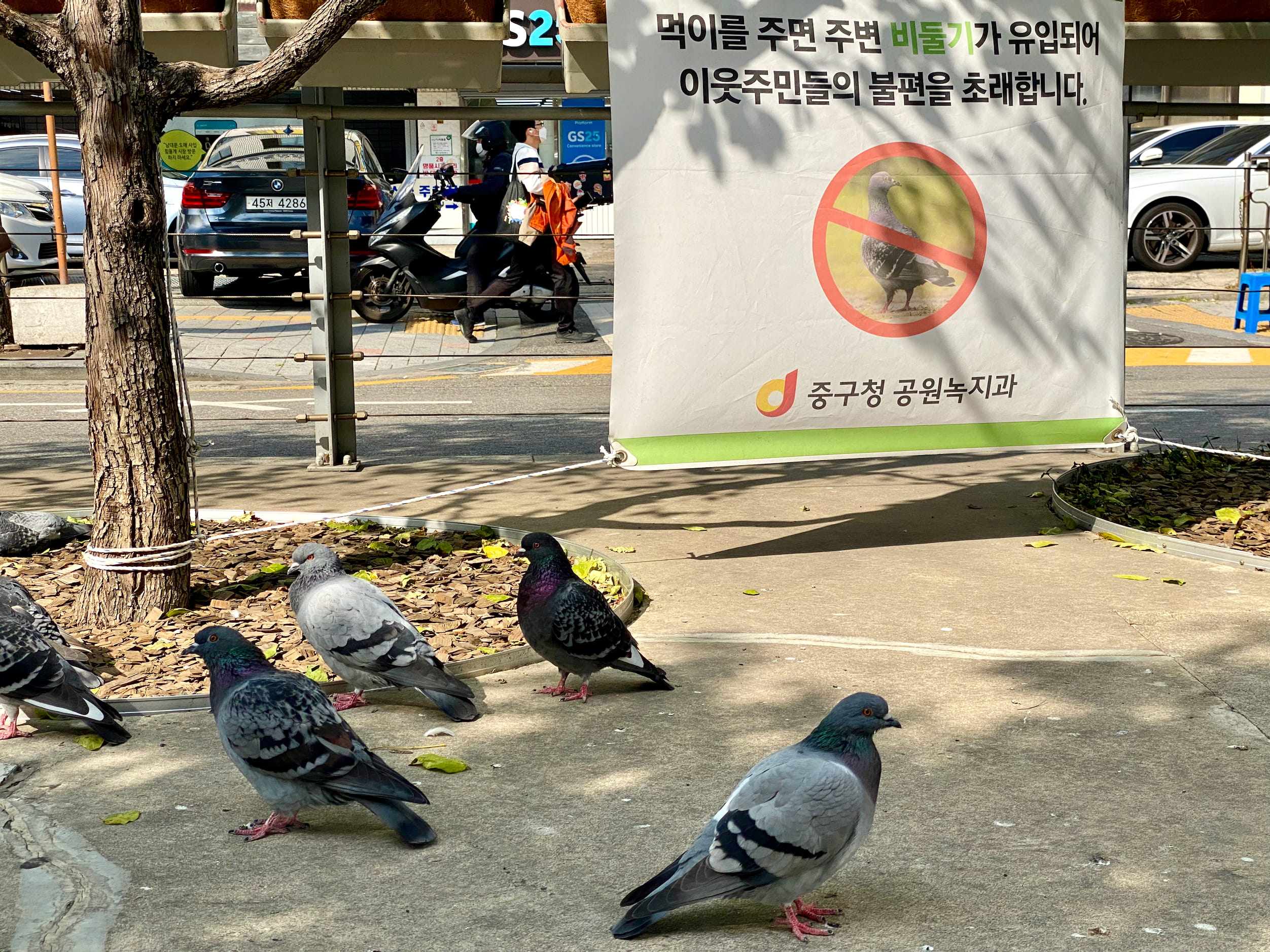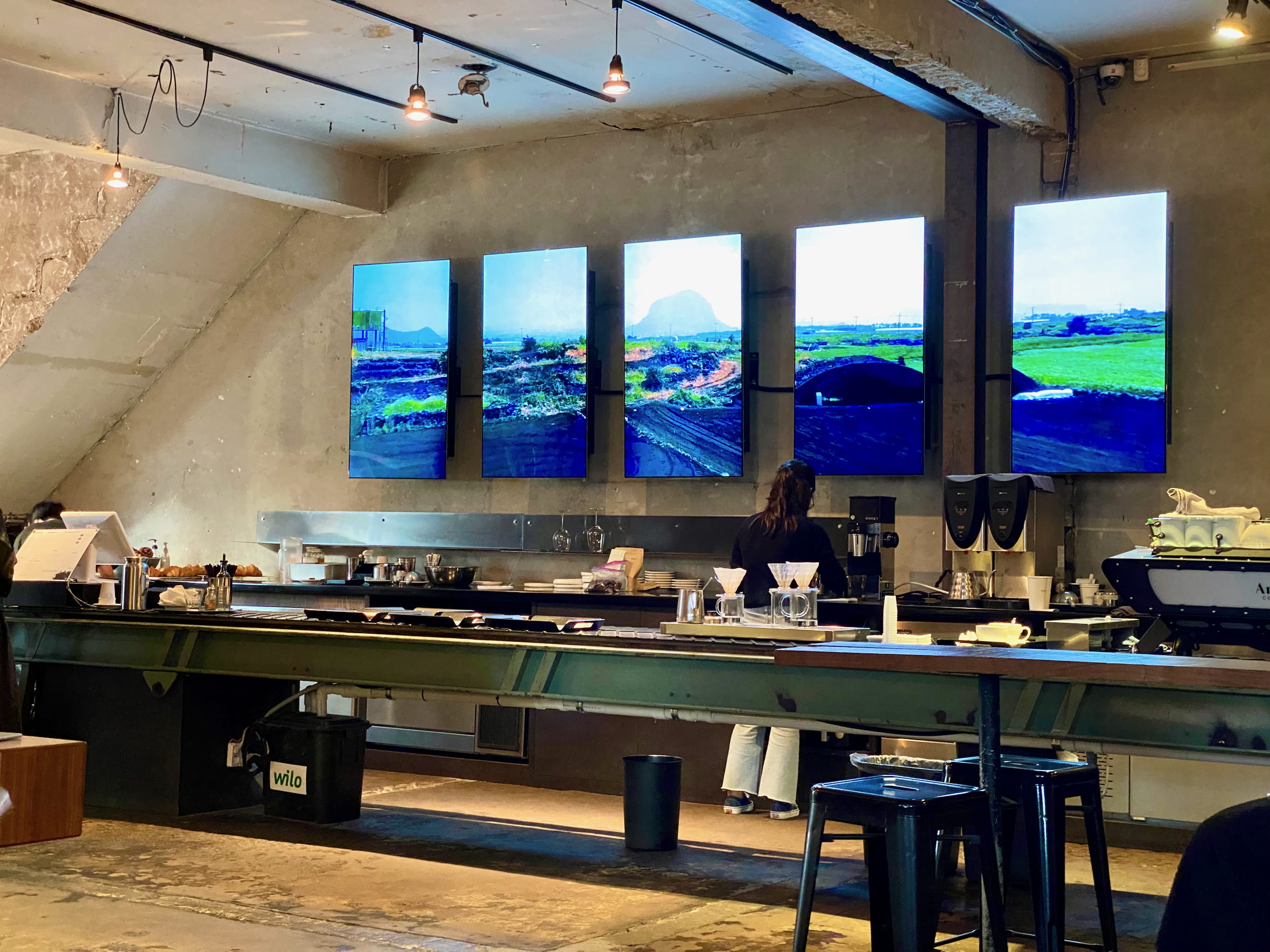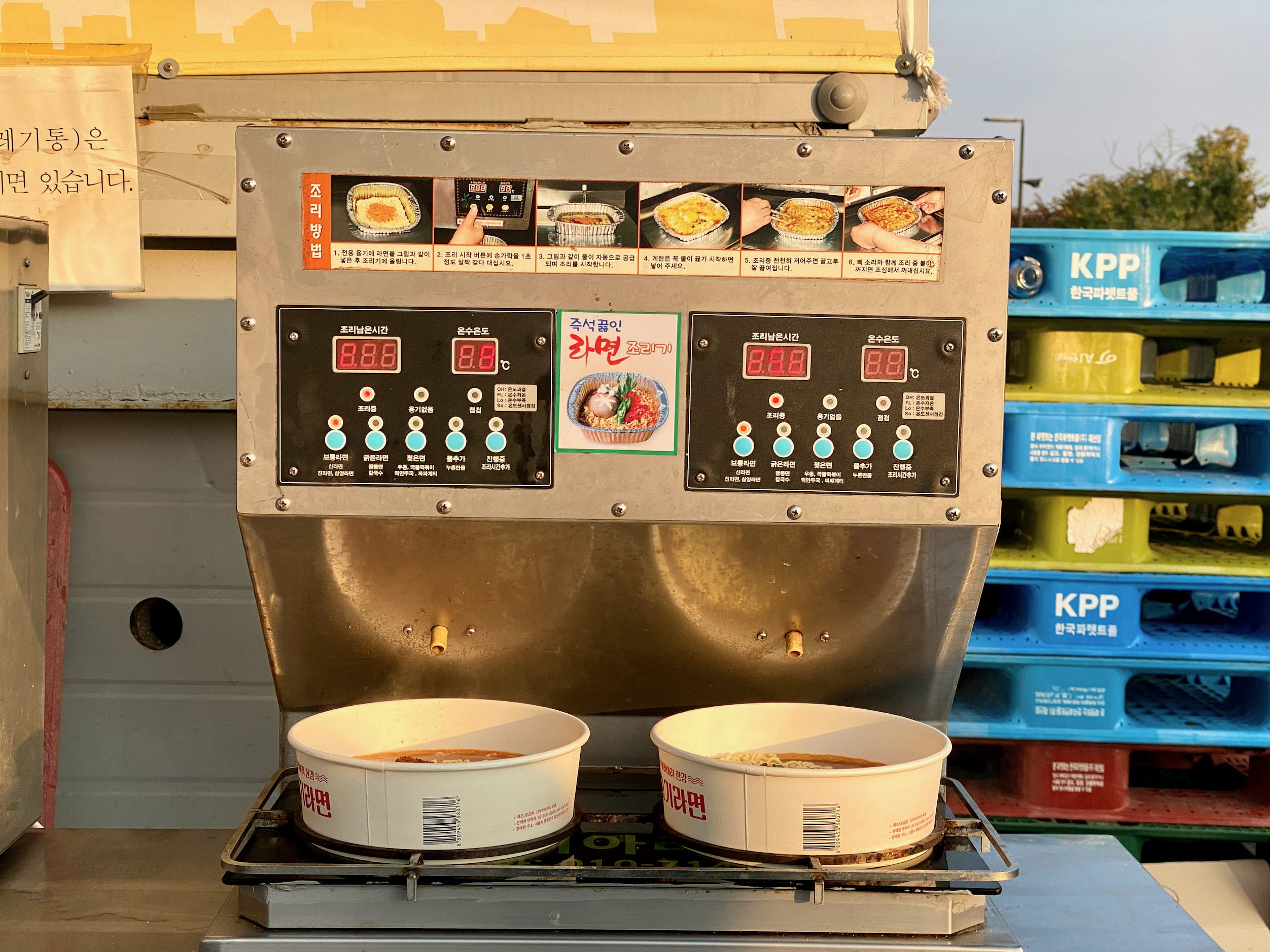 On warm weekend afternoons, the riverside parks become home to thousands of polite delinquents. Vendors sell everything you need right there. Rent a mat and little food table? Check. Dozens of food stalls? Check. Convenience store for beer / soju / chips? Of course.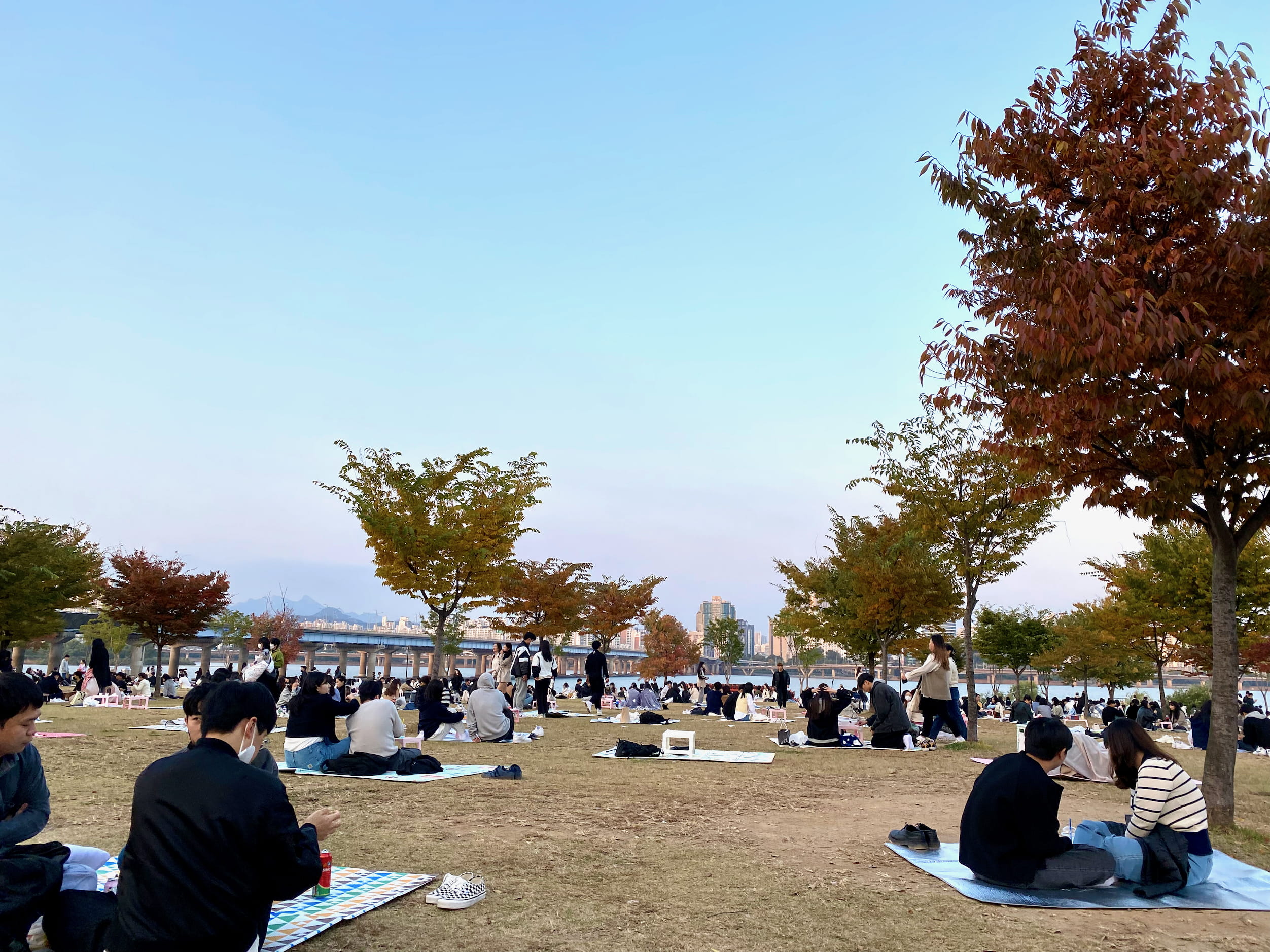 You can't make your way around Seoul without starting to recognize the word Lotte. In addition to malls, resorts, and a plethora of products, they run fast food chains called Lotteria which have taken the dystopian beginnings of fast food and ran with it to its logical conclusion.
You never once see a human. You order at screens, and then your food appears in a box, which pops open for you to retrieve it.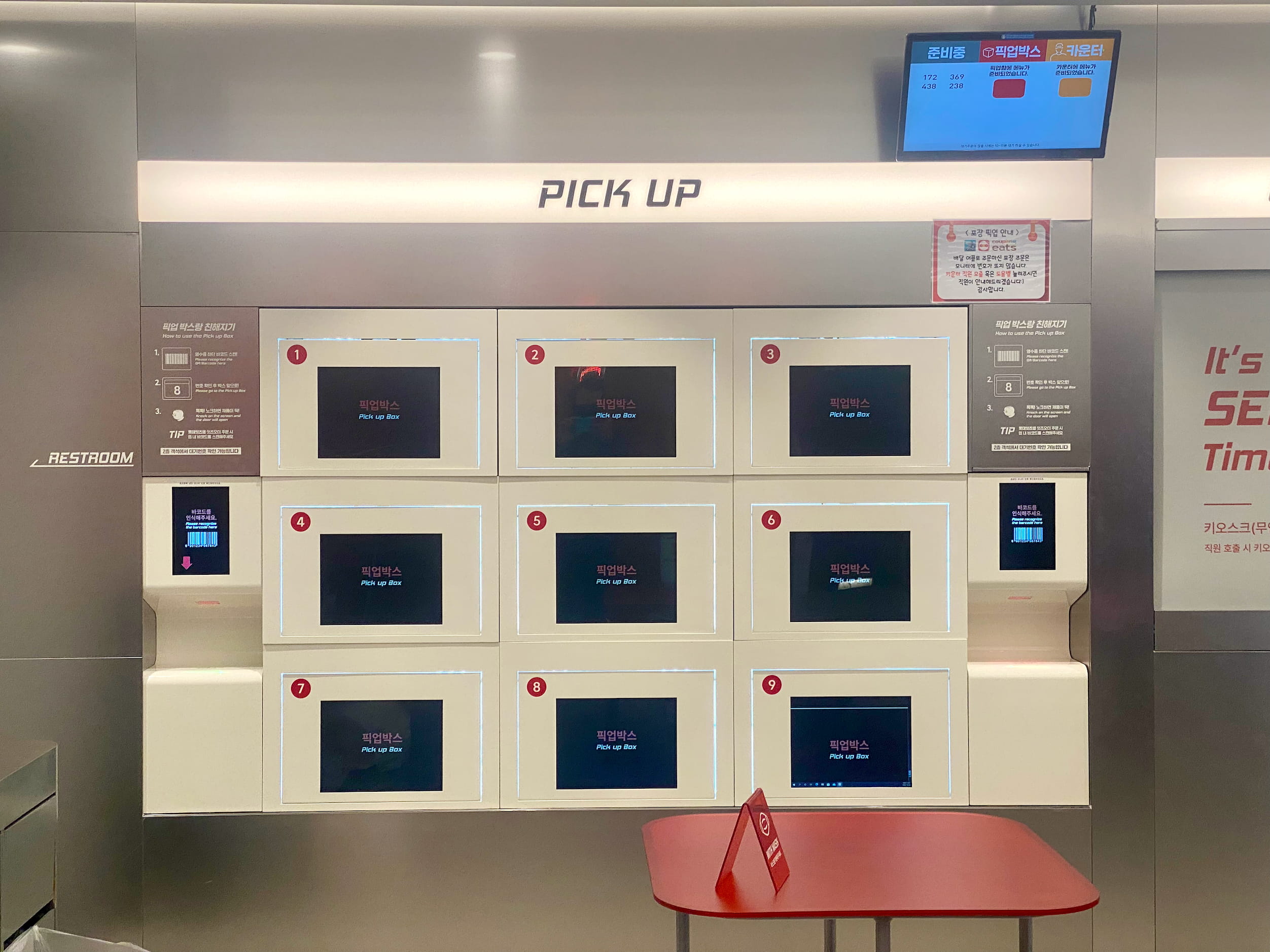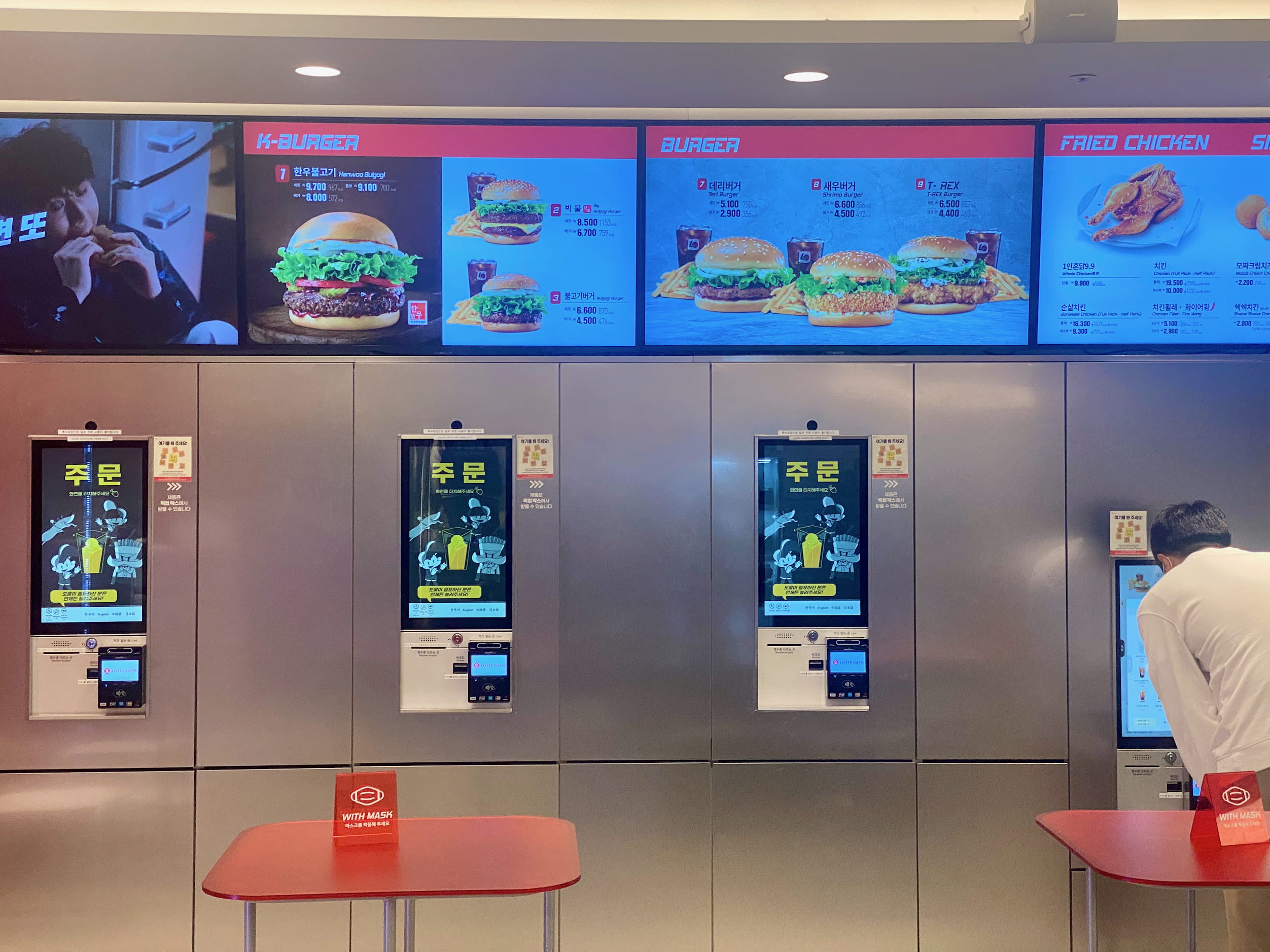 My photos end as any good evening ought to. We again only hit the tip of the iceberg when it came to Seoul's cocktail scene. But, as with the food, I was impressed at how far out of the typical Western palette they leaned.
Our final stop was a wine bar. Friendly owner, clearly a wine nerd himself. And his friend shared her birthday cake with us, then came and sat down with us to lament how brutal South Korean working culture is over her nth glass of wine.22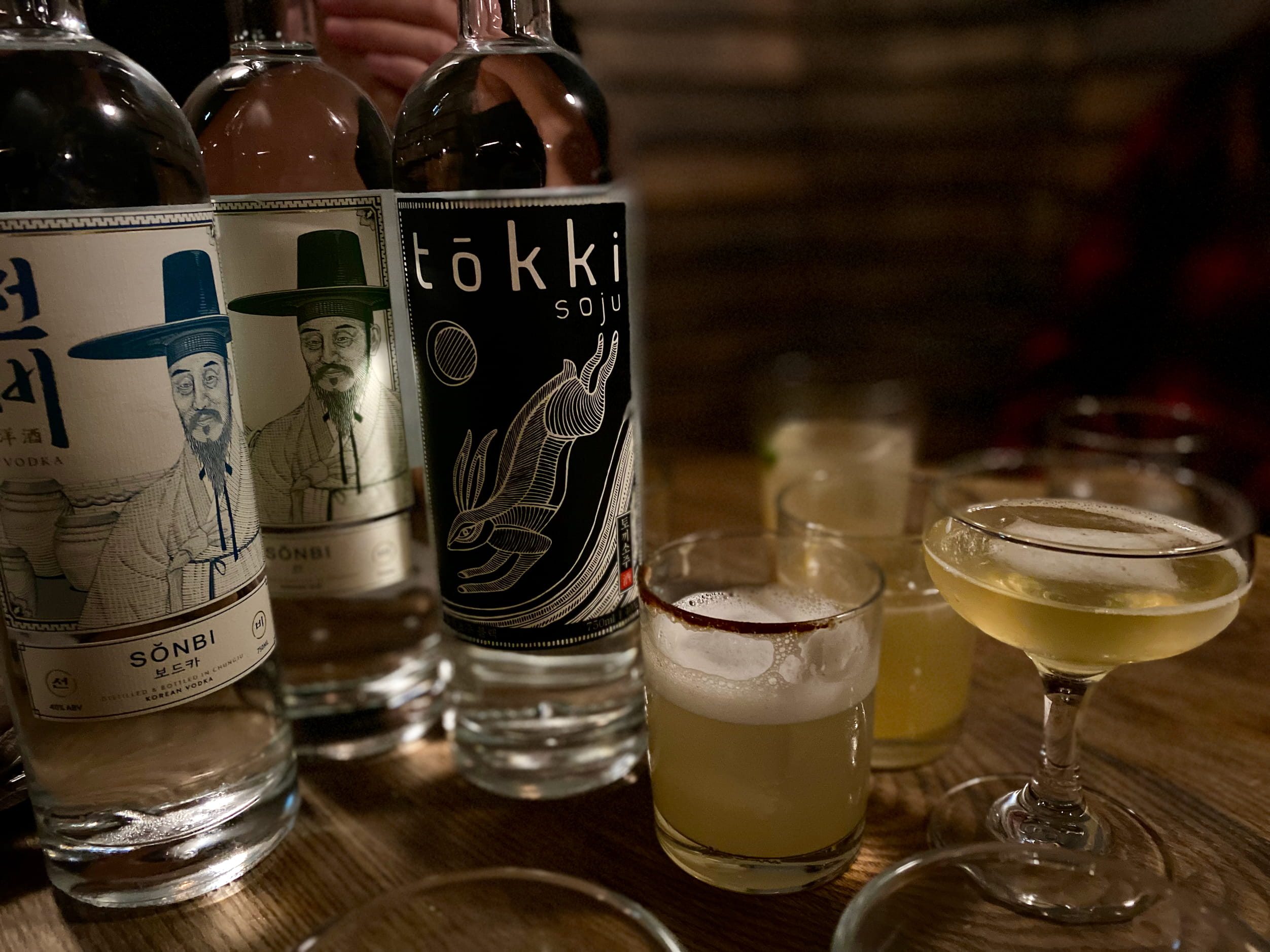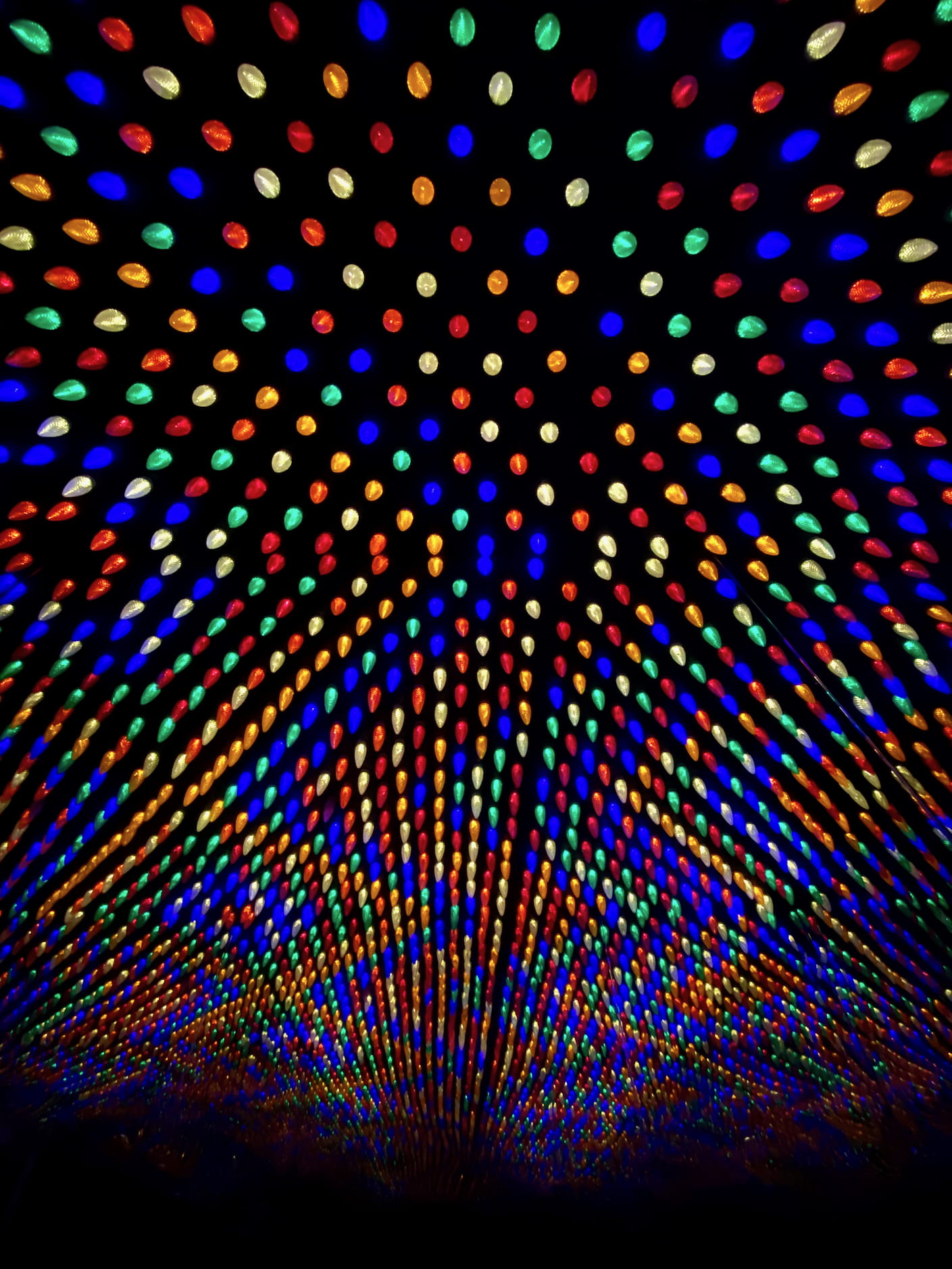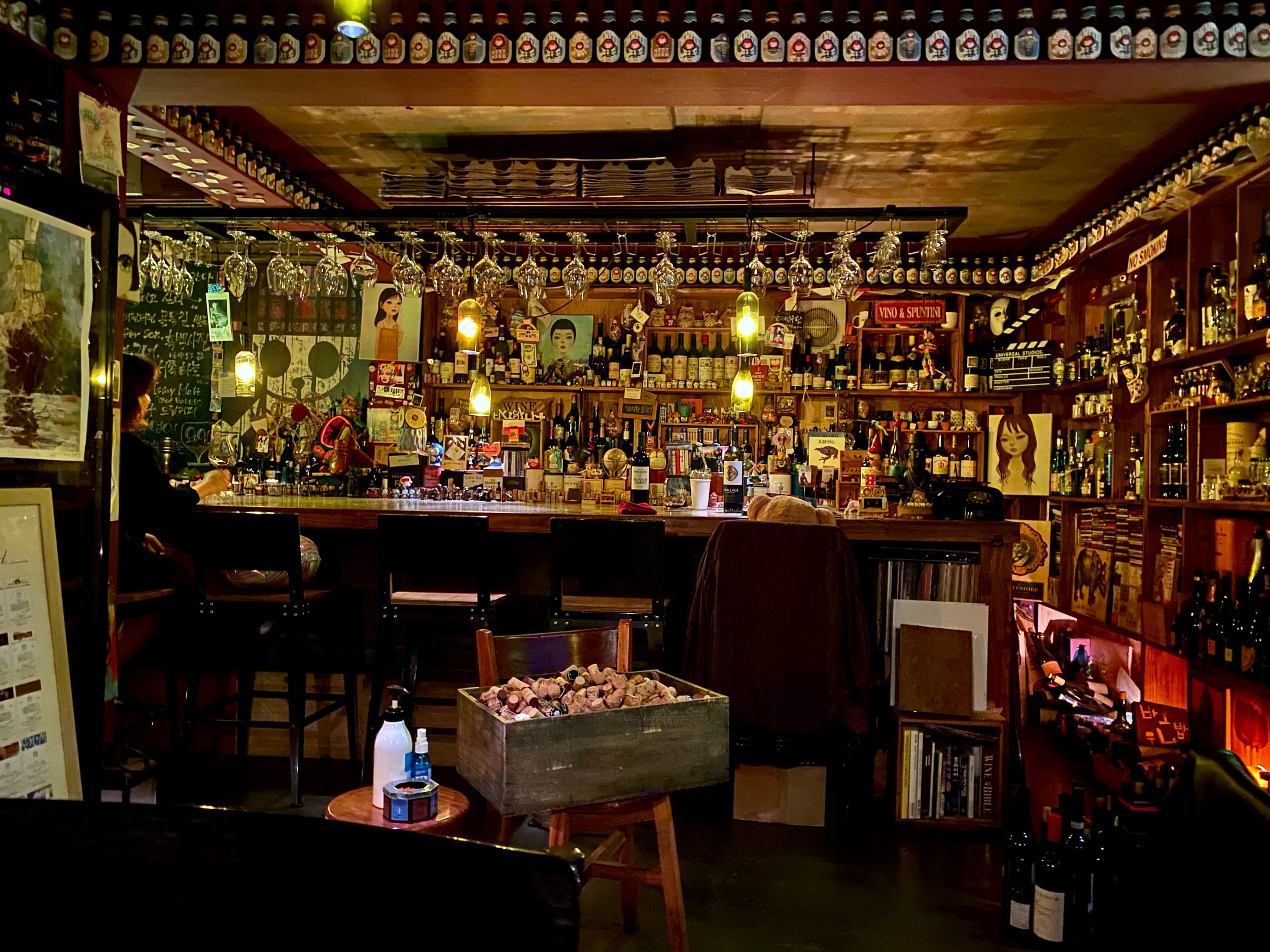 Parting Thoughts
Somehow, despite so many words and photos, I don't feel like I captured the essence of Seoul.23
When people ask us where what our favorite place was that we went in 2022, of the eighteen countries we visited, we'd both answer Seoul. But it's not for the usual reasons people seem to pick places—like, the Eiffel Tower was so romantic, or Halong Bay so mystical.
We loved Seoul because it took care of us. We could always subway our way to bibimbap, walk off last night's KBBQ24 in a public park, stop by a coffee stand for espresso, and then hit up a GS2525 for soju. It made all of these things easy, and—crucially for long-term travelers—cheap. People were helpful at worst, but more often friendly. They tolerated our utter lack of Korean with patience. And not worrying about even so much as being pickpocketed relieved the weight of constantly being a little on on-guard.
That's all. Thanks, Seoul, and I'm rooting for you.