Aug 13, 2022
Scotland Roadtrip
Part IV: Oban, Fingal's Cave, and Car Troubles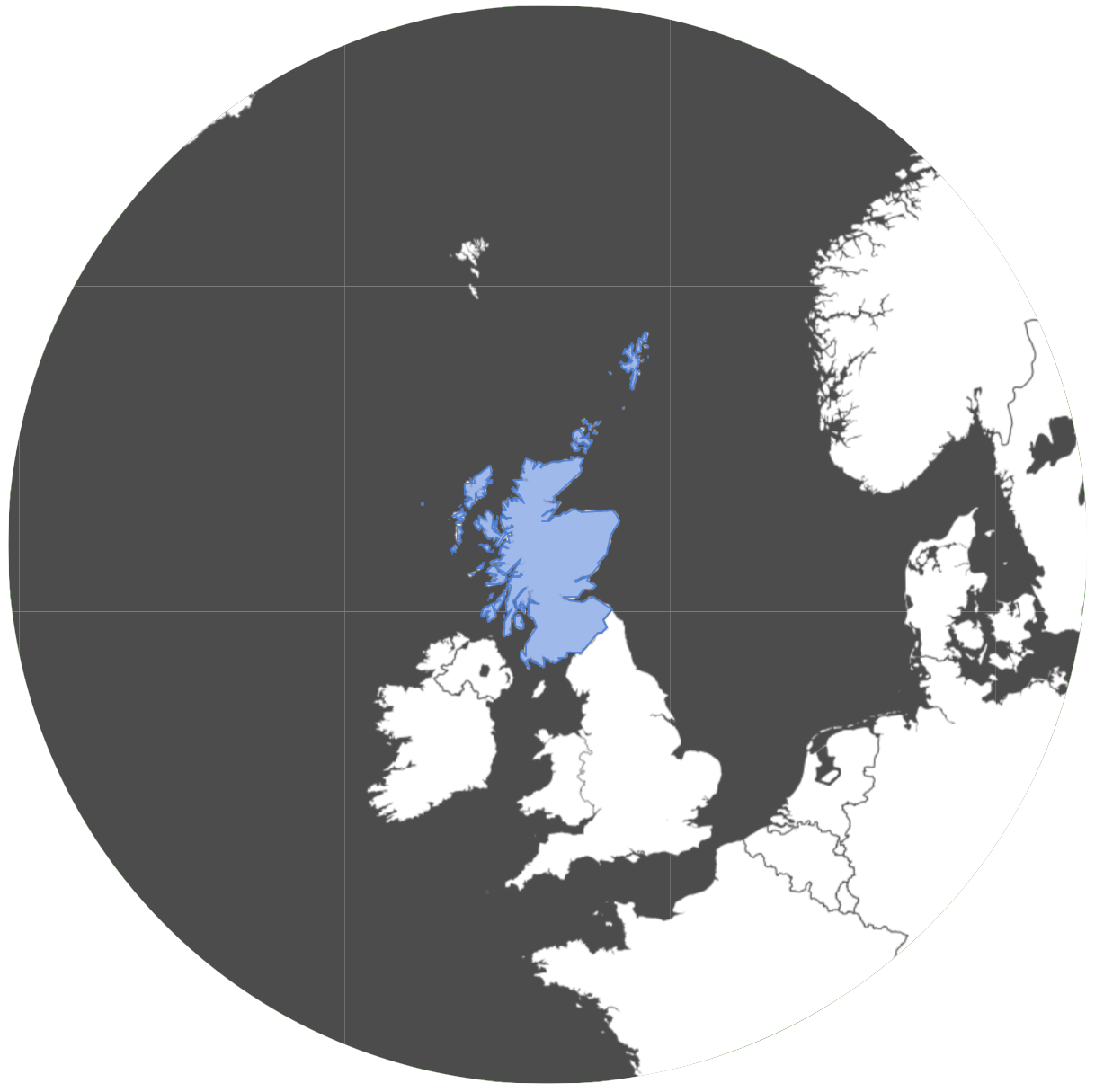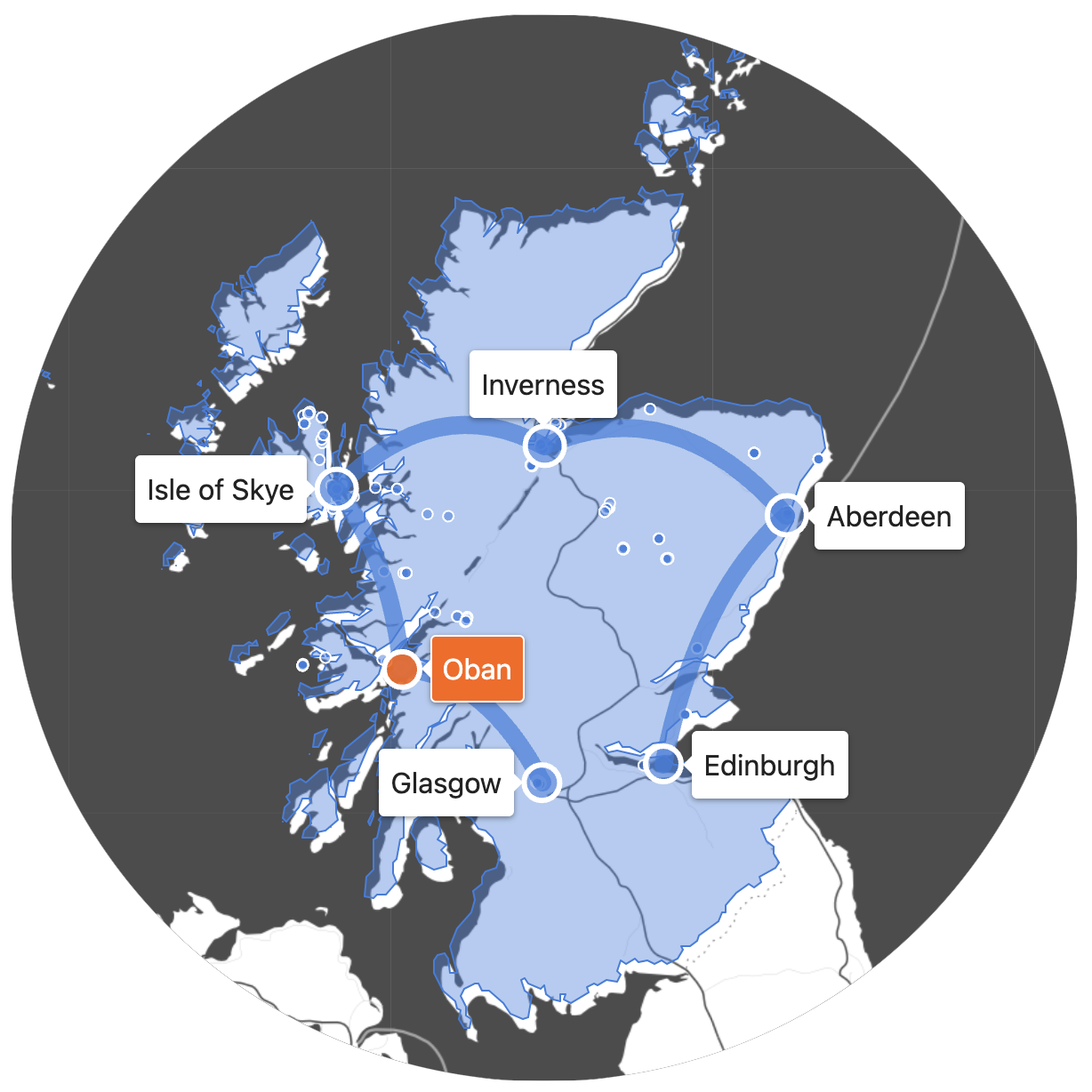 This episode includes water and rocks and a tiny disaster as our car luck finally ran dry.
Goodbye Skye
The nice part about driving around these rainy dramatic hills is one of the seventeen BBC stations plays nonstop ominous classical music you can use as a soundtrack.
Leaving the isle and entering the mainland, we were greeted by clear skys at last.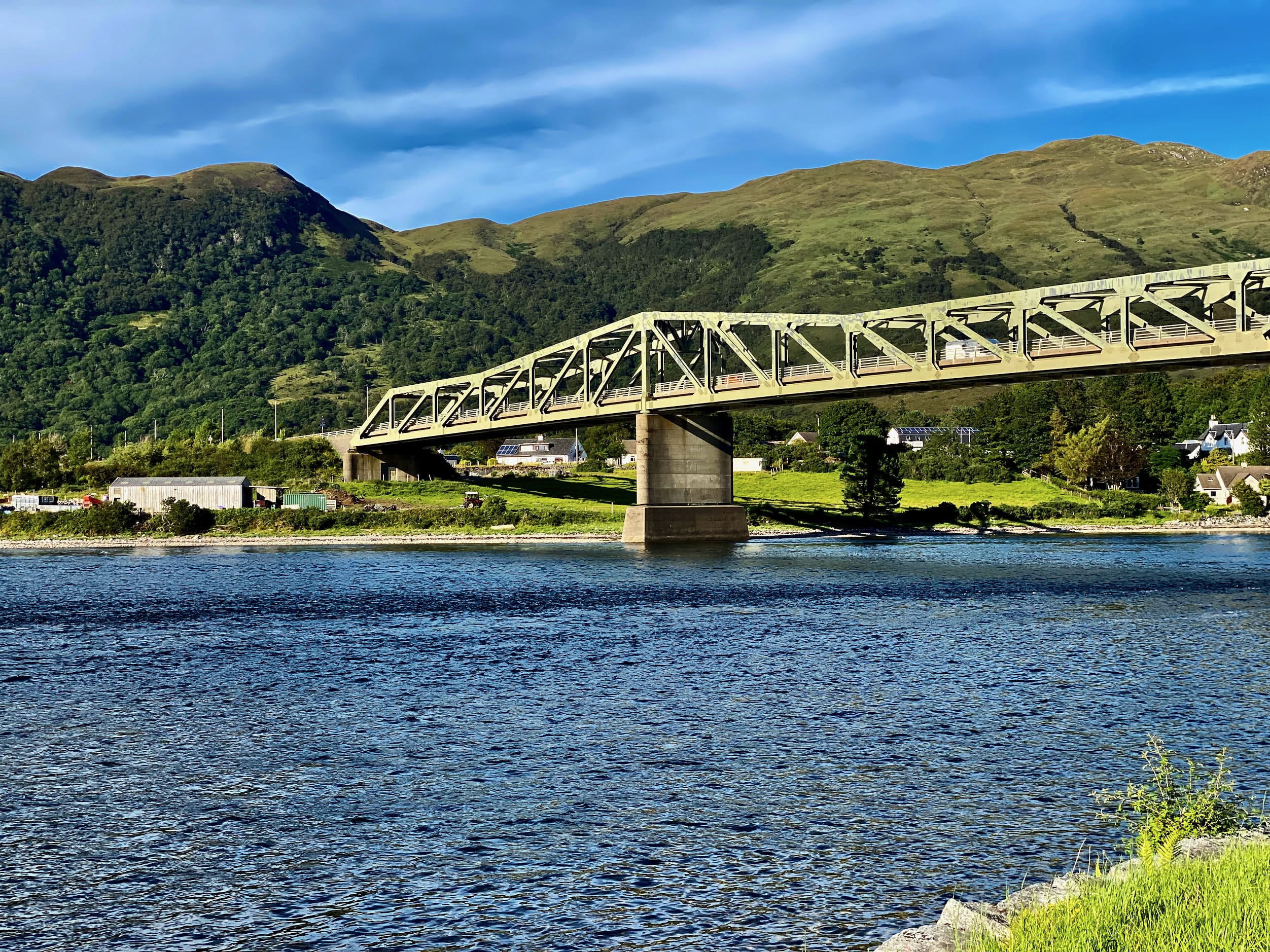 Oban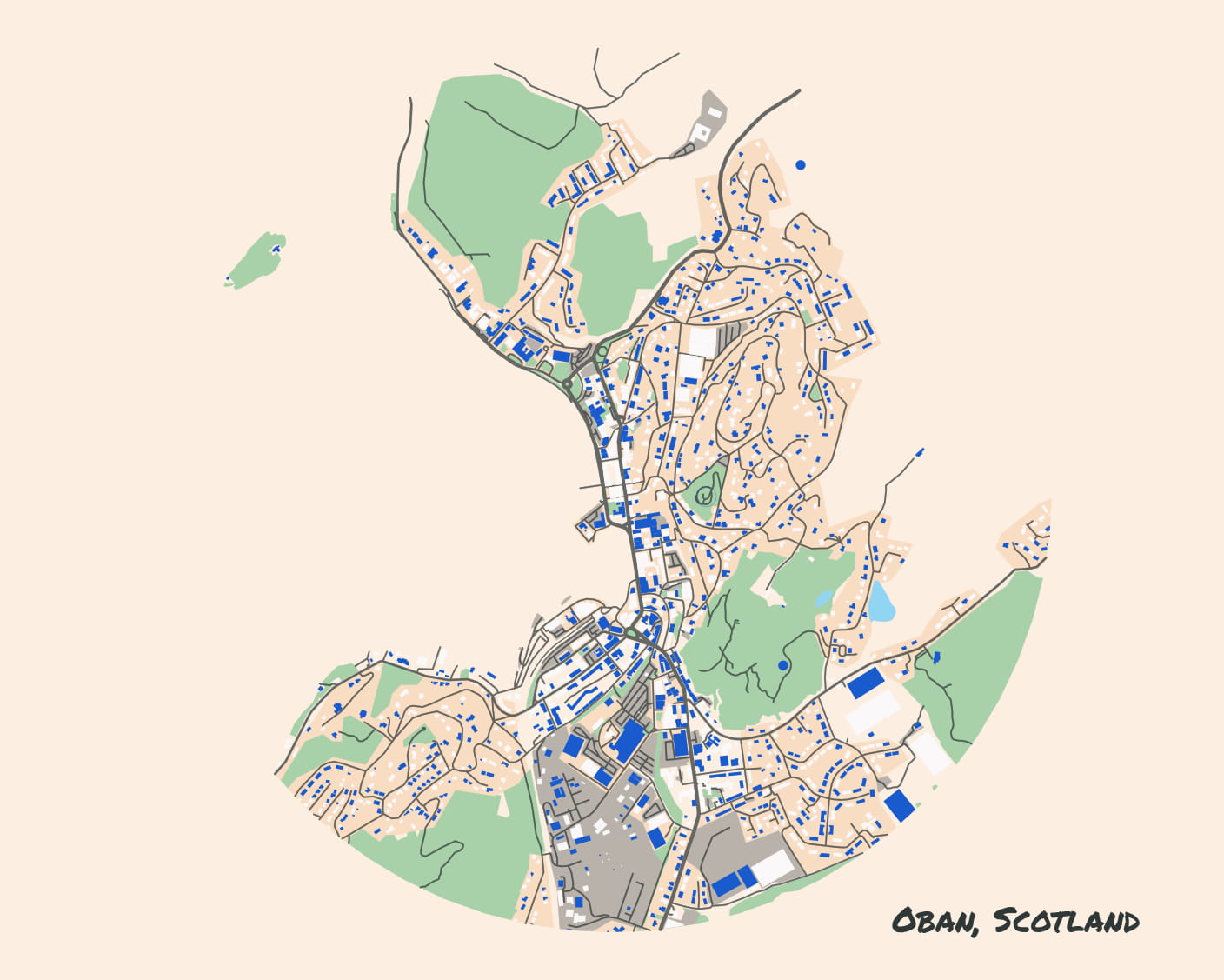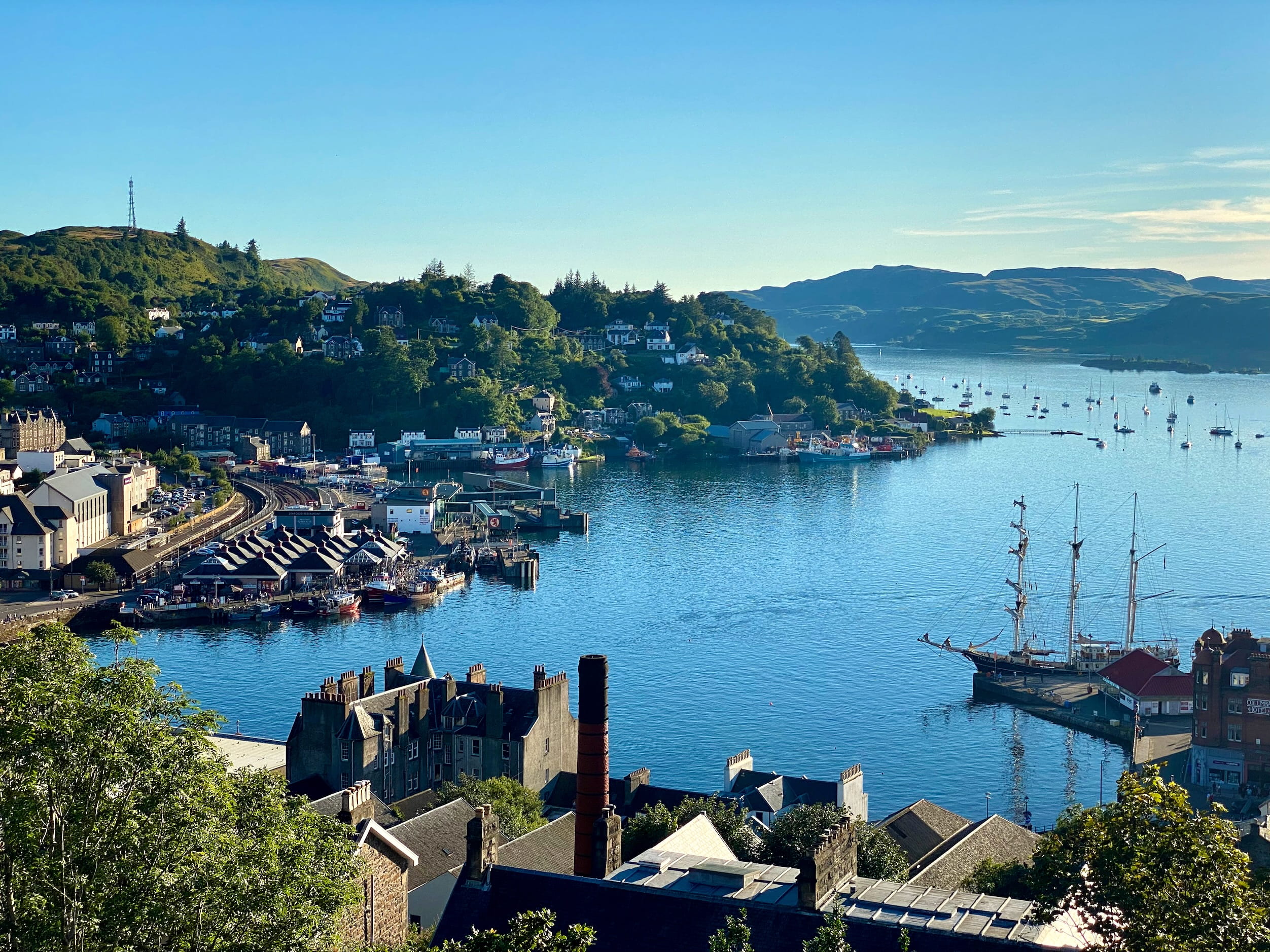 Oban is quite tiny. The couple fish and chips places each claim to serve the most renowned fried pile. The only grocer we found in the town center was a kind of store I didn't know existed: a frozen foods emporium. The whole path inside was a maze of chest freezers and the fluorescent aura of resignation.
But Oban's most special quality is that there is constantly a child dressed up in full Scottish garb busking at the harbor with a bagpipe. You can hear its screams all the way along beach.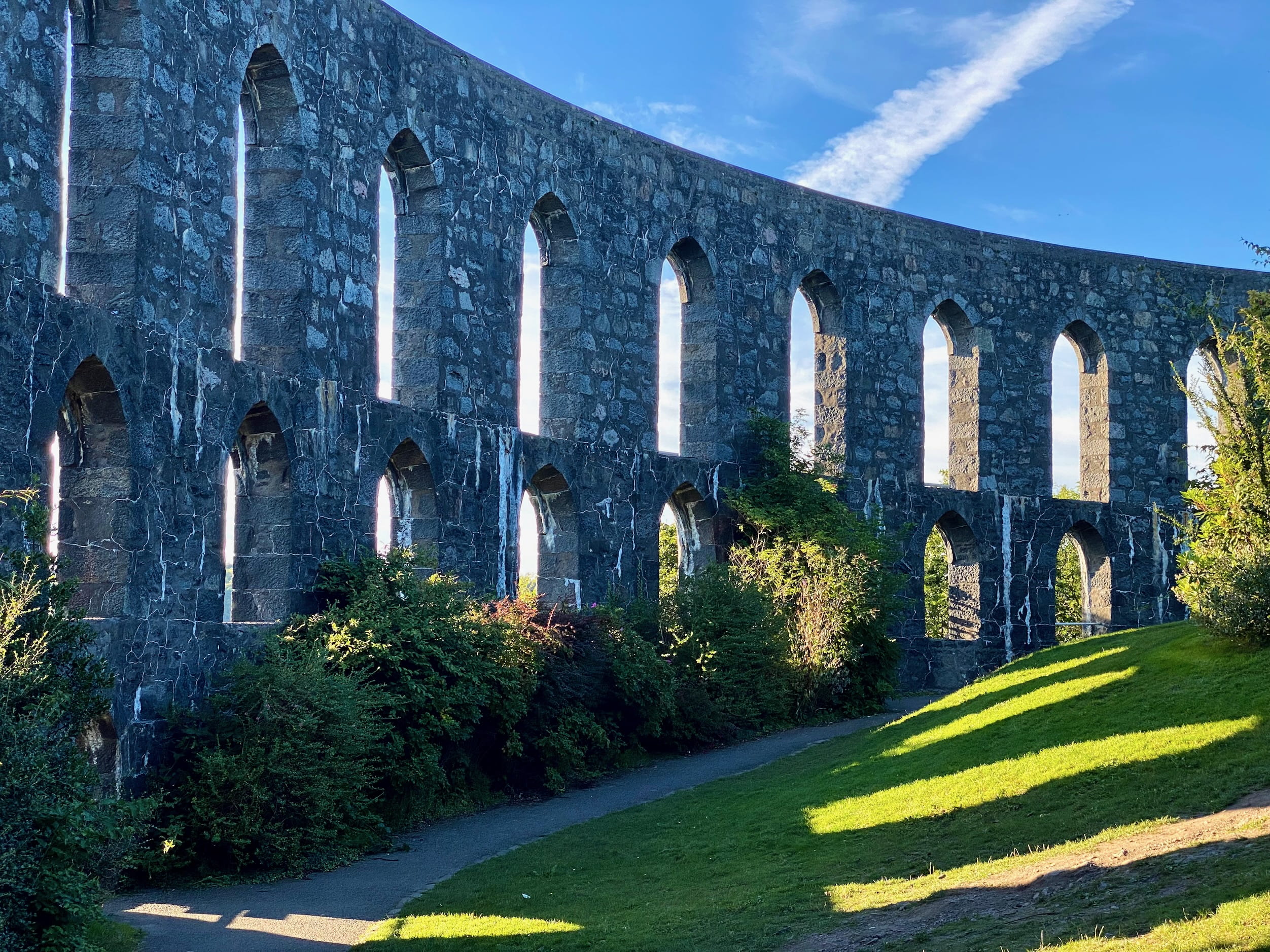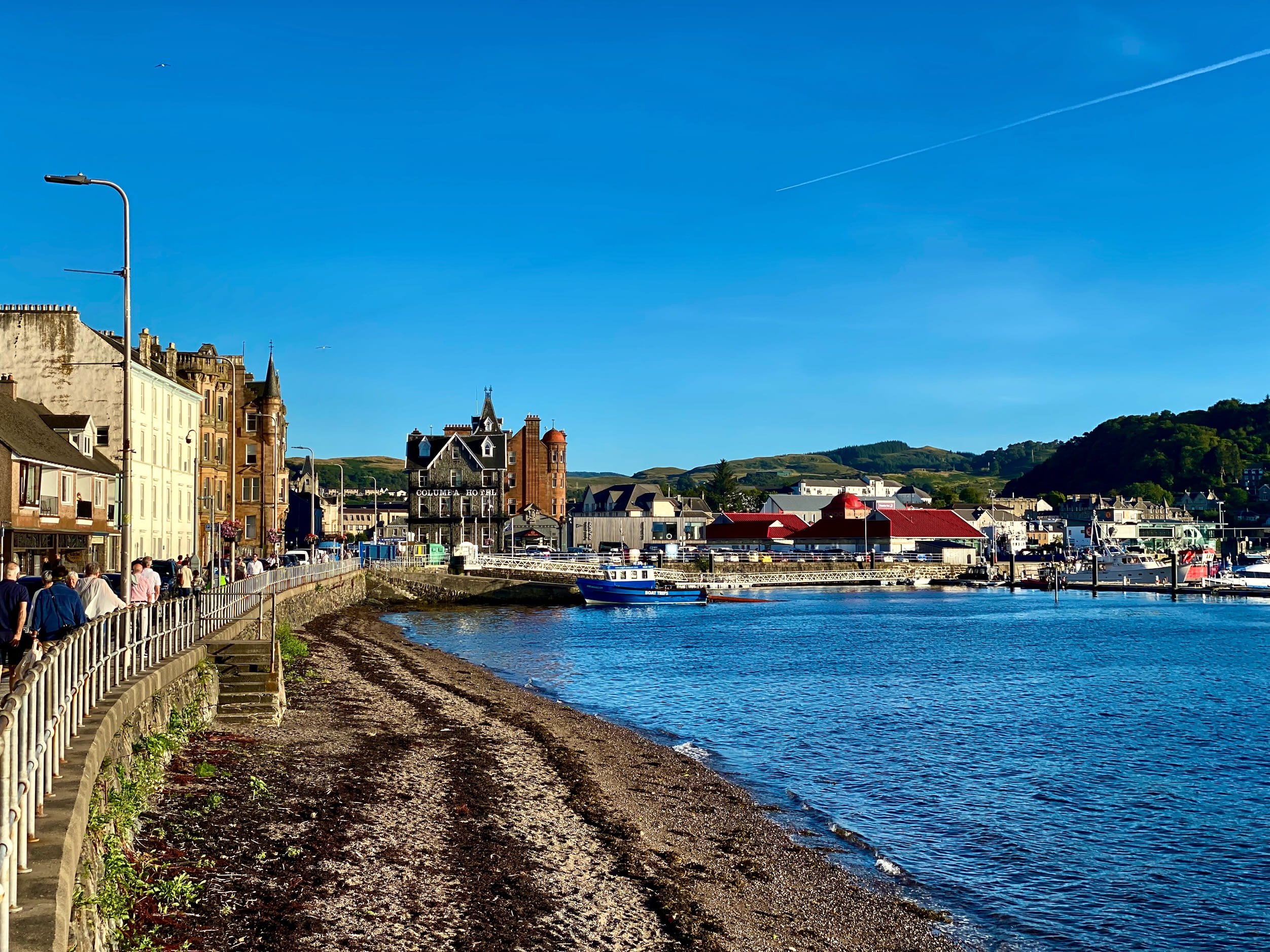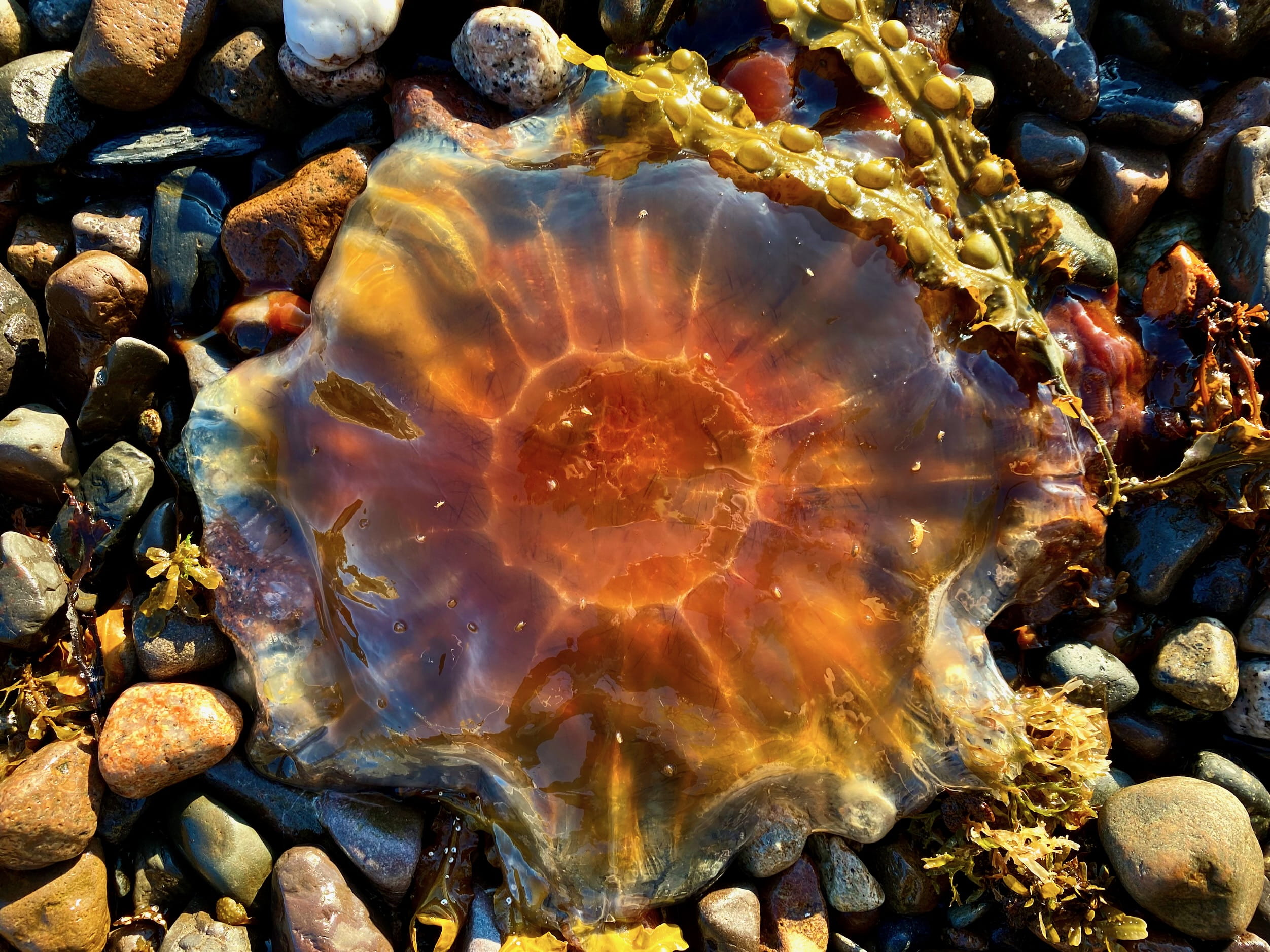 Sailing to Staffa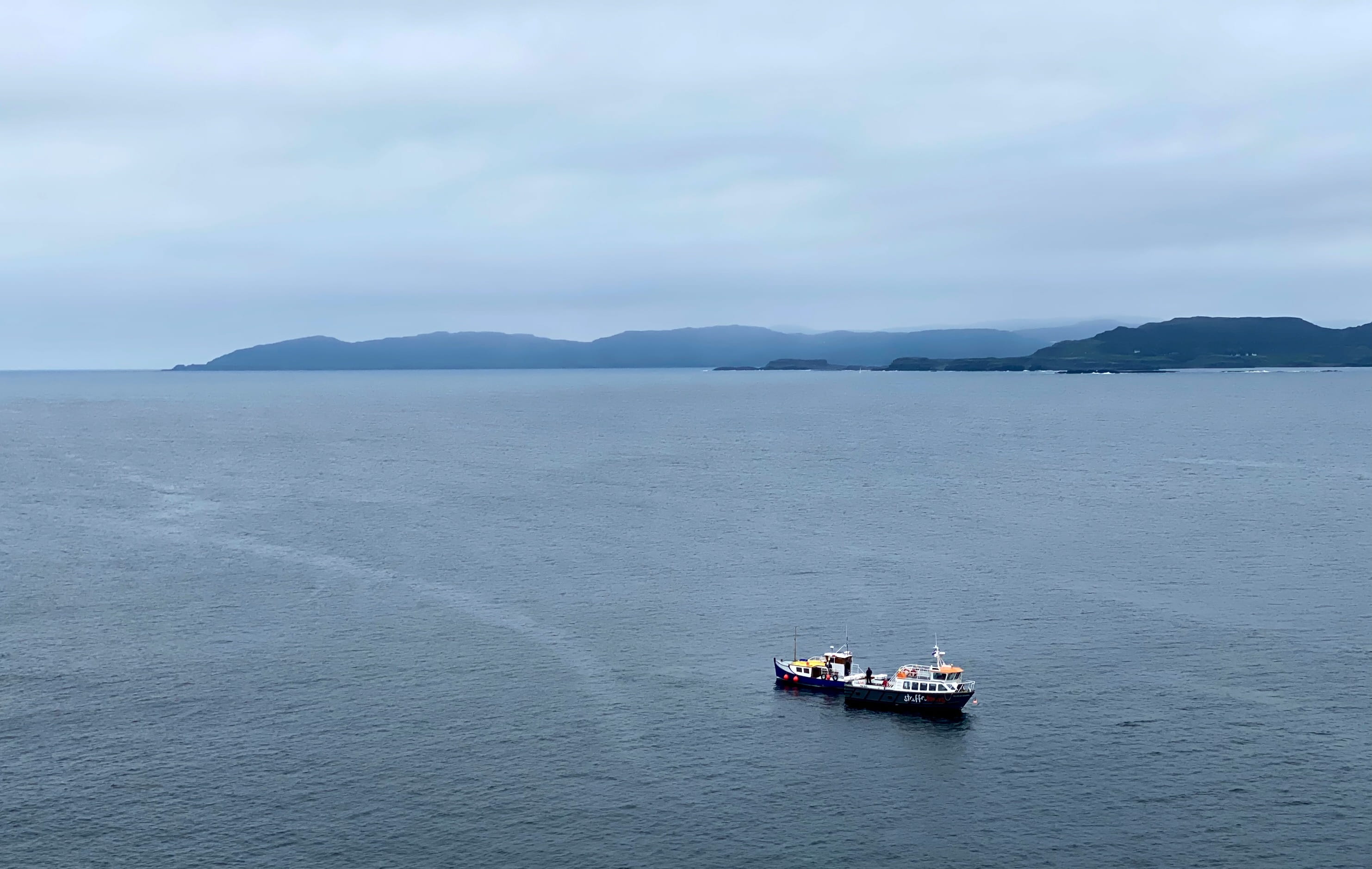 Staffa is a tiny nature preserve island with famous feature called Fingal's Cave.
To get there, you take a ferry from Oban to a big island called the Isle of Mull. Then you drive all the way across the island. Then you take a smaller boat from a port there to Staffa.
On the boat rides over, three kinds of buildings dotted the cliffs and rocks: lighthouses, castles, and monasteries. Each occurrence terribly, defiantly alone.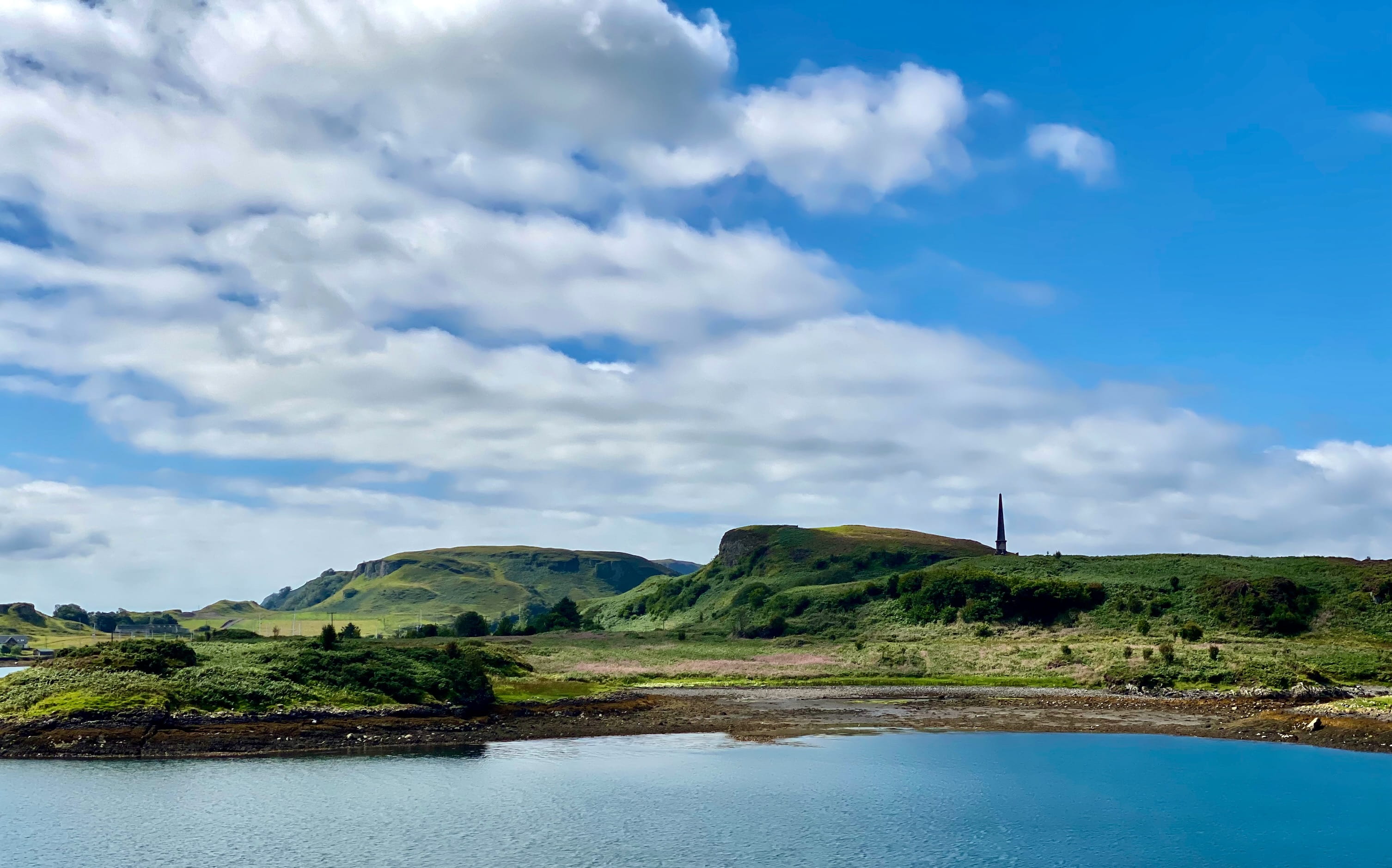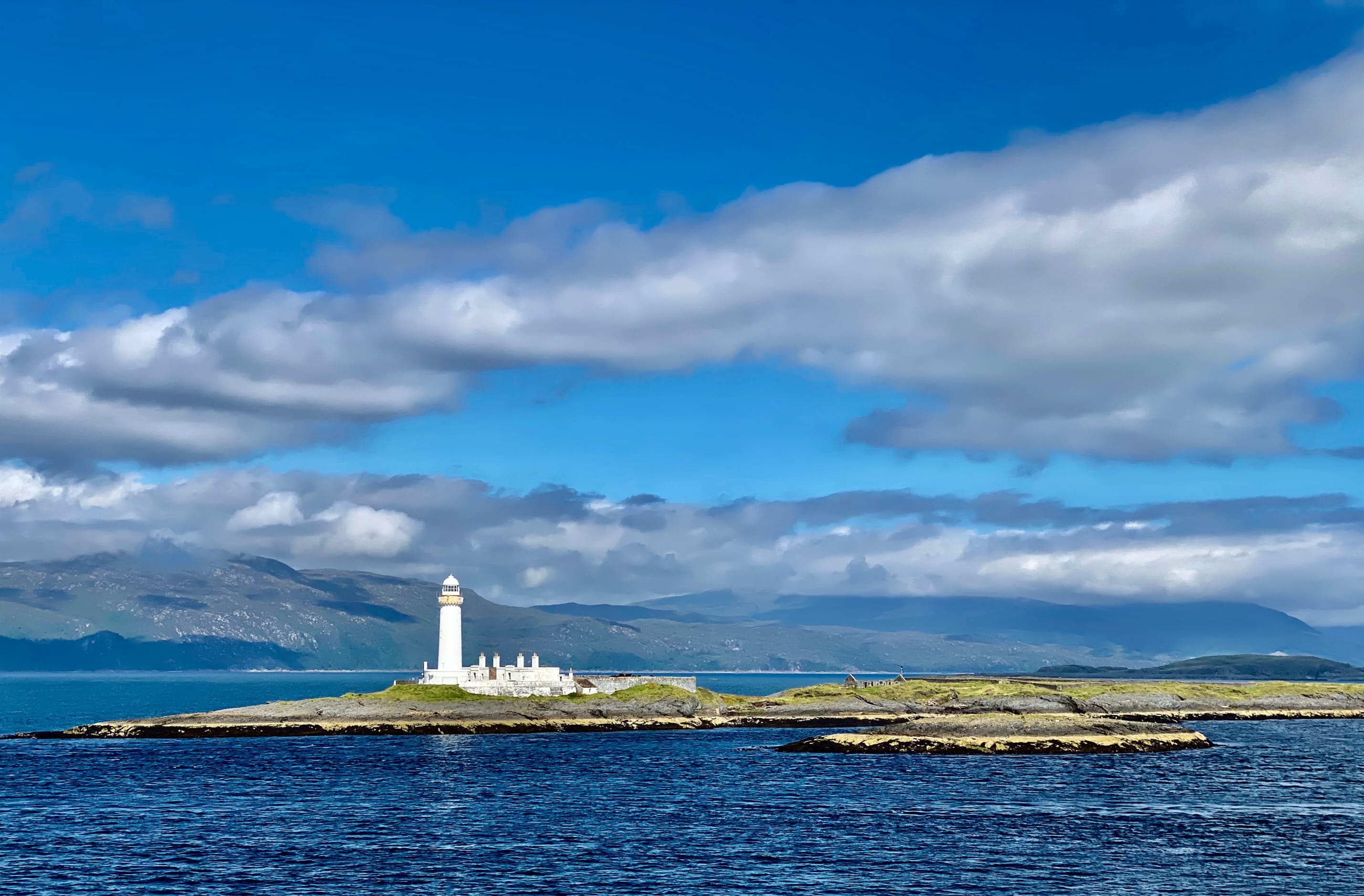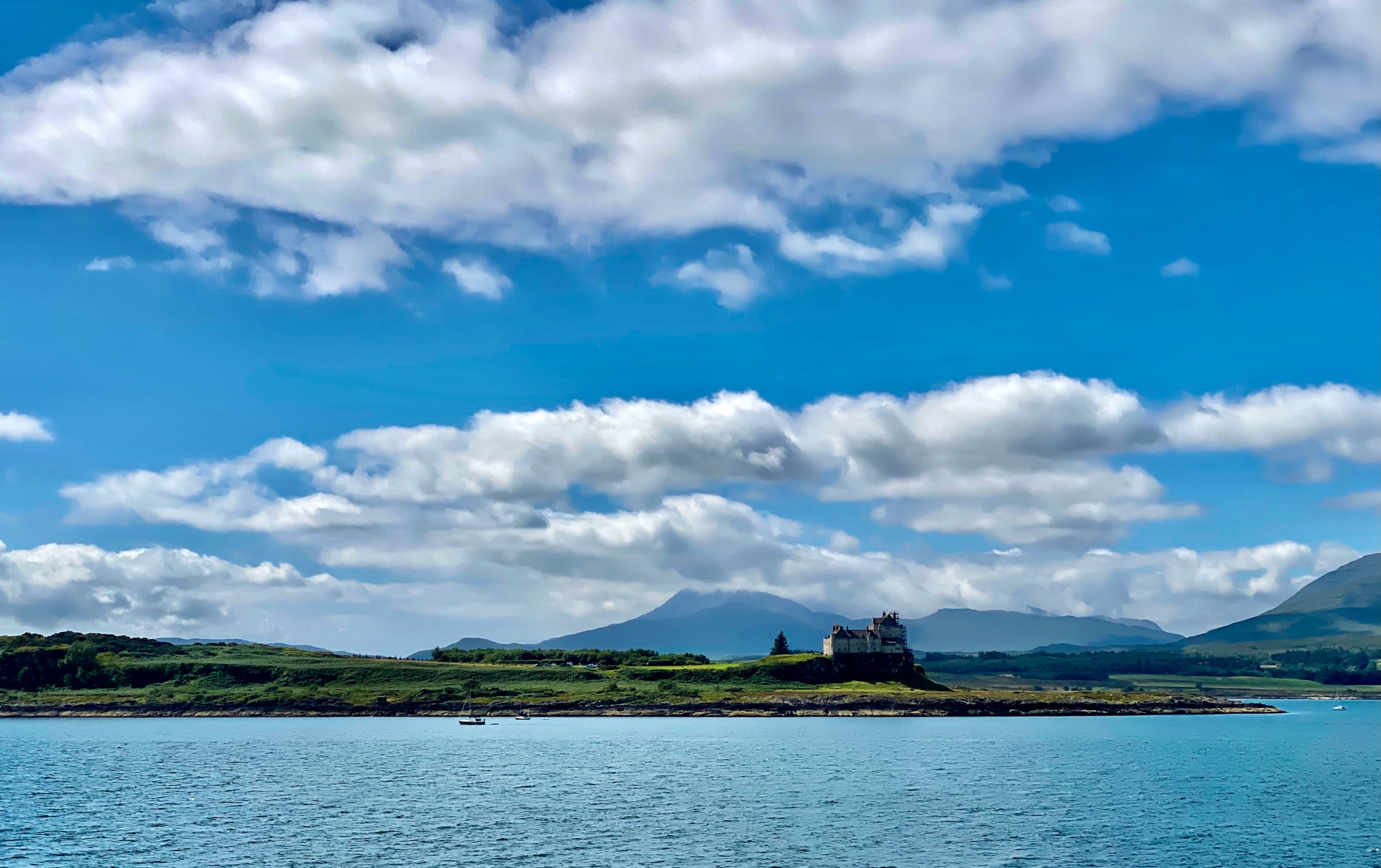 Staffa & Fingal's Cave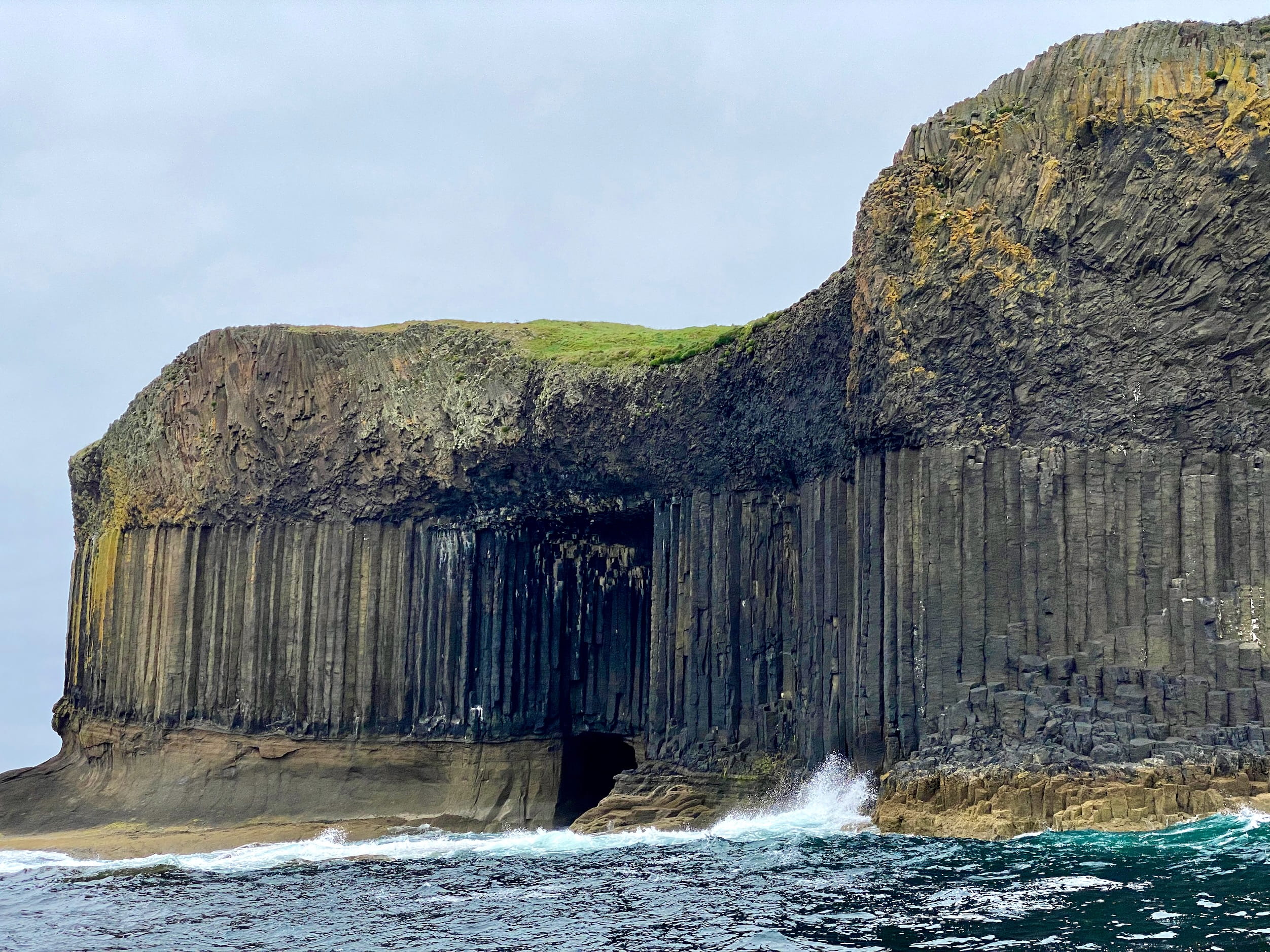 The island features bizarre geology. First because of its strange columnar polygonal rocks, and second because these rocks become different shapes at specific heights.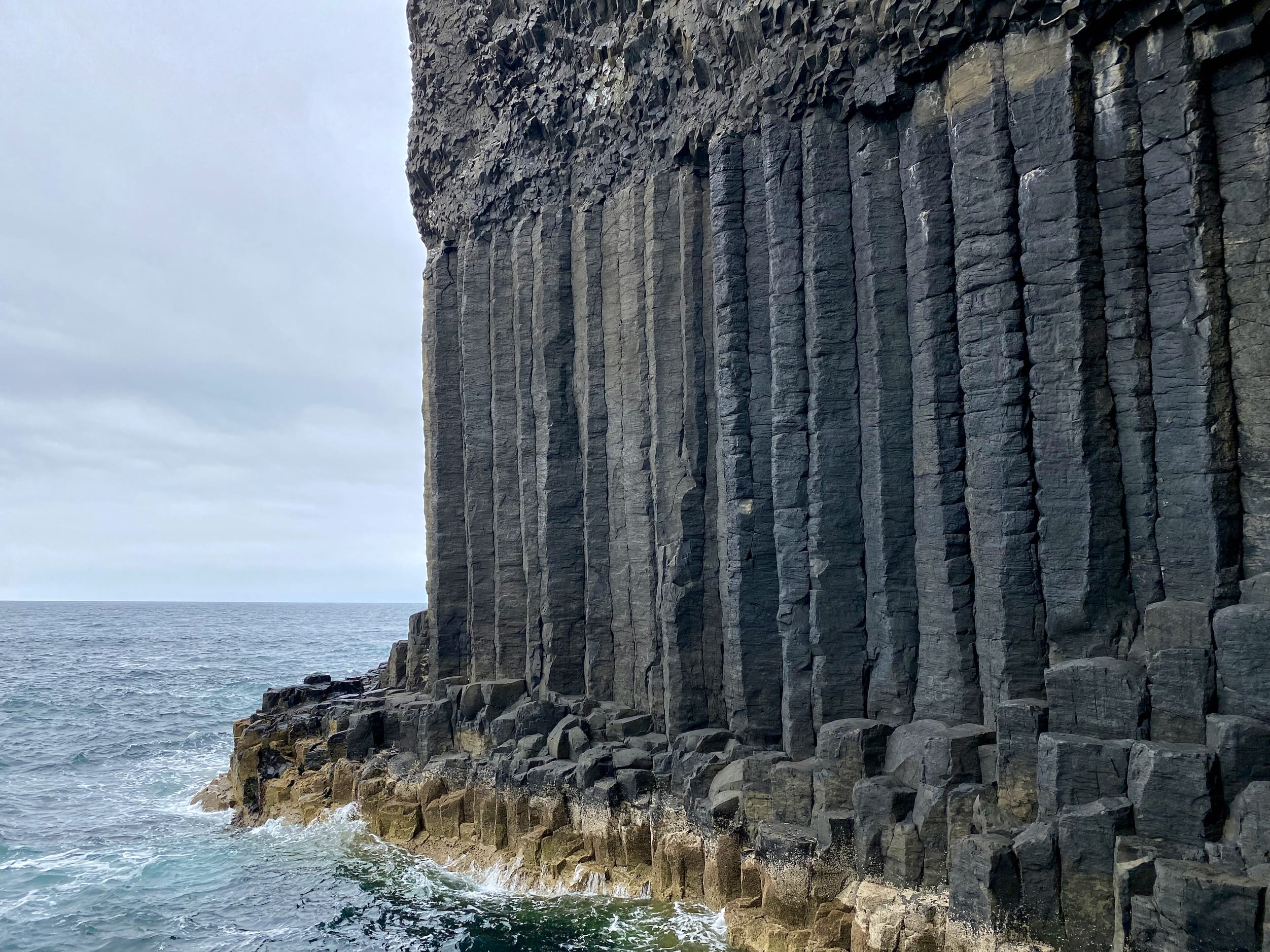 Third, these columns aren't even always vertical. Some costal stretches look like a spaceship crashed through molten rock and splayed out a runway of spikes.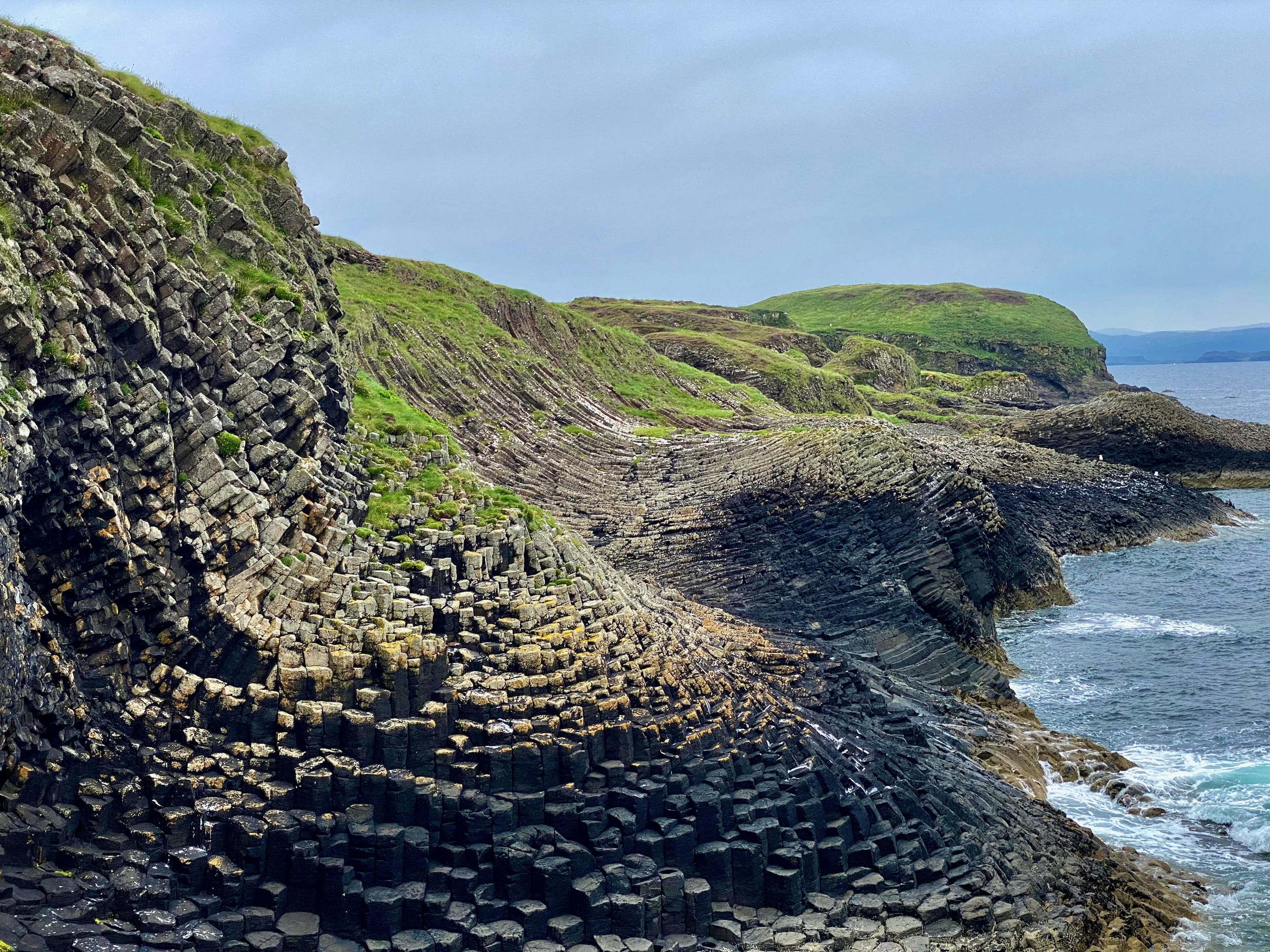 The cave is neat, and doesn't photograph well unless you're National Geographic. I've omitted my poor attempts.
Staffa is also home for a bit of the year to puffins, clown-like cute birds. We missed them by just a week or two.
So in lieu of either of the two most Instagrammable promises of Staffa, I present to you instead the most Scottish thing I saw all day, which is a boat somebody named Island Lass.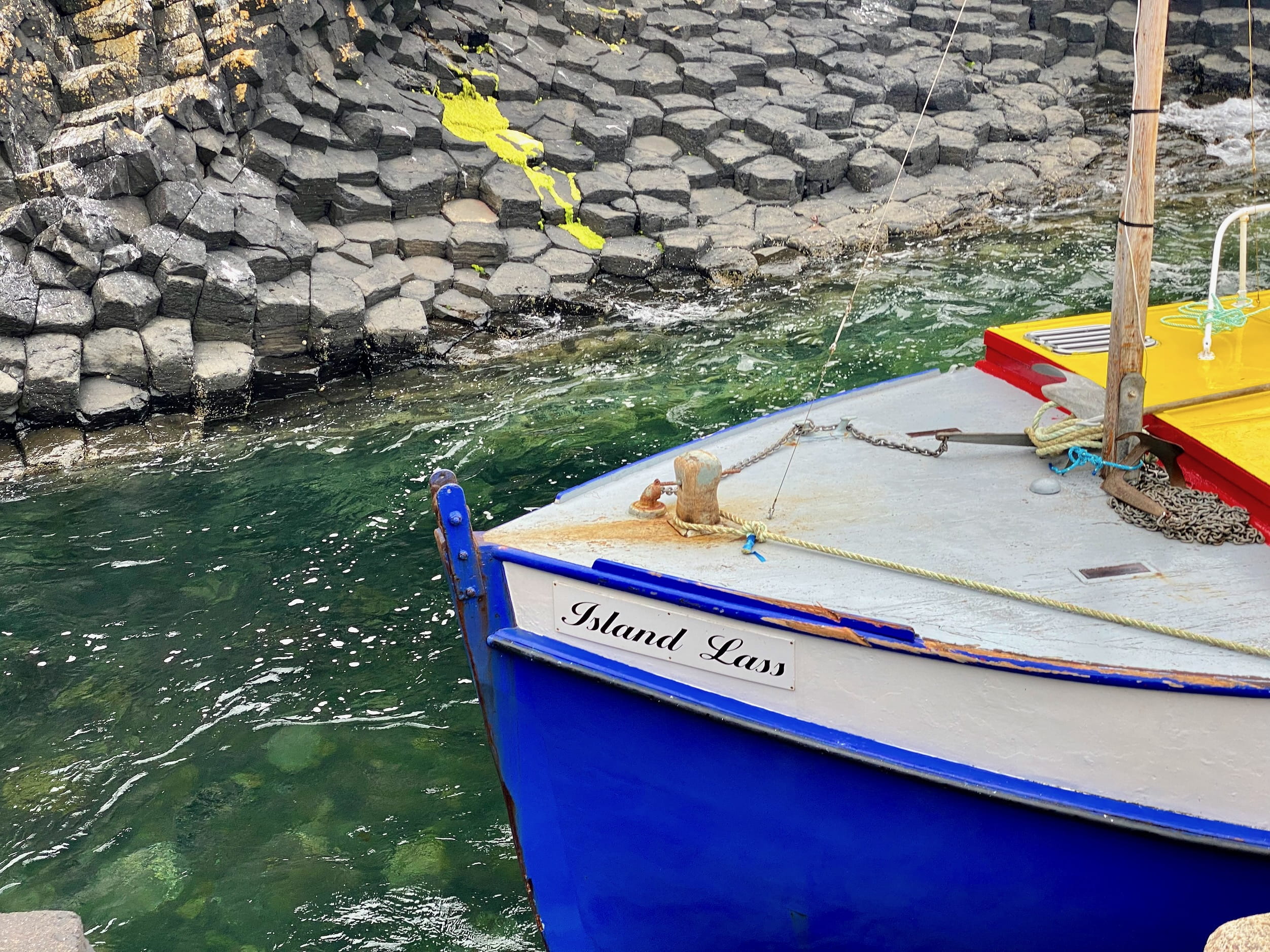 Buachaille Etive Mòr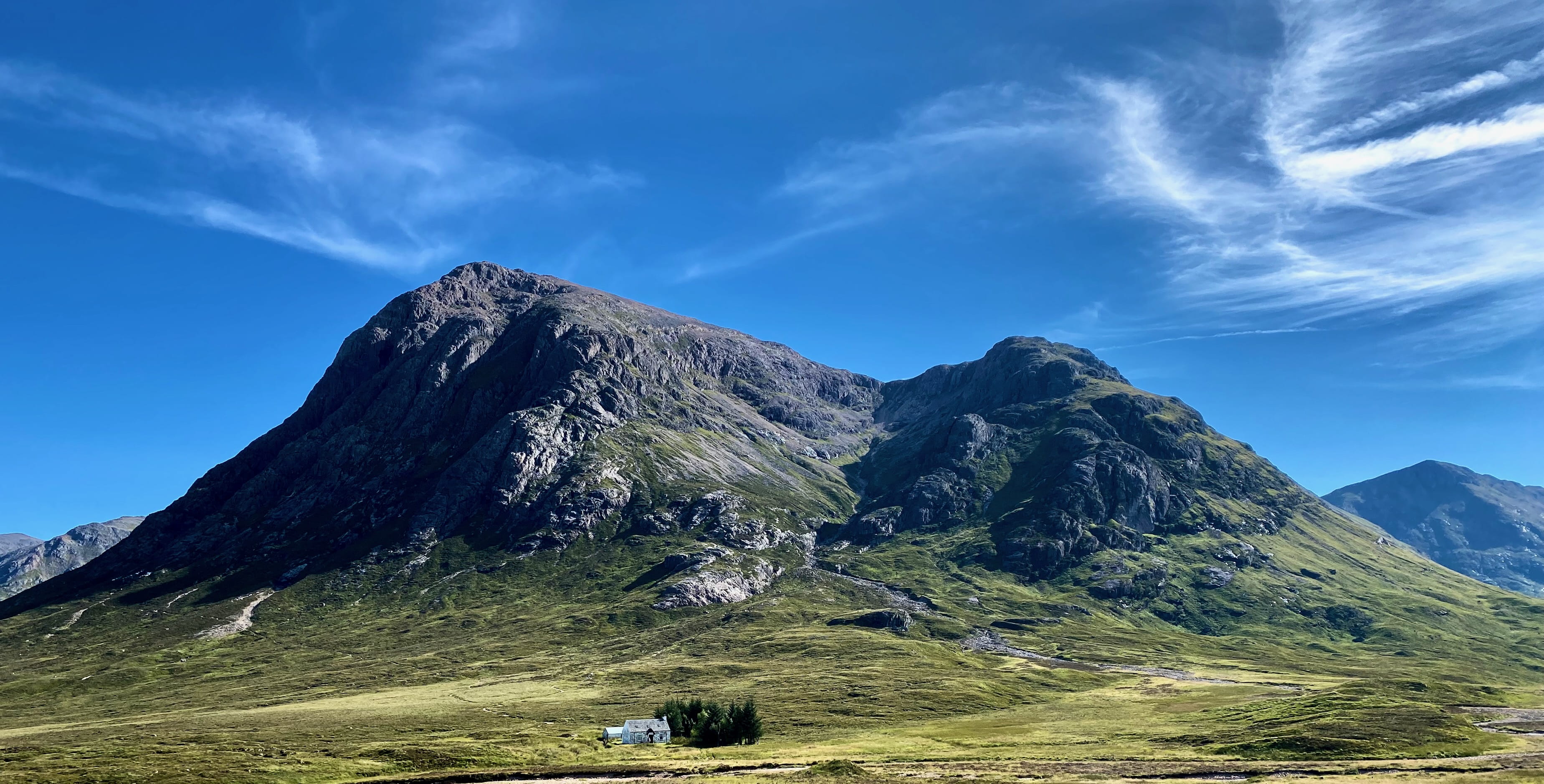 At this point I'm tired of Googling all of these names and writing a low budget etymology lesson, so let's just agree to move on. It's a hill you walk up.
As you can see, this hike doesn't look too bad from the road. We grabbed a couple bottles of water and started up.
The approach is nice and long, and includes some scenery that looks like it could make for a good Windows XP background.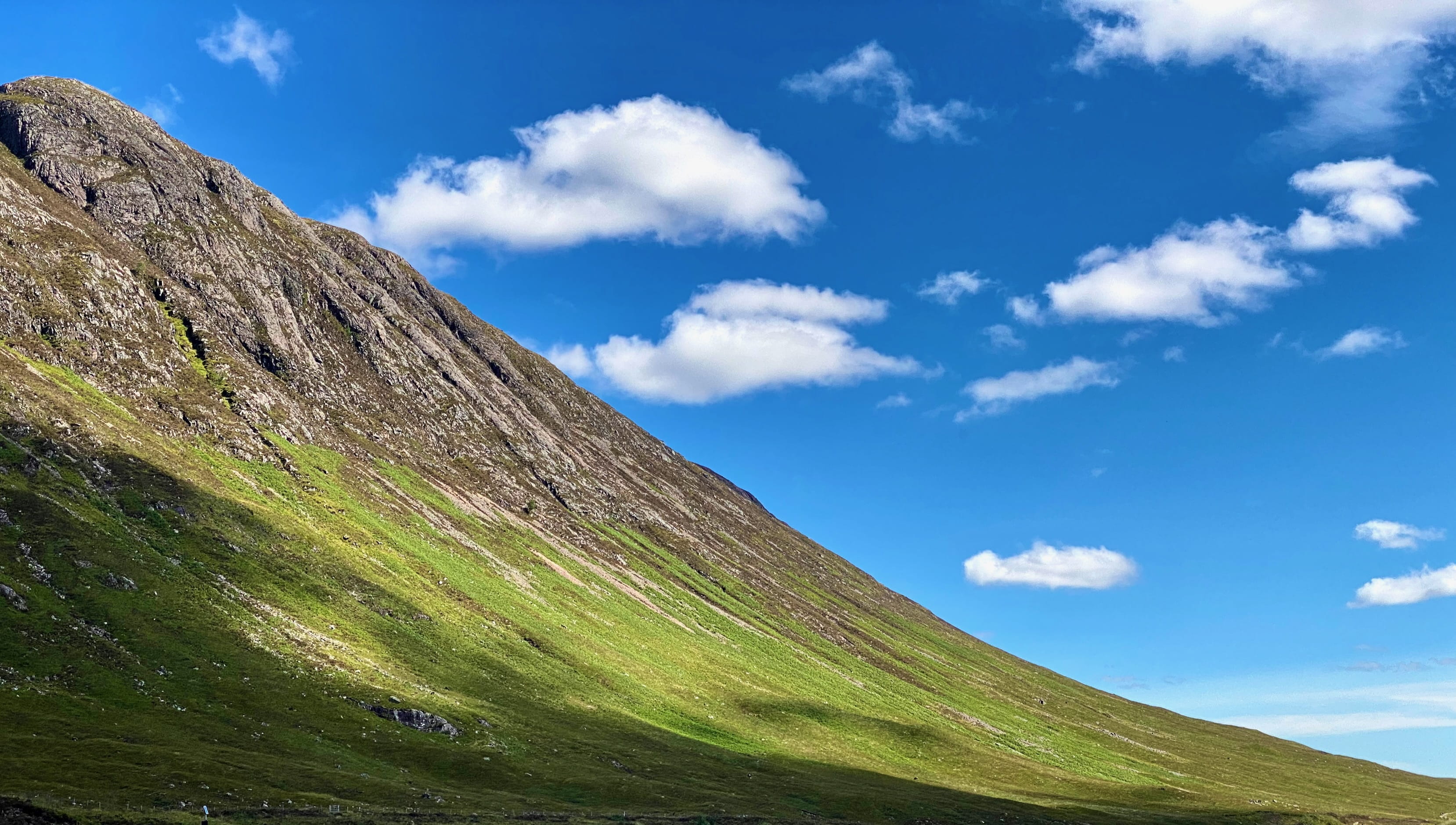 But perspective is one hell of a drug, and it turns out the hill is a meticulous patchwork of intricate miniature cliffs and piles of tumbling chips.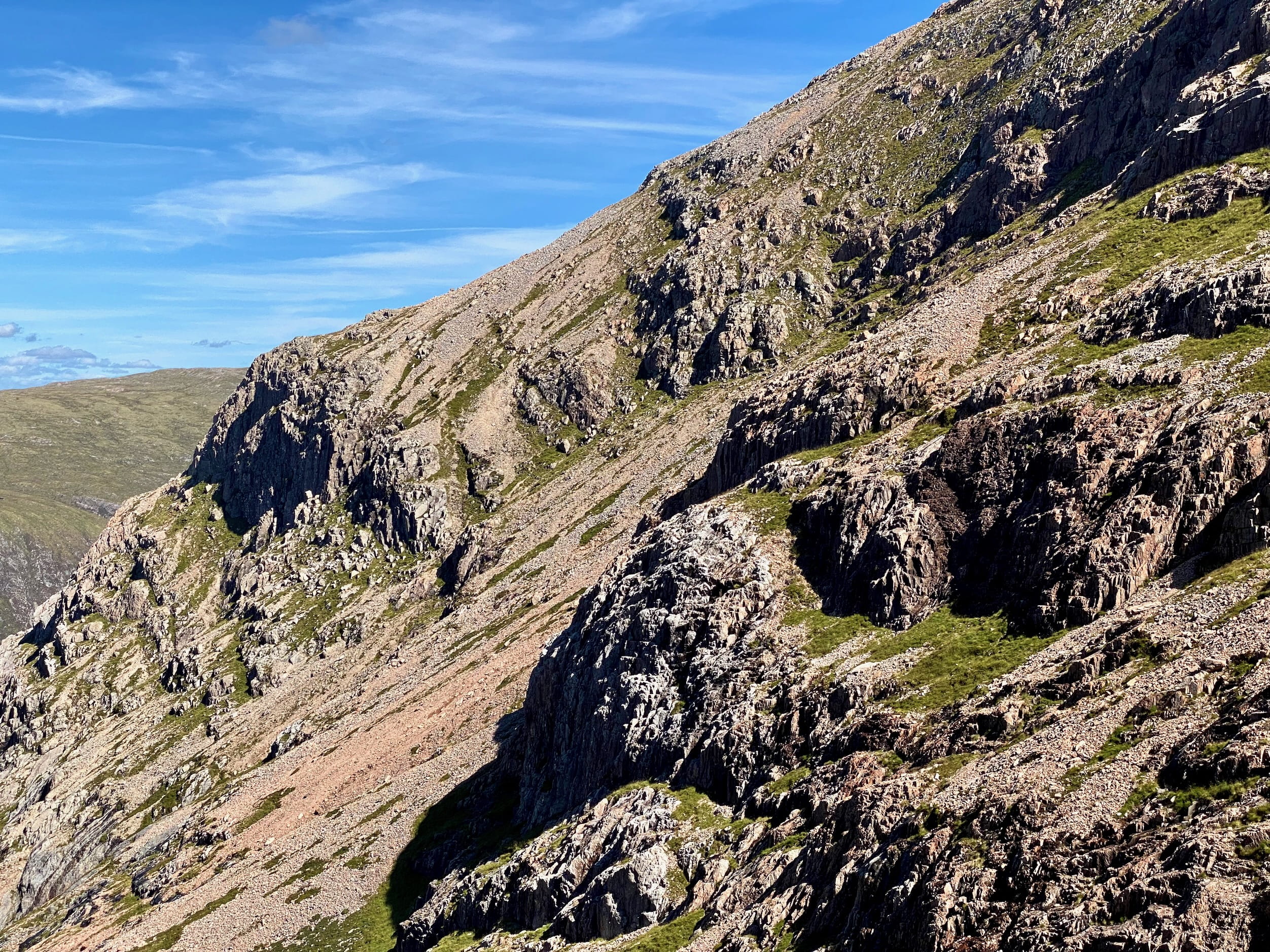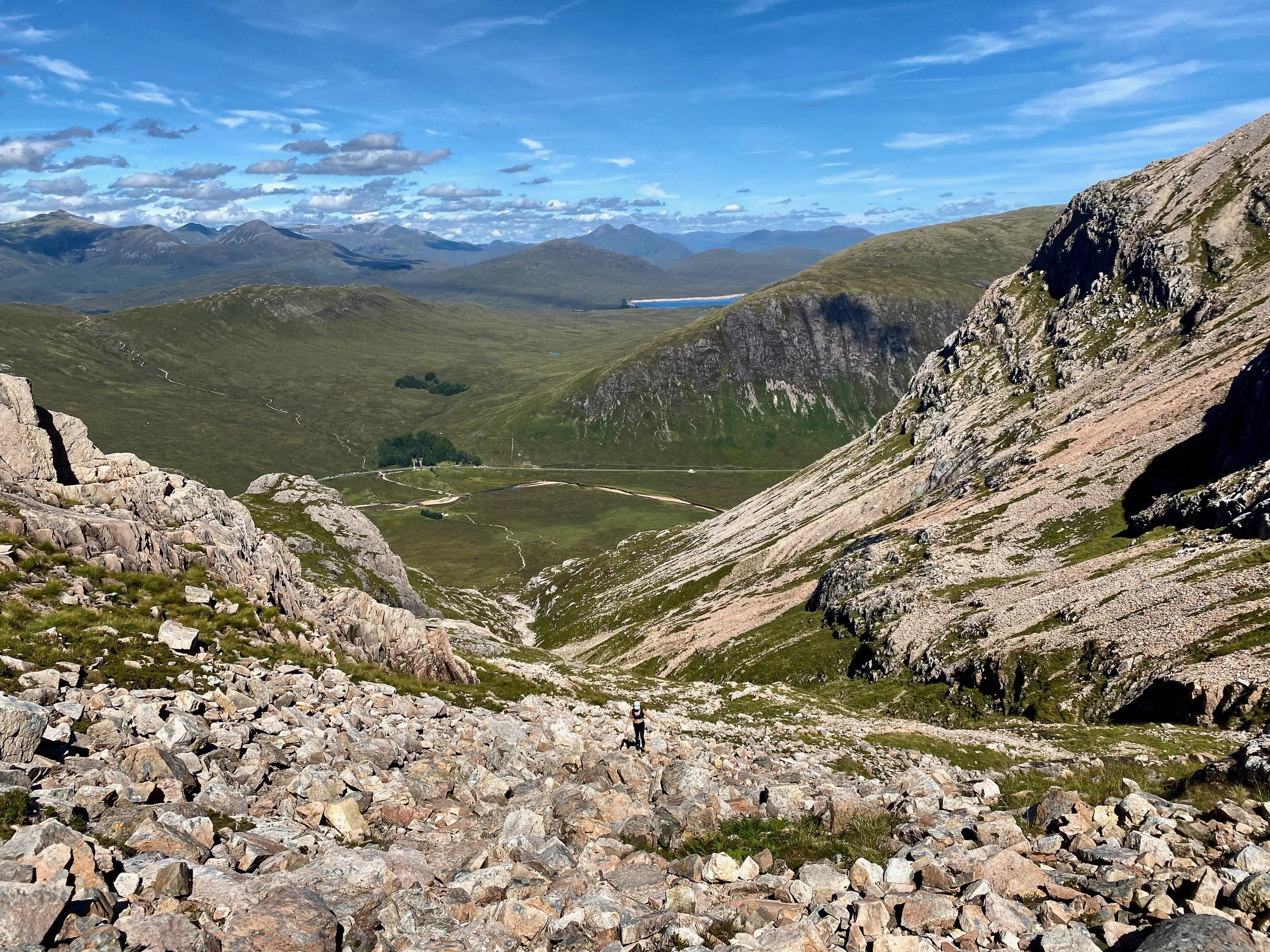 The peak offered many opportunities for further hill climbing. I ran up to another area and found, unexpectedly, some beautiful ponds hanging out with rough weeds. Every new hill we crested offered a higher one next to it.
Even though I was completely out of water at this point, I felt the draw of just one more hill. We'd already come so far. I understood why people get themselves into stupid situations in the wilderness.
Finally, halfway through our walk to another summit, I admitted it was best to call it quits.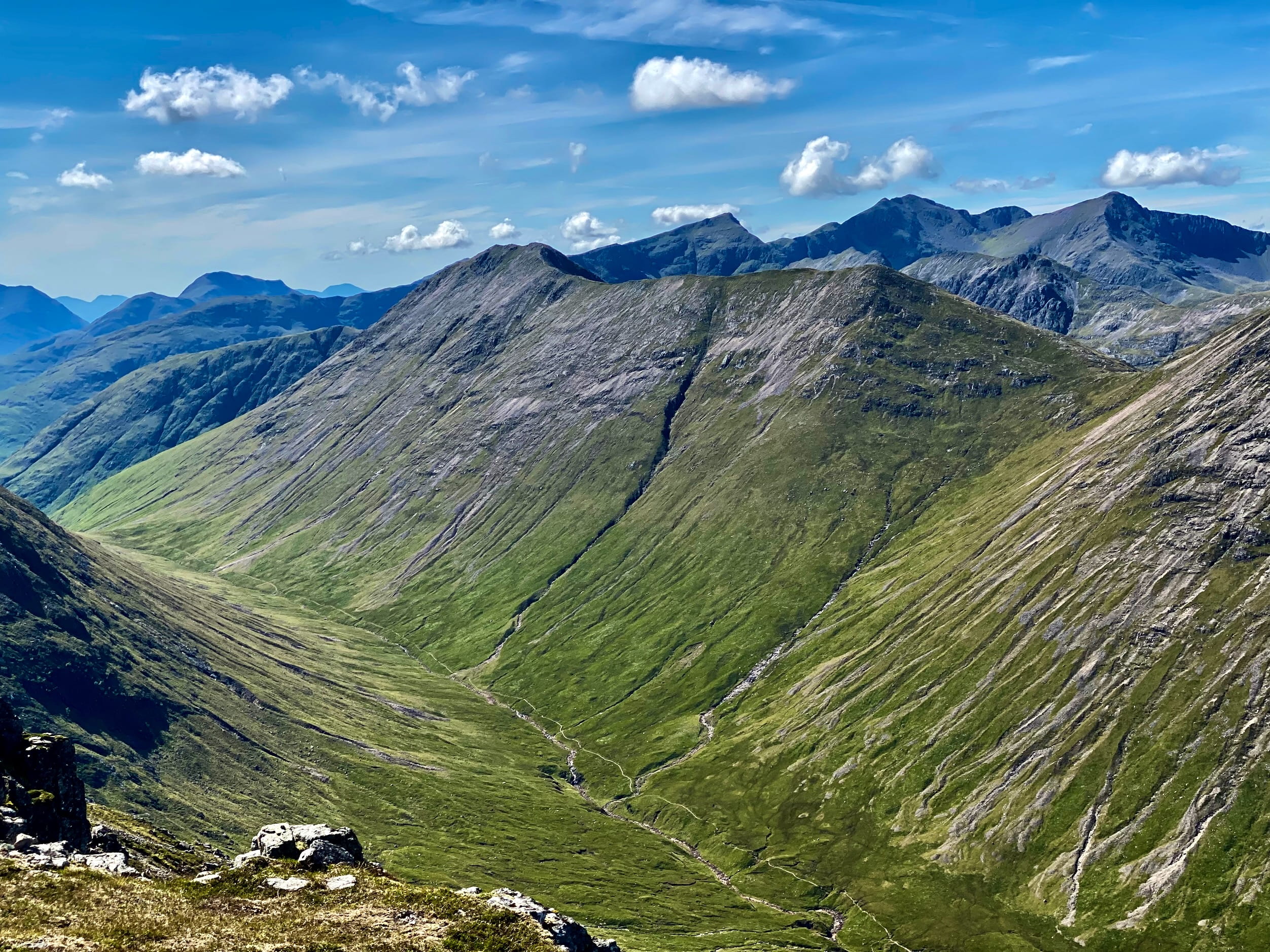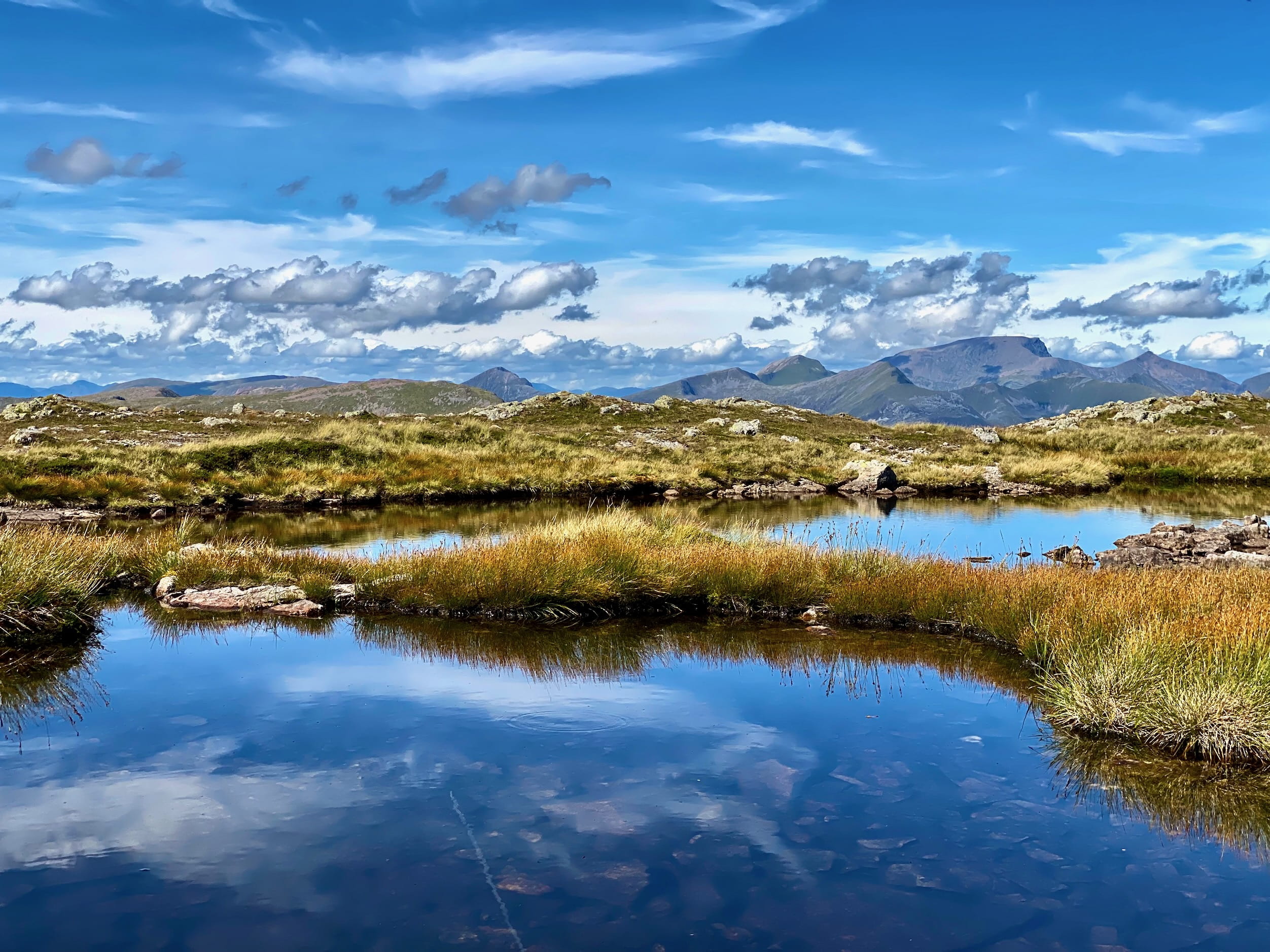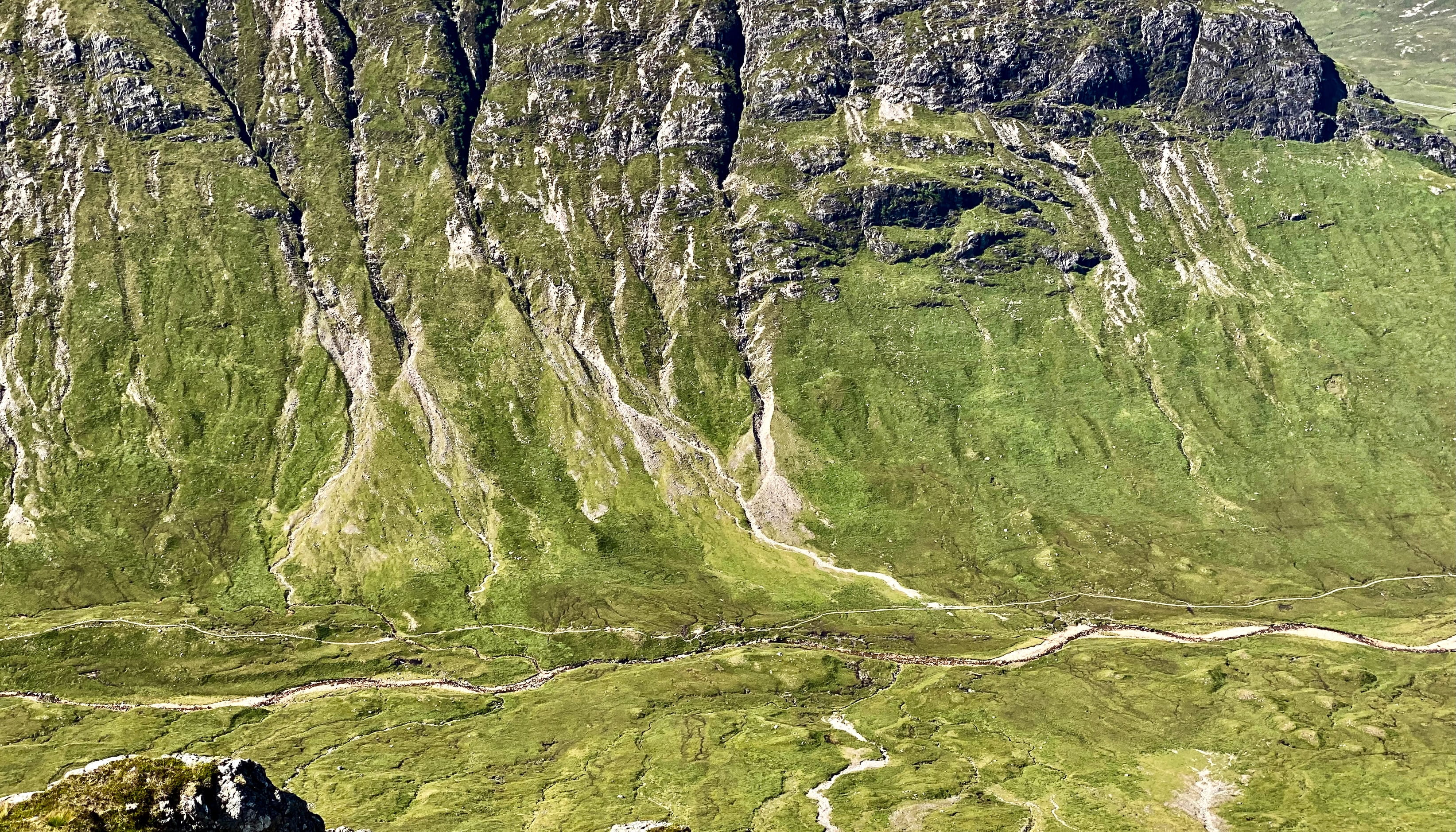 We drove back through more impossibly green valleys, the evening sun giving hill pals long armed shadows to rest on each other.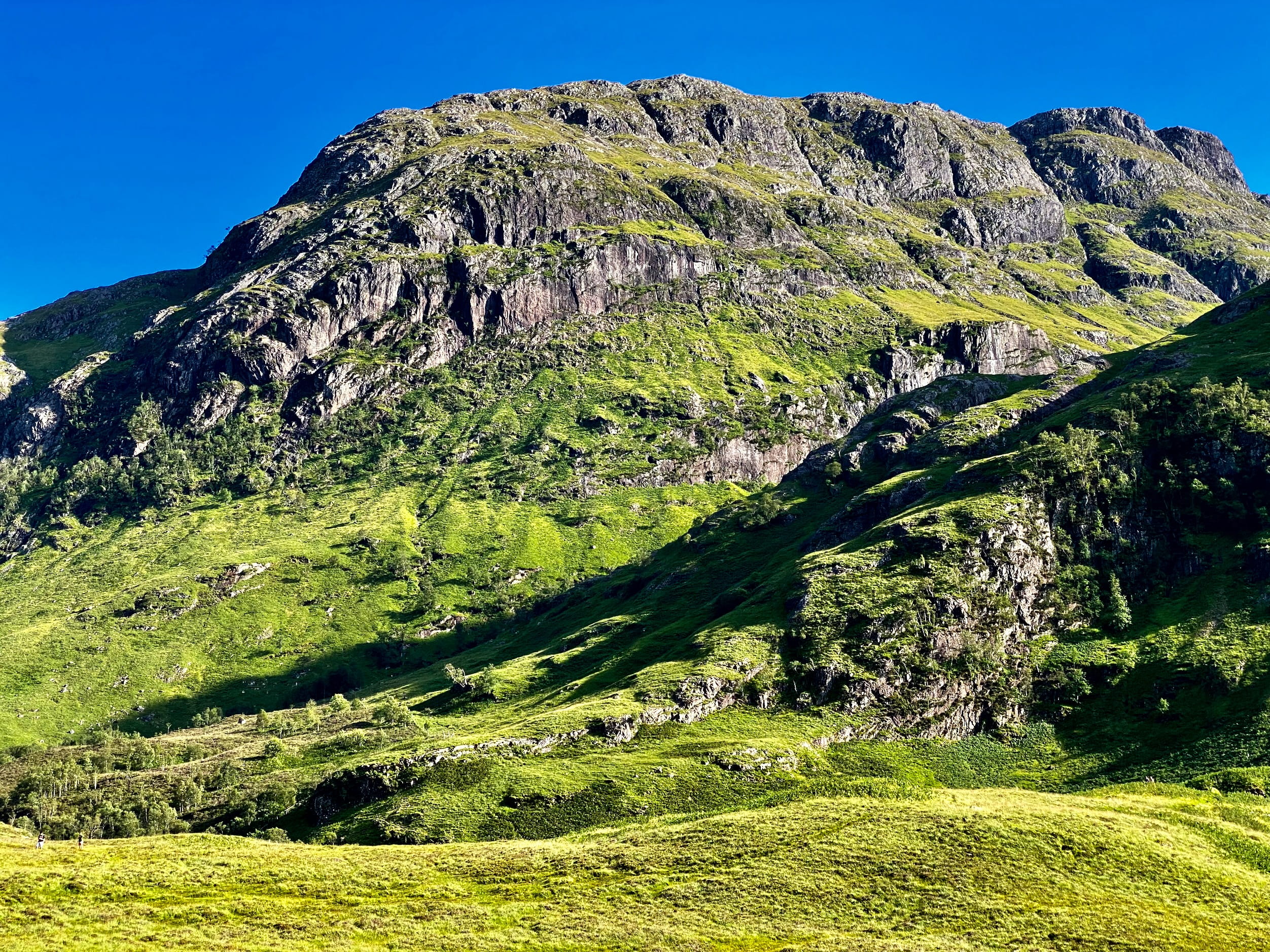 Car Breakdown
Leaving Oban, we started down to Glasgow.
The highway we took to Scotland's most populous city goes through the sprawling Trossachs National Park and alongside the long Loch Lomond. We'd planned a hike on one of the many hills in the park that offers, ahem, panoramic views of the lake and surroundings.
The twisty road leading through the park was unforgiving: no shoulder, just a three inch high sharp edge.
As we went around curve after curve, traffic increasing, eventually an oncoming car took a turn too boldly and entered the lane paint. I swerved just a bit to avoid them, but this was enough to send a wheel out of the lane. This meant it exiting the road. And when it came back on with a thump, we had a leak.
We made it only another ten seconds before the tire was completely flat. We were still an hour and a half from Glasgow, way up in the national park.
What followed was a saga both quite unpleasant and far more pleasant than it could have been. It could have been raining, could have been without cell service, and it could have been something worse than a flat. Had any of those things been true—or god forbid all three—it would have been a nightmare.
But as it was, up in the park and on a Sunday, we quickly discovered that cars here here have no spare tire in them (!), the limits of what our lovely car rental company Hertz would provide (zero),01 and what all the AAA-like auto rescue companies would do (also zero).02
Finally, after a dozen calls and transfers and messages and failed online systems, we reached a small dispatcher in England, who found a local repair shop in Glasgow, who agreed to send a guy out for £300 (≈$365) to drive a couple hours to us in what was now horrendous traffic and replace the tire.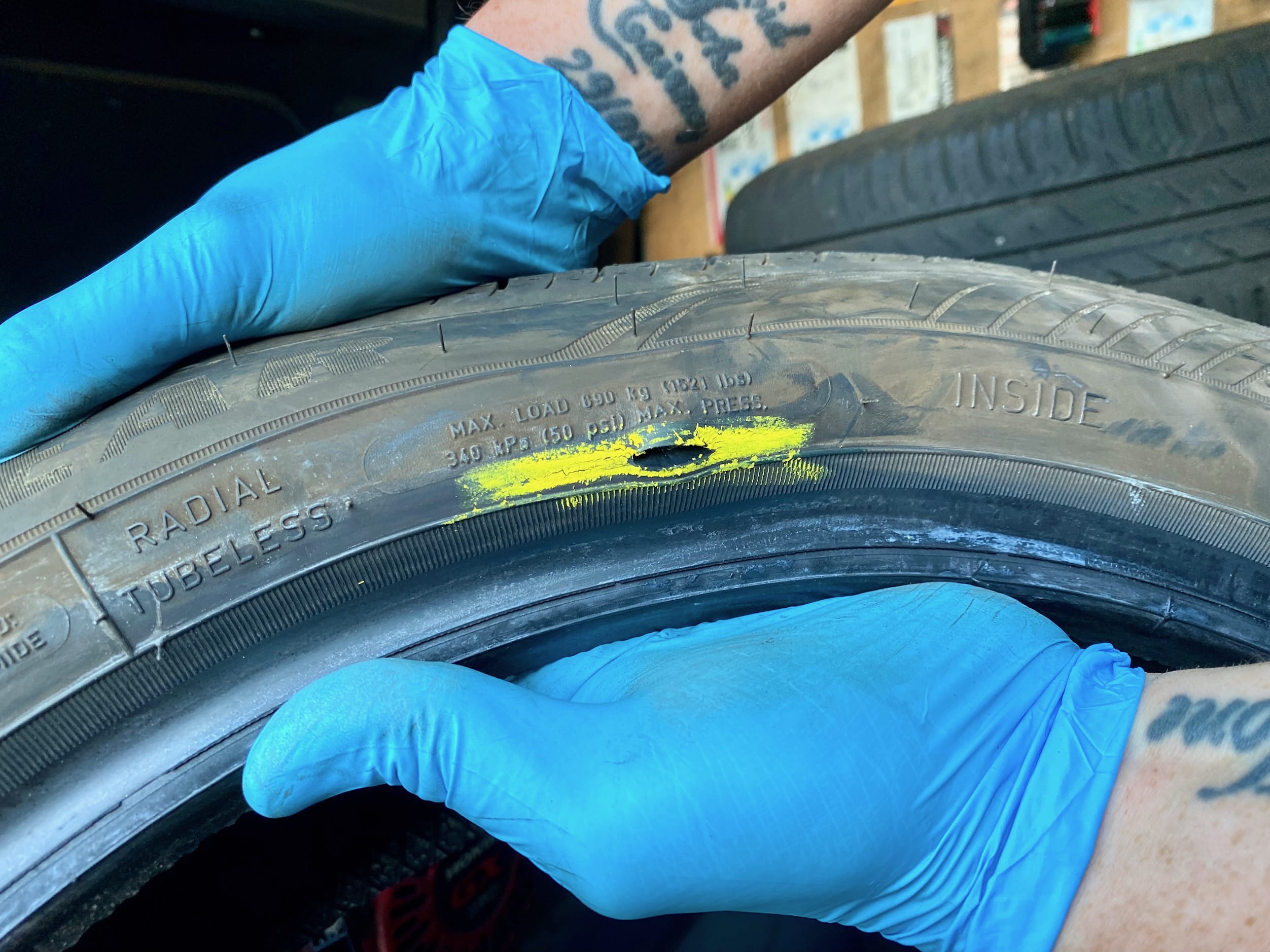 Another great silver lining is that we had made it to the tip of Loch Lomond, and the incredibly kind folks at the marina where we ended up let us park and use their facilities for free—even kill time on the beach. Good to keep reminding yourself of all the ways you're lucky.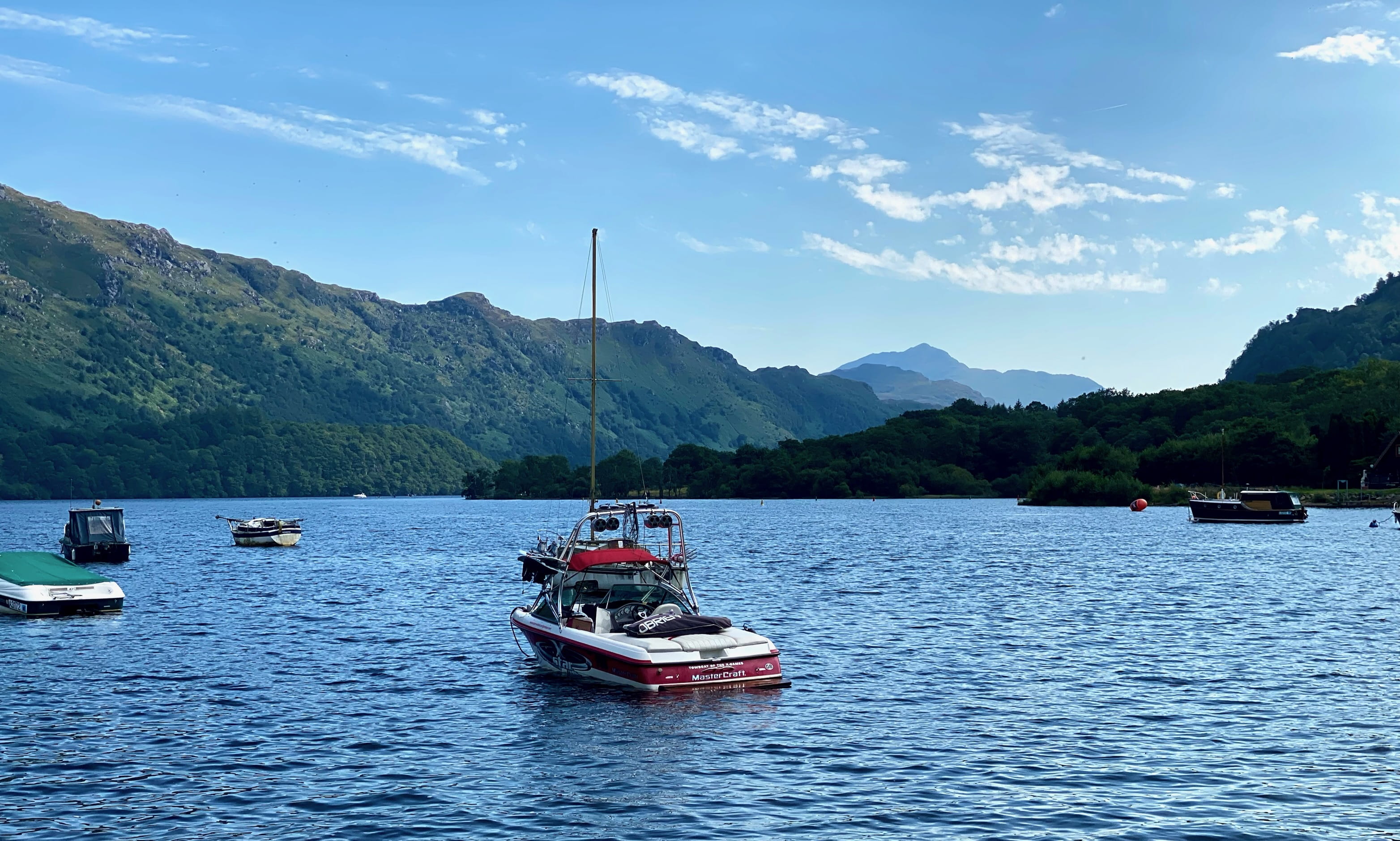 We had to skip the hike, but we made it to Glasgow by sundown.
Epilogue on That Insurance You Get with Your Credit Card
I will write this section as quickly as possible and mainly as a warning to others who might end up in a similar situation.
If you have a major USA credit card they may provide car rental insurance for you when you're abroad (where your domestic car insurance will not apply). They instruct you to decline all insurance from the rental company, pay for the whole thing with your credit card, and should anything happen, you'll be covered by them.
I have been using Chase's Sapphire Reserve card, which has worked pretty well in general, and so I figured the whole car insurance thing would work without a problem.
I cannot begin to describe how dysfunctional and miserable the process of actually using their car insurance has been. To do it any amount of justice would require putting you through pages of bureaucratic misery. The short of it is: months of back-and-forth, templated replies that repeatedly ask for identical documents that either have already been sent or have been shown to not exist, no human response to any replies to any submissions or queries, calls yield no progress and no possible contact with anyone that can make progress, and even the useless replies slowed down from taking days to weeks. Chase subcontracts out the insurance to a company called Indemnity Insurance Company of North America, and the bank itself has no interest in hearing about anything related to the claim.
One interpretation of this situation is that the insurance company is financially incentivized to run you around in circles with paperwork and misdirection instead of paying for anything.
Regardless, let this be a cautionary tale. Imagine if you were out the price of a car, not just a few hundred quid!
Footnotes
---
Hertz was a comedy of errors. No local office would answer (Sunday, I guess), and all the national numbers you can call redirect you to a hotline which, I kid you not, was disconnected from service. ↩︎

Apparently, because we were in a rental car, none of the major roadside companies were allowed to do anything to it, even fix a flat tire. This produced a funny dependency loop because Hertz was utterly MIA (see footnote 1). ↩︎